By: Aaron Lai
January 1, 2021
Happy New Year! With a new year ahead of us, I just want to thank our readers who have stayed with us throughout the last year and look forward to what is in store for us here at APH Networks. During these holiday seasons, you often see sales on products and this is no different with video games. Several years back, I purchased a truck simulation game called Euro Truck Simulator 2. The gist of the game starts of with you as a truck driver and providing certain jobs for you to deliver goods from one place to another. Navigating roads with your GPS, the game is a relatively scenic game that lets you sit behind the wheel of a lorry. Some of my friends asked me why I liked this game, and I could honestly just reply by saying it is one of the simplest games I have played while still enjoying the feel of being behind a large truck. It might be a bit of a sleeper compared to the faster pace or more strategic games I have played, but I appreciate the details and the enjoyment of the small things. I have never been behind the wheel of an actual truck, so I cannot comment on the accuracy, but I do think the developers of this game have paid attention to the details to simulate this experience. When Cooler Master sent us their latest ITX chassis, the MasterBox NR200, they also sent us marketing material to explain they wanted to make building at a smaller form factor easier by paying attention to the details. With this sort of awareness and attentiveness to the little things, does the Cooler Master MasterBox NR200 deliver in this space of the market? Let us read on to find out!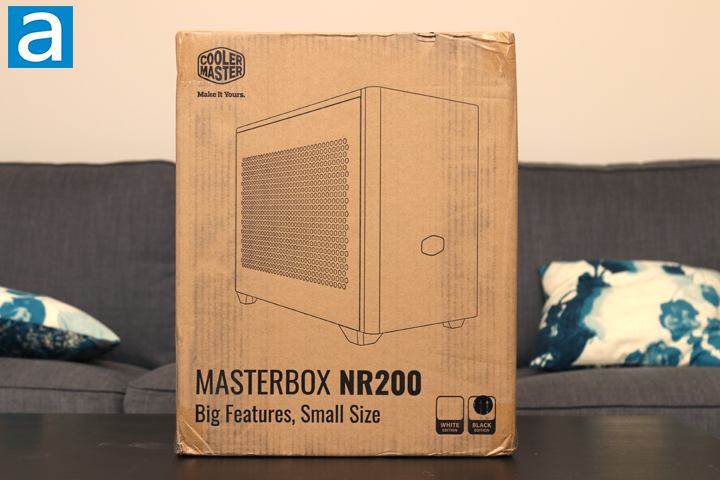 Today's review unit of the Cooler Master MasterBox NR200 arrived from Cooler Master's offices in Brea, California. Traveling with FedEx and their International Ground service, this box arrived in decent condition. There are no holes or bruises that are out of the ordinary. As expected with most computer cases, the shipping box also doubles as the retail container. The corrugated cardboard box is pretty typical with black printed letters and black outlines of the MasterBox NR200. Around the box, we have the specifications and features listed. Otherwise, I grabbed my nearest pair of scissors and opened up the box.
Before we continue, I have grabbed the specifications from the manufacturer's website for your perusal:
MODEL NUMBER: MCB-NR200-KNNN-S00, MCB-NR200-WNNN-S00
SERIES: MasterBox Series
SIZE: Mini ITX
AVAILABLE COLOR(S): Black, White
MATERIALS: Steel, Plastic, Mesh
DIMENSIONS (L X W X H): 376 x 185 x 292mm incl. Protrusions, 360 x 185 x 274mm excl. Protrusions
VOLUME (EXLC. PROTRUSIONS): 18.25L
MOTHERBOARD SUPPORT: Mini DTX, Mini ITX, Max MB size: 244 x 226mm (L x H)
EXPANSION SLOTS: 3
5.25" DRIVE BAYS: 0
3.5" DRIVE BAYS: 1 (Max. 2)
2.5" / 3.5" DRIVE BAYS (COMBO): 1
2.5" DRIVE BAYS: 2 (Max. 3)
I/O PANEL: 2x USB 3.2 Gen 1 Type-A, 1x 3.5mm Headset Jack (Audio+Mic)
PRE-INSTALLED FANS - TOP: 1x 120mm 650-1800RPM PWM (SickleFlow)
PRE-INSTALLED FANS - FRONT: N/A
PRE-INSTALLED FANS - REAR: 1x 92mm 650-2300RPM PWM (SickleFlow)
PRE-INSTALLED FANS - BOTTOM: N/A
FAN SUPPORT - TOP: 2x 120mm
FAN SUPPORT - REAR: 1x 92mm
FAN SUPPORT - BOTTOM: 2x 120mm (recommended slim fans for GPUs wider than 2.5 PCI slots)
FAN SUPPORT - SIDE: 2x 120/140mm
RADIATOR SUPPORT - TOP: N/A
RADIATOR SUPPORT - REAR: 92mm (not compatible with vertical GPU installation)
RADIATOR SUPPORT - BOTTOM: 120mm, 240mm, (recommended for custom loops only)
RADIATOR SUPPORT - SIDE: 120mm, 140mm, 240mm, 280mm, (not compatible with vertical GPU installation)
CLEARANCE - CPU COOLER: 155mm, 76mm (GPU in vertical position)
CLEARANCE - PSU: 130mm
CLEARANCE - GFX: L: 330mm (incl. power connector), H: 156mm (incl. power connector), W: 60mm (triple slot)
DUST FILTERS: Top, Bottom, Left side, Right side
POWER SUPPLY SUPPORT: SFX, SFX-L
WARRANTY: 2 years
WEIGHT: 4.6 kg / 10.1 lbs
NOTE: Single slot water-cooler GPUs or vertically mounted GPUs are recommended when using bottom radiator position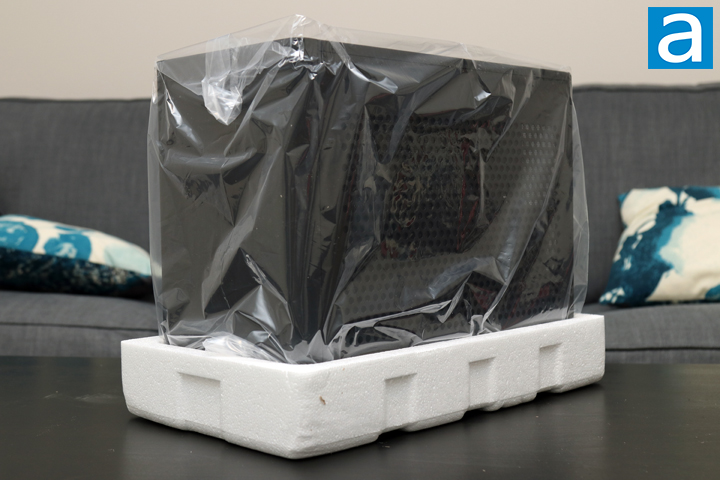 Inside the cardboard box, the Cooler Master MasterBox NR200 is packaged in a clear plastic bag and situated between two foam pieces. These two pieces of packaging should ensure that the computer chassis is kept safe while it is in transit, protected from small scratches or marks and from bigger impacts. The foam is of standard quality which should be fine for an empty MasterBox NR200, especially when you consider its lighter weight.
---
Page Index
1. Introduction, Packaging, Specifications
2.
Physical Look - Outside
3.
Physical Look - Inside
4.
Installation and Conclusion