By: Jonah Chow
January 20, 2023
When it comes to skiing here in Western Canada, three big resorts come to mind: Sunshine, Lake Louise, and Whistler. Now, there are obviously other large resorts here, but these are the ones that I have skied around, so I am simply speaking from experience. How do these resorts compare to each other? Sunshine is the smallest one, but offers a wide variety of smaller mountains to ski down. From the base alone, there are multiple chairlifts that take you up different areas such as Strawberry, Mount Standish, and Angel. There are also other chairlifts outside of the main base that you can find enjoyment on, such as Wolverine and Goats Eye. The snow is generally quite solid there as well, making for good conditions. Lake Louise is a larger ski resort with more skiable acres. Although there is mainly just one mountain to ski down, the runs are longer, and you get to spend more time on the hills as opposed to on a chairlift. Skiers and snowboarders have the option to run it down the front side or back side, both having various terrain to explore. Finally, there is Whistler, which is a giant among ski resorts, even on an international level. There are two large mountains, Whistler and Blackcomb, that users can ski down. The views are beautiful, and the low elevation makes it so you feel full of energy all the time. The terrain is vast and incredibly interesting to explore, making it one of my favorite resorts so far. It does come at a cost of being all the way in BC, which makes it harder for a local Albertan to ski at. While this short summary does not do justice for the resorts, I still feel happy to explain the differences between the resorts and the uniqueness pertaining to each one. Cooler Master has three main mini-ITX cases in their MasterBox lineup, including the NR200, NR200P, and NR200P MAX. Like with the ski resorts mentioned, each of these cases have their own similarities and unique features. One feature of note is the pre-installed cooler and power supply in the NR200P MAX, which is the chassis we will be looking at today. How does the Cooler Master MasterBox NR200P MAX stand on its own? Continue reading to find out!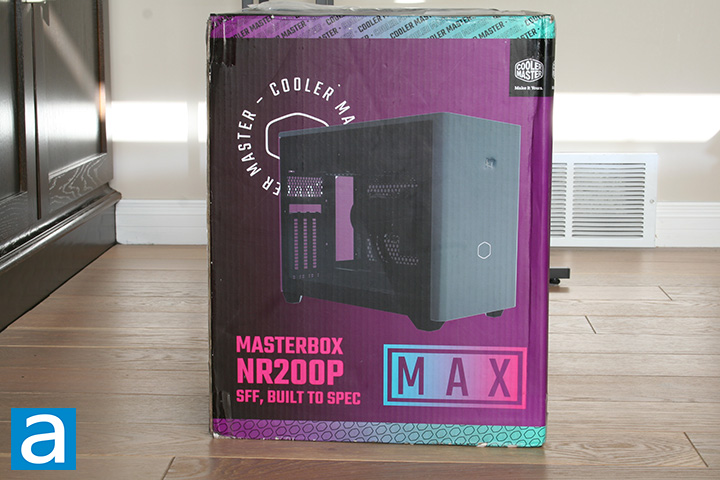 The Cooler Master MasterBox NR200P MAX arrived via UPS Standard from Cooler Master's offices in Brea, California, USA. This box served its purpose of being both the shipping and retail package with its purple color scheme, which is a staple of Cooler Master. While the box itself was not in terrible condition, it was not exactly clean either. There is a sizable dent on the right edge along with other smaller dents along other sides of the box. I think UPS Standard could have done a better job, but overall, the case made it here in one piece. An image of the NR200P MAX can be seen on the front of the case with the product name below it along with text that reads "SFF, built to spec". The Cooler Master logo can be seen on the top right and near the left side overlapping the image of the case.
Here are the manufacturer specifications of the MasterBox NR200P MAX from Cooler Master's website:
Product Number: NR200P-MCNN85-SL0
Exterior Color: Black / Grey
Materials - Exterior: SGCC Steel, Mesh, ABS Plastic
Materials - Left Side Panel: Tempered Glass x1, Steel x1
Dimensions (L x W x H): 377 x 185 x 292mm (incl. Protrusions), 361 x 185 x 274mm (excl. Protrusions)
Volume: 18.30L
Motherboard Support: Mini-ITX, Max. size: 170 x 180mm
Expansion Slots: 3
Drive Bays - 5.25" ODD: 0
Drive Bays - 3.5" HDD: 1 (Max. 2)
Drive Bays - 3.5" / 2.5" Combo: 1
Drive Bays - 2.5" SSD: 2 (Max. 3)
I/O Panel: c2 x USB 3.2 Gen 1 (USB 3.0), 1x 3.5mm Headset Jack (Audio + Mic)
Included Accessories: 1x MasterAccessory Riser Cable PCIe 4.0 x16 - 35mm
Included CPU Cooling Solution: 280mm radiator, 2 x 140mm SickleFlow PWM, Gen 3 Cooler Master Pump / CPU Block
Included Power Supply Unit: V850 SFX GOLD 850 Watt
Fan Support - Top: 2 x 120mm / 2 x 140mm
Fan Support - Bottom: 1 x 120mm (max 15mm, with 3.5" HDD at the bottom), 2 x 120mm (max 15mm, w/o 3.5" HDD at the bottom)
Radiator Support - Top: 240mm / 280mm
Clearances - CPU Cooler: 67mm
Clearances - Power Supply: 130mm
Clearances - Graphics Card: L: 336mm (incl. power connector), H: 160mm (incl. power connector), W: 75mm (triple slot)
Dust Filters: Bottom, Left, Right, Top Panels
Power Supply Support: SFX, SFX-L
Warranty: 2 years (Case), 2 years (Thermal Solution), 10 years (Power Delivery)
Size: Mini ITX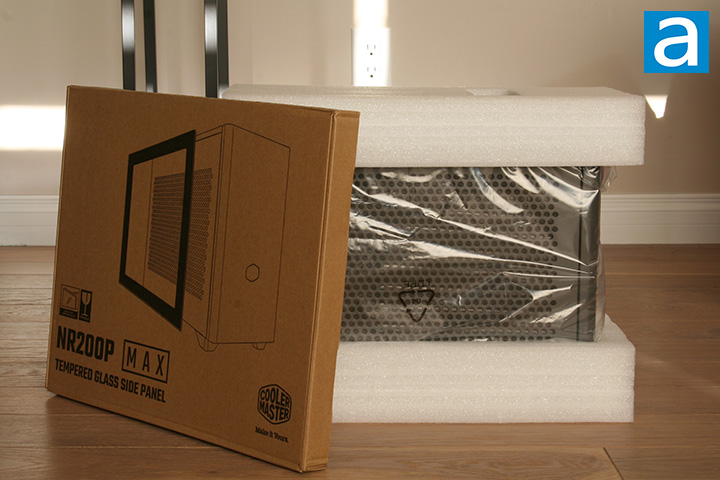 Two Styrofoam blocks are used to pad the case inside the packaging, which I think is always a very good practice. Along with the Styrofoam blocks, the case itself is wrapped in a plastic cover to prevent it from experiencing any scratches during shipment. The Cooler Master MasterBox NR200P MAX arrived in very good condition when I eventually unwrapped it, showing no signs of physical damage anywhere. The case comes with various screws for mounting all the necessary components and zip ties for cable management. Documentation can also be found inside the case for the user's convenience. A separate tempered glass side panel comes in its own box, which can be seen in the photo above.
---
Page Index
1. Introduction, Packaging, Specifications
2.
Physical Look - Outside
3.
Physical Look - Inside
4.
Installation
5.
Cooling Test Results
6.
Conclusion