By: Aaron Lai
May 24, 2019
As of this review, I have been living on my own for over a year now. However, it only seems like yesterday when I was deciding what stores I would use to furnish my house. In my mind, my first option for new was from my favorite Swedish store, Ikea. There are several things I like about Ikea furniture. First of all, I enjoy the building experience. Even though it is more akin to adult Lego compared to actually building furniture by cutting wood and drilling holes, I find the process of building Ikea furniture to be relaxing. Some may find Ikea furniture to be a bit lower in quality, though I have not really had an issue in the past. However, the main thing I like about their furniture is its minimal approach to design combined with a light construction. Some may equate a lower weight to lower quality, but the benefit is that this makes the pieces of furniture easy to move around. For example, my couch is easily movable with two people, something that is not always true for other couches. When Cooler Master announced their MasterBox Q500L, it was said to be an ATX version of its already released Q300L, which was made for mATX motherboards. This small design and lighter construction worked well for the smaller size, but has it translated into good things for the larger Q500L? Or were there some compromises made to keep this case small and light? Read on to find out!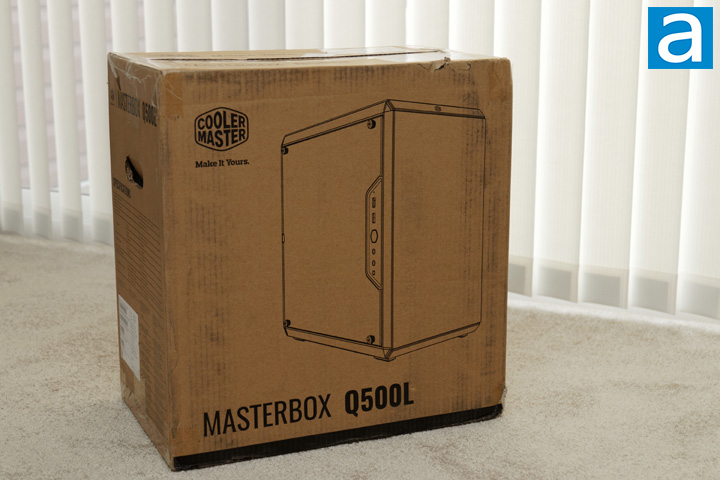 Today's review unit of the Cooler Master MasterBox Q500L arrived from Cooler Master's offices in Chino, California. Traveling with FedEx and their standard ground service, this box arrived in decent condition with no scratches, dents, or holes that I would worry about. As this box is pretty big, it makes sense the brown corrugated cardboard retail box is the same as the shipping container. As for the retail container design, this is a pretty standard looking box with a monochrome design used here. The logo and tagline of Cooler Master can be found at the top left side, while the bottom left shows the name of the product inside. A scaled-down, outline image of the MasterBox Q500L can be found on this panel. On the sides, we have a list of specifications about the case inside. Otherwise, there is not much else to talk about, so let us take a closer look inside.
Before we do so, I have grabbed the specifications from the manufacturer's website for your reading pleasure:
Model Number: MCB-Q500L-KANN-S00
Exterior Color: Black
Materials - Body: Steel, Plastic
Materials - Side Panel: Acrylic
Dimensions (LxWxH): 386(L) x 230(W) x 381(H) mm
Motherboard Support: ATX, Micro ATX, Mini ITX
Expansion Slots: 7
5.25" Drive Bays: 0
2.5" / 3.5" Drive Bays (Combo): 2 (each bay supports: 1 HDD or 2 SSDs)
2.5" Drive Bays: 0
I/O Panel: 2x USB 3.0, 1x 3.5mm Audio Jack, 1x 3.5mm Mic Jack
Pre-Installed Fans - Rear: 120mm x 1
Fan Support - Top: 120/140mm x 2
Fan Support - Rear: 120mm x 1
Fan Support - Bottom: 120mm x 2
Radiator Support - Top: 120 / 240mm (35mm max motherboard component height)
Radiator Support - Rear: 120mm
Clearance - CPU Cooler: 160mm/6.29"
Clearance - PSU: 180mm/7.08"
Clearance - GPU: 360mm / 14.17" (270mm clearance with PSUs longer than 160mm)
Cable Routing: 27~30mm
Dust Filters: Bottom
Power Supply Support: Top Front Mount, ATX PS2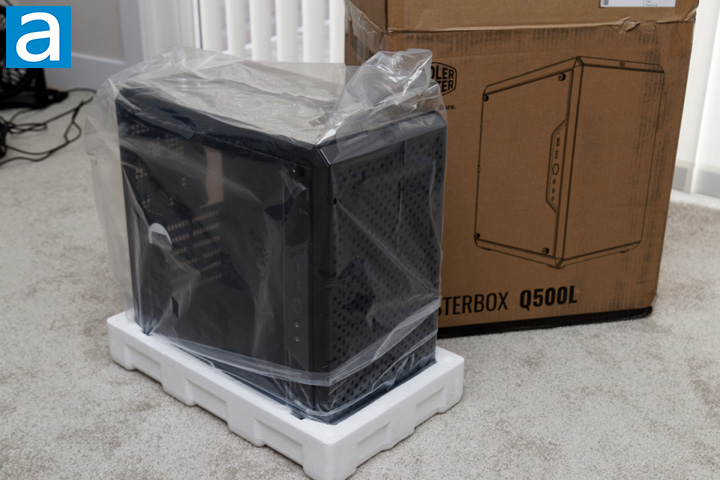 Inside, the Cooler Master MasterBox Q500L is held in a clear plastic bag and surrounded by two foam brackets. This ensures the case does not get damaged during shipping or if users want to use the box to transfer their finished system around. While these foam brackets are not the highest density or quality, they should do well in at least getting the case to you safely. Otherwise, there are several plastic layers on the side window to protect it from any scratches. Inside the MasterBox Q500L, you will find a small bag containing all the other necessary accessories to install your components in the case, including all the screws and some zip ties. Some other documentation is included to help with installation and provide users with warranty information. Just so you know, Cooler Master covers this case for a year of warranty, which is not too surprising for computer cases.
---
Page Index
1. Introduction, Packaging, Specifications
2.
Physical Look - Outside
3.
Physical Look - Inside
4.
Installation and Conclusion