Page 3 - Physical Look - Inside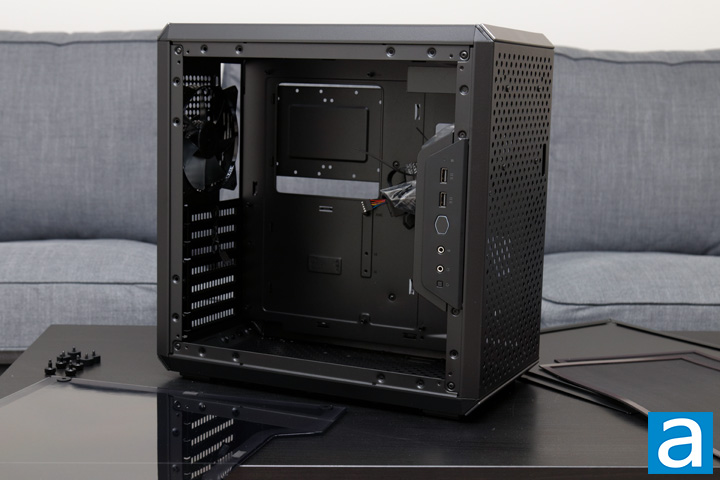 As we have already seen, both side panels come off easily with the removal of their thumbscrews. These two side panels are not the sturdiest, as they exhibit quite a bit of flex. While this is not too surprising for the clear plastic side, I would have liked to see a slightly sturdier steel side. After popping these panels off, you are now greeted by the Cooler Master MasterBox Q500L's seemingly open interior. The rest of the interior is black in color, with no other colors to contrast the already black exterior. This layout seems pretty typical on first glance, with an open area for the motherboard and graphics card or other expansion cards to sit in this area. The power supply also exists in this area, though in a region you may not expect. Due to such a low height for a standard ATX case, we do not have a power supply shroud at the bottom of the case. Speaking of which, while this is a mid-tower ATX case, it can also fit motherboards with the mATX or mITX size.
Before continuing, one thing I need to mention is the amount of flex exhibited by the panels of the Cooler Master MasterBox Q500L. The inner frame where the motherboard sits is relatively sturdy, but the rest of the frame and the sides are all prone to bending so you should be careful. While this does keep the case light, I have not really seen steel flex this much in computer cases and this is something I never want to say about a computer chassis.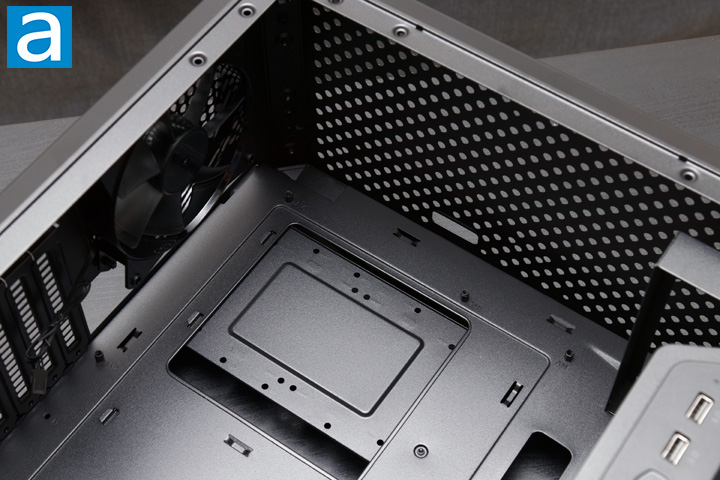 Taking a look at the motherboard area, you can see Cooler Master has already installed the standoff screws for the ATX size. These holes are labeled with different letters to show users where they will possibly need to move the standoffs, in case they do end up installing a smaller motherboard. At the top, you can see there is an area for mounting various cooling options, whether they are radiators or fans. According to Cooler Master, users should be able to mount up to two 120mm or 140mm fans or up to a single 240mm radiator, assuming it does not interfere with your motherboard. However, the top mounting area may inhibit airflow. While this array of circular perforations do not look like it would inhibit airflow, there actually is quite a bit more metal here to block air from getting through. This is the same for all the ventilation and exhaust points around the case, which is a bit unfortunate. I would have much rather seen the standard honeycomb design to allow airflow through this area. On the bottom, we have a square opening to expose the back of the motherboard when it is installed. This means users should be able to mount aftermarket coolers without needing to remove the motherboard from the chassis. The edges around the hole are folded over to prevent fingers or cables from being cut here.
At the back, we have a single Cooler Master fan with a model number of "202001180-GP". Based on this name, you can tell this fan was not meant to be sold on its own, but rather accompany some of Cooler Master's cases. It is a shame we do not see a retail fan here, especially since Cooler Master has quite the selection in their stockpile already. This fan uses a rifle bearing, which are similar to sleeve bearings but with generally quieter operation and longer lifespan. Otherwise, this case fan is a 3-pin voltage controlled fan, running at approximately 1200RPM. If you do want to replace the fan here, you can only install a 120mm sized one, as there is no extra space for the larger 140mm size.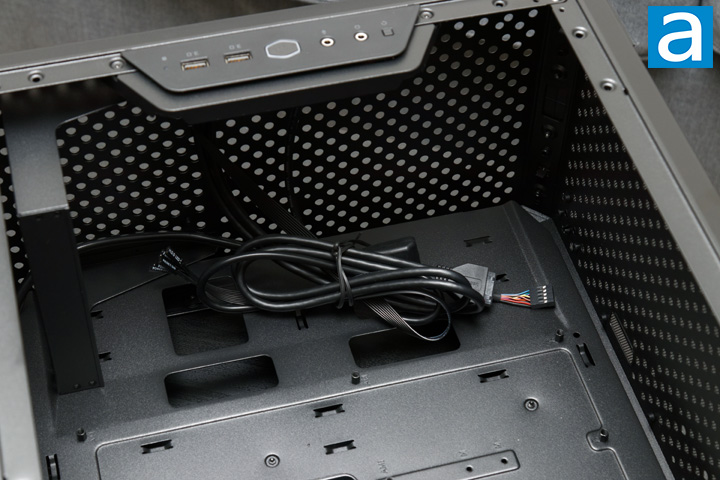 At the front, we have a few interesting things to take note of, and one of which is probably new to some of you readers. First of all, Cooler Master has not included any fans at the front and actually does not provide any mounting holes here either. Instead, Cooler Master intends this area to be used to mount your power supply. Using the metal bracket that is mounted near the top, you can install a standard ATX power supply of up to a 180mm length here. Since the power supply is mounted here, Cooler Master has also installed the extension cable to plug into your power supply and route out the back. It is an interesting idea especially since it really cuts down on the height and overall size of the Cooler Master MasterBox Q500L. On the other hand, I think this also adversely affects airflow through this case, since it blocks any possibility of fresh air coming into the case from the front. To compensate, Cooler Master also has mounting holes at the bottom of the case for you to install two more 120mm fans if you so desire.
Otherwise, cable routing holes can be found all around this area, letting you route the thicker power supply cables out of the large squares at the front, and around the case as necessary. Neither of these holes are filled with rubber grommets, so you should be careful in how you route cables in. Once again, these holes are folded over to prevent any cutting of cables or fingers. Finally, the front I/O cables can be found here, sleeved in almost all black. This includes a USB 3.0 header, front audio connector, and individual front LED and switch connectors. These cables and the routes they take are affected by the location of the front I/O, so be sure to keep this in mind when cleaning up your cables.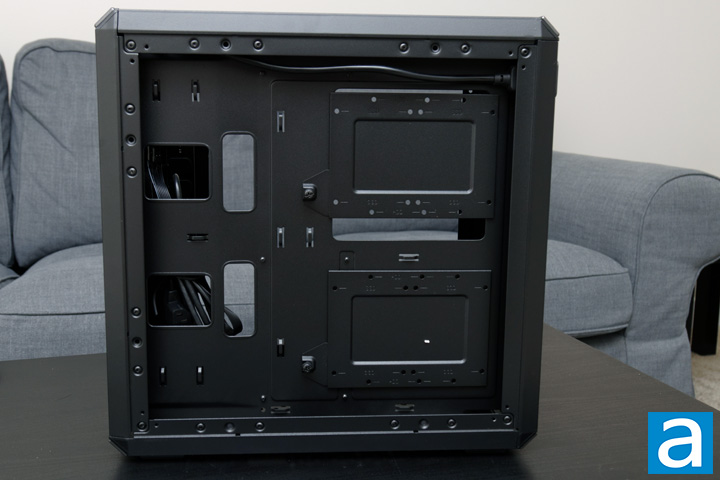 Flipping to the back side of the Cooler Master MasterBox Q500L, there is one really welcomed sign, and that is the amount of cabling space here. While some budget cases also skimp out on cabling space, Cooler Master has included a minimum of 2.7cm of cabling room in the back. This makes running extra cables back here quite easy, even for the thicker power supply cables. You can see there are several cable tie points located around the back too, which is helpful. Cooler Master also includes zip ties to help with securing cables. On the right side of the photo above, there are two drive sleds, one located at the top behind the motherboard tray and another underneath. The sleds are held to the case with captive thumbscrews. Each tray can hold either a single 3.5" or two 2.5" drives. This means you can have up to a maximum of four storage drives, assuming they are all of the smaller variant.
---
Page Index
1.
Introduction, Packaging, Specifications
2.
Physical Look - Outside
3. Physical Look - Inside
4.
Installation and Conclusion