By: Aaron Lai
April 27, 2018
Dreams to me have always been an interesting thing. In my first year of university, I attended a basic psychology class, where we learned about theories as to the origins of our dreams, but there was no one precise answer. To me, I think dreams are often about the things on your mind during the day. I personally have had some really wacky dreams. For example, when I first purchased my car, I always worried about whether or not I actually locked my car doors. Even though it became so routine, I always second guessed myself that I would turn around and hit my remote to check once more. Thus, for the first month of owning my car, I dreamed about losing track of my car or finding it missing. I also think the people you dream about are also the people you are thinking about, which makes it really weird when you have a significant other or someone you admire. On the other hand, the other dreams I have are either ones that come out of the blue, ones that repeat all the time, or the strange case of dreams within dreams. All in all, these night stories are very much a mystery, but I think it is just more fun to have them than to analyze where they come from. For today's review of the Cooler Master MasterCase MC500M, this comes from a refreshed lineup of Cooler Master, with more modularity infused into their products. With a newfangled power supply plate combined with a similar layout, Cooler Master has dreams and aspirations of making this case your main one. However, is this the case? Read on to find out!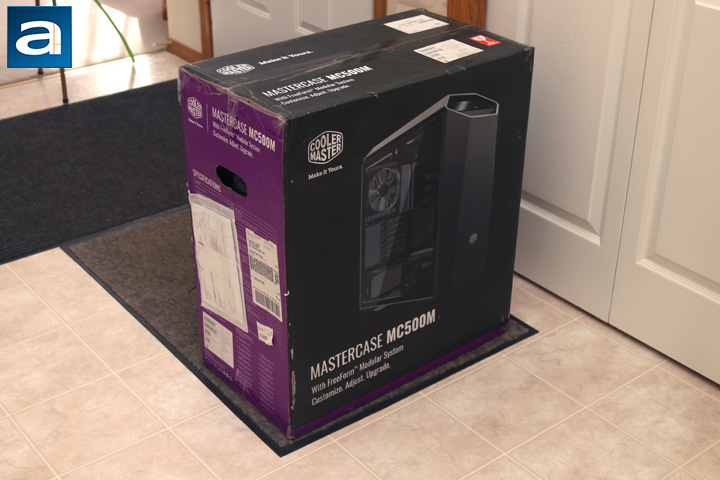 Today's review unit of the Cooler Master MasterCase MC500M arrived via FedEx Ground in good condition. There are no notable bruises or holes to speak about. As this is a relatively large item, the shipping container was also the retail container for this case. Following Cooler Master's color scheme, the box is a black and purple mix with a relatively simple layout. The side panels show off the MasterCase MC500M and its tempered glass. The bottom shows off the name with a tagline of "With FreeForm Modular System. Customize. Adjust. Upgrade". Following Cooler Master's "Make It Yours" campaign, this case is all about modularity, as you will see later in the review.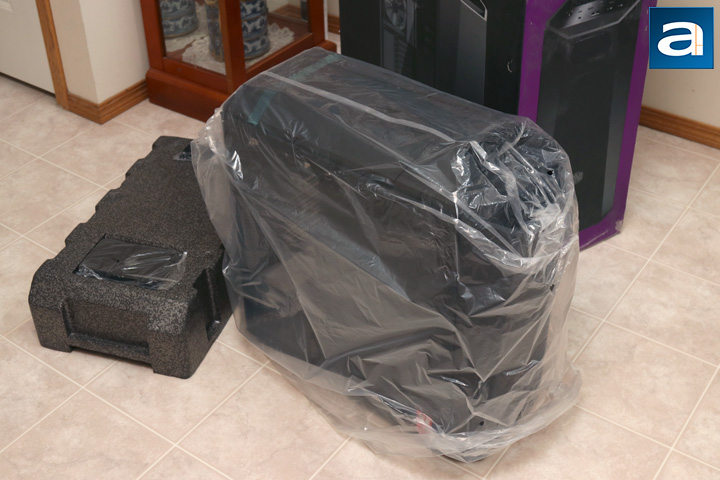 Out of the box, the MasterCase MC500M is wrapped in a clear plastic bag and surrounded by foam brackets on the top and bottom of the case. These huge gray foam chunks do the heavy lifting in protecting the case while it is in transit. The foam bracket also houses a few more things including the accessory kit, the manual, and an additional bracket. We will see what these are shortly. Otherwise, I was surprised at the lack of plastic wrapping on the tempered glass, but this is not a huge deal. Usually, we would see plastic on the glass to help with protecting the glass from scratches.
Before we continue, let us grab the specifications from the manufacturer for your perusal:
Specifications
Product Name: MasterCase MC500M
Model Number: MCM-M500M-KG5N-S00
Available Color: Dark metallic grey exterior with black interior
Materials: Steel, Plastic, Tempered Glass
Dimensions (LxWxH): 528.6 x 235 x 548mm
Motherboard Support: E-ATX (up to 12" x 10.7"), ATX, Micro-ATX, Mini-ITX
Expansion Slots: 7
Drive Bays: 5.25" - 2, Combo 2.5" / 3.5" - 4, SSD - 1
Drive Bays Support: 5.25" - 2, Combo 2.5" / 3.5" - 8 or 10 (with ODD bay removed), SSD - 1
I/O Port: USB 3.0 (type A) x 3, USB 3.1 (type C) x 1, Audio in/out (support HD audio), Fan Speed & RGB control buttons
Pre-installed Fan(s): Front - 140mm x 2 (1200RPM), Rear - 140mm x 1 (1200RPM)
Fan Support: Front - 120 / 140mm x 3, Rear - 120 / 140mm x 1, Top - 120 / 140mm x 2
Radiator Support: Front - 120 / 140 / 240 / 280 / 360mm, Rear: 120 / 140mm, Top: 120 / 140 / 240 / 280mm
Clearance: VGA - 412mm (without 3.5" HDD cage) / 296mm (with 3.5" HDD cage), CPU - 190mm
Cable Routing Behind MB Tray: 25mm - 35mm
Dust Filters: Top, Front, Bottom
Power Supply Support: Bottom mount, ATX
Lighting Support: RGB control Board x 1 (Cycle, Static, M/B modes) to pre-built LED partition plate, Two additional connections available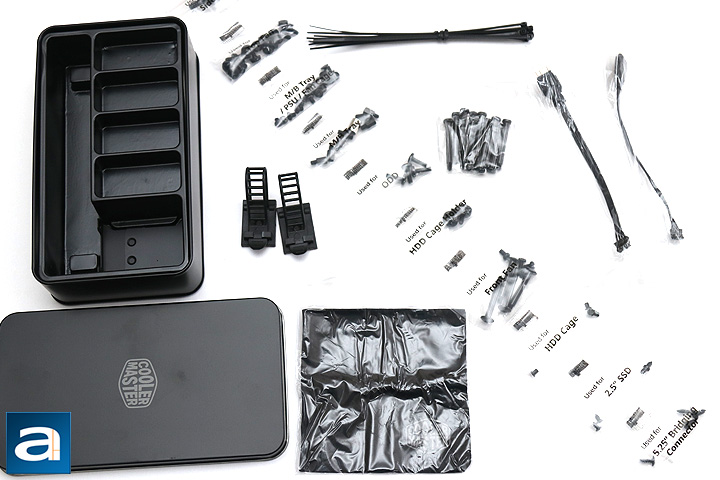 I do not usually do this, but I do like to highlight when companies go above and beyond the necessary steps. In this case, Cooler Master has done something similar to what Phanteks did with their cases by providing a separate container to hold additional accessories. This box is filled to the brim with screws that go all over the place. As you can see, this is a large strip of connected plastic bags with descriptions on each section for what the screws do. However, I did find the descriptions did not always match the screws inside, so be sure to reference the manual. In addition to this, we also have several cable ties, two adhesive cable loops, a cleaning cloth, and some cables for the RGB equipment. All of these fit inside a tin container with the Cooler Master branding on it. I really like what Cooler Master has done here, as it provides a really premium feel and makes the installation process a bit more organized.
---
Page Index
1. Introduction, Packaging, Specifications
2.
Physical Look - Outside
3.
Physical Look - Inside
4.
Installation and Conclusion