By: Jadon Lee
February 5, 2021
It has been a couple of days ever since one of my friends has gotten into a relationship. With them entering a relationship, the rest of my friends and I have not really talked to them as much as we did about a month ago. Not seeing a friend can be seen as a sad moment, but you still must be happy for them and look on the brighter side of things. There is one absolute truth when it comes to your friends getting into relationships, and that is the opportunity to be the greatest third wheel known to humanity. Many people out there may say things like, "Why would you ever want to be a third wheel? Couples are so cringey." My response is very simple: Just embrace the cringe and become more cringe than the couple ever could be. In the end, third wheeling is not all too bad. Spending time with your friends is still spending time with your friends, so there is still much to be enjoyed in your relationship with them. Now, what does this have to do with our product today? Not a whole lot, other than the fact I am still single and when I am not third wheeling, I want the assurance I still have a hardcore gaming PC. Today, Cooler Master has sent over their MasterLiquid ML280 Mirror for us to try out in my hardcore gaming PC. I am excited to test out this cooler as I have yet to install an all-in-one cooler in my system. Will this cooler perform well enough to keep my CPU cool? Keep reading to find out!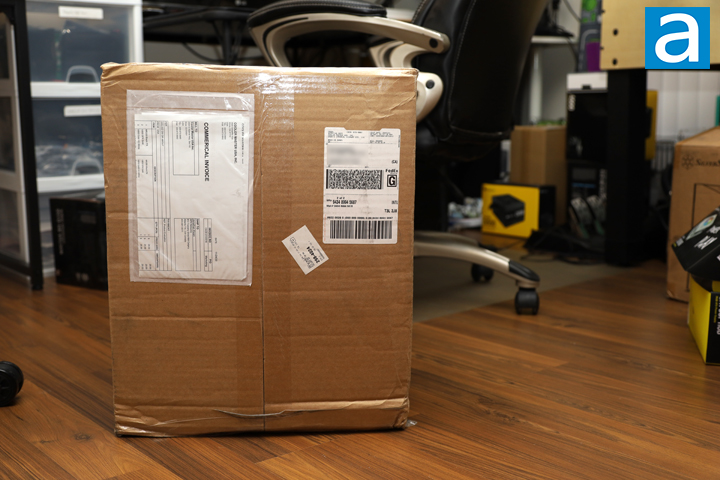 Today's review unit was shipped to us here in Calgary, Alberta, Canada via FedEx International Ground service from Cooler Master's office in Brea, California. The shipping box was decent with a couple of marks and scuffs around the box. Generally, I had nothing to worry about as the marks were not too severe. The retail box arrived in almost perfect condition with only a minor bruise on the left side of the box. I had no real complaint about the shipping.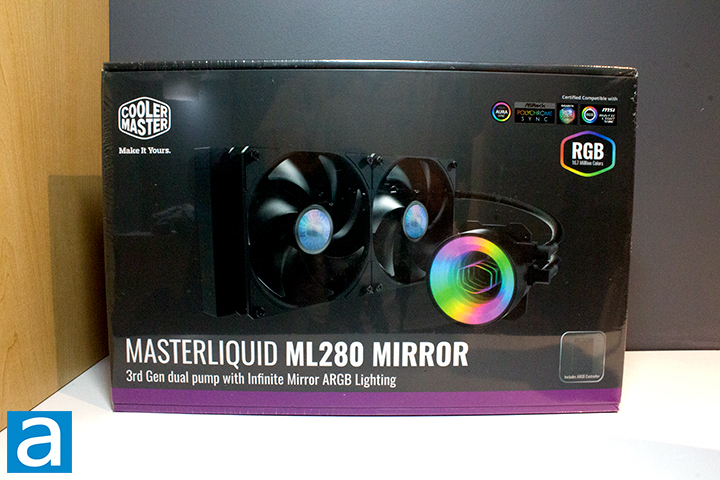 The retail box design is very standard to many other Cooler Master products with its black and purple theme. On the front of the box, the Cooler Master logo is displayed at the top left, while an image of the cooler is placed in the center with the name "MasterLiquid ML280 Mirror" on the bottom left. The top right proceeds to tell us which motherboard controller is supported in regard to RGB. The left side of the box provides a list of specifications for the user. The right side of the box talks about the general design of the cooler. Something I found funny on this side of the box is how it talks about the SickleFlow 120 fan, despite having the SickleFlow 140 fan instead. This is just a minor detail, but this should be fixed. The back of the box simply has some written information about some of the cooler's features. The top of the box mimics the front without the image of the cooler. Cooler Master's consistent retail box design will make their store aisle extremely aesthetically pleasing.
Before we continue, here are the specifications for the Cooler Master MasterLiquid ML280 Mirror, as posted on the manufacturer's website:
Exterior Color: Black
CPU Socket: LGA2066, LGA2011-v3, LGA2011, LGA1200, LGA1151, LGA1150, LGA1155, LGA1156, AM4, AM3+, AM3, AM2+, AM2, FM2+, FM2, FM1
Radiator Material: Aluminium
Radiator Dimensions: 318 x 140 x 27.2 mm / 10.9 x 4.7 x 1.1 inch
Pump Dimensions: 81.2 x 76 x 57.8 mm / 3.19 x 3 x 2.3 inch
Pump MTTF: 70,000 Hours
Pump Noise Level: < 10 dBA
Power Connector: 3-Pin
Pump Rated Voltage: 12 VDC
Pump Power Consumption: 2.36 W
Fan Dimensions (L x W x H): 140 x 140 x 25 mm / 5.5 x 5.5 x 1 inch
Fan Quantity: 2 PCS
Fan Speed: 650-1400 RPM ± 5%
Fan Airflow: 67 CFM (Max)
Fan Noise Level: 10-27 dBA
Fan Pressure: 2.25 mmH2O (Max)
Fan Life Expectancy: 160,000 Hours
Fan Power Connector: 4-Pin (PWM)
Fan Rated Voltage: 12VDC
Fan Rated Current: 0.15A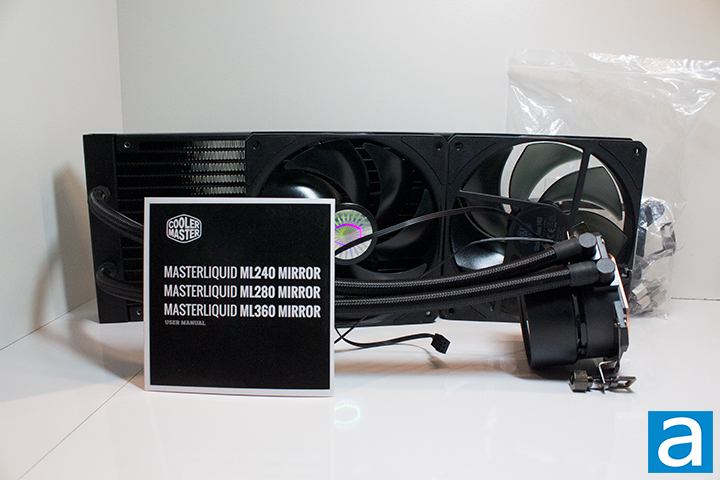 You will find the full cooler, both fans, and all of the mounting supplies tucked into some cardboard. The instruction and information manuals were tucked between the two fans. Alongside the mounting supplies comes a small tube of thermal paste. If you do not have an ARGB motherboard, do not worry, because Cooler Master also provides an RGB controller. I personally liked the cardboard as it fit all of the items very well with a nice snug fit. The design was compact and space-efficient.
---
Page Index
1. Introduction, Packaging, Specifications
2.
Physical Look - Hardware, Installation
3.
Test Results
4.
Conclusion