By: Jeremy To
February 3, 2012
As a reviewer of PC components, I would like to first start this introduction off with a bit of insight. PC components tend to fall into three different categories: Budget components, performance components, and I-have-too-much-money-to-spend components. You follow? Let me rephrase. Budget components are produced by manufacturers with the goal of providing the best performance-per-dollar. Performance components are released into the market comparably around the same price, but geared towards providing pure performance, innovation, and refinement. Last, but definitely not the least, is the I-have-too-much-money-to-spend kind of products. These products are those targeted at consumers that really have no budget in mind, but are just looking for the best of the best with simply have too much money to spend; hence the name I gave it. Today, however, I seem to be in a bit of a dilemma. Cooler Master has given us a fresh chassis, the Elite 431 Plus, and it seems to be a hybrid of a budget and a performance case. Looking at the price of around $50 at the time of review, it is definitely priced as a budget case. But on paper, this baby screams performance. LED intake fan? Hot swap HDD X-dock eSATA bay? Internal USB 3.0? Black painted interior? The perfect acrylic windowed side panel (No joke!)? The feature list on this case continues to amaze me. But there must be a catch, right? Well, I guess you'll have to read on to find out.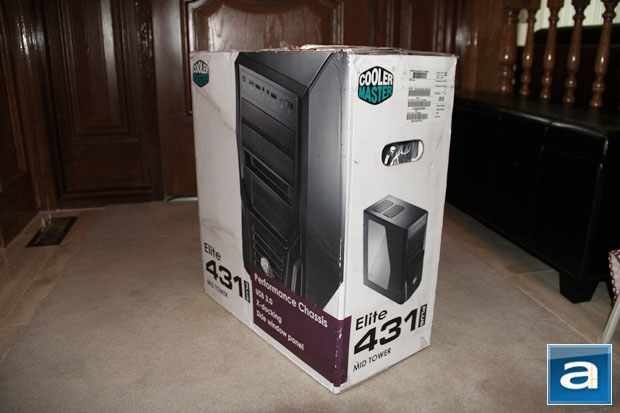 Our review unit the Cooler Master Elite 431 Plus chassis arrived in its retail box without any additional shipping material. Much like most, if not all, review units we receive from Cooler Master, this one came from their American office down in Chino, California. Since the retail box of cases is normally built with shipping in mind, they usually do not need to be packaged with an additional box outside -- not that we have not seen it before. The retail box of the Elite 431 Plus is no different, as it arrived at our Calgary, Alberta office with no more than its bare retail box. Handled by UPS Standard, the packaged arrived in excellent condition with no more than the standard bump, bruise, and a mark.
As far as the exterior look and design of the retail packaging is concerned, we can make out the Cooler Master-like design that most of their products incorporate; featuring a healthy mix of white and purple. The unit itself is found on the front of the box placed just to the right of the Cooler Master logo. Below it is the product name and a small description of its most worthy features. Found around the rest of the box is a list of specifications and more feature highlights available on the Elite 431 Plus.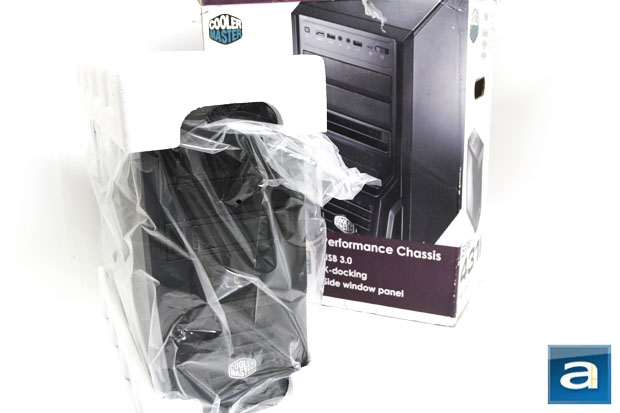 Standard to all chassis, the Cooler Master Elite 431 Plus is protected between two large Styrofoam brackets, while being wrapped in a plastic bag to protect the finish from scratches during transport. Included with the chassis is a small user's manual, with the accessories found within the case.
Before we move on, let's take a look at the specifications of the Cooler Master Elite 431 Plus ATX chassis, as obtained from the retail box and the manufacturer's website:
Available Color: Full Black
Material: Steel Body, (0.5mm/SECC), ABS plastic
Dimension: (W / H / D) 192 x 427 x 499 mm
Weight: 5.0 kg / 11 lb
M/B Type: ATX /Micro-ATX
5.25" Drive Bay: 3 Exposed (w/o X-Docking)
3.5" Drive Bay: 2 Exposed, 5 Hidden
2.5"/3.5"- SATA HDD Drive Bay: 1 Exposed (converted from one 5.25" bay)
I/O Panel: USB 3.0 x 1(int.) , USB 2.0 x 2, Mic x 1 , Audio x 1
Expansion Slots: 7
Cooling System: Front: 120mm Blue LED fan x 1, 140mm (optional); Top: 120mm fan x 2 (optional); Rear: 80/90/120 mm fan x 1 (optional); Bottom: 80/90/120mm fan x 1 (optional)
Power Supply: Standard ATX PS2 / EPS 12V (optional)
---
Page Index
1. Introduction, Packaging, Specifications
2.
Physical Look - Outside
3.
Physical Look - Inside
4.
Installation and Conclusion