By: Aaron Lai
October 4, 2013
If you have been reading from APH Networks for a while, you probably have heard of a character named Javad. He was first mentioned in the Gigabyte GA-P67A-UD5 motherboard review as the Editor-in-Chief's 'favorite' teaching assistant. Since I am currently in the same Electrical Engineering undergraduate stream as Jonathan, it is only natural that I would meet the dreaded Javad. That day came, and the first tutorial he taught he was surprisingly quite good. Considering I knew of his shady past, I was very apprehensive, but the rest of my classmates were quite pleased. In fact some even wanted him to teach the lectures in place of our current instructor. The week after, we completed our first quiz, and he came by each row to collect the quiz. After he got back to the front, an entire row stood up and tried to hand in the quiz. He flatly rejected them, saying that he passed the row, and therefore would not take in any more quizzes. The students -- and even the other TA -- continued to object, but he would not change his mind, stating that it was a "policy". What is the point to the whole story? First impressions can be quite deceiving for both positive and negative things. What may seem decent at first may turn out to be a true stinker, and vice versa. It is quite hard to judge without full understanding. Likewise, when I received the Cooler Master N400, I did not really expect anything. In fact, I expected the case to be similar to any Dell or Acer OEM desktop case, especially since this is no full-size case, but rather a mid-tower. The Cooler Master N400 is definitely not meant to be an enthusiast case for the hardcore gamer, and is instead targeted at a lower budget or basic user. Is this case a lemon, or is there a case to be made? Read on to find out!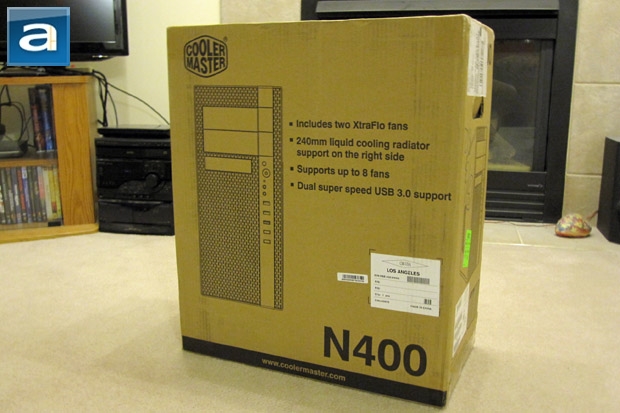 Our review unit came from Cooler Master's Headquarters in Chino, California. The parcel arrived via UPS Standard in pristine condition, with zero unintended dents or holes. The retail packaging, which is displayed above, is quite plain, with Cooler Master opting for a standard brown cardboard box with black print on top. This is fully understandable, considering this is not from their CM Storm lineup, and thus the audience is a different target group. The front lists some key features, and a larger more extensive feature set is on the flip side. For your information, there are four models of the N400, each with other options such as front-facing LEDs, and/or a left-side window. The model we received from Cooler Master is the KKN2 variant, which is the base model without the front LEDs or a side window. Bummer.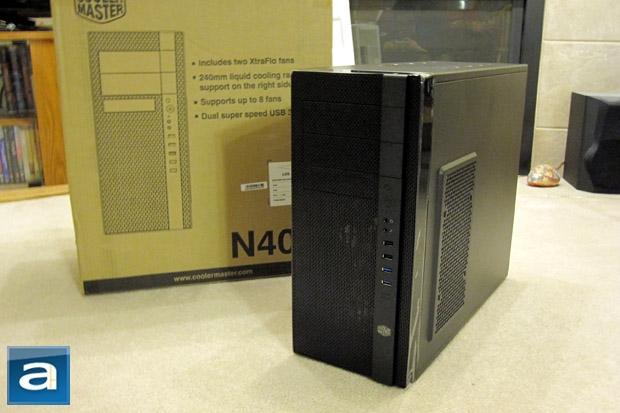 Grabbing an X-Acto knife and opening the box reveals the case wrapped in a plastic bag to avoid scratches, and lined with foam inserts to avoid dents. Much of the glossy parts of the case are plastic lined to avoid fingerprints from the manufacturer (Obviously in fear of the NSA taking their fingerprints, haha). Probably the most shocking thing when opening the case was finding how light the case was. The last one I reviewed was the CM Storm Stryker, and that was one tank of a chassis, especially when trying to carry it around. In addition to the chassis, there is a small manual included in the packaging, which includes installation instructions.
Before we continue on, listed below are the features and specifications of the Cooler Master N400, as obtained from Cooler Master's website:
Model: NSE-400-KKN1|KWN1|KKN2|KWN2
Available Color: Midnight Black
Materials: Polymer, mesh front bezel
Dimensions: 190 x 426 x 501.4 mm / 7.5 x 16.7 x 19.7 inch
Net Weight: 5.6 kg / 12.3 lbs
M/B Type: Micro - ATX, ATX
5.25" Drive Bays: 2 (exposed)
3.5" Drive Bays: 8 (1 exposed, 7 hidden)
2.5" Drive Bays: 3 (hidden)
I/O Panel: USB 3.0 x 2 (int.), USB 2.0 x 2, Mic x 1, Audio x 1 (supports AC97 / HD Audio)
Expansion Slots: 7
Cooling System: Top: 120mm fan x 2 (optional); Front: 120mm fan x 2 (one white LED XtraFlo fan installed, one optional) - for KKN1/KWN1; with no LED XtraFlo - for KKN2/KWN2; Rear: 120mm XtraFlo fan (no LED) x 1 (installed); Left Side: 120/140mm fan x 1 (optional) - for KKN1 / KKN2 only; Right Side: 120mm fan x 2 (optional)
Power Supply Type: Standard ATX PS2
Maximum Compatibility: VGA card length: 320mm / 12.6 inch; CPU cooler height: 164mm / 6.4 inch
---
Page Index
1. Introduction, Packaging, Specifications
2.
Physical Look - Outside
3.
Physical Look - Inside
4.
Installation and Conclusion