By: Devin Chollak
August 5, 2011
I always enjoy the feeling of having something soft and warm on my lap. It feels good and comfortable, but sometimes my lap gets a little bit too hot. Obviously, I was talking about my kittens, not sure where your mind went, haha. I got two new kittens a few weeks ago, and they definitely do a good job at keeping my lap warm. It is almost as if I left my laptop on my lap for a few hours -- which isn't a very typical thing for me when I am at home. However, when I'm on the go, my lap happens to be a convenient place, and I guess the whole 'lap' part of laptop really starts to show. In the past, some of my laptops seems to be a mini heater. Normally, you would expect the thought of something smoking hot in my lap being enjoyable; however, this kind of hot instead reminds me of sunburn. In my last review for the Cooler Master NotePal X-Slim, the cooler was designed to be lightweight and portable. This time, we are going to look at a different kind of portable laptop cooler. While this one isn't meant to be something you would like to carry around, it still works wonders on your lap. This brings about the next question. Is it ready to please your lap, while you are pleasing your girlfriend? (Of course, by 'pleasing', I mean talking to her on Skype or Windows Live Messenger. You guys really need to stop thinking about those other kinds of things). Well, let's take a look at what's chilling today with the Cooler Master NotePal LapAir!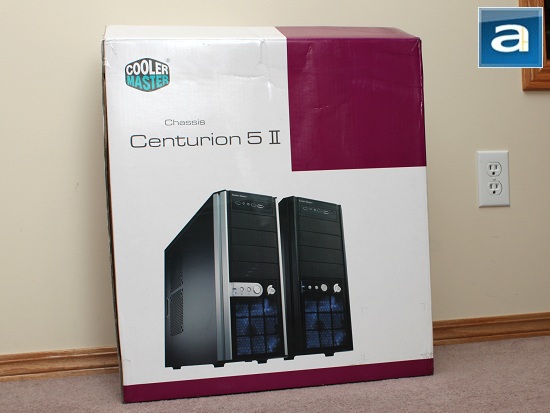 Cooler Master pulled a tricky one this time on us. Here at our Calgary office, we received the NotePal LapAir... inside a Centurion 5 II chassis box. It quickly became one of those "This isn't what I ordered!" moments, but rest be assured they were just playing games with us -- the actual Cooler Master NotePal LapAir was sitting comfortably inside the box. This "Greek" box only suffered minor battle wounds and, for the most part, was intact and ready for more adventures. After removing the precious cargo, I was able to lay my eyes upon the NotePal LapAir, so why don't we take a closer look?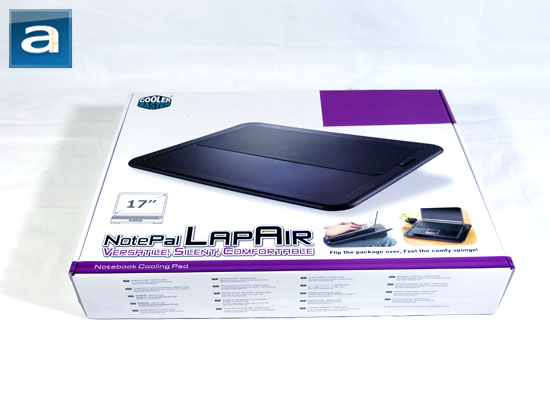 The retail packaging is very much identical to the NotePal X-Slim's; albeit a bit larger. The front of the box carries name of the product, with a large image of the cooler prominently displayed. Below the name, you will find the keywords for the NotePal LapAir: Versatile, Silent and Comfortable. At the bottom corner, they show a few images of what it looks like while in use. It even advertises you should flip the package over to feel the comfy sponge. Now, can someone explain to me how I am supposed to feel the comfy sponge, when they have covered the opening with plastic? I mean, if they told me to look at it, I could do that, except feeling it would involve breaking the plastic. It's like a tour guide at the zoo saying you can pet the deadly snake, but fails to mention the fact there is a gigantic glass window in the way. Well, I'll take their word for it about the sponge, and in the meantime, let's see if you can absorb the features and specifications from the manufacturer's website:
Features
- Noiseless fan with great cooling performance.
- Comfy sponge mat provides comfort.
- Ergonomic design for best viewing/typing angle.
- Easy access to fan for quick cleaning.
- Powered by USB port extender, you won't lose a USB port.
- Cable grooves for easy USB cable management.
- Supports up to 17" laptops
Specifications
- Model: R9-NBC-LPAR-GP
- Color: Black
- Material: Plastics, Metal mesh, Rubber, PU sponge
- Weight: 2.65 lbs / 1.2 Kg
- Dimension: 16.93" x 12.44" x 0.71~2.21" (430 x 316 x 18~56mm)
- Fan Dimension: 80 x 80 x 21.3 mm blower fan
- Fan Speed: 1650 ± 15% R.P.M.
- Fan Speed Adjustment: Single Speed
- Fan Airflow: 65 CFM
- Fan Noise Level (dB-A): 23 dBA
- Power: USB 5V DC
- USB: USB 2.0/1.1 x1 (For Power Input)
- Power consumption: 1.7W, 0.34A
- Compatibility: Supports up to 17" laptops
- UPC Code: 884102011191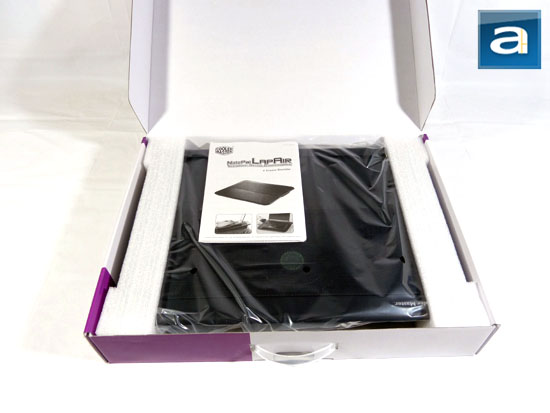 Upon cracking open the box, I didn't find a whole lot of stuff inside. All we have is the foam brackets, plastic wrap, instruction manual, and of course, the Cooler Master NotePal LapAir itself. It is the bare minimum; and that is perfect, because what else could you possibly need? The foam brackets are used in the same way as you would expect in any other retail box. It protects each end, and keeps the product elevated in the box to prevent any damage. The plastic wrapping is meant to keep the dust off of it until you are ready to place it on your lap. Nothing too fancy here, so let's go over the Cooler Master NotePal LapAir in detail, coming up next.
---
Page Index
1. Introduction, Packaging, Specifications
2.
A Closer Look, Usage
3.
Testing and Conclusion