By: Kenneth Kwok
August 13, 2010
Ever since the recent release of Starcraft 2, most of us who are hardcore gamers have become quite a bit busier. Whether it be playing through Campaign on 'Brutal' difficulty level for the Sarah Kerrigan portrait, or just running up the ranks on Ladder, one thing is for sure -- while playing Starcraft 2 (Or games of other genres, for that matter, such as RTS, RPG, and FPS), one needs to be prepared with the right equipment to go about playing such games. Sometimes, the generic keyboard and mouse that you picked up at your local computer store just don't cut it for this purpose. Most people would probably be wondering at this point, "What does all this has to do with this review?" Well today, we will be taking a look at yet another gaming peripheral. It hasn't been too long since our last foray into the high performance mouse world, such as the Logitech G500 and Mionix Naos 5000 we recently reviewed. Our product for evaluation today comes from Cooler Master, a company renowned for their power supplies and cases. Last year, they introduced their first gaming mouse called the Sentinel Advance under the CM Storm brand for gaming products. Recently, they have released a second mouse named the CM Storm Inferno, which we will be taking a look at today. Let's jump down into our review today, and see if we can get back to our 'busy' gaming schedule with a brand new addition to our arsenal of equipment!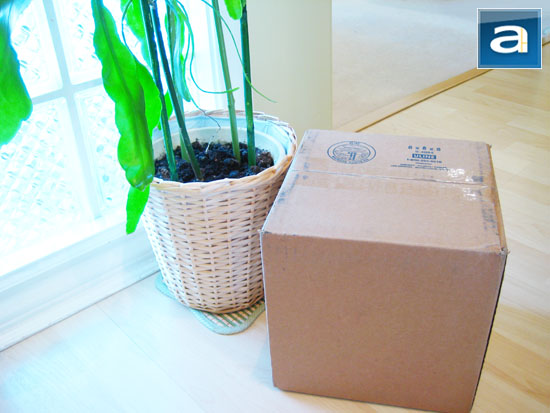 Our review unit of the Cooler Master Storm Inferno was shipped in from Cooler Master's office in California using UPS Standard to our offices here in Vancouver, British Columbia. Our mouse was contained inside a brown rectangular corrugated cardboard box. UPS did a fine job in delivering our package; it came in mint condition with barely a scratch even on the box itself. With another package from the carrier, our place is quite a popular destination for the driver, haha. The products inside were also in very good condition, due to the paper packaging used to protect its contents from being damaged.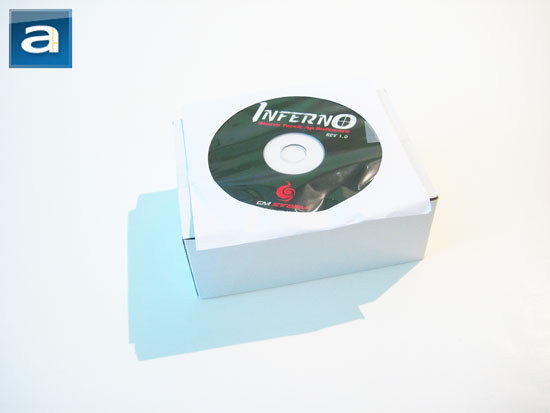 For once, our sample unit did not come in retail packaging, as this was sent in before the retail packaging was available -- this is, in fact, a pre-production unit. Therefore, it simply came in a small white thin cardboard box with the drivers and software CD taped on top of it to assure they would be found together. However, Cooler Master was kind enough to send us images of the actual retail packaging for reference in our review.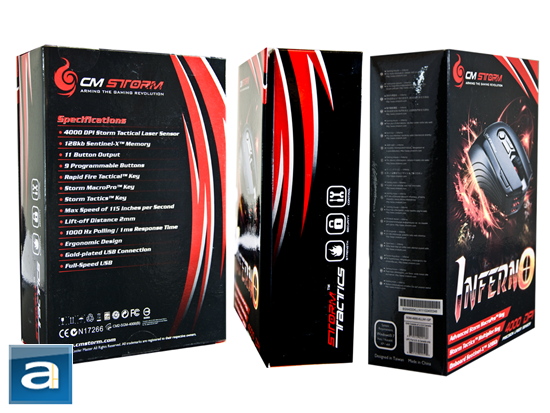 The retail packaging image as obtained from Cooler Master shown above definitely gives off that "Inferno" vibe its name suggests. This is alluded to by the inferno fire theme, thanks to its predominant use black, red, and white as its main choice of colors. The front of the box has a giant picture of the CM Storm Inferno centered with red flare effects to the side of it. A big CM Storm logo can also be seen at the top left, and the giant word "Inferno" printed on the very bottom of the same surface. The back side lists all the features and specifications of the Inferno, which we will touch upon later on in this review. Various certifications can also be found on the back of the box below the specification listings. A closer look reveals a flap at the front to provide information on the main features of this mouse, while a cut-out in the box is found to show off the Inferno mouse itself behind a plastic enclosure. This type of retail packaging would make for a good item on display on a retail shelf, because it can be opened further to reveal both the mouse itself, as well as highlights of the gaming oriented features implemented in it.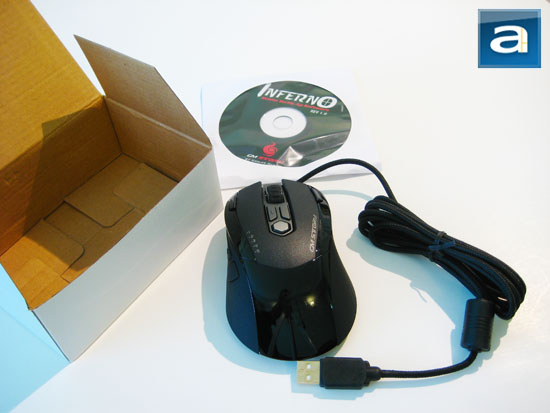 As expected with our pre-production unit packaging, out of the box, we found the CM Storm Inferno mouse only, as well as a driver disc taped on top of the box as aforementioned. It should be safe to expect a little more to be included with the final retail packaging, such as an instructional booklet.
Before moving further, let us take a look at the specifications of the CM Storm Inferno, as obtained from Cooler Master's website:
Model: SGM-4000-KLLN1-GP
Memory: 128 kb
DPI Display: 4000 DPI Storm Tactical Laser Sensor
Buttons: 11
Programmable Buttons: 9
Max Speed: 115 inches per second
Lift Off Distance: 2 mm
Polling: 1000 HZ
Response Time: 1 ms
USB: Gold-plated
Full Speed USB: Yes
Software: Included
Warranty: 1 year
UPC Code: 884102009594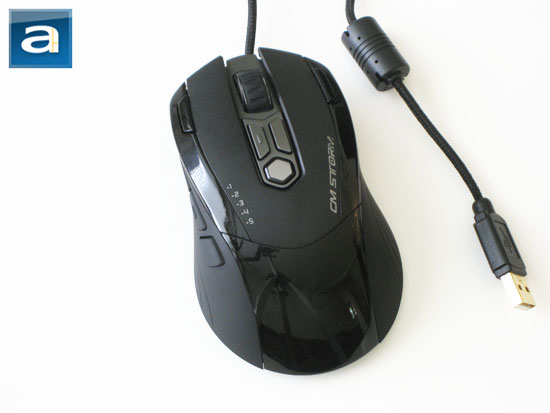 The Cooler Master Storm Inferno, similar to many other performance gaming mice, uses a braided USB cable for better elasticity, increased durability, and lower amount of friction than standard plastic or rubber coated wires. The cord itself is more than adequate in length for most desktop applications, especially when it comes in at around 2m in length, according to my measurements. For mainly aesthetic purposes, the USB connector is also gold plated, as shown in our photo above.
In terms of the design of this gaming mouse, it certainly has that 'gaming aura' around it. This all seems to resonate from the black color scheme an abundance of gaming peripheral manufacturers are using nowadays. Let's take a deeper look into the actual construction of the mouse itself. Generally speaking, the mouse is mostly composed of various plastics of different textures. The only non-hard-plastic components are the rubber-coated grips on the left and right side of the mouse, used to enhance grip and comfort for the end user. For some reason, there are four grooved lines engraved onto grips on both sides where your thumb, ring finger, and pinky normally go. Not that they are overly annoying, but it just seems it would have made more sense to leave it as a non-grooved surface for better overall comfort. The part next to it are glossy finished plastic, which extends from the bottom of the mouse encompassing the palm area, to the strips adjacent to the left and right mouse buttons -- as shown in our photo above. As you may have guessed, these parts are fingerprint magnets, like pretty much every black colored glossy finished plastic surface. Hard black plastic is used for both mouse buttons. This part is probably the least enjoyable part of this mouse for me, as the plastic is a bit rough to the touch for my tastes. The Inferno is branded 'CM Storm' on the right, with sensitivity level labels on the left. To my measurements, the mouse comes in at about 11cm x 7cm at its longest and widest points, respectively. The CM Storm Inferno actually feels a little small to my relatively large hands (It is actually shorter than the Logitech G500), but even for an average male hand at 189mm, may still find the Storm Inferno a bit too short.
Starting from the left side, right above the thumb grip, are three buttons. Two of them are grouped closer to the front, with a small gap to the third button near the back. The two forward buttons can be bound to features in games, or even used to trigger macro events, in which we will discuss in just a moment. By default, these buttons are used for forward and back buttons in your favorite browser or Windows Explorer; which is convenient for day-to-day casual use. The 'back' button features a groove for better user differentiation during usage. The isolated rear button is what Cooler Master refers to as the Storm Tactics Multiplier Key -- giving access to a range of user bound macros. It is used by holding this key in conjunction with one or two additional buttons on your mouse for a preset feature (Basically, it is kind of like an Fn key on your laptop). In close proximity of these three buttons are numbers labeled from 1 to 5 on the upper surface of the Storm Inferno. They correspond to five red LEDs hidden under the glossy finished black plastic, used to indicate the five preset sensitivity levels adjustable in the software, which we will again touch upon later in the review. Sadly our third LED not light up -- we will have to assume that this is due to the nature of the sample unit being a pre-production unit. Near the top of the mouse, above the LEDs and next to the left mouse button is the Rapid Fire Tactical Key. The Rapid Fire Tactical Key is used to fire multiple bullets in a FPS game with only one click. Meanwhile, a wide scroll wheel is situated between the left and right mouse key, and is about twice as wide as a standard scroll wheel sporting horizontal grooves for additional grip. The center part of the scroll wheel is made of rubber for comfort and grip, while the sides are made out of translucent plastic in order to allow a red glow to pass through from its internal LED. Found below the scroll wheel are three more buttons. The vertically parallel buttons are used for adjusting mouse sensitivity, while the hexagonal button located just beneath it is the profile switcher for users to switch between custom profiles set in the CM Storm Inferno's software. Cooler Master says that the whole middle area is a "sweat divergent canal", catering to intense gamers that perspire more than normal. The right side also contains another button similar to the Rapid Fire Tactical Key on the left, except this one is called the Advanced Storm MacroPro Key that can again be used to bind a macro or script for in-game usage.
In total, out of the 11 buttons; of which 9 of them are programmable. With the Storm Tactic Multiplier key, the CM Storm Inferno can accommodate up to 32 combinations.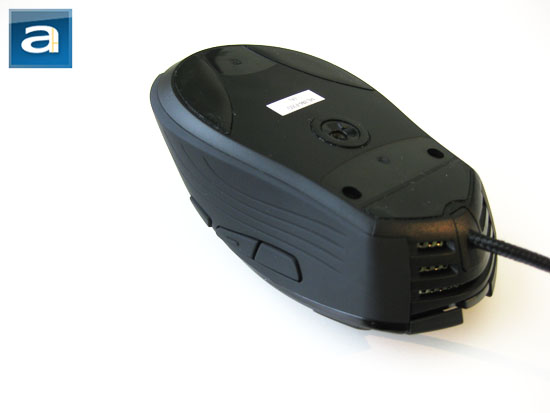 Spinning and flipping the mouse around, the backside of the Cooler Master Storm Inferno is revealed to us. This part of the mouse is also made out of plastic. A quick glance at this side give us a pre-production impression to it, as it lacks all the usual certification labels and whatnot. Two Phillip-head screws are also seen uncovered near the top of the mouse. Like many other mice of this caliber, the bottom of the mouse has three large polytetrafluoroethylene (Multi-C2F4, Teflon) feet, which is quickly becoming the norm for its great glide properties on most gaming mice today. Based on theoretical calculations and previous experience with Teflon feet used in various mice we have tested or used in the past, it should be safe to assume that the PTFE feet should last for as long as you use your mouse.
Also seen near the center of the mouse is the laser sensor featuring up to 4000dpi sensitivity, with the ability of adjusting the X and Y sensitivity independently. The CM Storm Inferno sensor can also do up to 1000Hz polling rate like the Logitech G500 and Mionix Naos 5000. This means the mouse can send up to one thousand reports per second to your computer. With the listed 1ms response time, there should be little to negligible lag to satisfy the demands of most intense gamers; at least on paper. Taking a look at the front of the mouse, we can see a few openings in front with metal mesh placed behind it. If you ask me, the CM Storm's front looks quite similar to the grille on certain cars. Hidden behind this mesh are a few red LEDs to further add to the inferno theme. However, I don't think headlights of this color temperature are legal in any jurisdiction. ;)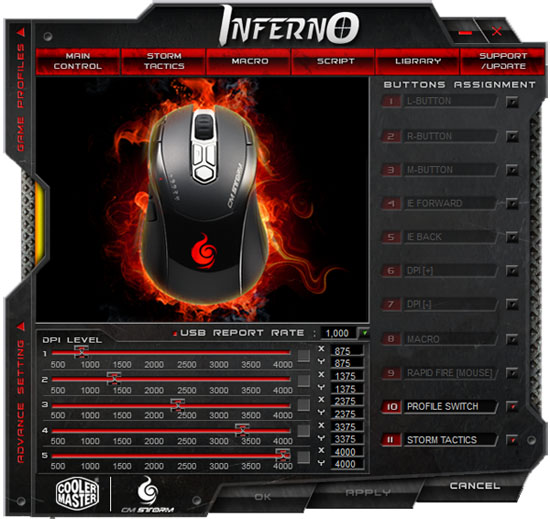 Software wise, the Cooler Master Storm Inferno has some very solid features. Ranging from sensitivity settings, key bindings, to the more advanced macro and custom script features. Of course, the inferno color scheme is still present; with the same red, black, white and gray colors that dominate the graphical user interface. On the main screen, there are standard key binding assignments, sensitivity settings for the five customizable dpi levels (Can be set independently for the X and Y axis), as well as a Game Profiles and Advanced Settings tab on the left. These tabs expand into features such as motion sensitivity, double click speed, and button response time. The CM Storm Inferno has 128KB of internal memory for storage of up to three different profiles that can be accessed from this menu, as previously discussed. These profiles can be used for different games, or even different tasks within the same game -- and saves everything from the button assignments, dpi settings, all the way to created macros and scripts.
On the topic of the macros and scripts, including special features such as the Rapid Fire Tactical Keys, there is actually a lot of room for customizing the CM Storm Inferno gaming mouse. The Rapid Fire Tactical Key has three settings when customizing it. These include the number of bullets fired, time duration of each shot, and the delay between each one. Each macro and script can be easily recorded in its respective driver tabs. Under each tab, the macro or script can be set by pressing the Start Record button, and takes into account of all actions the mouse does, such as commands and click sequences, as well as those of the keyboard. All of this is recorded in real time by default -- so the delay on each instruction or command is bound at the same time the original was. Each of these then becomes available for one click access to the sequence of instructions. These can be triggered in multiple ways; such as looping on release of a button, one shot on release, one shot on press, and the such. Both macros and scripts can be saved onto the local hard drive in addition to the mouse for later usage or modifying bound controls later on. Finally, with regards to the Storm Tactics button, requires the use of the key itself in combination with one or two other buttons to run a script or macro. There is a maximum limit of eight custom Storm Tactic binds per profile. This adds a whole new dimension to the number of custom key assignments that can be utilized at a time. Included in the Storm Tactics tab is also adjustment of scroll wheel speed, as well as the style of LED lighting; ranging from turning on specific lights to disabling them altogether.
------------------------------------------
The Tests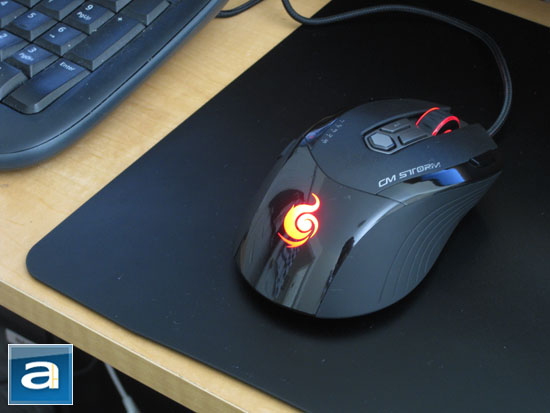 Our tests were carried out on a computer with the following specifications:
CPU: Intel Core 2 Quad Q9550
CPU Cooling: OCZ Gladiator
Motherboard: Asus P5E3-Deluxe
RAM: OCZ Special Ops PC3-10666 2x2GB
Graphics: Palit Radeon HD 4850 Sonic 512MB
Case: NZXT Panzerbox (NZXT 120mm - Back, NZXT 190mm - Top back, NZXT 190mm - Front)
Power: Cooler Master Silent Pro M 1000W
Optical Drive: LG 16X DVD Burner
Hard Drive: Seagate Barracuda 7200.11 640GB
Operating System: Microsoft Windows 7 Professional
I have put the Cooler Master Storm Inferno through our new revamped series of tracking performance tests. Included is regular office usage in productivity programs, as well as gaming tests with various games including Garry's Mod, Counter-Strike: Source, Starcraft 2, Just Cause 2 and Company of Heroes. The mousing surfaces used includes the cloth-based Razer Goliathus and Razer Mantis, as well as the aluminum-based SteelSeries SX.
Over the course of several weeks, I have been able to come up with a good deal of experience in using the mouse. The overall build quality of the mouse isn't bad per se, but it does leave a bit to be desired. It is put together well, but feels cheaper than I would expect, as the plasticky feel of the mouse just doesn't sit right with me like it should with a gaming grade mouse. The hard plastic utilized for the mouse buttons is not the most comfortable material I have experienced in the past. On the other hand, the buttons are very 'clickable' and of good quality, as with all the other buttons on the mouse. The widened scroll wheel is also very responsive; the added width and grooved rubber makes it easier to scroll. Lastly, the usage of the Teflon feet provides excellent glide on all our tested surfaces ranging from cloth, desk to metal. In essence, the design and execution of the mouse is really a mixed bag, with some good features and some bad properties.
After using so many mice from the Logitech G-series, from the original G5 and G7 to the G500, as well as the well regarded Mionix Naos 5000, I have become accustomed to resting my palm completely over the surface of the mouse. Being a palm mouse user, as juxtaposed to a finger mouse user, I found the mouse to be a bit small for my tastes, as my fingers extend a bit too much out the front. On the flip side, a user using their fingers to grip the mouse may find their wrist protruding too far out the back for optimal comfort. This is especially true when using a harder surface such as the aluminum-based SteelSeries SX. The rubber grips on the sides do provide some comfort, but at the same time the grooved lines are a bit counterproductive in this regard. The mouse is fine width-wise, as it is adequate for most hands, and fits well for both palm and finger mouse users. On the other hand, this comfort and design makes it asymmetrical, meaning it can only be used by right handed users. To be honest, you lefties aren't missing much with the CM Storm Inferno. The size of the mouse is neither small enough for mobile users, nor large enough for optimal desktop comfort.
The Cooler Master Storm Inferno is adequate in doing office productivity work. Performance wise, we just adjusted the sensitivity down when we were using it for things such as Photoshop and web browsing. Other elements used to accomplished this was changing the profile over to a more office oriented preset I composed myself; with lower sensitivity and different button assignments. The downside here is the lack of comfort as aforementioned with this mouse, as it is not the adequate size for an average hand, nor is the plastic material used to construct the mouse. As far as gaming is concerned, this part is slightly better, since I spent less time resting on the mouse doing remedial things -- it was more about fast paced movement of the mouse. Overall, it was responsive enough to do the job, thanks to its 1000Hz polling rate and 1ms rated response time. A good amount of glide and rapid fire button certainly came in handy when programmed correctly. The macro and script features were also pleasant to use, especially in Garry's Mod where I needed to bind multiple keys to do a specific task. Cranking up the sensitivity up to the maximum of 4000dpi, the movements were still precise and accurate, and did not incur the dreaded 'oil slick effect'. Using all of our test surfaces used for testing, we found the performance to be commendable overall. All in all, the mouse was responsive and snappy, and bestowed notable tracking consistency on each of our test surfaces made out of different materials. Cooler Master claims a 2mm lift off distance for the Storm Inferno, and this claim proves to be true in our tests. As with all laser sensors, the fundamental flaw is the lack of ability to track on transparent or reflective surfaces. Realistically, there is little reason why you need to use it on such surfaces anyway, so it is not a real problem.
------------------------------------------
The Cooler Master Storm Inferno is a mixed bag when it comes to being a gaming mouse. It has many good features, but also notable things that need to be improved. With eleven buttons for usage and Storm Tactic Multiplier binds, there are more than enough keys to get just about anything in game done. If not, one could create another profile for even more binds, and with the included profile switcher button, it is quite a breeze to put into practice. The CM Storm Inferno also sports generally acceptable build quality, but the plasticky feel of the mouse as well as the length (Or lack thereof) of the mouse leaves a lot to be desired. The comfort level of the mouse simply needs to be improved; especially the usage of the hard plastic for mouse buttons can easily be changed to something more appealing to the end user. Fortunately, the tracking quality is still top notch; as smooth and as accurate as any gaming mouse should be. The features of the included software are also plentiful, with multiple profiles for different users or different usages. Adding that onto its advanced macro and scripting abilities, just makes for a pleasant gaming experience on a technical level for parts that may become repetitive just a little too quickly. All of these are further enhanced by its 128KB onboard memory, used to save settings and keep them again for any computer. The ability to set five different X and Y axis sensitivity independently with steppings up to 4000dpi is also an appreciated feature. There are some quality control issues such as a non working LED that yours truly along with many others are experiencing with their pre-production units, so we hope that the finalized product will exhibit no such problems. Carrying an MSRP of $59.99, the CM Storm Inferno certainly does not come cheap -- even if it delivers a large amount of features and commendable tracking performance, its comfort and build attributes still has quite a bit of room for improvement!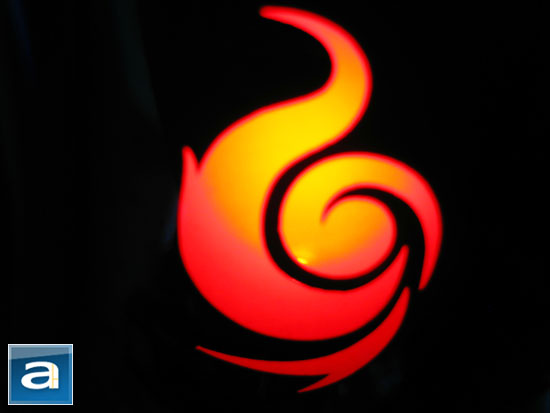 Special thanks to Lulu over at Cooler Master for making this review possible.
APH Review Focus Summary:
6/10 means A product with its advantages, but drawbacks should not be ignored before purchasing.
7/10 means Great product with many advantages and certain insignificant drawbacks; but should be considered before purchasing.
-- Final APH Numeric Rating is 6.3/10
Please note that the APH Numeric Rating system is based off our proprietary guidelines in the Review Focus, and should not be compared to other sites.
The Cooler Master Storm Inferno has excellent tracking performance and tons of advanced programming functions -- but that is only half the formula of what that makes a good gaming mouse.
Do you have any comments or questions about the Cooler Master Storm Inferno? Drop by our Forums. Registration is free, and it only takes a minute!