By: Aaron Lai
May 31, 2018
Our offices have been having several pizza lunches to get us to mingle with everyone in the office and not just the people in our department. Of course, our group of guys was really excited to be eating pizza, especially since it was not a norm. On the most recent pizza day, we were all really hungry and excited for the pizza delivery guy to arrive. I thought I heard the pizza guy and I ran out, while all my co-workers waited expectantly. However, it was just some other office people moving around and I came back empty handed. On a second time, I was sure it was the right person, but my coworker responded with a line from a former president. "Fool me once, shame on you. Fool me... you won't get fooled again." Laughing, I did not know he was quoting former US President George W. Bush. After reading several quotes, I realized it was pretty funny to read them, especially when you see the incorrect words or just plain nonsense he said. When Corsair last sent us the HS60 Surround, I was quite happy with the result we had at its price range. For a gaming headset, it was a pretty good recommendation. However, it seemed to have been built off their previous HS50 Stereo headset with some extra features added. With the HS70 Wireless today, we have a similar situation with the headset seemingly being the same in terms of style, except now with wireless capabilities. Is this another same headset with new features, or is there more than meets the eye? Hopefully I will not get fooled again, so let us read on to find out!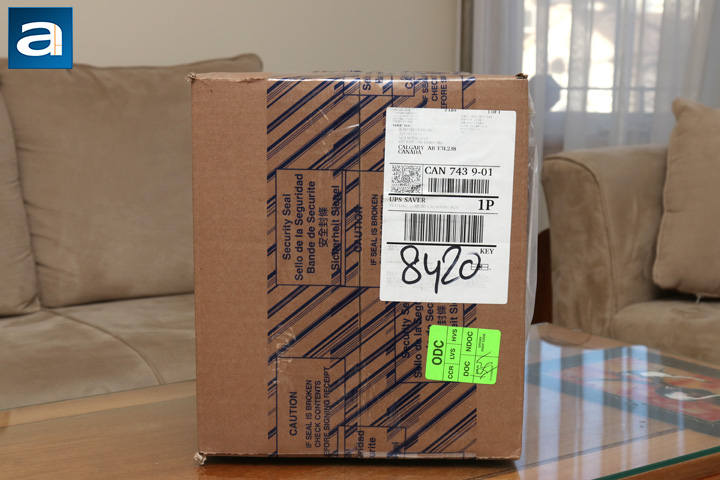 Today's review unit of the Corsair Gaming HS70 Wireless arrived directly from Corsair in Ontario, California. Traveling with UPS and their Saver service, this parcel arrived quickly to us. As there was an NDA on the product when we received it, the shipping notice was hidden behind a plain white sheet to prevent any UPS workers from leaking this headset before the intended date. Thankfully, this box arrived in excellent condition, with no dents or bruises to be concerned about. Inside the box, we have the headset itself in a plastic bag and surrounded by many plastic pockets of air.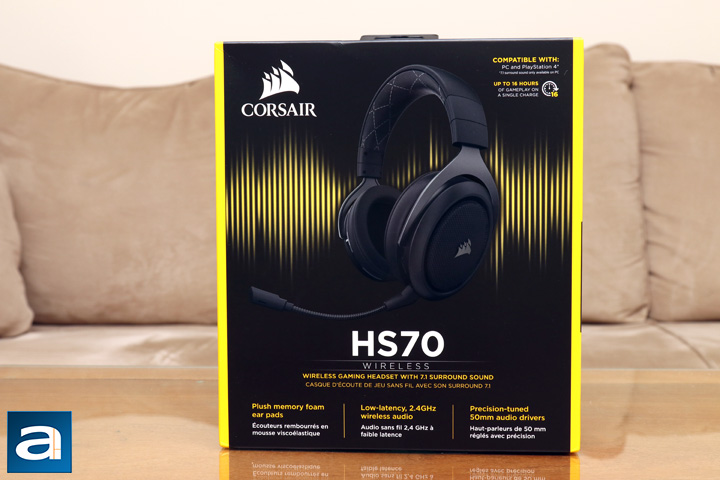 Similar to the retail container of the Corsair Gaming HS60 Surround, the HS70 Wireless arrived in a black and yellow Corsair branded box. The front shows off a very similar looking headset placed in front of yellow bars. The Corsair sails logo is on the top left corner, with the product name on the front. At the bottom, we have some more features about the HS70 Wireless. At the top there are some more things about compatibility, and how this headset will lasts up to sixteen hours on a single charge. Finally, a description of "Wireless Gaming Headset with 7.1 Surround Sound" is printed underneath. Overall, we will explore these features and more later on in the review.
Before we get to the headset, let us peruse the specifications of the Corsair Gaming HS70 from the manufacturer:
Specifications
Available Colors: Carbon, White
Driver: 50mm Neodymium
Frequency: 2.4Ghz
Wireless Range: Up to 40 feet
Battery Life: Up to 16 hours
Frequency Response: 20Hz – 20kHz
Impedance: 32 Ohms @ 1kHz
Sensitivity: 111 dB (± 3 dB)
Mic Type: Unidirectional noise cancelling
Mic Impedance: 2.0k Ohms
Mic Frequency Response: 100Hz – 10kHz
Mic Sensitivity: -40 dB (± 3 dB)
Dimensions: 155mm(L) x 100mm(W) x 205mm(H)
Weight: 330g
Warranty: 2 years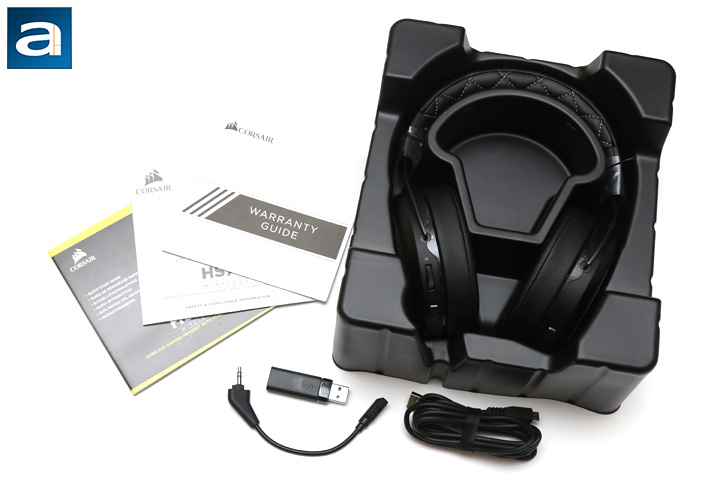 Out of the box, we have a few things of interest. To nobody's surprise, the packaging is practically the same between this and the HS60 Surround. We have the HS70 Wireless in a plastic shell. Inside this plastic box are also a few small plastic bags with a detachable microphone and a wireless USB sound adapter. We actually do have a cable included with the Corsair Gaming HS70 Wireless, except this is a micro USB cable for charging this device. Several pamphlets are included with inside too, which includes a quick start guide and warranty information. To save you some flipping, Corsair offers a two year warranty with this headset, which is on par with most manufacturers.
---
Page Index
1. Introduction, Packaging, Specifications
2.
Physical Look - Hardware and Software
3.
Subjective Audio Analysis
4.
Conclusion