Page 2 - Physical Look - Hardware and Software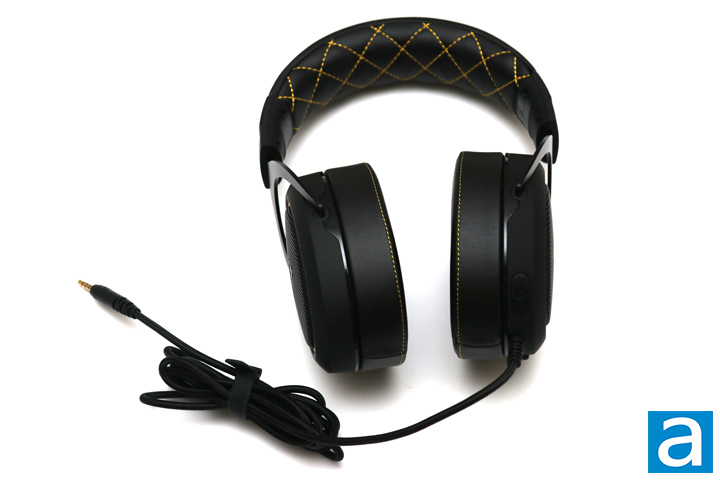 The Corsair HS60 Pro Surround we received is the yellow variant, as you can tell by the yellow stitching, although a Carbon colored one is also available. Even so, the new revision does not bring too much new in terms of design with a similar approach to its appearances. This is appreciated, as its conservative look make the headset suitable for both gaming and on-the-go music listening. There still are signs that this is from a gaming peripherals manufacturer, including the Corsair sails logo on each ear and the company name printed at the top of the band. Even so, the branding is kept clean. Majority of the headset is made out of plastic that is covered by a soft touch feel. There are some glossier parts, as we mentioned previously. An aluminum alloy metal is used to hold the ear cups and keep the internal structure strong. We also have leatherette on the headband and the earphones. Overall, the headphones feel like a good balance between lightness and sturdiness.
On the left cup, we have a single four-pole 3.5mm audio plug. As expected from the box, you can plug the Corsair HS60 Pro Surround into your portable devices like tablets, phones, or consoles without needing any adapters. These consoles include the current generation of consoles such as the PlayStation 4, Xbox One, and Nintendo Switch. The plug itself is wrapped in a smooth black rubber end and is easy to grip onto. Instead of the previous rubber cable, we now have a braided one. I like this feel as it is flexible and should not kink in odd places. It also is an improvement on the previous rubber cable that can sometimes catch on fabric surfaces. Otherwise, this cable is permanently attached to the left ear cup. The cable measures 1.8m in length, which should be good for any gamer, whether they are using their computer, console, or phone.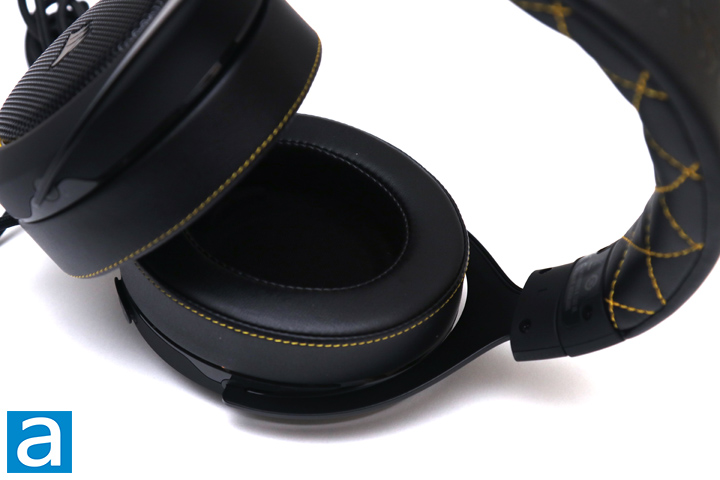 As for the two ear cups on the Corsair HS60 Pro Surround, we have a memory foam ear muff covered by leatherette. I think this is another area they improved on compared to the original HS60, as they seemed to answer my request for a thicker, plushier foam. I really think this improves on the overall comfort. The oval shape conforms naturally to a person's ear and the whole cup should be big enough to fit over most ear sizes. A thin mesh lining rests inside to ensure your ear does not touch the plastic underneath. Speaking of which, the drivers inside each side are 50mm neodymium drivers. They feature a frequency response of 20Hz to 20kHz, covering the audible frequency spectrum for humans. Rated impedance of the unit is 32 ohms with a sensitivity of 111dB. These specifications are still the same as the first HS60 Surround, but we will see how all of this plays out in our audio tests later on. The ears themselves are pretty flexible with the capability to tilt these cups back and forth. They do not move very easily, but they should move enough to conform to the shape of your ears. Unfortunately, there is no rotation on these ear cups, which means resting the Corsair HS60 Pro Surround on your neck may not be the most comfortable.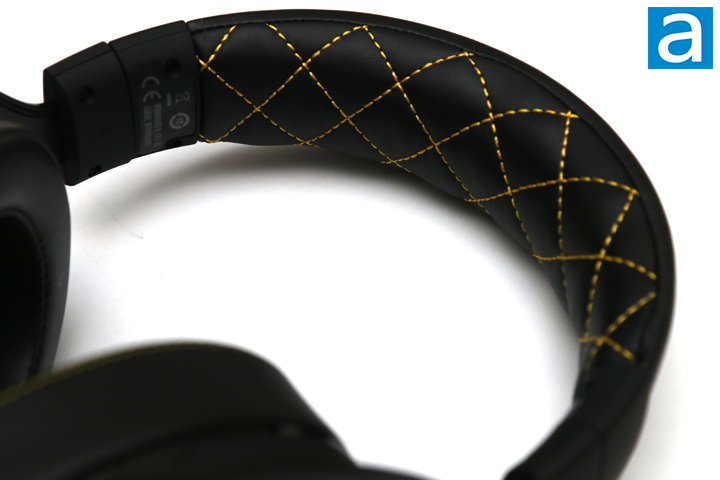 At the top of the headset, we have a leatherette headband with a yellow stitched pattern for some aesthetics. Once again, this is an eye-catching design choice that creates a bubble-like surface with individual pockets. Inside this headband cushion is memory foam, which feels similar to the foam used on the ears. As we already mentioned, the outer band is wrapped in leatherette with a Corsair imprint at the top. Down the side is where you will see the extending arms with an internal metal band to keep the headset sturdy. The frame is notched and marked with numbers so users can remember how much they need to extend the headset for a comfortable fit. There is enough resistance on the arms to prevent the cups from flying out whenever. As for how far the headset expands out, I have a big head and I felt like there was still a bit more room to extend, but I still recommend trying these headphones out first.
In terms of overall comfort, I have to say the Corsair HS60 Pro Surround is better than its predecessor and this is primarily due to its thicker ear cups. As a wearer of glasses, I did not find a whole lot of fatigue wearing this headset; something that is not true for a lot of headsets. At a weight of 319g, this headset is heavier than the original, but still feels light overall.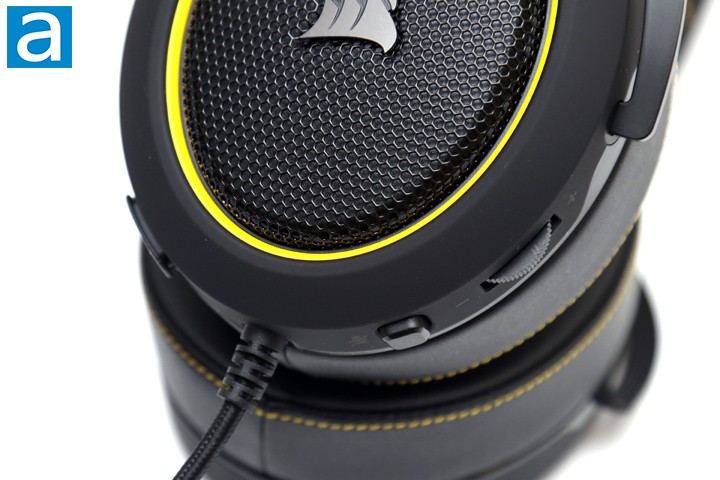 The left ear cup connects the Corsair HS60 Pro Surround to your preferred choice of audio, but it also holds a few other things. The first thing to point out is the right most dial, which is the volume dial for the headset. Positive and negative indicators are printed on the headset to show which way the dial goes to increase or decrease the volume. Another small improvement we have here is that the dial is a bit more resistant to movement, while still being easily accessible for adjustments. The loose dial was a complaint I had of the original headset, so I am again glad to see this increased resistance. Next to this dial is a push button to mute the microphone. The button stays depressed when it is muted. Finally, we have a slot for the detachable microphone. Corsair includes a rubber stopper here to hide this opening when it is not in use.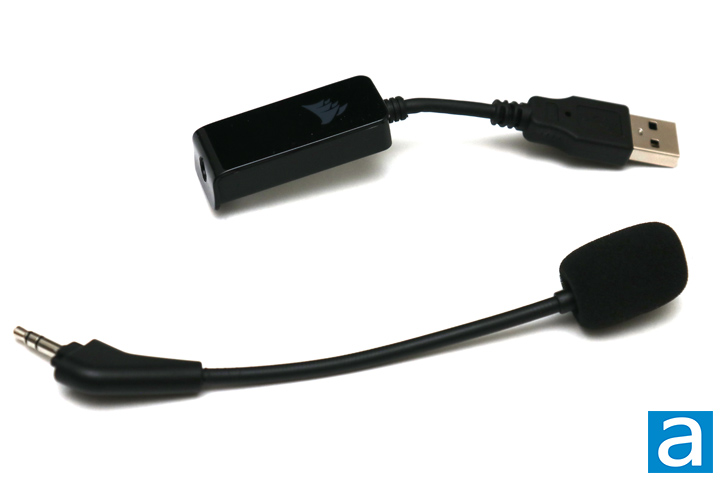 The Corsair HS60 Pro Surround still includes a 3.5mm to USB sound card. It does not have anything else on it other than the Corsair logo and a 3.5mm opening for the headset, though this is fine considering all of the necessary controls are on the headset itself. On the other end is a silver USB plug. This connection is necessary if you want to utilize the virtual 7.1 surround capabilities with the HS60 Pro. Even if this is not your plan, the USB adapter still guarantees a consistent sound quality, which is something you cannot claim for the analog input across multiple devices. This is quite useful if your gaming setup is a budget system or a laptop, as the audio output on these computers may not necessarily be the highest of quality. Thus, I think there is value to having this accessory, even if you do not use Corsair's software.
Otherwise, Corsair also says they have provided a new noise-cancelling unidirectional microphone. This still has similar specifications of a frequency response of 100Hz to 10kHz. It also still keeps the flexible arm it sits on, which is really great to see. Not only can it swing in many directions, the microphone also stays in place. Corsair also included a small wind muff to prevent breathing noises from being picked up. According to Corsair, the whole headset is Discord Certified, which means the microphone and audio has been tested for communication and sound. We will see what that means in real life on our next page.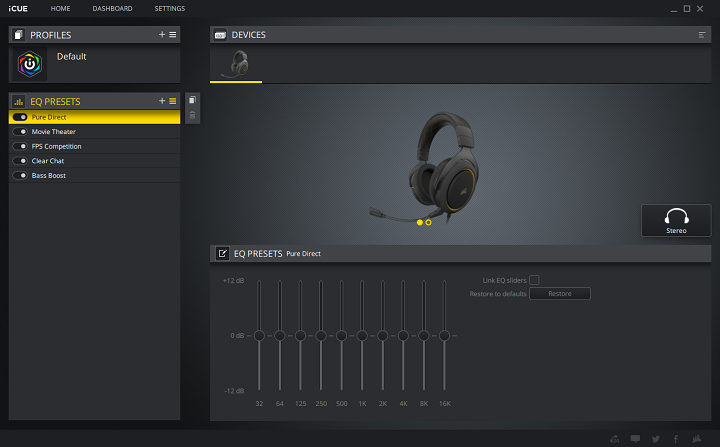 Corsair packages their iCUE software with the Corsair HS60 Pro Surround, which is the same utility that works with other Corsair products. While I wait the day for a unified software experience across multiple manufacturers, iCUE is a pretty good application on its own, albeit a large installation file at 349MB. For the HS60 Pro specifically, as it does not have any lighting effects, there are two things you can do with this utility. For one, you can set the equalizer effects. Corsair does have several presets, but you can also set your own ones too. Secondly, you can change the output between the default stereo or the virtual 7.1 surround sound. As expected, this utility only works when you use the included USB sound card, or else the headset will not be recognized as connected to your computer. While iCUE does not provide a whole lot of extras, it at least runs well and can integrate with your other supported Corsair products.
---
Page Index
1.
Introduction, Packaging, Specifications
2. Physical Look - Hardware and Software
3.
Subjective Audio Analysis
4.
Conclusion