By: Aaron Lai
November 9, 2019
Last month, I had the pleasure of traveling to New York City for leisure. Once again, I was off with my traveling friend, who is the same person who went to San Francisco. If there was one thing in New York that was quite confusing at first for myself was trying to figure out their subway system. On our first day, we U-turned so many times trying to figure out where to go or how to get out of the airport train and into the city subway. Part of the confusion came from the fact all of the ticketing stations were not offering any change and we did not have many American coins. The ticketing stations would not let us purchase more than one ticket at a time either, compounding our currency problems. It was clear that the other tourists around us were confused as huge lines formed around the four ticketing booths. We finally found a human operated ticketing station, but the operator went on a washroom break. Another line gathered behind us, waiting for this attendant to return. After about fifteen minutes, a New York police officer had observed enough and just let us through the service door, saving us from the first day of paying for subway service. We were all hesitant to go through, but the officer hurried us through the doors. To be fair, the New York City Subway system is impressive and complex, but to me, it is not the easiest for tourists like myself to figure out where things are. When Corsair sent us their new revision of their HS line in the HS60 Pro Surround, I was a bit confused. The original set of headphones had done admirably in its budget offerings, but what sort of changes or improvements can we expect with this new revision? Discussing our findings today is the topic at hand, so let us hurry on to find out!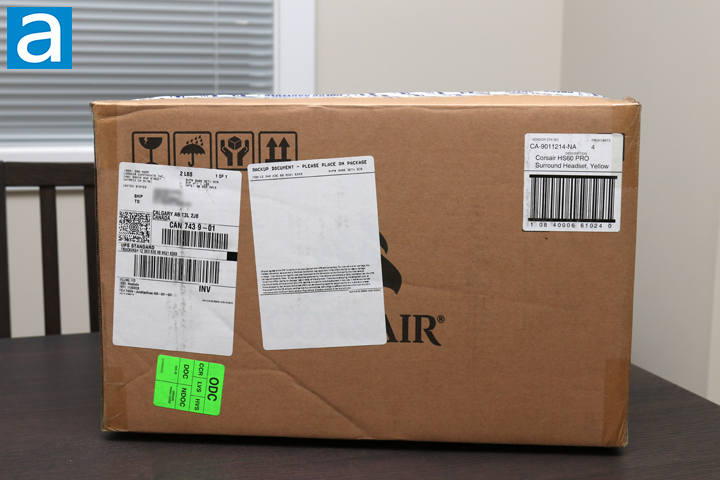 Today's review unit of the Corsair HS60 Pro Surround arrived from Corsair's offices in Ontario, California. Arriving with UPS and their Standard ground service, this shipment arrived in one piece, thankfully. The brown corrugated cardboard box they sent us was quite a bit larger than we expected, but thankfully there were many piles of bubble pockets inside to protect the Corsair HS60 Pro Surround inside. As you can tell by the top corner label, we received the yellow version of this headset. Otherwise, I grabbed a pair of scissors and opened up the container. In addition to the bubble pockets, the box was sealed in a plastic bag to prevent any scratches on the retail container itself.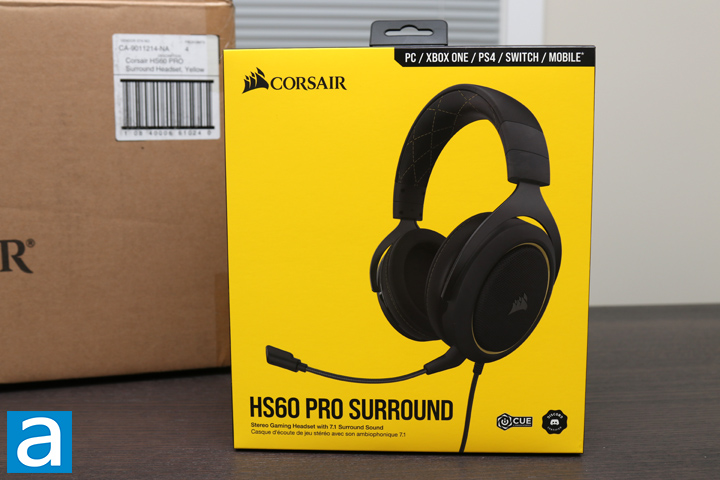 Speaking of which, the Corsair HS60 Pro Surround's retail container shows off an updated theme, at least when we compare it to the original HS60 Surround headset. The front shows off the headset itself with the product name on the bottom left side. You will also find the product description, "Stereo Gaming Headset with 7.1 Surround Sound" under the product name. Finally, the top shows off the fact this product is compatible with all sorts of gaming consoles and devices. Otherwise, there is not much else to talk about, so I started to open up this headset.
But first, if you are interested in the specifications of the headset, I have grabbed them from the manufacturer's website for your viewing pleasure:
Audio Product: Headset
Audio CUE Software: Yes
Surround Sound: Yes
Detachable Microphone: Yes
Rechargeable Battery: N/A
Headphone Frequency Response: 20Hz - 20 kHz
Headphone Battery Life: N/A
Headphone Sensitivity: 111dB (+/-3dB)
Headphone Wireless Range: N/A
Impedance: 32 Ohms @ 1 kHz
Headphone Type: Wired
Headphone Connector: 3.5mm analog
Headphone Drivers: 50mm
Cable Length: 1.8m
Model: HS60 PRO Surround
Audio: 7.1 Surround
Lighting: None
Platform: PC, PS4, XBOX One, Nintendo Switch, Mobile devices
Microphone Impedance: 2.0k Ohms
Microphone Type: Unidirectional noise cancelling
Microphone Frequency Response: 100Hz to 10kHz
Microphone Sensitivity: -40dB (+/-3dB)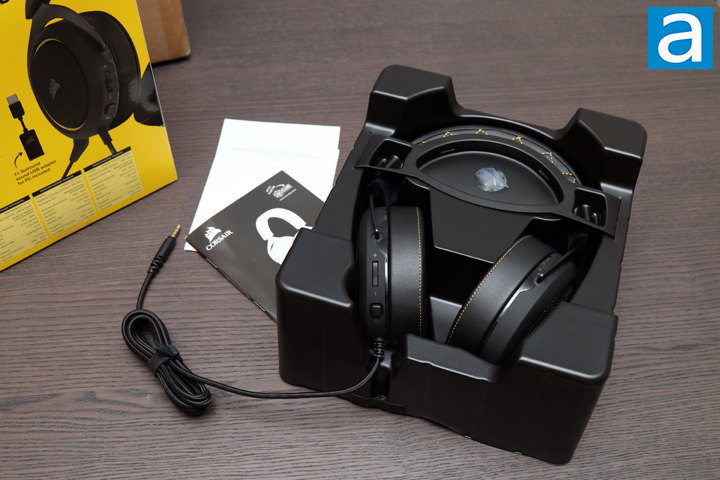 The Corsair HS60 Pro Surround was packaged in the cardboard box and held in a plastic shell. Just like its predecessor, the HS60 Surround comes with a 3.5mm to USB sound card. Otherwise, there is also a detachable microphone. Both of these components were stored in individual plastic bags. We also have two short manuals. One is a quick start guide, which helps with using the headset. The other is marked as a warranty guide, which outlines the warranty information from Corsair. For your information, two years of warranty is offered by Corsair, which is standard for all of their audio products.
---
Page Index
1. Introduction, Packaging, Specifications
2.
Physical Look - Hardware and Software
3.
Subjective Audio Analysis
4.
Conclusion