By: Aaron Lai
November 19, 2019
I think one of the most well-known rivalries to me is the Battle of Alberta between the Calgary Flames and the Edmonton Oilers; two teams in the Pacific Division of the NHL. As a hockey fan of one team more than the other, it would be unfair to say that one team is always better than the other, especially with how each team has fluctuated over the time. For example, if you looked at plain numbers, Edmonton clearly has the better overall result, especially as they have won more Stanley Cups, which is the primary goal of all hockey teams. However, if we dig into the statistics, the Flames hold the win-loss record for all games played between each other. On the other hand, the Oilers have won the more crucial games with more victories in the postseason. Five playoff Battle of Alberta series have occurred and the Calgary team has only taken one of those. This happened when the infamous Steve Smith attempted a pass to his defender, only to hit his own goaltender in the leg and ricochet the puck into his own net. Even so, there are many stories of good games and fights in the Battle of Alberta. Today, Corsair has announced their own battle with the release of the iCUE LS100, a set of lighting strips intended for behind PC display lighting. You might be wondering who they are battling, but the first competitor that comes to mind is NZXT and their HUE 2 Ambient Lighting Kit. As such, one might wonder how these two products compare and what we think of Corsair's entry into the ambient lighting market. On the other hand, you can also read on to find out!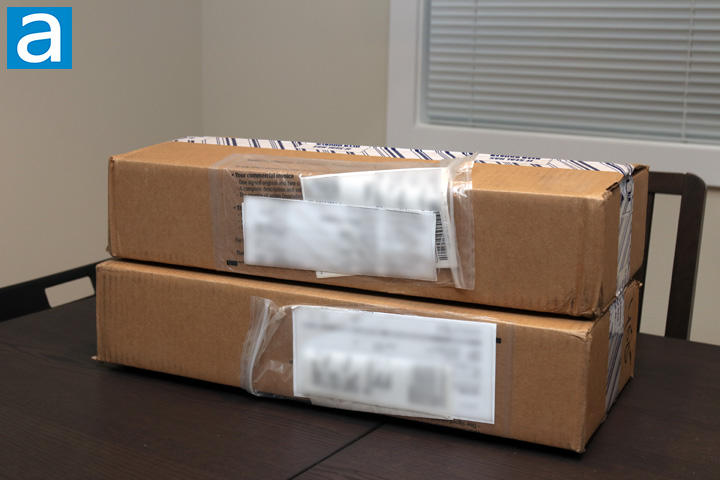 Today's review unit of the Corsair iCUE LS100 arrived from Corsair's offices in Ontario, California. Traveling with UPS and their Standard ground service, all of the things they sent us for this review were actually in two boxes. Truth be told, they probably could have packed all of their products into one package, but thankfully everything arrived in good condition with no damage to the products inside. UPS has done an excellent job in shipping all of these products, but Corsair also threw in several layers of plastic bubble pockets to further prevent damage.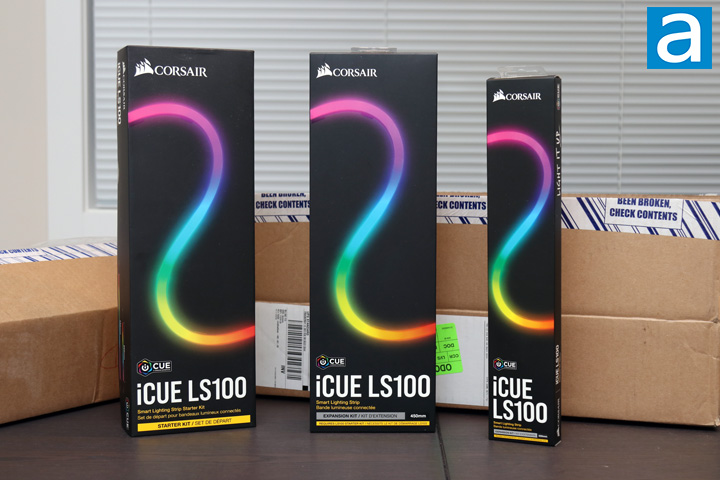 The Corsair iCUE LS100 lineup consists of three different products, though they all contribute to the same lighting setup. The first is a starter kit, including the lighting hub as well as two sets of two different lengths of lights. The other kits are expansion packs with two additional strips for the longer and shorter versions. Otherwise, the retail packaging of all of them look quite similar with the S-shaped rainbow illuminated strip in the middle of the box. At the bottom, there is a description of "Smart Lighting Strip Starter Kit" for the main set, while the two expansion kits say "Smart Lighting Strip". This is further emphasized with the labels of "Starter Kit" or "Expansion Kit". The middle box contains two 450mm strips, while the slimmer box on the right contains two 250mm ones. Otherwise, the back shows off some more features and specifications for the lighting kit.
Before we move on, I have grabbed the manufacturer's specifications for your perusal:
Starter Kit
Starter Kit Dimensions (L x W x H): 403mm x 133mm x 56mm
Controller Dimensions (L x W x H): 65mm x 38mm x 15mm
AC Adapter: 5V
RGB LED Channel: 2
Max. RGB LED Strip per Channel: 138 LEDs per channel, 192 LEDs total for 2 channels total
Micro USB Cable: 150cm
Long Lighting Strips (450mm): 2 (27 LEDs each)
Short Lighting Strips (250mm): 2 (15 LEDs each)
Protective Cover on Strips: White diffuser silicone
RGB Extension Cable (300mm): 4
Accessories: 16 Metal Plates, 8 Cable Management Clips
Safety and Agency: FCC, IC DOC, CE, RCM, REACH, CP65, ROHS, WEEE, China RoHS
Warranty: 2 years
Expansion Kit 450mm
Controller/Power/USB Cable requirements: Require iCUE LS100 Smart Lighting Strip Starter Kit, sold separately
Long Lighting Strips (450mm): 2 (27 LEDs each)
Protective Cover on Strips: White diffuser silicone
RGB Extension Cable: 1 (300mm extension cable) 1 (300mm Y cable)
Accessories: 9 Metal Plates, 2 Cable Management Clips
Safety and Agency: FCC, IC DOC, CE, RCM, CP65, ROHS, WEEE, RoHS
Warranty: 2 years
Expansion Kit 250mm
Controller /Power / USB Cable requirements: Require iCUE LS100 Smart Lighting Strip Starter Kit, sold separately
Short Lighting Strips (250mm): 2 (15 LEDs each)
Protective Cover on Strips: White diffuser silicone
RGB Extension Cable: 1 (300mm extension cable) 1 (300mm Y cable)
Accessories: 9 Metal Plates, 2 Cable Management Clips
Safety and Agency: FCC, IC DOC, CE, RCM, CP65, ROHS, WEEE, RoHS
Warranty: 2 years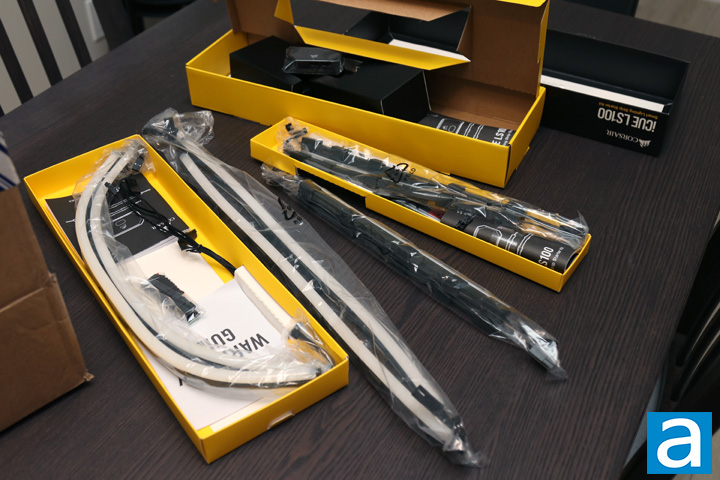 Inside, you can see there are a lot of accessories in each of the kits. The starter kit contains the most because it includes the lighting controller and the necessary cables for such, but we will take a closer look at these later. As expected, if you do want to use this setup, you will need to purchase a starter kit first for aforementioned lighting controller. Otherwise, each of these kits also contains a large multilingual manual for installation as well as a booklet on warranty information. Just for your information, Corsair includes a two-year warranty on their iCUE LS100 products, which is pretty good to see.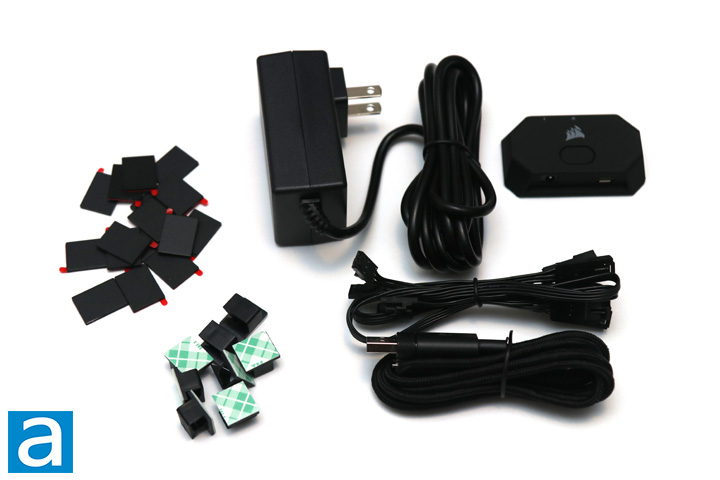 Taking a closer look at the products that come with the Corsair iCUE LS100 starter kit, the first thing I want to draw your attention to is the lighting controller. Just like the NZXT HUE 2 Ambient Lighting Kit, this box holds the same inputs and outputs, including two LED lighting channels, micro USB port to connect to your computer, and an AC adapter for powering the lights. It also contains an on/off switch at the top to quickly turn your lights on or off. This was super helpful for me, as the NZXT HUE 2 Ambient Lighting kit would often stay on all the time even when my computer was turned off. In addition, I really like how much more compact this box is, especially since it still does the same things as the NZXT lighting unit. On the back, we have two 3M sticky pads applied to let you place the controller on the back of your monitor if you so desire. It is still strange to see the micro USB port here, as Corsair should have used the newer USB Type-C port.
The rest of these cables are for connecting the controller or installing your lights. On the far left, we have several metal plates with 3M double-sided tape on the other side. This is for mounting the lighting strips as you will see shortly. Next, we have several plastic cabling hooks to help you manage excess cables. At the top, we have an AC adapter to power the aforementioned controller. Underneath, we have extension cables for connecting your lights. Finally, we have a micro USB to USB braided cable to connect to your computer for Corsair's iCUE software.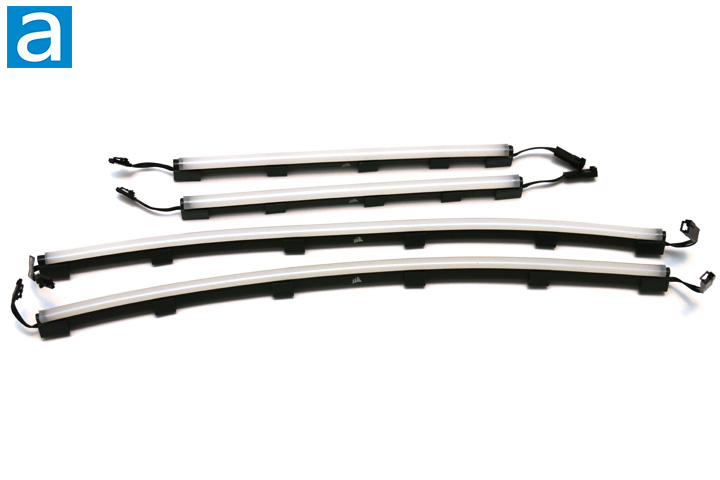 As for the lighting strips in question, we have already mentioned the starter kit comes with two 450mm and two 250mm variants. This setup should be good for a single monitor, but the expansion kits are available for larger monitors or dual monitor setups. Otherwise, these contain more LEDs in each. For example, NZXT put eight LEDs in a single 250mm strip, while Corsair has stuffed almost double the number at 15. Furthermore, the 450mm has 27 LEDs in a row. On the other hand, they are also quite a bit heavier than the NZXT solution. Each strip has a large grey rubber body, presumably holding all of the light-emitting diodes. On top is a thick white silicone diffuser used to distribute and spread light more evenly. Due to the material used here, the silicone will easily pick up dust and dirt, so do be mindful when cleaning these. The ends are terminated with a male or female plug, indicating which direction the strip should be installed. To attach these to your monitor, Corsair has placed several magnets across the strip. These magnets are movable along the unit to allow for easier attachment depending on your monitor. Again, we will see how all of this works out when we install the lights later in our review.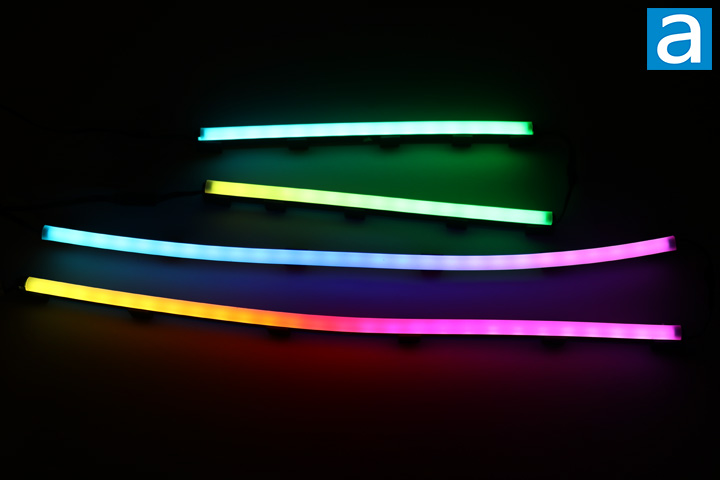 Before doing so, I have taken the liberty to plug in these lights to see what they look like. As you can see from the image above, you can actually make out the individual LEDs still, especially as there are small gaps of lesser lighting throughout. Even so, the silicone diffuser does a great job of blending these lights together when you look at the strips in person. As well, you can see these are addressable RGB LEDs, though this is not surprising considering its application.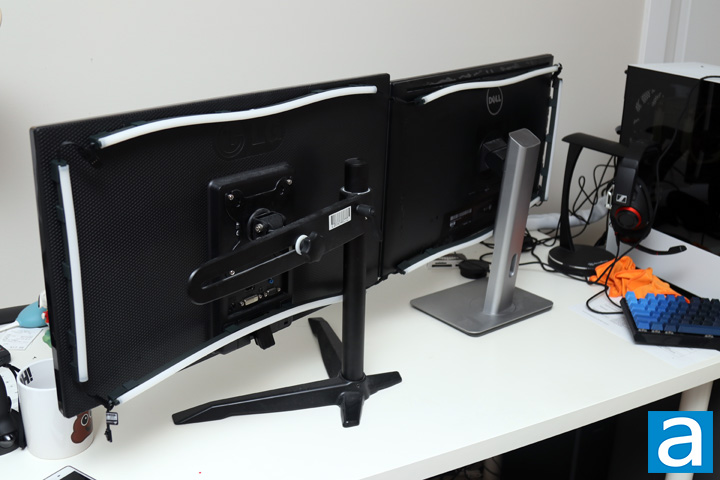 As Corsair sent me enough expansion kits for a dual monitor setup, I took them up on this challenge and installed the kit across both my Dell U2414H and LG 24EA53. Corsair makes it pretty clear in its manual how many strips to use, where to put them, and how you should lay them out, so be sure to follow these instructions. Utilizing the metal plates with 3M adhesive on the back, I attached the lights with the magnets. Next, I connected all of the lights together with the male and female connectors until it formed a ring.
While this may have sounded like a smooth and quick installation, it was anything but. Every time I tried to mount these lights and connect them up or adjust them slightly, they would fall off and pull the other connected lights down. There are many reasons for this issue. First and foremost, the magnets on the lights are not very strong to withstand slight movement. Secondly, I found the cables on the ends of each row of lights to be quite stiff. As such, trying to connect all of them together to each other would often move individual strips around, leading them to fall off again. Specific to my monitors, the rounded back of the Dell U2414H meant finding mounting positions was not the most straightforward. My LG monitor features a mostly flat back, but it also has a protrusion at the bottom, making the mounted strip here unstable since I could only reliably use two metal plates.
These issues could have been resolved with some things that were implemented with the second version of the NZXT HUE 2 Ambient Lighting kit. For the first problem, I want a better way to fasten the lights down. They could use 3M double-sided tape, which has the side-effect of making the installation more permanent. The other option would be to use stronger magnets for a better hold. As for the second issue, I would have liked to see either an actual ninety-degree connector or for the cables to be more flexible for bending. I personally ended up resolving this issue by using the extra extension cables, but this created more cable clutter at the back of the monitor. Corsair also includes some cable clips to help with holding the cables in place and I would recommend using these to aid in this area.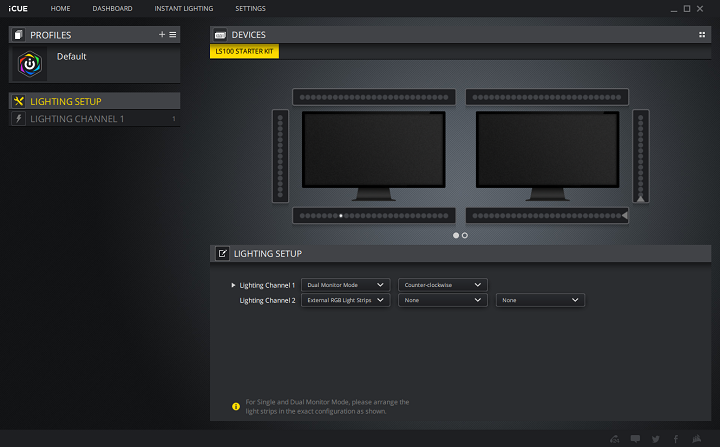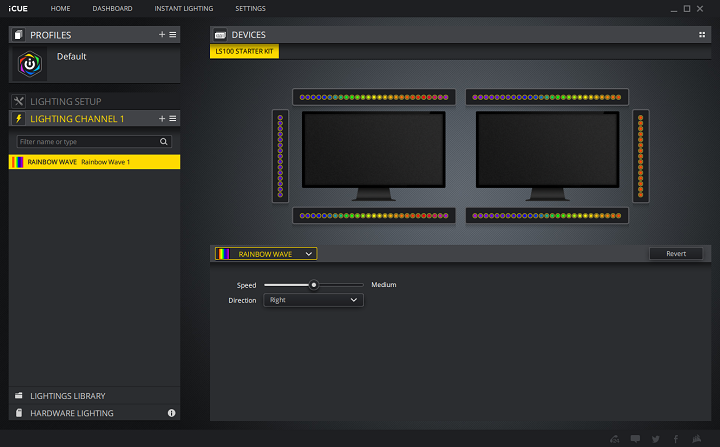 As it says in the name, the Corsair iCUE LS100 utilizes Corsair's iCUE software for full customization. You can download this from Corsair's website, though it is a pretty big installer. As for the LS100, there are two main screens when using this product, so I will go through each. The first screenshot shows off the Lighting Setup page, where you can select what each channel is used for. From here, you can either allocate the channel to be used for a single monitor mode, dual monitor mode, or just for extra lighting. Unfortunately, only one channel can be used for monitor modes, while the other channel will be relegated to external lighting or disabled altogether. When I first installed my lights, I thought I had to mount the connections such that the first strip connected to the lighting controller was the one on the vertical edge of your monitor. As such, the first time I ended up flipping all of my lights around. However, for the monitor modes, you can flip the rotation of the lights, whether for clockwise or counter-clockwise, so you may not necessarily have to redo the installation.
Under Lighting Channel 1, you can select what you want the channel to display, whether it be from the predefined modes, custom modes for color and speed variation, ambient modes based on your current screen or other statistics, or Link modes for synchronization across other Corsair peripherals. The ambient modes include "Video Lighting" to reflect the same colors as the content of your screen. It is nice that this works on two screens as it will utilize the content for both of the monitors rather than just one. If there are areas to improve in terms of effects, I would have liked to see some game integration with iCUE to display lights based on in-game information such as health or cool down abilities. After some contact with Corsair, they have mentioned there are plans to do so, so I am excited to see what comes in the near future.
Finally, the other interesting thing to point out is the "Hardware Lighting" tab, where you can select what these lights should display when iCUE is not active. This is a pretty nice feature, as it means you do not necessarily have to have iCUE running to utilize these ambient lights. On the other hand, this selection of lighting options is far fewer, and does not include modes like ambient.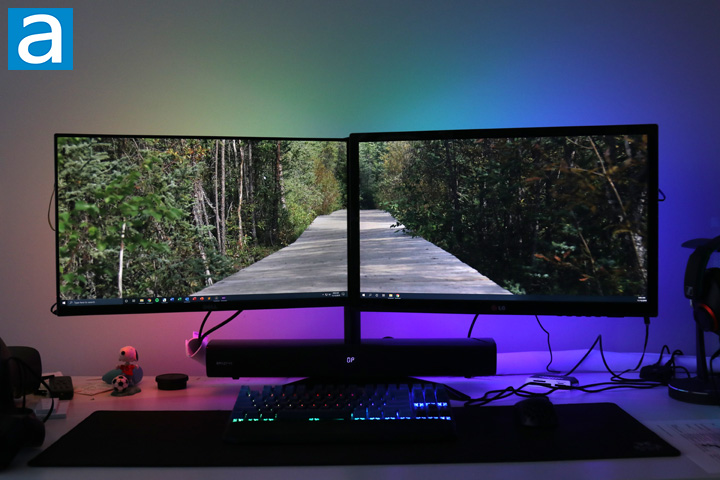 Even after the frustrating installation process, I completed the install and thankfully the rest of the experience went as expected. From here, you can see a standard shot of a rainbow wave going around the monitor. When comparing between Corsair and our competitor from NZXT, the iCUE LS100 is not as bright as the HUE 2 Ambient Lighting Kit. Despite having more LEDs, I think this reduced vibrancy is due to the white silicone diffuser on top of the lights. While it does make effects smoother, it also mutes the brightness. I also think using diffusion make less sense on these "behind-the-scene" lights, as this occurs naturally when the light source bounces off the wall. Even so, I can see people wanting a smoother effect, and the iCUE LS100 still achieves the same original purpose, even if it is not as bright.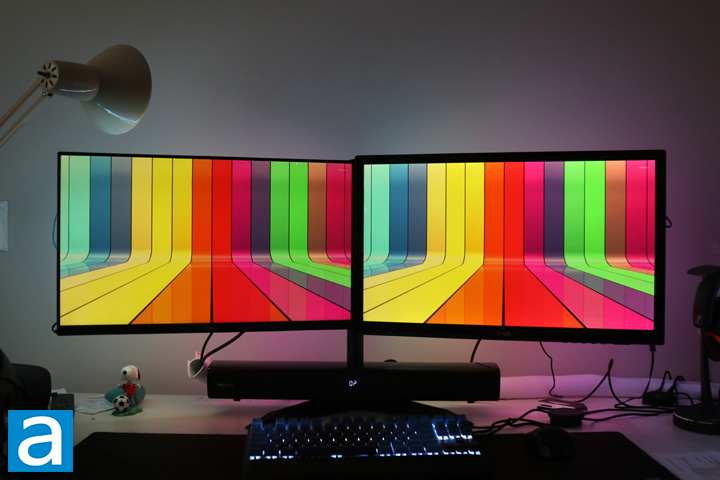 Due to the timing of when we received these products and the release date of the review, I was unable to film any sample footage this time around while using the ambient mode. From the photo above, you can see iCUE is just as capable of picking up and utilizing the colors based on the screen for this effect. From my experience in gaming, the effects are notable, though once again, the diffusion makes the effects seem a bit less drastic. All in all, it still works as expected and creates an immersive experience.
-----------------------------------------
While I am a biased fan of the Battle of Alberta, a battle is only one when both teams are equally competitive because it legitimizes the clash. If one side were to dominate the other continuously, it would be less entertaining and reduce the importance of this battle in the first place. When it comes to the battle for ambient lighting, the conflict may now just be in its infancy, but the Corsair iCUE LS100 brings several positive points, especially in the build and construction of the setup. For one, its controller executes the same responsibilities, while also being more compact and providing a quick power switch for ease of use. Each of the lighting strips pack more LEDs for a more gradient effect while also diffused with the white silicone layer. Corsair's iCUE software is also good for providing users many effects while being easy to use. Finally, in terms of execution, the LS100 shines brightly and works really well, whether in a predefined mode or reacting to the user's content. The fact this can also work across multiple screens is a big advantage to me too. If there is one area where Corsair dropped the ball lost the puck, it would be during the installation process. With my numerous issues, whether dealing with weak magnets, heavy strips, or stiff cabling, mounting the Corsair iCUE LS100 was an arduous operation. Just like its competition, I am also excited to see some game integration with these lights, something Corsair has said they are developing. At press time, Corsair's MSRP places the starter kit at $120 USD with the extension kits costing $30 and $40 for the 250mm and 450mm kits, respectively. Considering the hardware included with each of the kits, it is still quite a bit to spend on ambient lighting, but it is also in line with the competition. Overall, the Corsair iCUE LS100 puts up a good fight, but several improvements can be made for a refined end product.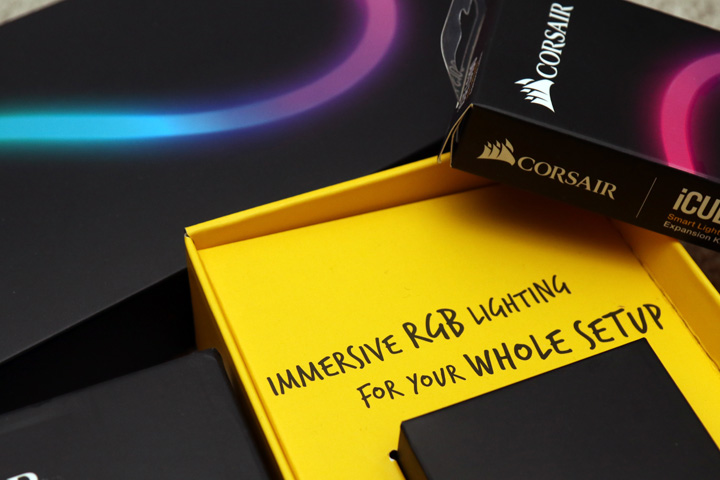 Corsair provided this product to APH Networks for the purpose of evaluation.
APH Review Focus Summary:
8/10 means Definitely a very good product with drawbacks that are not likely going to matter to the end user.
7/10 means Great product with many advantages and certain insignificant drawbacks; but should be considered before purchasing.
-- Final APH Numeric Rating is 7.4/10
Please note that the APH Numeric Rating system is based off our proprietary guidelines in the Review Focus, and should not be compared to other sites.
The Corsair iCUE LS100 brings some smooth and vibrant lighting to the back of your monitors for an immersive experience despite some installation pains.
Do you have any comments or questions about the Corsair iCUE LS100? Drop by our Forums. Registration is free, and it only takes a minute!