By: Aaron Lai
May 17, 2019
In North America, it seems like everyone loves their trucks. In fact, the top three bestselling vehicles are a trio of domestic pickup trucks. In my opinion, trucks have a good functional use, especially as they are capable of hauling loads and have towing capabilities. Just like other cars and vehicles, there are also people that just like a pickup as their mode of transportation, whether it adds extra height for the driver or for perceived safety. On the other hand, I question why people choose to get a truck in the city. Often, I see a lot of truck drivers do not really use the hauling capabilities of their pickup truck. Personally speaking, these drivers can also be obnoxious in their driving because of their large size, as they end up tailing others and taking up too much space in the parking lot. I am sure you have seen trucks parked in the middle of a lot over multiple lines. However, one thing that really grinds my gears are pickup trucks with illegally installed HID headlights. As a result, other drivers have to deal with the blinding glare while a truck driver is unaware of their retina burning lamps. Again, I am sure trucks in general have a functional side, but I often think they are in the wrong environment if used solely for people carriers and not moving loads. When NZXT announced the second revision of their HUE 2 Ambient Lighting Kit, I had to ask the same question. We often see these lighting strips inside a case, but these are intended to be used on the back of the monitor. Is this also a case of a strange environment for lighting, or does the functional reason for them make them a good choice? Let us read on to find out!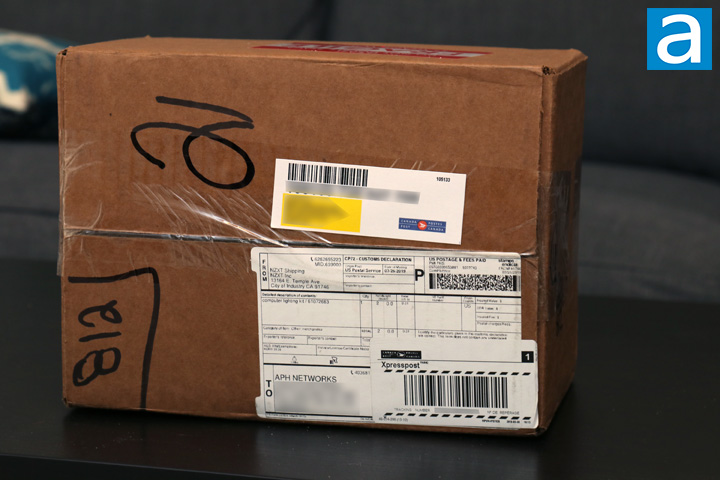 Today's review unit of the NZXT HUE 2 Ambient Lighting Kit v2 arrived via USPS and Canada Post, operating in their respective countries. Traveling over 1500 miles or 2400 kilometers to our APH Networks offices in Calgary, AB, the brown corrugated cardboard box arrived in excellent condition. There are no marks or dents to be worried about. Inside, we just have the second revision of the NZXT HUE 2 Ambient Lighting Kit. Otherwise, there is not much else to talk about, so let us take a look at the product inside.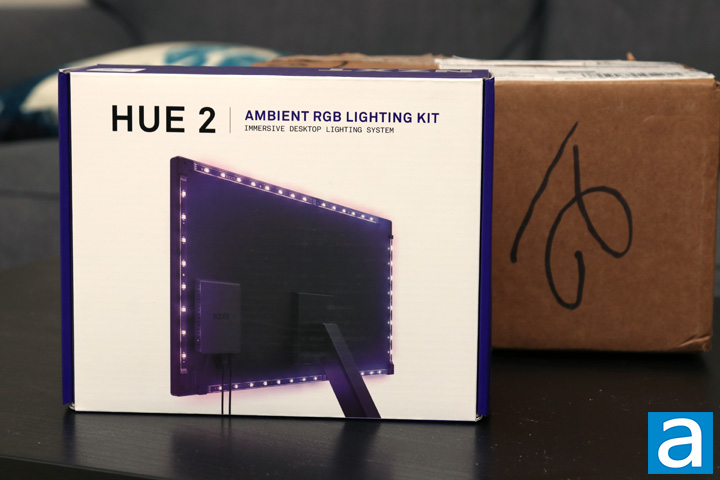 NZXT has generally taken a purple and white approach when it comes to their retail containers and it continues with the HUE 2 Ambient Lighting Kit. Interestingly enough, NZXT's logo is actually not found on the front panel, but rather on the sides of the box. The product name of HUE 2 is found at the top, with the name of "Ambient RGB Lighting Kit". NZXT does refer to this product with different names, but we will be referring to it as the NZXT HUE 2 Ambient Lighting Kit. While this is the second revision of their Ambient kit, the box does not indicate anything as such. A small product description of "Immersive Desktop Lighting System" is found under the product name. Rather than just showing a picture of the product, NZXT shows the product in action with the LED lighting mounted to the back of a monitor and glowing. We will see what the lights look like in action later in our review. Just to note, NZXT makes two different models of the HUE 2 Ambient Lighting Kit, one kit for 21" to 25" or ultrawide 34" to 35" monitors, and another for monitors 26" to 32" in size. It would have been nice to see a set for multiple monitors, but it is at least great to see the HUE 2 Ambient Lighting Kit work with the ultrawide variant. The one I will be reviewing is the first set of sizes I mentioned.
Before we continue on, I have grabbed the specifications from the manufacturer's website for your perusal:
Dimensions: 76 x 100 x 15mm
Monitor Support: 21"-25", 34"-35" Ultrawide (AC-HUEHU-A2), 26"-32" (AC-HUEHU-B2)
Control Method: CAM
Mounting: HUE 2 Ambient controller - 3M Dual Lock, LED strip - Double-sided tape
Included Cables: Micro-USB cable 2.5m x1, 150mm Connection cable x2, L-Shape Connector x2
Included Accessories: Power Adapter Support US/EU/AU/UK, Wet/Dry Wipes
Input Connector: 12V DC, 2A
Output Channels: 2
Output Channel Voltage: 5V DC
LED Strip Length: Kits include suggested strip configuration for monitor sizes 21"-25", 34"-35" UltraWide - 300mm x2, 250mm x4, 200mm x2; 26"-32" - 300mm x4, 250mm x4
LED Strip Width: 10mm
Warranty: 2 years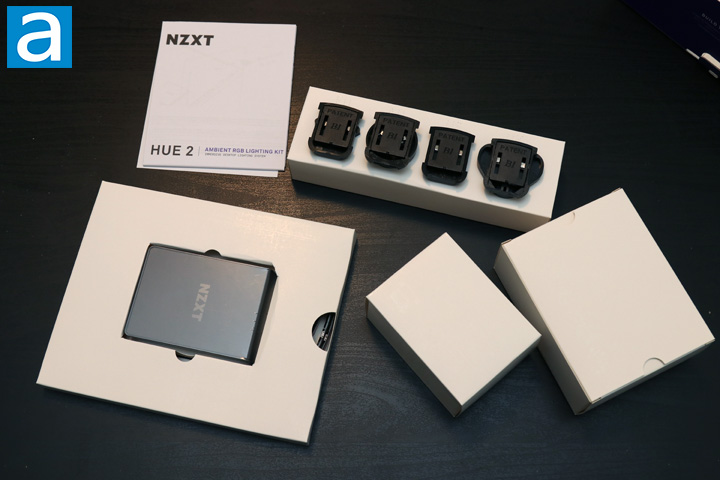 Inside the retail container, the NZXT HUE 2 Ambient Lighting Kit arrived in several other boxes. One flat box holds the lighting controller in the middle and several LED strips inside. Another box holds some cables, L-shaped connectors, and some mounting accessories. Some of these changes are the reason for the second revision of the Ambient Lighting Kit, as we will see later on. Finally, the last box holds the AC/DC 12V adapter with a generic plug end. As you can see, NZXT also includes four different prongs to let users in various areas of the world use the same adapter. Otherwise, a small manual guides users in mounting and installing the HUE 2 Ambient Lighting Kit on your monitor.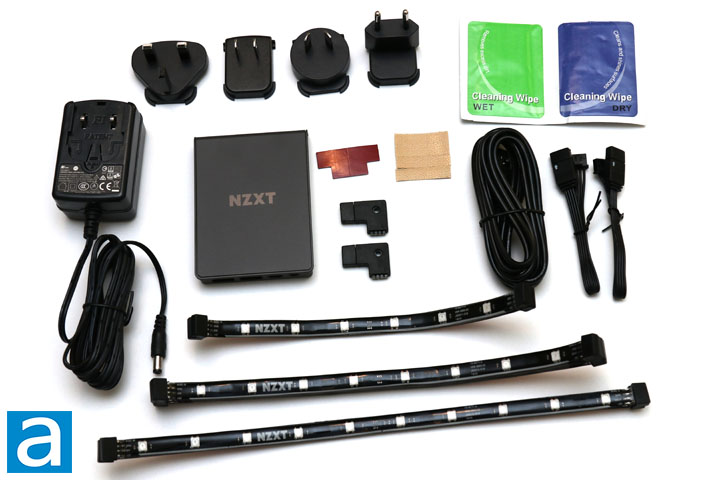 As you can see, these are all the accessories and other items included with the NZXT HUE 2 Ambient Lighting Kit v2. You may be wondering why the second revision was created to begin with. According to NZXT, they made improvements to make installation easier onto your monitor. The first thing they improved was the adhesive on the back of the LED strips. Users of the first revision found these strips would not stick onto their monitors long enough, so this should hopefully ensure the strips do not fall off after installed. The next was providing a rigid L-shaped connector for connecting the lighting at the corners of the monitors. This replaced a 150mm connector that was previously included and should make for a sturdier connection at the corners. Finally, for convenience, NZXT included a set of cleaning wipes, both wet and dry, to help users clean off the back of the monitors prior to mounting. This should prevent dust from underneath the lighting, which in turn should secure the strips better.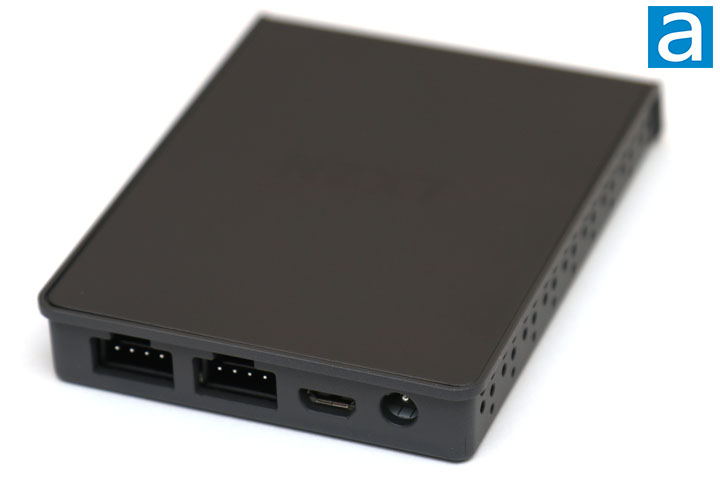 The last HUE system we looked at from NZXT, the HUE+, was able to fit in a 2.5" drive slot to make installation easier. However, the HUE 2 Ambient Lighting Kit uses a lighting controller box that is flatter and wider. Since this box is intended to be mounted outside the computer, the sizing is less of a deal. At the bottom of the NZXT HUE 2 Ambient Lighting Kit, you can find all of the inputs and outputs of the box here. Starting from the most left, we have two lighting output channel connections. These are four-pin plugs that terminate in four pins, though they are not interchangeable with other LED strips. They deliver 5V of output in each channel. You can use older HUE+ LED strips in the channel, though you cannot mix them with the second generation of HUE strips or accessories in the same channel. Each channel can connect up to four accessories, including other LED strips, RGB fans, cable combs, or underglow lighting. Next, we have a micro USB connector to synchronize the controller with CAM software on your installed computer. I really dislike mentioning it all the time, but we really should have the newer USB Type-C port here. Finally, a barrel plug can be found to connect the external power adapter here. This takes a 12V, 2A output from the plug. Otherwise, there is a white LED on the side to indicate if the controller box is receiving power.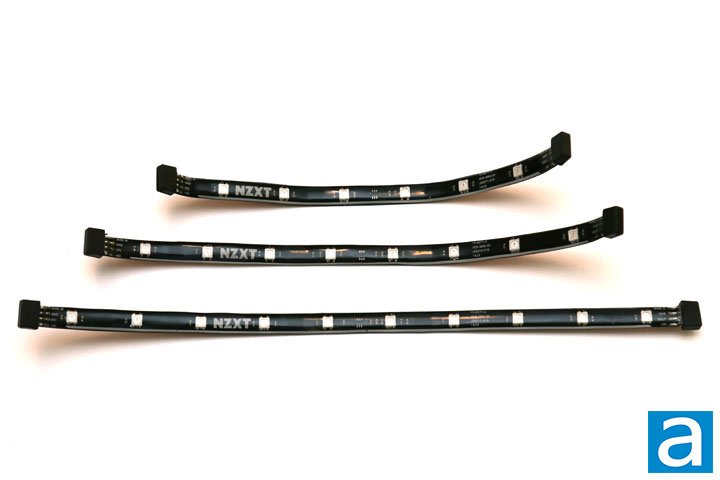 NZXT includes three lengths of LED lighting strips, including two 200mm, four 250mm, and two 300mm lengths. Each of the strips include six, eight, and ten LEDs, respectively. These LED strips look like the same ones included with the HUE 2 case lighting kit, which is not too surprising. As such, magnets are also embedded into the strips to hold them to anything metal. Unfortunately, none of my monitors have exposed metal at the back, so NZXT also has put 3M tape on the back of each strip. One thing I have mentioned is that these LED light strips are not generally compatible with other lighting equipment from other brands, so I would not recommend trying to use other solutions with the HUE 2 ecosystem. This is often because these strips operate on 5V, while most other LED strips often operate at 12V. Even if they are at this lower voltage, they probably will not be compatible with the CAM software. Otherwise, both sides are covered with plastic caps, as one side has pins, while the other has inputs for the pins. This lets you chain the lights to each other.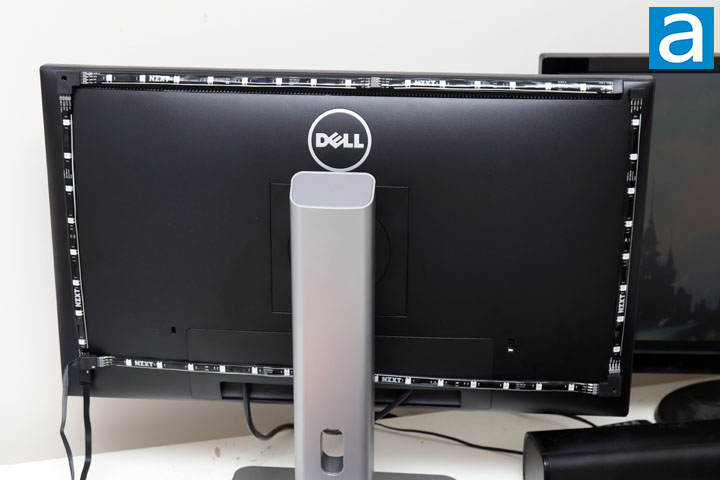 With no other equipment to really look at, I decided it was time to install my lights on my Dell U2414H 24" monitor. NZXT recommends different lighting strips depending on the size of the monitor, but as you can see, I have installed a 250mm and 200mm strip on the top and bottom, while the side is using a 250mm. Depending on the size of your monitor, you may use different combinations of the lights. All of these strips were attached using the heavy 3M tape, and it truly holds up. In fact, I tried to remove them after, and I found it would leave quite a bit of residue on my monitor. The best way to remove the tape is to use your hair dryer if you do not want any residue, but be careful not to burn any electronics. Obviously, the tape is doing as we expect, so this is not too surprising. If easier removal adversely affects the strips from staying attached, then this compromise is understandable. I also installed the L-shaped connectors in the top left and bottom right corners. This way, the cables to connect the lights to the controller box would end up in the same corner. NZXT has included extra 3M tape for these ninety degree angle connection points, but I did not end up using them. Otherwise, each of these are terminated with the included cables into the lighting controller.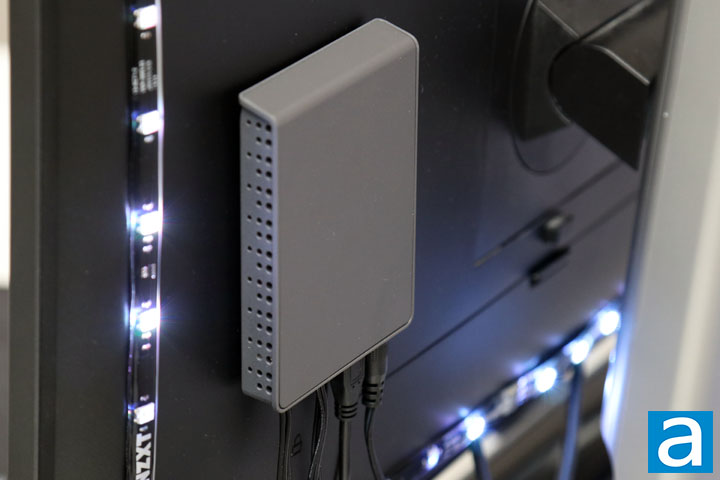 After taping and wiring everything up, I plugged the lighting cables into each channel, connected the power adapter, and the included micro USB cable into my computer. NZXT also included some Velcro strips to attach to the monitor and the box so that the RGB LED controller can be concealed. Otherwise, there was not much else to do, so I turned on my computer. As we already mentioned, there is not much for output on the controller besides a small pinhole white LED on one side of the controller.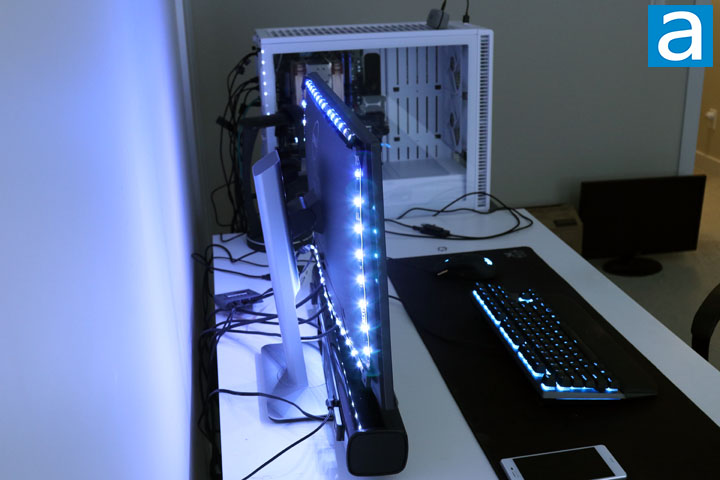 As you can see, by default the lights glow a white color. By now, you may be wondering why anyone would even want to add lighting to the back of your screen. This trend is often seen on larger screens like televisions, where people would attach long strips of LED lighting to bounce off the wall. The idea of this is called bias lighting and its intention is about reducing eye strain. Users often want a brighter screen and one way to achieve this, other than turning up the brightness, is to turn down the external environment lighting. Unfortunately, this contrast between the dark room and the bright screen can cause eye strain and headaches. You could light up the room with lights, but this can wash out the screen's colors and contrast or create unintentional glare from light sources in front of the screen. As such, mounting lights behind the screen and allowing them to bounce off a back wall can solve the eye strain problem without affecting the perceived screen quality. For NZXT, the HUE 2 Ambient Lighting Kit also works in providing a special mode that matches the lighting with the screen content, increasing the immersive feel of games. We will see what that looks like soon enough.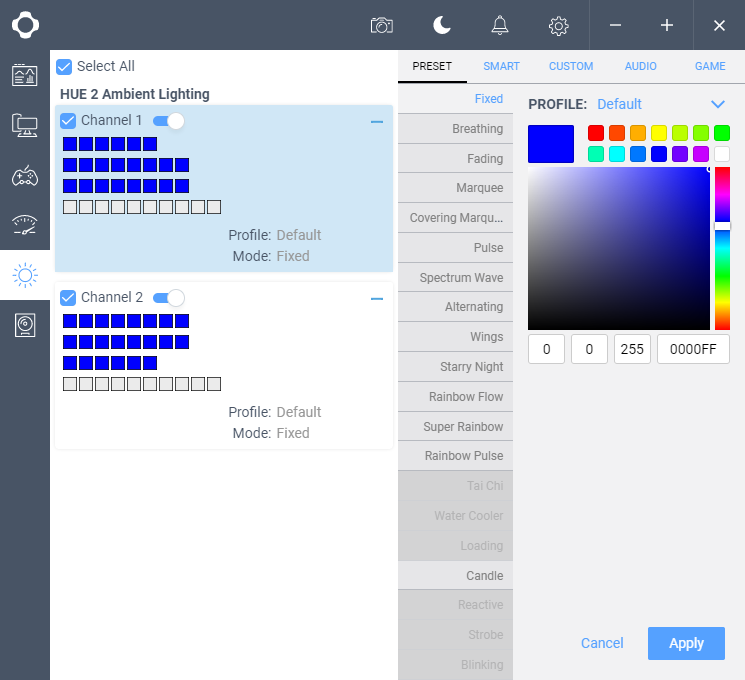 As with all of NZXT's products, if you need software to control their different settings, it will almost certainly be on their CAM software. The CAM software has been covered in previous NZXT products, so I will only look at what pertains to the HUE 2 Ambient Lighting Kit. As such, the only settings that pertain to this hardware is on the lighting tab, where it shows up as the HUE 2 Ambient Lighting. From here, you can select through five different options, including Preset, Smart, Custom, Audio, and Game. Preset is where you can select a certain profile of lighting that vary between static and moving lights. Of course, on the back of a monitor, you may not see these effects as clearly, but it is nice to see the options. Under Smart, you can choose different information such as the lighting to denote temperature from CPU or GPU, the current frame rate on the screen, or ambient mode. This ambient mode is the real cream of the crop, but we will demonstrate this later on. Under Custom, you can select specific lighting colors for as specific as each LED in the channel. Audio is where you can set the lights to react to the current audio playing through. Finally, Game is where the lighting will display information for certain games. As of press release, only one game is supported here, and this is Counter Strike: Global Offensive. This includes changing lighting for C4 Arming, Health, and Grenade effects. Hopefully, we will get more games integrated into the CAM software in the future.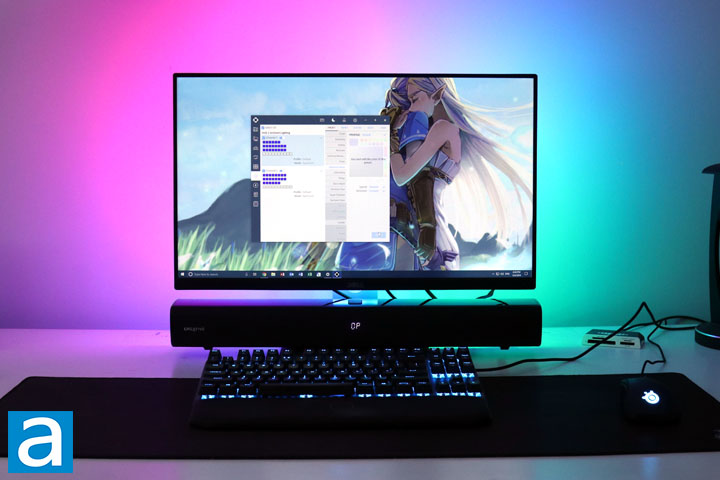 From here, you can see what a Spectrum Wave looks like with the NZXT HUE 2 Ambient Lighting Kit v2 installed. As you can see, the lights are vibrant and show off the lighting effects really nicely. The LEDs illuminate the back well, even underneath the monitor. In spite of my Creative Stage soundbar sitting in front of the monitor, you can see the light bleed out the bottom. As I have mentioned previously, because these lights are not directly seen but instead bounce off the back of the wall, it is a bit more difficult to maintain the resolution of these lights. For example, if you made a custom mode where both blue and red lights are being displayed, with the colors alternative between the LEDs, you may only make out a magenta glow rather than see the individual lights. This is working as intended, but you should keep this in mind when you are trying out different colors.
The video speaks for itself in terms of what the ambient mode is capable in game. I played two first person perspective games with one being a bit more casual than the other. From here, you can see how well the lighting kit is able to track the screen and output the respective colors to make for an immersive experience. In many times during the video, you can see how various colors pop out from the rest of the lights because there is a sudden change in colors in my surroundings. One thing I did notice with the ambient mode was the fact sometimes the lights would not be exactly matching with what was directly in that corner or edge, but rather a few pixels inward. It is not a huge deal to be honest, and it was more noticeable while not gaming but while browsing the Internet or doing other work. Personally speaking, I really enjoy the look of the ambient mode, and I think NZXT has done a great job in implementing a functional and impressive looking solution.
-----------------------------------------
I may complain about pickup trucks, but I also know they are not going anywhere. Considering these sales are a major reason why domestic car makers can keep operating, I doubt I will see the day when Ford stops selling their F-150 trucks in the city. However, when we come to the NZXT HUE 2 Ambient Lighting Kit v2, you can see NZXT has done its homework and implemented a solution that really show off bias lighting in both an aesthetic and functional sense. From the start, it is clear NZXT has provided everything that is necessary for the HUE 2 Ambient Lighting Kit v2. Its small controller is slim and light enough to fit on the back of any monitor without it being a nuisance. The focus of the second revision was centered on making the mounting easier and thus all the included accessories, like the cleaning wipes, strengthened 3M tape, and ninety degree connectors did exactly that. Other mounting items like Velcro strips for the lighting controller also helped. Finally, the finished output was vibrant and worked quite well with game immersion. The CAM software was both easy to use and functionally very capable. All in all, the solution is quite good, though there are a few small points here and there that could be refined. First, I want to see the USB Type-C input here. Secondly, I think they should get more games integrated in the CAM software for use with its lighting. At a retail price of $110 USD for the second version, the HUE 2 Ambient Lighting Kit is not easy on your wallet. However, if you want some of the fanciest looking RGB lights with bias lighting and immersion functionality, then the NZXT HUE 2 Ambient Lighting Kit belongs on the back of your monitor.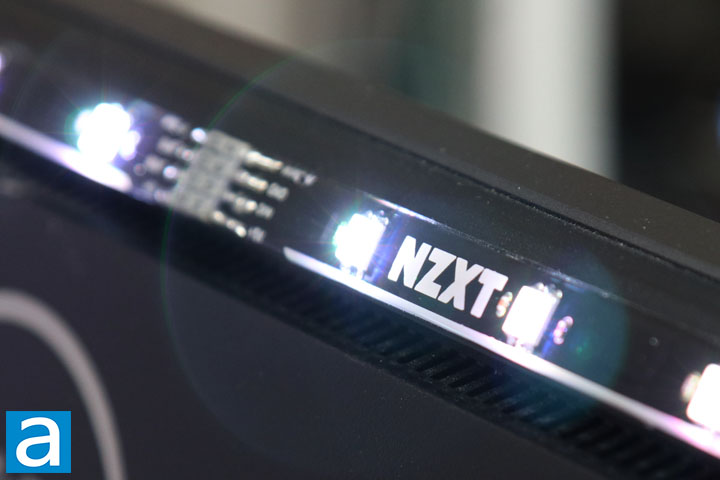 NZXT provided this product to APH Networks for the purpose of evaluation.

APH:Renewal Award | APH Review Focus Summary:
8/10 means Definitely a very good product with drawbacks that are not likely going to matter to the end user.
-- Final APH Numeric Rating is 8.0/10
Please note that the APH Numeric Rating system is based off our proprietary guidelines in the Review Focus, and should not be compared to other sites.
The NZXT HUE 2 Ambient Lighting Kit v2 is an excellent bias lighting option made premium for its immersion capabilities.
Do you have any comments or questions about the NZXT HUE 2 Ambient Lighting Kit v2? Drop by our Forums. Registration is free, and it only takes a minute!