By: Jonathan Kwan
July 14, 2020
Have you ever sat there and wondered to yourself, "I wish my keyboard had a full color LCD screen!" Now, you may be thinking I am being sarcastic, and I may actually as well be, but the reality is this: Not only has someone already thought of that, many people have thought of this many years ago. A little bit more than a decade ago, I reviewed the Logitech G19, a keyboard that features a 2.5" color LCD screen that can do anything from monitoring your CPU temperature to playing videos on YouTube. The Logitech G19 was released in a time before mechanical keyboards became mainstream, before RGB was a term in the enthusiast's dictionary, and Logitech was probably the only relevant player in the high performance gaming peripherals field. No, seriously -- the G19 had membrane switches, and even though it had RGB backlit keys, I searched up my entire review and I could not find a single instance where I used that term. As for the last point? Well, we will leave it at that. Since the G19, a few major things happened. Mechanical keyboards became mainstream, RGB backlighting is pretty much expected on everything, gamers started using brands other than Logitech, and for some reason, we have not reviewed a Logitech keyboard since. But there is one thing that went missing during the revolution: A full color screen for your keyboard. Well, Corsair decided to bring things back. The Corsair iCUE Nexus is a companion LCD touchscreen that can be used standalone or mounted on compatible keyboards like the Corsair K95 RGB Platinum XT or K70 RGB MK.2 Low Profile. Will it be worth your money? Read on to find out!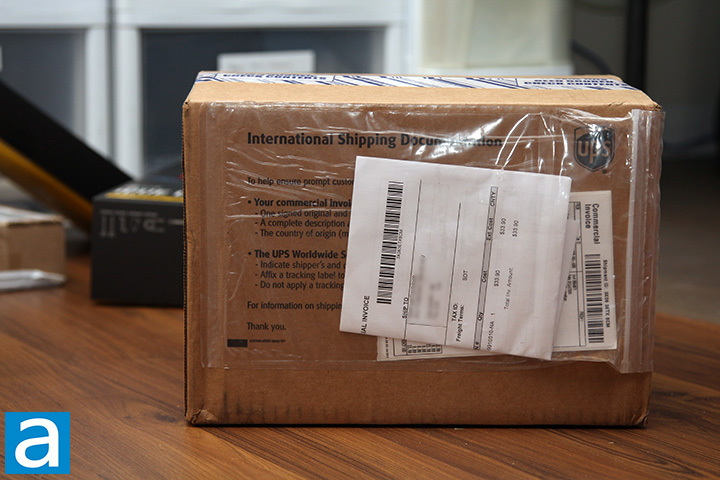 Our review unit of the Corsair iCUE Nexus came in a medium-sized brown corrugated cardboard box from Ryder Integrated Logistics in Ontario, California, USA. Using UPS Standard, everything arrived in excellent condition to us here in Calgary, Alberta, Canada for our review today.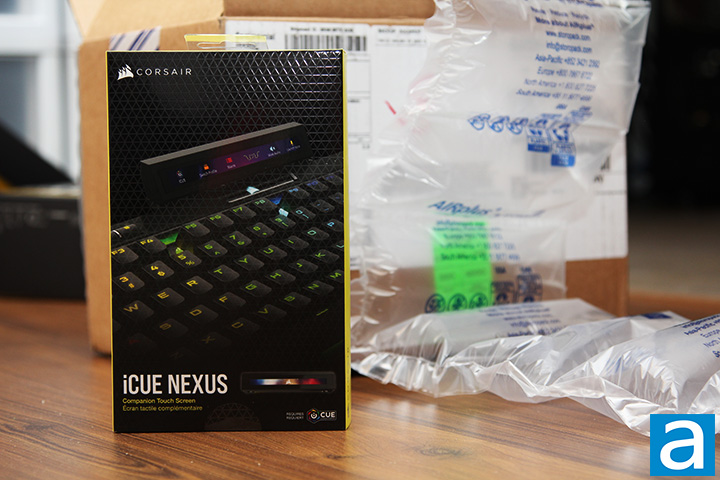 The retail packaging of the Corsair iCUE Nexus is immediately recognizable to anyone who are familiar with products from the company. The box features a predominantly black colored front and lime green sides. Everything is contrasted by white or lime green text on the darker shades and black text on the lighter shades. A photo of the screen installed on a keyboard in three-quarters view occupy the majority of the real estate in front. At the top left corner, you will find Corsair's logo, which, if you look carefully, the font is new. The name and description of the product is printed at the bottom, which is "iCUE Nexus" and "Companion Touch Screen". Further feature highlights and miscellaneous product information such as system requirements can be found on the remaining sides of the box.
Before we move on, let us take a look at the specifications of the Corsair iCUE Nexus, as obtained from the press material:
Screen Size: 5" Diagonal
Resolution: 640x48 pixels
Aspect Ratio: 40:3
Frame Rate: 24 frames per second
Screen Color: RGB, 262K colors
Backlighting: Yes, adjustable
Touch Screen: Yes, single point capacitive
Programmable Buttons: Up to 6 virtual buttons
Chassis: Plastic
Color: Black
Connectivity: USB 2.0 Type-A
Onboard Memory: No
Plug-and-Play: No, requires iCUE software
OS Compatibility: Windows 10
iCUE (Software): Supported, requires Windows 10
Cable: 1.82m / 6 ft, braided on standalone base
Dimensions (w/o base): 154(L) x 35(W) x 16(H)mm / 6.07(L) x 1.38(W) x 0.63(H)in
Weight (w/o base): 60g/0.14lbs
Warranty: 2 years
MSRP: US $99.99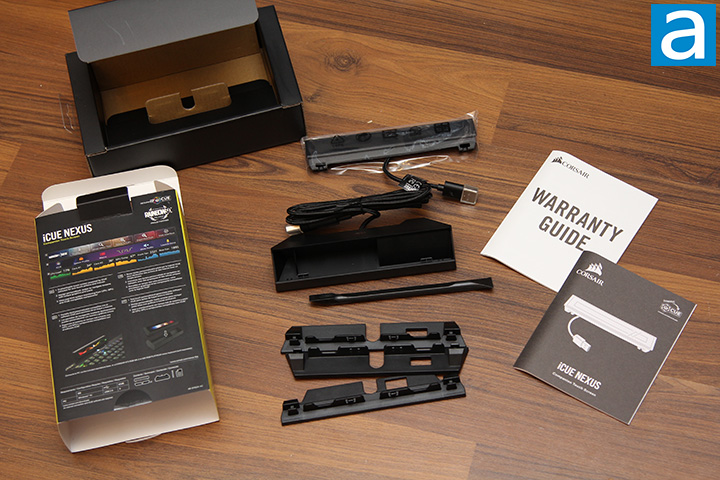 Once you slide out the inside box from the wrapper, you will find all the contents neatly placed inside a tray. Out of the box, you will receive the Corsair iCUE Nexus screen itself, standalone base, three keyboard mounting brackets for various Corsair models, bracket removal tool, user manual, and warranty guide. The bracket removal tool is a nylon pry bar similar to those commonly used for removing trim panels in your car without scratching anything. All in all, the bundle has everything you need and nothing you do not.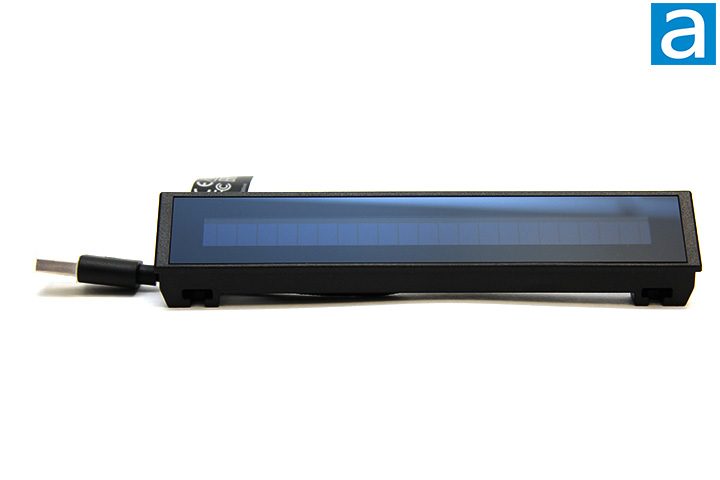 The main item in the Corsair iCUE Nexus companion touch screen is the touch screen itself, so let us talk about it first. The entire screen is made out of plastic. The enclosure is constructed out of matte black plastic, while the screen appears to be clear acrylic plastic. The construction quality looks reasonable, but an aluminum enclosure with a glass screen will feel much more premium, especially for something that runs you a hundred bucks. Meanwhile, the 40:3 ratio capacitive touch screen has a resolution of 640x48, where there are six 100 pixel wide boxes with an 8 pixel gap in between each box. The display itself is a traditional backlit 5" LCD screen that can display up to 262K colors with a maximum refresh rate of 24Hz. I like the fact it is a capacitive touch screen -- I mean, who still uses resistive touch in 2020 -- but the specifications have nothing that particularly stands out in my opinion.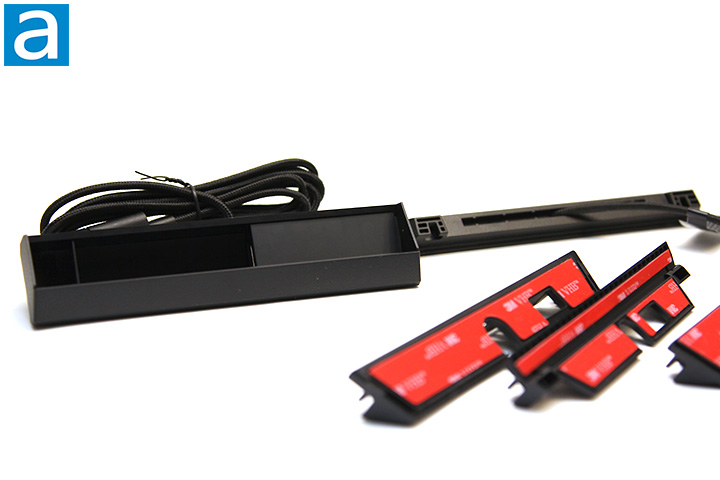 The Corsair iCUE Nexus connects to your computer via a USB 2.0 Type-A non-gold plated connector, which extends out the back of the unit via a cable guide as shown in our photo above. The cable is extremely short, because it will only need to connect to your Corsair keyboard or the standalone base, which we will take a look at in just a moment. When we bring about the question of whether gold plated connectors are actually useful or not, let us just say if it was the actual pins, then possibly, since gold offers better conductivity than other metals. This theoretically establishes a better connection with your computer, but on a digital signal level, we must understand it is a discrete one or zero; if anyone tells you they can tell the difference, you can defeat their theory with a double blinded test. Additionally, if you are referring to the gold part of the connector you see on the plug, I would like to point out it actually does not make any physical contact electrically with your computer. In other words, it is nice to have, and it is pretty to look at, but it is not anything significant on a practical level. The lack of a gold-plated USB connector will not have any impact on the Corsair iCUE Nexus.
There are two ways to use the Corsair iCUE Nexus, which is to attach it to a standalone base or attach it to compatible keyboards like the Corsair K95 RGB Platinum XT or K70 RGB MK.2 Low Profile, both of which I currently own. The standalone base has a USB port on the inside to plug your iCUE Nexus into. The iCUE Nexus can be easily snapped into place, and the base can be plugged into your computer via a 1.82m braided USB cable. The USB connector on the standalone base, once again, is a USB 2.0 Type-A non-gold plated connector. A rubber bottom at the bottom of the standalone base helps enhance the grip on the surface the device sits on.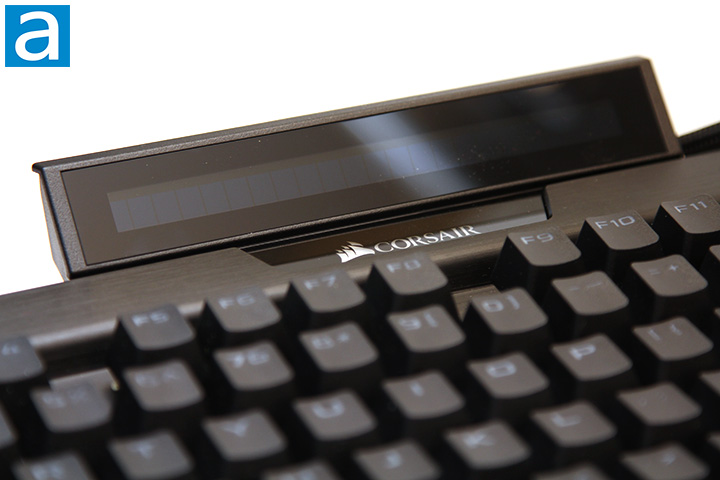 The second way of using the iCUE Nexus is to mount it directly to a compatible Corsair keyboard. This is done by attaching the one of the included brackets depending on the model, which is secured on by 3M double-sided tape. It is aligned to the back of your keyboard by built-in grooves with precisely cut holes to allow the cable and USB port to pass through. The iCUE Nexus can then be slid into place and plugged into your keyboard's built-in USB port. In my photo above, I installed the screen onto my K95 RGB Platinum XT. The attachment feels very secure and looks like it came with the keyboard originally. In other words, it does not look like it was something added on after.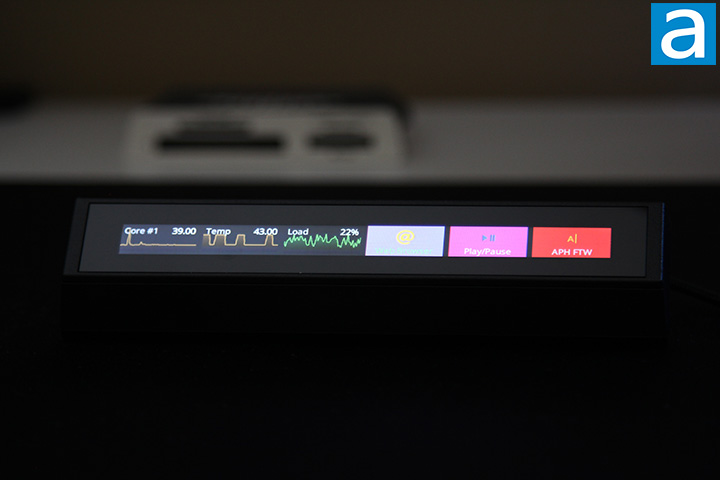 The above photo shows the Corsair iCUE Nexus installed into the standalone base. If you do not own a compatible Corsair keyboard and do not mind a bit of extra clutter on your desk, this would be the way to go. The setup was overall quite easy; I will go into the configuration process in just a moment. You can configure different screens to swipe between. As far as the LCD screen itself is concerned, I think there is quite a bit of room for improvement. For one thing, the iCUE Nexus suffers from very poor side-to-side viewing angles. I have not seen an LCD screen with poor viewing angles -- especially side-to-side -- for probably more than a decade, but this would have been it. Unless you view it straight on, the color is going to distort like an old personal digital assistant if you still remember what that is. Another issue is the color depth is also poor. It is specified at 262K colors, which is not a lot. Even your keyboard's RGB LED backlight has better specifications, but I digress. Beyond the specifications, the poor contrast and not-very-black blacks are very noticeable. When swiping between screens, there was a little bit of lag with the 24Hz screen, so it does not feel very smooth. Lastly, its 640x40 resolution somehow feels very low, even though the pixel density is not bad at 128.36 PPI. Maybe the screen quality is just not that great, so it made it a bigger problem than it really is. For a screen that carries an MSRP of $100, I would expect much better performance. OLED, anyone?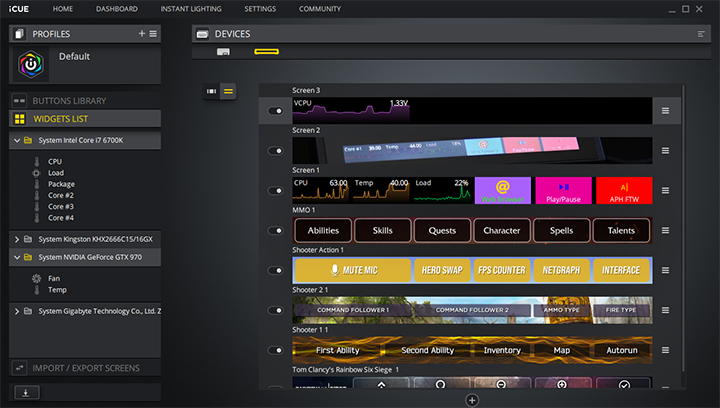 The Nexus works along with the latest version of the Corsair iCUE software, which is a 385MB download from Corsair's website at press time. This program unifies all your Corsair peripherals into one application. After selecting the Corsair peripheral you want to configure at the top, the graphical user interface is basically separated into two sections: The left side allows you to select the configuration category, while the right side displays all options.
The right side always shows the screen configuration no matter what you do, as shown in our screenshot above. The configuration is quite straightforward; simply configure what you want on each screen and how big each item is. Besides custom graphics, visual buttons, and system statistics, you can also use the iCUE Nexus to control compatible device settings and have custom screens for games. Do keep in mind the fancy capabilities you see on Corsair's website requires you to use graphics templates, or if you want to make your own, make sure you know quite a bit about image editing. The custom screens for games are basically pre-configured graphics templates with preset macros, so there is no game detection involved.
The Buttons Library section allows you to make pre-configured buttons to be used on screen. The Widgets List is where all automatically generated widgets for compatible hardware are listed. You can change the name of the widgets, which is shown on the display. The Import/Export Screens tab does exactly what the name suggests.
There are a few software improvements I would like to see with the iCUE Nexus. Firstly, the screen does not turn off when your PC is turned off if your USB port is always on. The screen should automatically turn off when the computer is not running. Secondly, if you are using the iCUE Nexus with compatible hardware, you cannot remove the button that controls it. Thirdly, making built-in apps -- even if it is a calculator or stopwatch -- that can function on the display itself will make it much more valuable. Lastly, custom programming with games to show in-game statistics will also be appreciated.
Overall, I found iCUE to be powerful, straightforward, and reasonably easy to use. Significant improvements were made to the usability of this software in the last few years, and the overall experience was very positive to me.
-----------------------------------------
The Corsair iCUE Nexus is a companion LCD touchscreen that can be used standalone or mounted on compatible keyboards like the Corsair K95 RGB Platinum XT or K70 RGB MK.2 Low Profile. Is it worth your money? The answer I give to that is an unequivocal "no". Do not get me wrong, I like the concept of the product. Having an auxiliary capacitive touchscreen on your keyboard to show PC statistics, act as soft buttons, or display custom graphics is a classic concept I have always appreciated. The iCUE Nexus can even be used standalone or attached to a compatible keyboard, and if you have a compatible keyboard, the fit and finish is top-notch. At no point does it look or feel like an add-on. The problem with the Corsair iCUE Nexus came down to its execution. Let me put it into perspective: If you do not care about the touch screen aspect, this thing costs as much as a brand new 24" LCD desktop monitor and can display less colors than the keyboard you are attaching it to. Really, the iCUE Nexus is a 5" LCD screen that has poor viewing angles, poor color contrast, slow refresh rate, and low resolution made completely out of plastic for a hundred bucks. Add on to the fact the iCUE Nexus actually does not do much as it does not have game detection, in-game statistics, or built-in apps that can function on the display itself, I find the iCUE Nexus hard to justify. Some of these things can be improved in software, but I look forward to the next version of this product: One that, at the very least, is constructed out of better materials and comes with a higher performing display.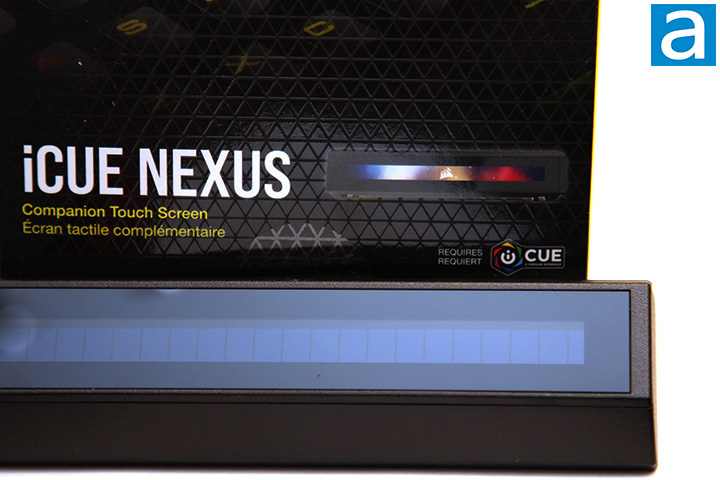 Corsair provided this product to APH Networks for the purpose of evaluation.
APH Networks Review Focus Summary:
5/10 means An average product with no real advantages; drawbacks and advantages just seem to cancel each other out.
4/10 means With disadvantages that slightly outweigh its advantages, you should not get this product unless there are no product alternatives that does its job.
-- Final APH Networks Numeric Rating is 4.7/10
Please note that the APH Networks Numeric Rating system is based off our proprietary guidelines in the Review Focus, and should not be compared to other publications.
The Corsair iCUE Nexus companion touch screen is a good product in concept, but fell short in almost every meaningful metric in execution.