By: Jonah Chow
December 30, 2022
Ever since 2021, I have been looking to enjoy more experiences and grow more as an individual, which is something I believe I have been doing well. Last year, I hiked more than I ever have in the past, even going up one of the tallest mountains in Alberta and increasing my overall stamina and leg strength. Speaking of strength, I began going to the gym more often, which further helped with my lower body and upper body strength by doing exercises such as bench presses and squats. I also went off on writing many reviews here with APH Networks, having started in February of that year. This year, I skied more than I ever have, increasing my ability to do challenging runs and pushing my endurance to the limits. Finally, I traveled more than I ever have in the past. Not only did I go to Vancouver five times this year, but I also traveled to the United States for multiple trips, whether for work or pleasure. I am happy for these experiences I have gained over just the past two years, and it is really interesting to look back at where I was before versus now. In the same light, Corsair has provided us with their Katar Wireless Elite, a lightweight gaming mouse from their Katar product line. The Katar PRO XT was the first product I ever reviewed here at APH Networks, so I am excited to see the similarities and differences here. Does the Corsair Katar Elite Wireless prove to be at least as good as its wired counterpart? Let us read on to find out!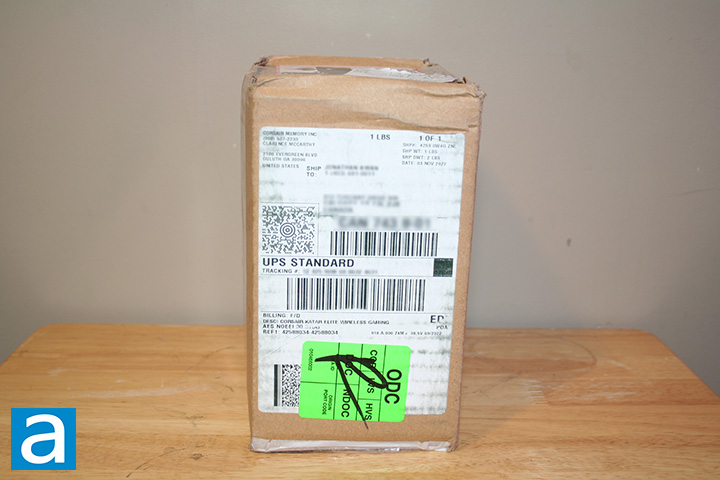 Our review unit of the Corsair Katar Pro XT arrived here in Calgary, Alberta, Canada from the company's American headquarters in Ontario, California, USA using UPS Standard. The shipping box was in decent condition with a few marks and scuffs alongside the corners. Generally, I had nothing to worry about as the marks were not severe enough to damage the retail box. With the shipping box protecting it so well, the retail box arrived in perfect condition. I have no complaints about the shipping.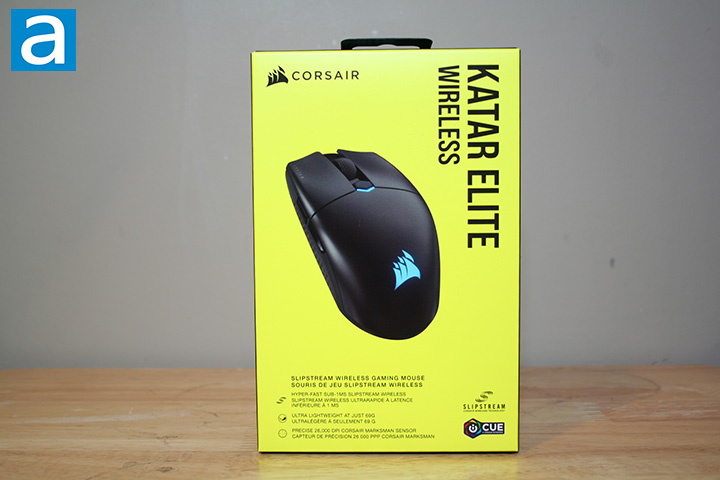 The Corsair Katar Elite Wireless arrived in retail packaging. Taking a look at the box, it is quite clean and does a good job of displaying the mouse along with its prominent features. The Corsair logo is located at the top left corner, likewise to many other products sold by Corsair. The classic Corsair black and yellow color scheme is used once again. A photo of the Corsair Katar Elite Wireless is displayed front and center, showing off the general design of the mouse with a bit of RGB LED goodness shining from the shell and DPI toggle. The back of the box contains some of the specifications, and the sides has some more Corsair branding.
Before we move on, here are some specifications of the Corsair Katar Elite Wireless, as obtained from the product page:
Mouse Warranty: Two years
Prog Buttons: 6
DPI: 26,000 DPI
Sensor: MARKSMAN 26K
Sensor: Type Optical
Mouse Backlighting: 1 Zone RGB
On Board Memory: Yes
On-board Memory Profiles: 1
Mouse button Type: Omron
Mouse Button Durability: 60M L/R Click
Connectivity: Wireless, Wired
Grip Type: Claw, Fingertip
Weight Tuning: No
Hand Size: Small, Medium
Game Genre: FPS, Battle Royale, MOBA
Weight: 69g (w/out cable and accessories)
Cable: 1.8m Tangle Free Rubber
CUE Software: Supported in iCUE
Report Rate: Selectable 2000Hz/1000Hz/500Hz/250Hz/125Hz
Battery Life: 2.4GHz SLIPSTREAM: Up to 60hrs continuous use
BLUETOOTH: Up to 110hrs continuous use
Battery Type: Rechargeable Lithium-Polymer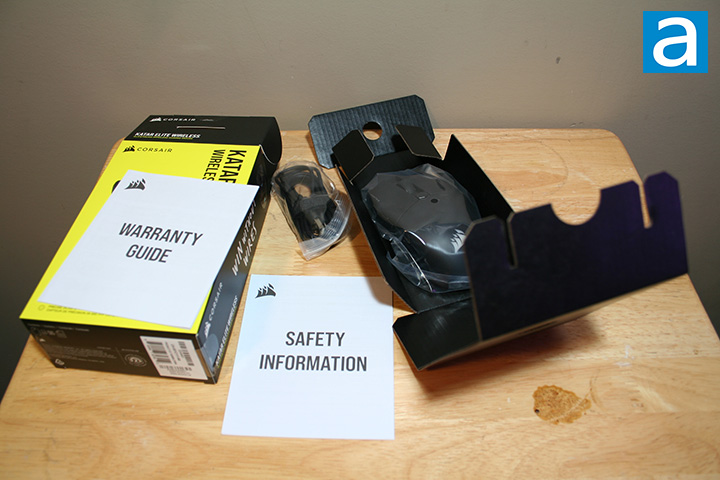 Right out of the box, the first thing you will see is the mouse itself. The mouse alongside its USB cable is bundled in some plastic wrap, which is placed securely under a piece of black cardboard. The user manual and warranty guide were also found inside of the box, as one would expect. The warranty, per the specifications, is two years, which is common for peripherals in 2022.
---
Page Index
1. Introduction, Packaging, Specifications
2.
A Closer Look - Hardware and Software
3.
Subjective Performance Tests
4.
Conclusion