Page 2 - A Closer Look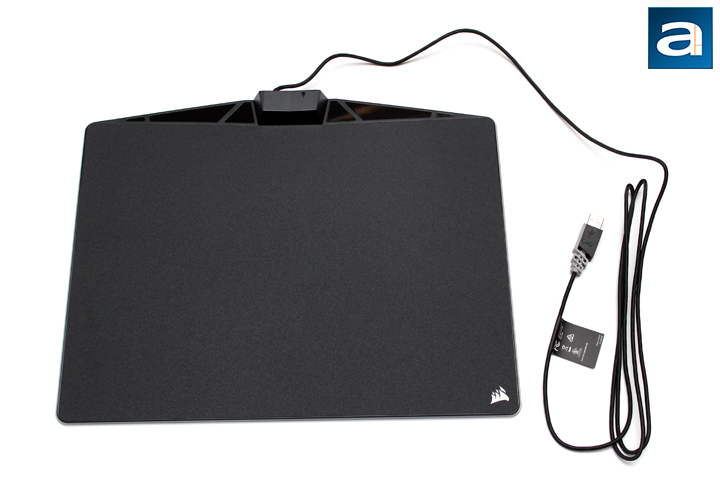 Taking out the Corsair MM800 RGB Polaris, we have a pretty standard design with a big asterisk here. The surface is black, with the exception of the translucent Corsair logo at the bottom right corner. The pad is a gritty surface, which we will inspect soon, while the top part of the pad has a few glossy accents. The top also houses a large plastic block in the middle, where the USB cable protrudes out. At the back of this block is a USB port, which allows you to plug your mouse into the MM800 RGB Polaris through the mousing surface's own plug. The USB cable is necessary to provide power and data for the Corsair MM800 RGB Polaris for its RGB lighting. The cable is braided, quite flexible, and measures approximately 180cm in length.
As for other dimensions of the Corsair MM800 RGB Polaris, it measures 350mm in width, 260mm in depth, and 5mm in height. This size is a pretty good balance for desktop gaming, and while you could use it for on-the-go use, I think hard surface mousepads like the MM800 are a bit more difficult to travel with, since they cannot be rolled up. The surface on the top feels a tad gritty and rough, but we will see the effects of this in our performance tests later on. The bottom features a nice rubber finish to get a good grip on the table. Otherwise, we can also see the translucent edges on the side allow for light to bleed through. According to Corsair, there are a total of fifteen zones on the MM800 RGB Polaris to allow for RGB lighting, but we will get more into the lighting later on. Overall, the build quality here is on point, and as expected for a company like Corsair.
Before we continue on to the surface inspection, let me quickly go over the advantages and disadvantages of cloth-based and hard mousing surfaces. Cloth-based surfaces provide better comfort and control, are easier on mice feet, generates little noise during use, can even out some imperfect surfaces, and is more portable. On the other hand, hard surfaces generally comes with better glide performance, and can be easily cleaned of dust, dirt, and liquid. This can include human liquids too, such as sweat from your hands. Plastic, aluminum, glass, or any other solid surface can easily be run under the tap to restore it to original condition. Now, we will take a closer look at the front surface.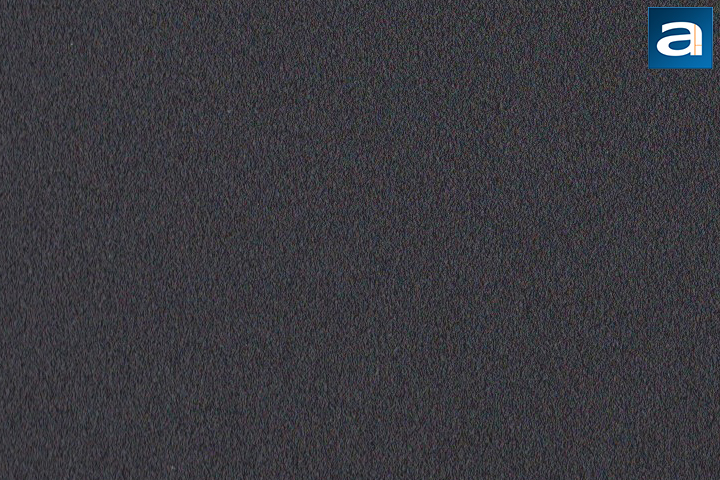 Rather than using my standard photography equipment, I threw the Corsair MM800 RGB Polaris onto a scanner and ran it through at 600dpi, just to get a better, more detailed image. Taking a closer look at the top surface, the MM800 looks quite similar to one of the older IKEA tables, which had a gritty surface. While it is not as rough as sandpaper, it definitely is rougher than most mousing surfaces I have used in the past while. Without any notable patterns either, really the only thing I can comment on is the grit itself. This being said, it is still pretty consistent, despite it being rough. This should ensure there is no skipping while or weird tracking issues in different areas of the MM800 RGB Polaris. While you might think you would want as smooth of a surface as possible, I think having this slight grit is fine, as it will give something for the sensor, whether optical or laser, to detect movement. However, with the rough surface comes a bit more noise, though we will see how all of these translate into our performance tests.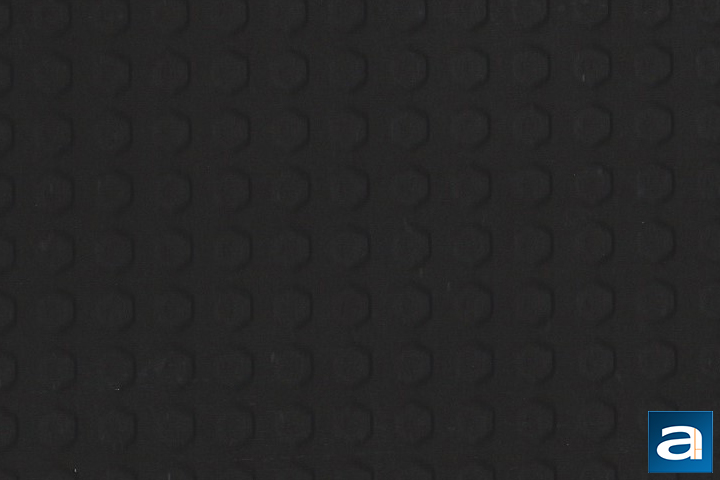 On the back, the Corsair MM800 RGB Polaris' base immediately reminds me of the nibs found on Lego bricks. Each of these nibs are evenly placed and laid out similarly. However, they are obviously not the same. The first difference is the fact each of these nibs are actually hexagons and not circular. Second is the fact these nibs do not extend out as far as the ones on the building bricks. In fact, they protrude out less than a millimeter. Finally, rather than plastic, this is an all rubber surface, which should do well in holding the MM800 RGB Polaris to whatever surface you want to put it on. It does smell a little funny, kind of like it was fresh off the manufacturing line, though this fact did not bother me. This surface, in conjunction with the size of the mousing surface, should mean it does not move too easily.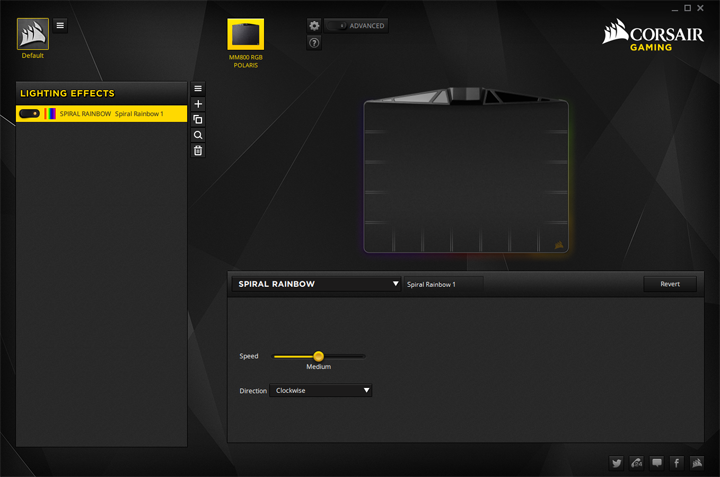 Normally, we would move onto our usage tests at this point, but before we get to it, I have to address the rainbow in the room. As you have already noticed by the name of the product, the Corsair MM800 RGB Polaris comes with AMD's Polaris architecture, haha. Joking aside, this mousing surface actually comes with RGB lighting. A total of fifteen lighting zones are laid out evenly around the left, right, and bottom edge for maximum RGB-ness. As such, the Corsair MM800 connects via USB to the computer to power the lights. Next, you can install the Corsair Utility Engine, or CUE, to let you customize the lighting effects. The utility itself is quite big to download at 119MB, and it takes up around 269MB of disk space when installed.
The above picture is where you can go through a list of lighting effects, so I will go through them one by one. The first one is Spiral Rainbow, which spirals a rainbow pattern around the mousepad. Next is Rainbow Wave, and this rotates through the spectrum in a user chosen direction. This is different from the first pattern, as it only shows one color at a time. Visor mode flashes a traveling light around the mousepad. Color Shift transitions all the lights between colors. Color Pulse is like a breathing mode for all of the lighting zones, and Color Wave is similar to Visor, except it travels in one direction only. For all of these modes, traveling speeds and directions can be changed, where applicable. For the non-rainbow modes, the colors can either randomly cycle or alternate between two chosen colors. The last custom mode is Static Color, which allows you to pick the zones and select a single color for it. This mousepad is also Link enabled, which means synchronize all of these effects with your other Corsair products, including their keyboards or mice. This last effect is actually pretty neat, as it provides a more uniform lighting experience, assuming you have other Corsair peripherals. Finally, if all of these colors are not enough, they can also be stacked on top of each other to make for more combinations. I have to say this is one of the better implementations of RGB, even if this is the first time I have seen it on a mousing surface. Lighting is evenly distributed, despite having fifteen distinct zones. With all this aside, the more important part of this review is our performance tests, so let us head on over!
---
Page Index
1.
Introduction, Packaging, Specifications
2. A Closer Look
3.
Subjective Performance Tests
4.
Conclusion