By: Jonah Chow
July 21, 2023
In preparation for Skrillex coming to Calgary to perform a set, I have been listening to many of his songs as one would do when preparing for an artist they wish to see live. As much as I enjoy his new music, nothing hits home for me like his old songs such classics like Bangarang, Scary Monsters and Nice Sprites, and First of the Year (Equinox), which you may recognize as the "CALL 911 NOW!" dubstep song. Now, there is definitely a lot of nostalgia in this for me, as Skrillex was the first EDM artist I ever listened to, which is big considering EDM is my favorite genre of music. Listening to these songs brings me back to my middle school days when things were a lot simpler, and I could just listen to the Bangarang album on repeat for ages. His older music is also a lot more electronic sounding, which is an element to EDM songs I enjoy quite a bit. So while I enjoy his new house music a lot, I will be very thrilled to hear any of his old dubstep songs played in a music festival environment. Similarly, Corsair has become known for their peripherals and cooling products in the last little while, but it might go under the radar that they have been manufacturing SSDs for quite a long time. We have reviewed many Corsair products here at APH Networks, but today is our first time looking at a storage drive from them, which brings us along to the Corsair MP600 Core XT 2TB. How does our first tested Corsair SSD compare to our other drives that we have reviewed in the past? Let us read on to find out!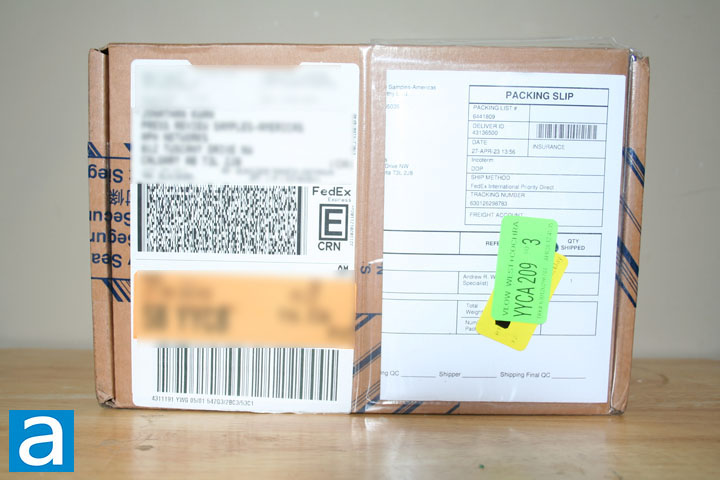 Today's review unit of the Corsair MP600 Core XT arrived through FedEx's supply chain management system in Mississauga, Ontario, Canada. The shipping box arrived at our APH Networks offices in Calgary, Alberta, and traveled with FedEx Express. The shipping box arrived in great condition with no major scratches or scuff marks.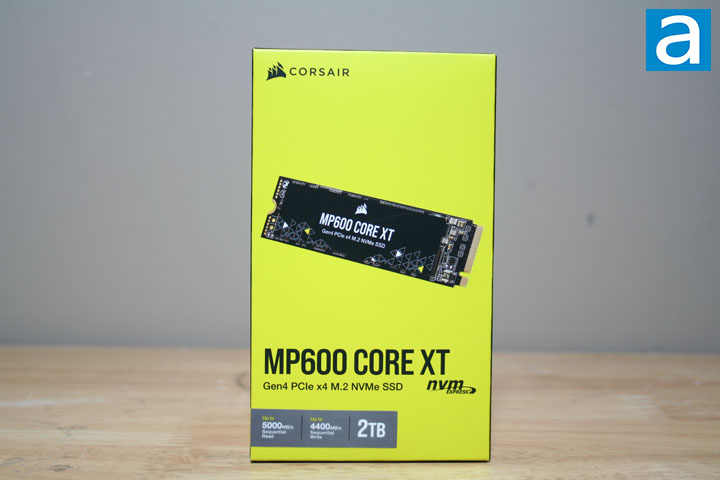 The retail box is conservative in size and look, using the standard Corsair black and yellow color scheme. The Corsair logo and branding can be seen at the top left, with the drive being shown front and center. The product name is shown below with the text "Gen4 PCIe x4 NVMe SSD" underneath it, along with a branding for NVM Express. The storage capacity, sequential read, and sequential write values are seen at the very bottom. More information can be found on the back.
Before we continue on, here are the specifications per the manufacturer's website:
Storage Temperature: -40°C to +85°C
Endurance: 450TBW
Storage Humidity: 93% RH (40° C)
SSD Package Contents: MP600 CORE XT M.2 SSD
Application Consumer: Client
SSD Compatibility: M.2 2280 Interface Connector Windows 11, Windows 10, Mac OS X
Form Factor: M.2 2280
Voltage: 3.3V, +/- 5%
Vibration: 20Hz~80Hz/1.52mm, 80Hz~2000Hz/20G
SSD Shock: 1,500 G
SSD Operating Temperature: 0°C to +65°C
DEVSLP: PS4: <3mW
Encryption: AES 256-bit Encryption
NAND Technology: 3D QLC
SSD Smart Support: Yes
Power Consumption Active: 4.3W Average
MTBF Hours: 1,500,000 hours
SSD TBW: 450
SSD Max Sequential Write CDM: Up to 4,400MB/s
SSD Max Sequential Read CDM: Up to 5,000MB/s
Weight: 0.030
Memory Type: PCIe Gen 4.0 x4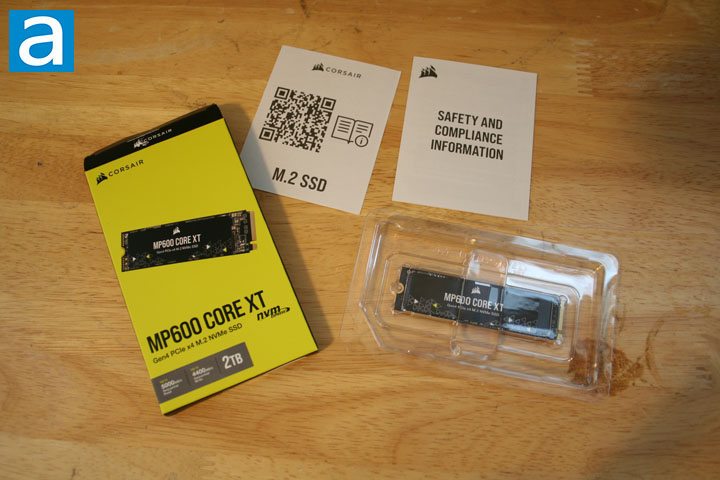 Opening the retail box reveals the Corsair MP600 Core XT placed inside a black plastic shell. The drive arrived in perfect condition, so the packaging did the job. The size of the box is quite small, wasting no space. Two documents can be seen; one of these being a safety and compliance information document and the other being a QR code for the online user manual. Nothing else is included with the retail packaging, but this is to be expected with storage devices. The MP600 Core XT comes with a 5-year warranty.
---
Page Index
1. Introduction, Packaging, Specifications
2.
A Closer Look, Test System
3.
Benchmark: AIDA64 Disk Benchmark
4.
Benchmark: ATTO Disk Benchmark
5.
Benchmark: Crystal Disk Mark 8.0
6.
Benchmark: HD Tune Pro 5.70
7.
Benchmark: PassMark PerformanceTest 10
8.
Benchmark: PCMark 10
9.
Benchmark: 3DMark
10.
Conclusion