By: Jonathan Kwan
April 23, 2021
What did you do with all those cargo pants pockets that were popular in the early- to mid-2000s? This was when I was in high school, and as strange as it sounds, I used to carry a gaming mouse in one of the many pockets. Now, you may think I am the stereotypical weird, nerdy, and socially awkward kid that was often picked on by the popular crowd, but believe it or not, I actually hung out with the in-crew. Another question you may be asking is why any normal person would carry a gaming mouse in their pocket, but I would like to make it clear that I definitely was not exactly normal either. The reason why I carried a mouse around was because the ball mouse connected to every computer at school was totally garbage, and it just so happens that I got an extra Razer Copperhead kicking around. I distinctively remember one problem I had with those 500MHz Intel Celeron PCs at school was that I could never use my Copperhead at full 1000Hz polling rate, because simply plugging in the mouse would shoot the CPU up to 100% and drive the system to its knees. Fast forward 15 years, CPUs have gotten magnitudes faster, and the interesting thing is most of us are still using mice with 1000Hz polling rate that was available since cargo pants were a fashion item. You may be wondering if technology has progressed at all, and today I am happy to announce that it has. The Corsair Sabre RGB Pro can sense at a whopping 8000Hz rate, which means not only does your computer get 8,000 reports per second from the mouse, but it also implies the response time has been reduced from 1ms to 0.125ms. Of course, with such rapid data generation means it requires CPU power, and Corsair posts many warnings on their website that enabling the 8000Hz polling rate will require a late-model Intel Core i7 or AMD Ryzen 7 CPU. Will the Corsair Sabre RGB Pro the mouse that brings your five or six year old system to its knees in 2021? Read on to find out!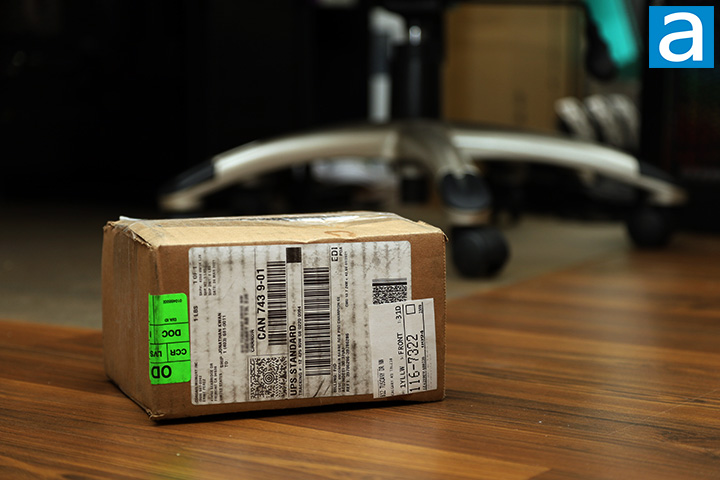 Our review unit of the Corsair Sabre RGB Pro arrived to us here in Calgary, Alberta, Canada from the company's American offices in Fremont, California, USA. Using UPS Standard, the medium sized, brown corrugated cardboard box arrived in excellent condition to us here in Calgary, Alberta, Canada. We were planning to have a launch day release of this review on April 8th; unfortunately, the mouse did not get to us until the 5th. I took the time to thoroughly test it out, hence we are publishing a couple of weeks later.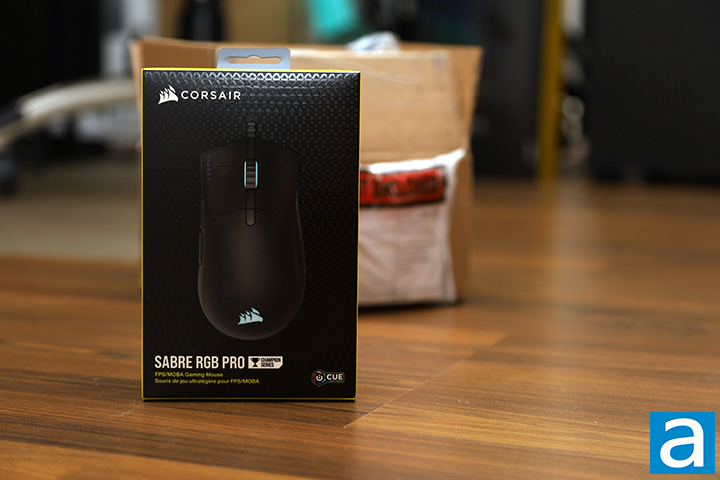 As it was with the Corsair Dark Core RGB Pro I reviewed around this time last year, the retail box design for Corsair's Sabre RGB Pro is immediately recognizable to anyone who has seen peripherals from the company at the local computer shop in the last little while. Most of the box is either yellow or black; contrasted by white text on the darker shades and black text on the lighter shades. The mouse itself shot at a flat overhead angle occupies majority of the real estate in front. At the top, you will find Corsair's logo. The name of the mouse is printed at the bottom and a line describing it as an "FPS/MOBA Gaming Mouse". Adjacent to that are the "Champion Series" and Corsair's iCUE icons. Further feature highlights and miscellaneous product information such as package contents and system requirements can be found on the remaining sides of the box.
Before we move on, let us take a look at the specifications of the Corsair Sabre RGB Pro, as obtained from the manufacturer's website:
Mouse Warranty: Two years
Prog Buttons: 6
DPI: 18,000 DPI
Sensor: PMW3392
Sensor Type: Optical
Mouse Backlighting: 2 Zone RGB
On Board Memory: Yes
Mouse button Type: Omron
Mouse Button Durability: 50M L/R Click
Connectivity: Wired
Grip Type: Palm, Claw
Weight Tuning: No
Weight: 74g (w/o cable)
Cable: 2.1m Drag-Reducing Paracord
CUE Software: Supported in iCUE
Game Type: FPS, MOBA
Report Rate: Selectable 8000Hz/4000Hz/2000Hz/1000Hz/500Hz/250Hz/125Hz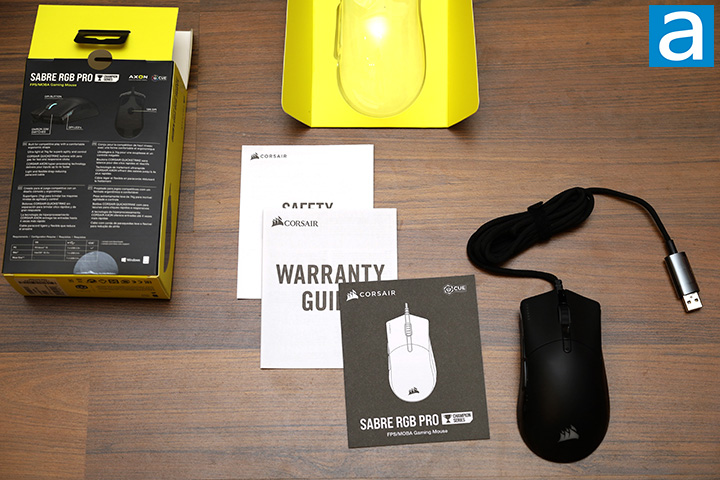 Out of the box, you will receive the Corsair Sabre RGB Pro mouse placed in a cardboard container behind a clear plastic shell along with a quick start guide, compliance information poster, and a warranty guide. The software can be downloaded from Corsair' website. The file size of Corsair iCUE is 741MB at press time, but I am willing to bet a vast majority of the users who are interested in this mouse will have a reasonably fast internet connection at home. It should not take more than a minute or so in download time given it is 2021 after all, and if you already have other peripherals from the company, you will not need to install anything new.
---
Page Index
1. Introduction, Packaging, Specifications
2.
A Closer Look - Hardware and Software
3.
Subjective Performance Tests
4.
Conclusion