By: Jonathan Kwan
April 7, 2020
A great tradition we have in our annual fall camp with a university Christian club I am involved in is dodgeball. Every year, we would get together with students from two universities from Calgary, one from Edmonton, and one from Saskatchewan to engage in an all-out showdown. Although there is nothing we really win other than bragging rights for the next little while, it is nevertheless a very big deal. It has been a few years since we have last won, and in the most recent year, we were determined. Before the tournament, we got together and designed a command structure and striking strategy. On the court, the leaders made prudent on-the-spot decisions with respect to the strategy we developed and everyone else followed in accordance to their training. Our efforts paid off. We at the University of Calgary absolutely destroyed every other team -- completely undefeated -- to the championship. The reason why we dominated was not necessarily because we had the best players though. The reason why we won was because we combined good players, meaningful training, appropriate discipline, and strong strategy. In other words, we won at dodgeball because of teamwork: There were no selfish heroes; just selfless teammates who played for the victory. By that principle, what makes a winning mouse? A great sensor alone does not cut it nowadays. In my opinion, it is a combination of a well-designed shape, powerful sensor, versatile connectivity, quality switches, and enhanced features like RGB lighting effects. The Corsair Dark Core RGB Pro promises to be all of the above. Did the company do everything right to make a winning mouse? Read on to find out!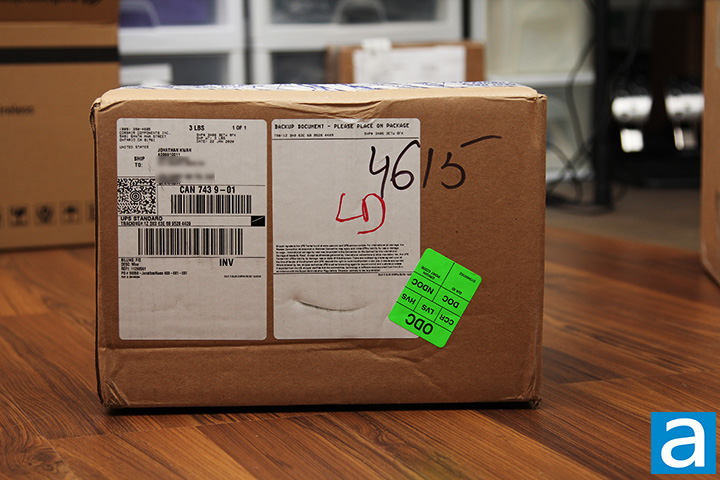 Our review unit of the Corsair Dark Core RGB Pro arrived to us here in Calgary, Alberta, Canada from the company's American headquarters in Ontario, California, USA back in January, along with the Corsair Scimitar RGB Elite. There was a delay in the launch of this product, hence this review is released now to align with the embargo lift date. Using UPS Saver, the medium sized, brown corrugated cardboard box arrived in excellent condition to us here in Calgary, Alberta, Canada.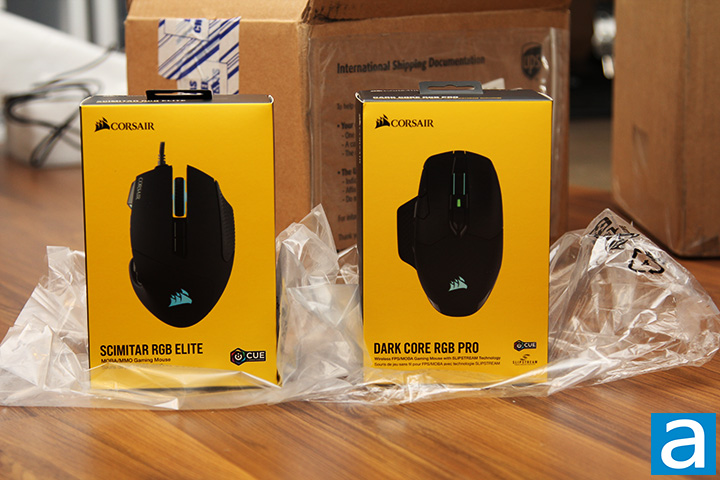 As it was with the Corsair Scimitar RGB Elite my colleague Aaron Lai recently reviewed, the retail box design for Corsair's Dark Core RGB Pro is immediately recognizable to anyone who has seen peripherals from the company at the local computer shop in the last little while. Most of the box is either yellow or black; contrasted by white text on the darker shades and black text on the lighter shades. The mouse itself shot at a flat overhead angle occupies majority of the real estate in front. At the top, you will find Corsair's logo. The name of the mouse is printed at the bottom and a line describing it as a "Wireless FPS/MOBA Gaming Mouse with SLIPSTREAM Technology". Adjacent to that are Corsair's iCUE and Slipstream wireless icons. Further feature highlights and miscellaneous product information such as package contents and system requirements can be found on the remaining sides of the box.
Before we move on, let us take a look at the specifications of the Corsair Dark Core RGB Pro, as obtained from the manufacturer's press material:
Wireless Connectivity: Hyper-fast, sub-1ms 2.4GHz SLIPSTREAM CORSAIR WIRELESS TECHNOLOGY, Bluetooth® 4.2 + LE
Wired Connectivity: USB 2.0 Type-A to PC, USB-C to mouse
Battery Charging: Charges via USB to computer
Battery Type: Built-in lithium-polymer, rechargeable
Battery Life: 2.4GHz SLIPSTREAM WIRELESS: Up to 16hrs w/ standard lighting and 36hrs w/out backlighting
Bluetooth: Up to 18hrs w/ standard lighting and 50hrs w/out backlighting
Sensor: Pixart PAW3392, Optical
Sensor Resolution: 100 - 18,000 DPI, with 1 DPI steps
Onboard Profiles: Three
Backlight: Nine-Zone RGB
Buttons: Eight
USB Report Rate: 1,000/2,000Hz
Color: Black
Mouse Feet: PTFE
Cable: 1.8 m / 6 ft., braided, fixed
iCUE (Software): Supported
Dimensions: 127.0(L) x 89.0(W) x 43.0(H) mm / 5.00"(L) x 3.50"(W) x 1.69"(H)
Weight: 133g / 0.31 lbs. (w/o cable and accessories)
Warranty: Two years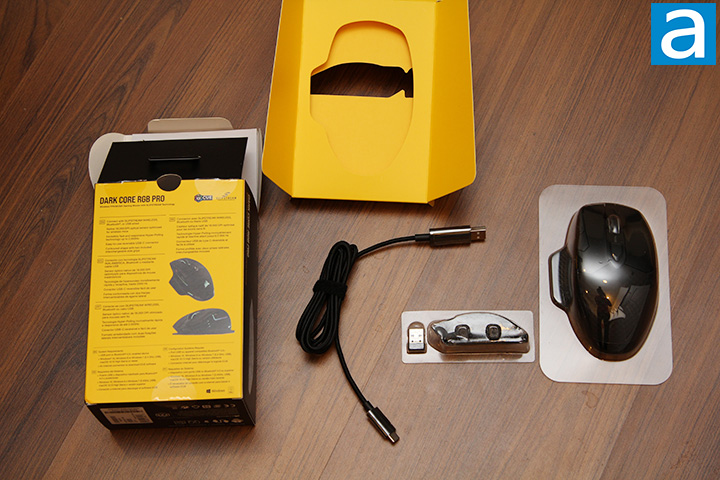 Out of the box, you will receive the Corsair Dark Core RGB Pro mouse placed in a cardboard container behind a clear plastic shell, additional pinky grip, USB Type-C to USB Type-A cable, along with a quick start guide, compliance information poster, and a warranty guide. The software can be downloaded from Corsair's website. The file size of Corsair iCUE is 387MB at press time, but I am willing to bet a vast majority of the users who are interested in this mouse will have a reasonably fast internet connection at home. It should not take more than a minute or so in download time given it is 2020 after all, and if you already have other peripherals from the company, you do not need to install anything new.
---
Page Index
1. Introduction, Packaging, Specifications
2.
A Closer Look - Hardware and Software
3.
Subjective Performance Tests
4.
Conclusion