Page 2 - A Closer Look - Hardware and Software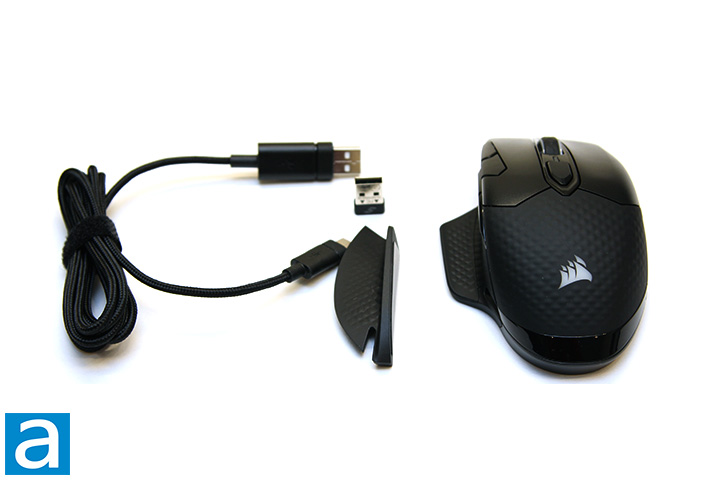 Corsair describes the Dark Core RGB Pro as "the best performance wireless gaming mouse on the market today, delivering long-term comfort, robust customizability, and impressive design". These are quite ambitious claims, but at first glance, its features and design are fit for the class. The Dark Core RGB Pro is an asymmetrical mouse for right handed users. This means the shape of the shell is higher on the left than the right. Due to the size and nature of the mouse, I found it better for those who prefer to handle their mouse with their palm. A claw grip is also possible, but those who looking for a finger grip is probably better off with something else, even though you can still do it.
Measuring 127mm deep and 43mm high, the Corsair Dark Core RGB Pro is pretty standard when it comes to physical dimensions. However, the 133g weight of Corsair's pointing device is not adjustable, so you will need to deal with whatever the company thinks is the best for you if this ends up on your desk. 133g is reasonably light especially for a wireless mouse, which makes a lot of sense for what this mouse is designed for -- first person shooter and multiplayer online battle arena games. Corsair lists the Dark Core RGB Pro as 89mm wide, but this is based on the widest interchangeable pinky grip shown in the photo above. With the default pinky grip installed, the Corsair Dark Core RGB Pro is closer to 82mm wide.
The interchangeable pinky grips are securely attached to the mouse by a very well-designed magnetic-based mechanism. It allows quick and easy swaps, but at no point did it fall off or feel loose during my regular use. Thanks to this design, the Corsair Dark Core RGB Pro is built for different styles of play. I am a palm grip type user myself, and the Dark Core RGB Pro fits well. My hand size is pretty average, so this is good news for majority of the users. Just for fun, I gave it a claw type grip, and it is not bad to use it at all. I also like the contour shape of this mouse, where the angles felt quite right in my hands.
The Dark Core RGB Pro's surface material is composed of a either a textured plastic finish or a hard matte plastic finish. For the interchangeable pinky grip, the side has the same textured plastic finish as the shell. According to the company, they studied numerous materials and grip patterns used in sporting gear to find the right solution. All surface material is part of the shell; in other words, they are not simply stickers -- the surface is molded this way from the factory. Overall, I found the Dark Core RGB Pro very comfortable to touch, and maintains great control and grip even if your hands are particularly sweaty during the summer despite not using a rubber coating.
A small USB wireless transceiver is included, as shown in our photo above. It can be stored behind the interchangeable pinky grip for travel. Although the Corsair Dark Core RGB Pro is Bluetooth compatible, the transceiver provides support for the company's proprietary Slipstream wireless technology. According to Corsair, it is a low latency protocol with intelligent frequency switching for improved gaming performance. This is especially important for a wireless mouse.
The Corsair Dark Core RGB Pro does not come with a whole lot of buttons, but it does come with more than what most people will use every day. Combined with the previous image, you can see besides the standard left click, right click, and clickable scroll wheel, there is a forward and back button on the left -- which is arguably standard nowadays -- and a profile cycle switch on top. A pair of buttons for DPI increase and decrease are placed next to the left click as well. All of them are well placed, so they are within easy reach, but are unlikely to be accidentally pressed. The mouse allows three profiles to be stored on board, so pressing the profile switch button will cycle through them. These profiles can be used without installing additional software on any computer once it is configured. The DPI increase and decrease buttons allow you to go through three preset sensitivity settings. Mapping a button to sniper mode will temporarily invoke a fourth sensitivity preset. An array of three RGB LEDs on the side indicate the current active sensitivity setting, where the colors are user configurable.
Beneath the buttons, the Corsair Dark Core RGB Pro features Omron switches that have a rated lifetime of fifty million clicks. Its operating force is 60 gram-force and actuation distance is 0.45mm. The aim of these switches is for reliability and quick response. Obviously, these wordings are paraphrased from Corsair's product description, the real question is, are they any good in real life? Of course they are. The clicks are reasonably quiet, yet audible; giving it a substantial feel to it. The switch's response is distinct, and can be considered to be very clean. The audible tone is still higher in pitch than the best from SteelSeries. Furthermore, switches underneath flagship performance mice like the Rival 650 Wireless is crisper with better response, if only by a small margin.
The Corsair Dark Core RGB Pro features a nine-zone RGB illumination system. These zones include the scroll wheel, four segments on the integrated side lightbar, left-side rear, the Corsair logo, right-side rear, and the DPI/profile indicator array. The color of the LEDs can be configured to virtually anything in software by a custom color palette; more on this later. The only one you cannot configure is the battery/wireless status LED indicator between the scroll wheel and the profile cycle switch button, which is understandable. However, the indicator LED's functionality is poorly designed. Currently, it only indicates the battery status for a few seconds when it wakes up. This means you cannot see the battery charge status just by looking at the mouse, and this includes when the mouse is plugged in and charging. Different lighting effects can be set for different profiles in Corsair's excellent iCUE software. The brightness can be adjusted by decreasing the intensity of RGB channels, but Corsair does not advertise multiple brightness levels on the Dark Core RGB Pro in the first place.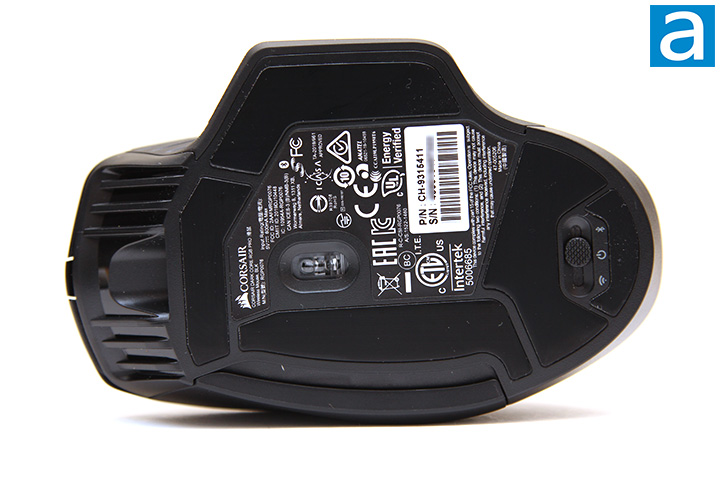 A shot at the bottom of the Corsair Dark Core RGB Pro optical mouse. Keeping the plastic base gliding above your mousing surface are four PTFE feet in total; also known as Teflon to the common person. If you use the super wide pinky grip, make it five PTFE feet in total. In organic chemistry, ethylene/ethene indicates a carbon-carbon bond with two carbons and a double bond (C2H4). Tetrafluoro replaces four hydrogen atoms with fluorine atoms, making it C2F4. In non-scientific terms, poly just means a bunch of them linked together.
The Corsair Dark Core RGB Pro is powered by a PixArt PAW3392 optical sensor capable of sensing up to a jaw-dropping 18,000 DPI sensitivity, but can drop as low as 100 DPI at 1 DPI increments for those who want it. Yes, you read it right -- 1 DPI increments. It promises true 1:1 tracking with zero hardware acceleration, 450 inches per second tracking, and acceleration of up to 50G. 1000Hz polling rate is standard, but can be lowered to 500Hz, 250Hz, or 125Hz. One unconventional feature is you can boost the polling rate to a whopping 2000Hz using the Slipstream wireless technology. A slider switch at the bottom lets you switch between Slipstream, Bluetooth, or turn the mouse off.
A 1.8m braided cable leads out from the front of the mouse via a short cable guide. The mouse connects via a USB Type-C plug; props to Corsair for being caught up with the times. The cable is used for charging, and when connected, the Dark Core RGB Pro becomes a wired mouse. A braided cable is preferable, because beside aesthetic purposes, it also has lower friction than rubber coated cables for performance benefits. The Dark Core RGB Pro connects to your computer via a non-gold-plated USB connector. When we bring about the question of whether gold plated connectors are actually useful or not, let us just say if it was the actual pins, then possibly, since gold offers better conductivity than other metals. This theoretically establishes a better connection with your computer, but on a digital signal level, we must understand it is a discrete one or zero; if anyone tells you they can tell the difference, you can defeat their theory with a double blinded test. Additionally, if you are referring to the gold part of the connector you see on the plug, I would like to point out it actually does not make any physical contact electrically with your computer. In other words, it is nice to have, and it is pretty to look at, but it is not anything significant on a practical level. The lack of a gold-plated USB connector will not have any performance impact on the Dark Core RGB Pro even in wired mode.
Corsair promises a 16-hour battery life with standard lighting and 36 hours without backlighting using the company's proprietary Slipstream wireless technology. The Dark Core RGB Pro is Bluetooth 4.2 LE compatible, and can go 18 hours on a single charge with standard lighting and 50 hours without backlighting. I have been using it using standard lighting over Slipstream wireless, and from my experience, that estimate is about right. Charging time is about two hours.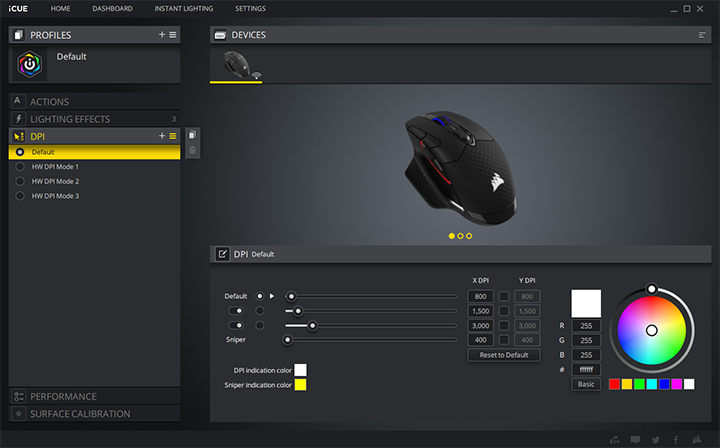 The Dark Core RGB Pro works along with the latest version of the Corsair iCUE software, which is a 387MB download from Corsair's website at press time. This program unifies all your Corsair peripherals into one application. After selecting the Corsair peripheral you want to configure at the top, the graphical user interface is basically separated into two sections; the left side allows you to select the configuration category, while the right side displays all options.
The Actions tab is where you can control the function of the buttons on your mouse. Options include macro, text, media, launch application, timer, disable, or profile switching for each button on the Dark Core RGB Pro. Key remaps can be set to keyboard inputs, language keys, or mouse buttons. The Lighting Effects tab is where you can play around with the... well, lighting effects of the Corsair Dark Core RGB Pro's nine independent illumination zones. Corsair's iCUE is designed to configure the colors by layer, where each layer can only be in one color or effect at a time. To get them to display different colors, you will have to create multiple layers. Lighting effects include options such as rainbow, color pulse, color shift, visor, rain, and rainbow wave. In the DPI page as shown in our screenshot above, you can configure the mouse's sensitivity to go from 100 DPI to 18,000 DPI at 1 DPI increments with three different sensitivity presets plus a sniper option. As a visual cue to the active sensitivity preset, an array of RGB LEDs on the left side of mouse are used to indicate current sensitivity. It starts with one LED at the bottom, and additional ones illuminate in ascending order to indicate the current active setting.
Performance is where some Windows mouse options are configured. This includes setting the pointer speed and enabling the Enhance Pointer Precision option. In Surface Calibration, the sensor can be calibrated based on the tracking surface it is on by you dragging an icon around in a quick, circular fashion. There is a last major section, labeled "Onboard Profiles", which does exactly what its label suggests: It saves all your settings to the mouse's internal memory. However, it only appears when your mouse is plugged in via USB.
Overall, I found iCUE to be powerful, straightforward, and reasonably easy to use. Significant improvements were made to the usability of this software in the last few years, and the overall experience was very positive to me.
---
Page Index
1.
Introduction, Packaging, Specifications
2. A Closer Look - Hardware and Software
3.
Subjective Performance Tests
4.
Conclusion