By: Jonathan Kwan
March 8, 2019
After living in Canada for most of my life, my definition of "cold" seems to differ from the rest of the world. I would not call anything cold until it hits below -20 degrees Celsius, and we consider -10 degrees Celsius and above to be warm during winter. I was in in Hong Kong in December a few years ago when an extreme cold weather warning was issued for a freezing nighttime low of 11 degrees Celsius. 11 degrees Celsius! Although I fully understand there is a difference between wet and dry cold, 11 degrees Celsius simply did not feel cold at all despite the humidity -- I casually walked around with a windbreaker as I would in the fall or spring here in Canada. But people in Hong Kong seemed to see things differently. With all the people bearing thick winter jackets even by Canadian standards, one person stood out on the subway: He was wearing a Canada Goose parka. How can anyone wear something so warm when I am almost sweating after walking so much in a windbreaker? It seems to me while Canada Goose is widely regarded as one of the best manufacturers of winter jackets, Hong Kong is probably not the best place to wear them. (Also interesting news: There is a Canada Goose store in Hong Kong.) Today, we have a SteelSeries Rival 650 Wireless for testing. SteelSeries claims the Rival 650 Wireless is "The World's Best Wireless Esports Mouse". This is a real bold claim. With a true 1:1 optical sensor and a depth sensor, customizable weight and balance, and wireless as its name suggests, is the Rival 650 Wireless just the best wireless esports mouse like Canada Goose is the best winter jacket, or is the Rival 650 Wireless simply one of the best mice money can buy for applications beyond gaming? Read on to find out!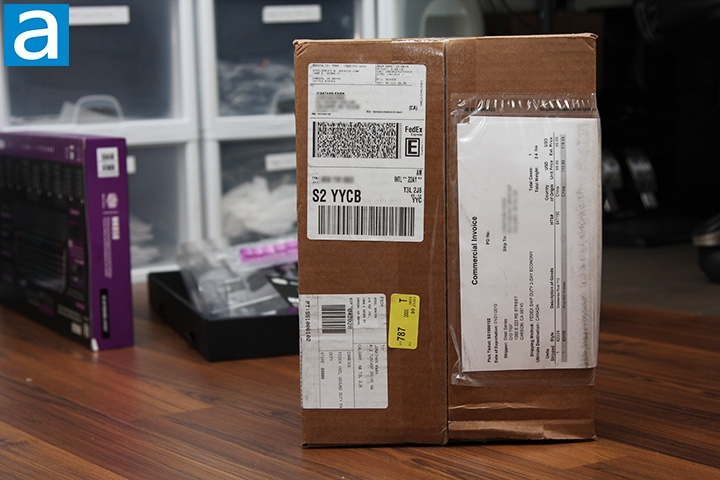 Our review unit of the SteelSeries Rival 650 Wireless came in a medium sized, brown corrugated cardboard box from the company's American offices in Carson, California, USA. On a regular winter day of about -15 degrees Celsius, FedEx dropped off our review units on our doorstep here in Calgary, Alberta, Canada. Everything arrived in great condition other than a bump on one side of the box via their International 2Day service. Eager to find a new wireless mouse as my daily driver, I wasted no time and got straight to work.
The retail box design for the Rival 650 Wireless carries forward the company's latest design theme seen in many of their latest products like the Rival 310, Sensei 310, Rival 600, and Rival 710 shown in the above photo. The color scheme is a little lighter than the last generation; featuring more grey and white to the palette. I found the layout and format to be stylish and modern. The black, grey, and white background is accentuated by a sharp textured orange band crossing at an angle, complete with predominantly black text printed on the box. A photo of the mouse itself can be seen occupying the majority of the front. There is one slogan that describes the SteelSeries Rival 650 Wireless in front, and that is "The World's Best Wireless Esports Mouse" in two different languages. Well, that is a big claim. Four icons at the bottom left corner bring your attention to its 2.4GHz lag-free wireless technology, true 1:1 tracking, state-of-the-art lift off detection, and adjustable weight system. Meanwhile, the TrueMove3+ dual sensor system is highlighted in the top right corner. More feature descriptions and specifications can be found on remaining sides of the box. If I were to see the SteelSeries Rival 650 Wireless in a retail store, I would not mistake it for any other brand.
Before we move on, let us take a look at the specifications of the SteelSeries Rival 650 Wireless, as obtained from the manufacturer's website:
Sensor System
Sensor System: SteelSeries TrueMove3+ Dual Sensor System
Primary Sensor: TrueMove 3 Optical Gaming Sensor
Secondary Sensor: Depth Sensing Linear Optical Detection
CPI: 100–12000 in 100 CPI Increments
IPS: 350+, on SteelSeries QcK surfaces
Acceleration: 50G
Hardware Acceleration: None (Zero Hardware Acceleration)
Lift Off Distance: Customizable, 0.5–2 mm
Design
Top Material: Black Soft Touch
Core Construction: Fiber-Reinforced Plastic
Shape: Ergonomic, Right-Handed
Grip Style: Universal
Number of Buttons: 7
Switch Type: SteelSeries Switch, rated for 60 million clicks
Illumination: 8 RGB Zones, Independently Controlled
Weight: 121 g / 4.2 ounces without cable. Customizable up to 153 g / 5.4 ounces
Length: 131 mm / 5.2 inches
Width: 62 mm (front), 62 mm (middle), 69 mm (back); 2.4 inches (front), 2.4 inches (middle), 2.7 inches (back)
Height: 27 mm (front), 43 mm (back); 1.1 inches (front), 1.7 inches (back)
Cable Type: Detachable, Soft Rubber
Cable Length: 2 m / 6.5 ft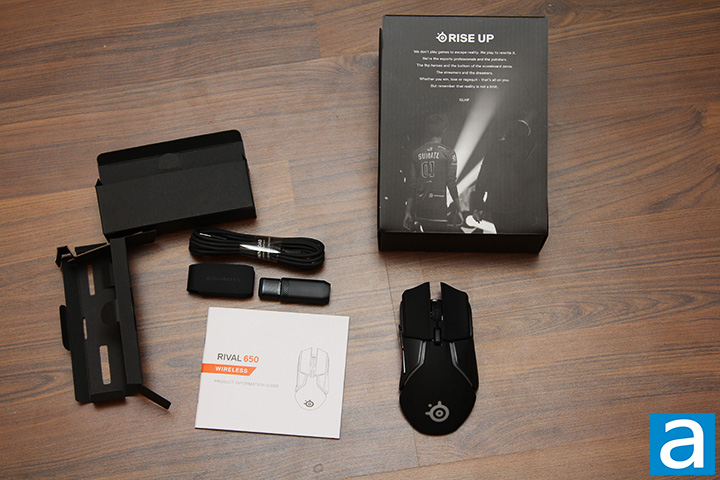 Out of the box, you will receive the SteelSeries Rival 650 Wireless mouse, USB wireless transceiver, extension adapter, USB cable, eight 4g weights inside a weight accessories case, as well as a product information guide. I found everything quite classy with no excessive waste at all. As expected, there is no driver disc. You will have to download SteelSeries Engine 3 from their website directly, and consider everybody has internet and less and less people have DVD drives, this is an appropriate arrangement for 2019.
---
Page Index
1. Introduction, Packaging, Specifications
2.
A Closer Look - Hardware and Software
3.
Subjective Performance Tests
4.
Conclusion