Page 2 - A Closer Look - Hardware and Software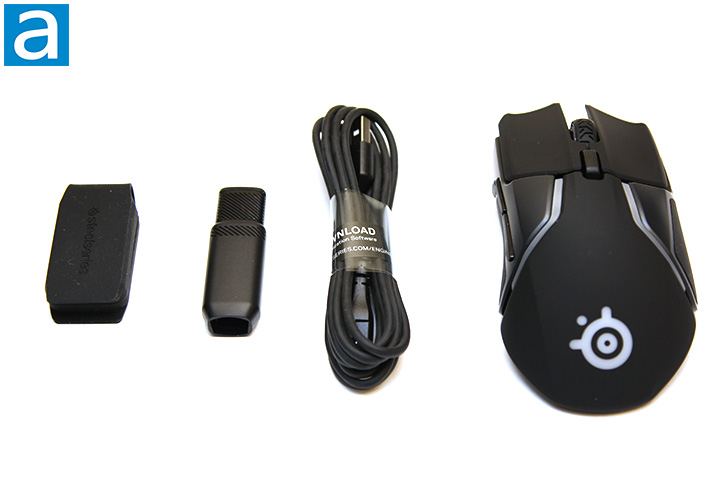 The SteelSeries Rival 650 Wireless is one of the latest models in the company's Rival lineup along with the Rival 710. I have always been a big fan of the Rival lineup since the Rival 700 -- in fact, I am still using that mouse with one of my computers -- and have been waiting for a wireless version to go with my main computer for years now. Like the Rival 600, the Rival 650 Wireless comes in a relatively conservative contour shape. It is molded into a nearly ambidextrous design that is tilted slightly for right handed users. Therefore, while it would be kind of challenging to hold products like the ROCCAT Leadr with a claw grip, the Rival 650 Wireless works well with both claw or palm grip users.
Measuring in at 131mm depth, 69mm width, and 43mm height, the SteelSeries Rival 650 Wireless is pretty standard when it comes to physical dimensions. The 121g weight of SteelSeries's pointing device is even adjustable; a rare feature in today's mice, never mind wireless versions. In fact, this is the first time encountering a weight-adjustable wireless mouse. 121g is pretty light for a wireless mouse, but you can customize it up to 153g; more on this later. This is almost the same weight as the Sensei Wireless, a mouse I used daily until I changed to the ROCCAT Leadr in August 2017. Based on these numbers, you can see the mouse is built for small to average sized hands. I am a palm grip type user myself, and the SteelSeries Rival 650 Wireless fits quite well. Just for fun, I gave it a claw type grip and it is not bad to use it at all. My hand size is pretty average, so this is good news for majority of the users. Its surface material is composed of a black soft touch finish, while the core construction is fiber-reinforced plastic. All surface material is part of the shell. In other words, they are not simply stickers -- the surface is molded this way from the factory. Overall, I found the Rival 650 Wireless very comfortable to touch and maintains great control and grip even if your hands are particularly sweaty in the summer. The only downfall is fingerprints will show up. The build quality is also excellent across the board with no sensor rattle.
As with all modern gaming products, the SteelSeries Rival 650 Wireless has RGB lighting. It comes with eight independent and programmable illumination zones. These eight zones are the mouse wheel, SteelSeries logo at the back, and three in each of the two LED strips. The LEDs can display 16.8 million different colors and can be configured in software. Different lighting effects can be set for different profiles. You can also choose from four different lighting effects for each zone. These are Steady (Shows a steady color), ColorShift (Automatically cycles between colors), Multi Color Breathe (Fade in and fade out between colors), and Trigger (Color changes on button activation). Personally, I found anything other than Steady to be quite distracting, but this is really personal preference. If you find any kind of lighting distracting, you can turn the lights off completely.
Each zone is illuminated very evenly, and the LEDs are very bright. The brightness can be adjusted by decreasing the intensity of RGB channels, but SteelSeries does not advertise multiple brightness levels on the Rival 650 Wireless in the first place. If backlight intensity can be played around directly in software, it will definitely be a welcomed feature.
One thing the SteelSeries Sensei Wireless had that the Rival 650 Wireless does not is a dedicated charging station. I really liked the dedicated charging station that also doubled as a wireless transceiver. Instead, the Rival 650 Wireless comes with a small USB transceiver, USB extension adapter, and a USB cable, shown in our photo above. The USB cable, when connected to your Rival 650 Wireless, charges the battery and turns it into a wired mouse. Unfortunately, there is no constant battery indicator. The wheel with flash green, yellow, or red for five seconds when you first turn it on depending on the battery level. It would be very useful if it can be set in software to use any of the LED zones to always show the approximate charge. Also, when the Rival 650 Wireless is turned off and is charging, the wheel LED will blink sharply until it is full. This could be quite distracting at night if you are trying to charge your mouse while you are sleeping. Using fade would be much better. Like the Sensei Wireless, you cannot really charge the mouse when your computer is off even if it has an always-on USB port; the LED will blink continuously as if it does not know its own battery status.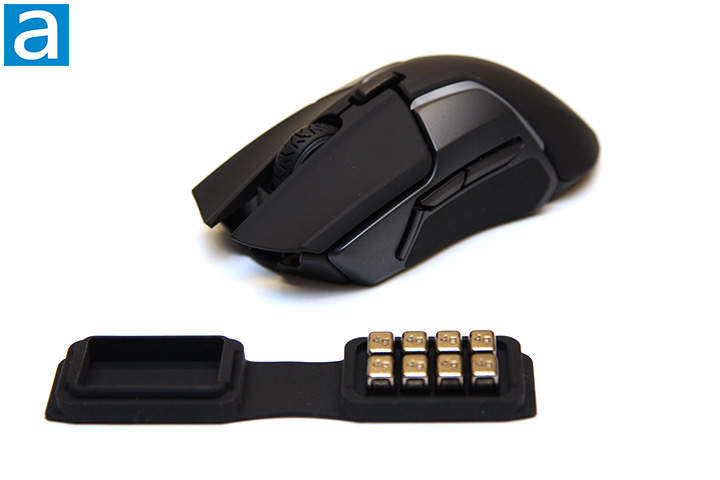 The SteelSeries Rival 650 Wireless does not come with a whole lot of buttons, but it does come with what most people will use every day. Combined with the previous image, you can see besides the standard left click, right click, and clickable scroll wheel, there is a forward and back button on the left followed by an auxiliary button plus a sensitivity toggle switch on top. The mouse allows only two sensitivity settings to be saved per profile, so having a sensitivity toggle switch rather than an increase and decrease setup makes quite a bit of sense. I found the shape and placement of the auxiliary button to be vastly improved over the Rival 700, since it does not stick out. It is easily accessible and not easily actuated unintentionally, which is excellent.
Beneath the buttons, the SteelSeries Rival 650 Wireless features proprietary switches that have a rated lifetime of sixty million clicks. This is twice the rated durability of any SteelSeries mouse I have used in the past. The aim of these switches is not just reliability, but also a subtle audible mouse click in conjunction with quick and tactile responsiveness. Personally, I found the switches and the construction quality of all the buttons to be simply excellent. The clicks are subtle yet audible; giving it a substantial feel to it. They click very cleanly with proper response to follow, which is a desirable trait. The travel is a little longer than other mice I have owned, but the force is evenly distributed with a crisp and distinctive actuation. It is even better than the Rival 700 in my opinion, and the Rival 700 was one of the best I have ever used. Overall, the SteelSeries Rival 650 Wireless is a very well-built mouse; everything feels rightfully solid to behold.
Eight 4g weights placed inside a small rubber case are included from the factory. They can be inserted into your mouse by removing the magnetically attached left or right side cover, shown in our photo below, for up to 256 weight configurations. The left and right side covers are easy to remove, yet they are firmly attached -- a great design in my opinion. Since each side can accommodate four and can be placed in various positions, the center of gravity can be configured to an extent for maximum customization. I think this is a great design and an increasingly rare feature in 2019, especially for a wireless mouse.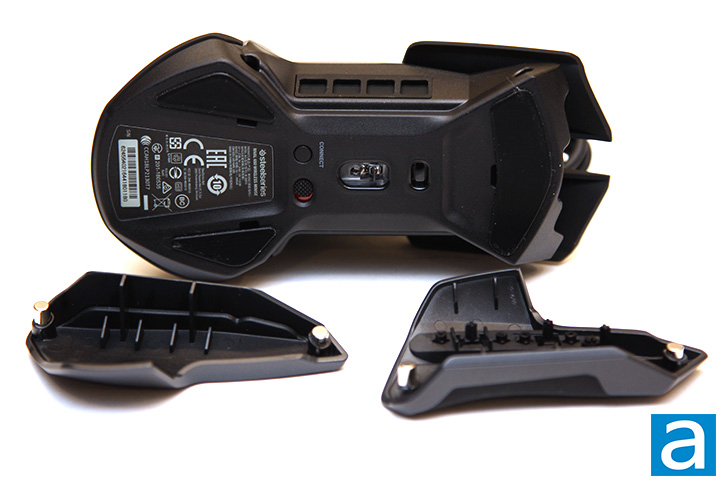 A shot at the bottom of the SteelSeries Rival 650 Wireless optical mouse. Keeping the plastic base gliding above your mousing surface are three PTFE feet in total; also known as Teflon to the common person. In organic chemistry, ethylene/ethene indicates a carbon-carbon bond; with two carbons and a double bond (C2H4). Tetrafluoro replaces four hydrogen atoms with fluorine atoms, making it C2F4. In non-scientific terms, poly just means a bunch of them linked together.
The Rival 650 Wireless is powered by a PixArt PMW3360-based TrueMove3+ optical sensor capable of sensing up to a 12,000 DPI (CPI in SteelSeries language) sensitivity and 350 IPS tracking speed, but can drop as low as 100 DPI at 100 DPI increments for those who want it. It promises true 1:1 tracking up to 3,500 DPI with zero hardware acceleration, which is up from around 2,000 DPI with a standard PixArt 3360. There is no interpolation or jitter reduction. A dedicated depth sensor is added for lift off detection down to 0.5mm. 1000Hz polling rate is standard, but can be lowered to 500Hz, 250Hz, or 125Hz. A 32-bit ARM processor lives within to keep the data flowing. There is no onboard memory, so any custom settings you make will be saved on onto your mouse. Combined with SteelSeries Engine 3, you can synchronize it to the cloud as well, which is the best of both worlds in my opinion.
A 2m non-braided detachable rubber cable leads out from the front of the mouse via a short cable guide. The mouse connects via a USB Micro B plug, but I would much rather see USB Type-C instead. The cable is used for charging, and when connected, the Rival 650 Wireless becomes a wired mouse. A braided cable is preferable, because beside aesthetic purposes, it also has lower friction than rubber coated cables for performance benefits. The Rival 650 Wireless connects to your computer via a non-gold-plated USB connector. When we bring about the question of whether gold plated connectors are actually useful or not, let us just say if it was the actual pins, then possibly, since gold offers better conductivity than other metals. This theoretically establishes a better connection with your computer, but on a digital signal level, we must understand it is a discrete one or zero; if anyone tells you they can tell the difference, you can defeat their theory with a double blinded test. Additionally, if you are referring to the gold part of the connector you see on the plug, I would like to point out it actually does not make any physical contact electrically with your computer. In other words, it is nice to have, and it is pretty to look at, but it is not anything significant on a practical level. The lack of a gold-plated USB connector will not have any performance impact on the SteelSeries Rival 650 Wireless even in wired mode.
SteelSeries promises a 24-hour battery life, and 15 minutes of fast charging with a compatible USB port will provide about 10 hours of usage.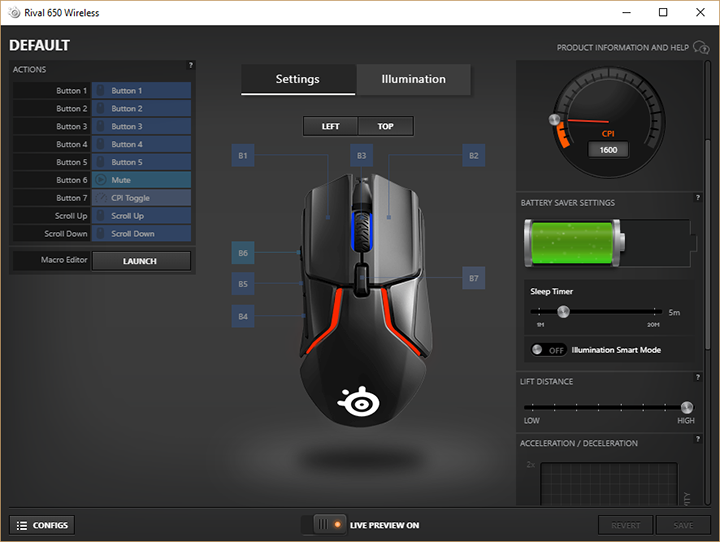 The Rival 650 Wireless works along with the latest version of SteelSeries Engine 3, which is a 125MB download from the company's website at press time. It will prompt you to sign in or sign up when you first start the program. I like the fact you can synchronize settings to your account over the internet, so I will have to give the company props to such a feature. The second thing it does when you first open SteelSeries Engine 3 is prompt you to update the Rival 650 Wireless' firmware; unless, of course, your Rival 650 Wireless is shipped with the latest firmware already.
The main screen of the software has three tabs. The first tab, labeled Gear, shows all your compatible SteelSeries device. The second tab, Apps, allow you to install or even make your own applications compatible with your SteelSeries devices. The third tab, Library, allows you to automatically switch profiles when certain programs are launched. Our screenshot above shows the configuration screen for the SteelSeries Rival 650 Wireless. The graphical user interface is basically separated into three columns; the left side allows you to configure the function of different buttons, as labeled on the photo of the mouse in the middle column. Hit the Launch button next to the Macro Editor and a new window will pop up to allow you to record your own macros. You can also configure the function of the buttons by clicking on the labels of the mouse itself. You can switch to a left view from the default top view of the mouse for a better view of the two side buttons. To switch between profiles or create new profiles, simply hit the "Configs" button at the bottom and a fourth column will slide in from the left. As far as lighting effects are concerned, hit the Illumination button and you be setting up illumination color and effect in no time.
Lastly, the right column features a bunch of mouse characteristic controls, which should be self-explanatory. Simply drag the sliders and dials to configure to your heart's desire. You can enter the sensitivity value directly into the field located at the center of the CPI meter, which is quite convenient. Overall, I found SteelSeries Engine 3 remains one of the best in the industry and is very straightforward and intuitive to use. The graphics are also quite appealing to look at, making the overall experience excellent.
---
Page Index
1.
Introduction, Packaging, Specifications
2. A Closer Look - Hardware and Software
3.
Subjective Performance Tests
4.
Conclusion