By: Aaron Lai
March 1, 2019
Last weekend, our team at work decided to go out for dim sum. One thing I have learned about ordering dim sum from some of my co-workers is that there are different approaches to ordering. For someone like me, who has had this cuisine since I was little, I have my favorites that I will often order. This includes har gow, shumai, and cheung fun, or steamed shrimp dumplings, pork dumplings, and rice noodle rolls, in English. There are other things I also enjoy, but having majority of these in a sitting would constitute for a successful dim sum order. However, when you bring people who have never tried some of these foods, another way of ordering is just to let them choose anything and give them an adventure. This can then end up with them consuming lesser eaten things like chicken feet, beef tripe, or turnip cakes. While I actually like these options too, I think the best way of ordering is to mix both approaches and get some of what you know you like as well as try a few new dishes. This way, even if you dislike a new dish, you will have other dishes that you can fall back on. On the other hand, when choosing a mouse, I think there are some standard things that a mouse has to get right. Its sensor performance is a big factor, but also a good body shape and feel must be present for a likeable mouse. Every other new feature is not always necessary, but they can be nice to have. So what happens when you add in unexpected features, such as an OLED screen or vibration motor? The SteelSeries Rival 710 is what I have described, which refines the older Rival 700 with a few internal upgrades. Is the end result still a successful mouse or do some of the aforementioned things detract from the mouse? Let us read on to find out!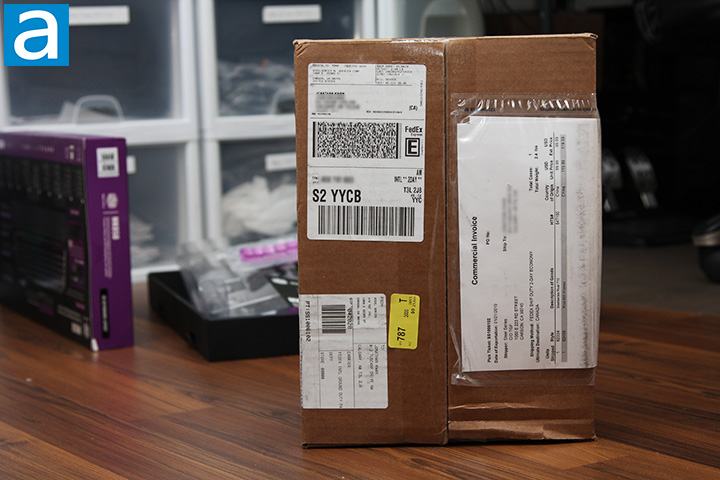 Today's package came from SteelSeries' offices in Carson, California, USA. Travelling with FedEx and their 2Day International service, this box arrived to our APH Networks location here in Calgary, Alberta. It was a bit bruised on one side, but this is not too bad for such a travel this box took. In addition to the Rival 710, SteelSeries also sent us their Rival 650 Wireless, which will be reviewed by my colleague Jonathan Kwan.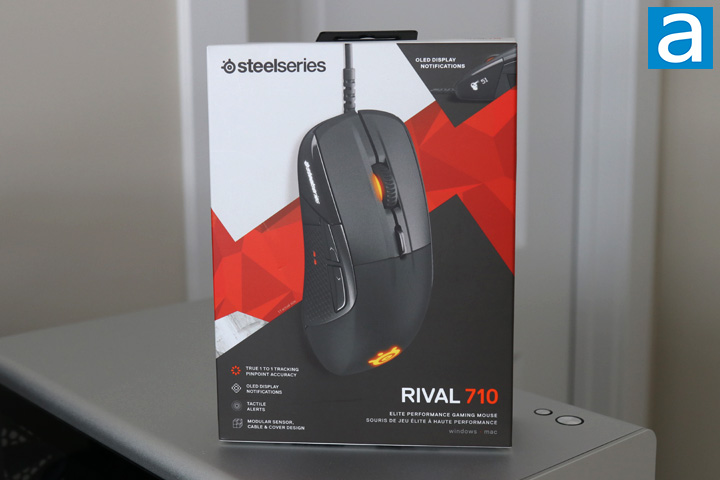 The last SteelSeries mouse I looked at, the Sensei 310, came to us in a relatively standard looking box and the Rival 710 is not a whole lot different. The box follows SteelSeries' orange and grey theme it has kept for a very long time. On the front, you can see the mouse in a scaled down image showing off a few more features on the mouse itself. The left side shows the company's logo at the top and four major features of this mouse at the bottom. This includes features about its sensor, OLED display, tactile alerts, and modular components. On the right side, we have the name and a description of "Elite Performance Gaming Mouse". All of these features and its elite status will be examined later on in our review.
Before we continue on, I have grabbed the specifications from the manufacturer's website for your perusal:
Sensor
Sensor Name: SteelSeries TrueMove3
Sensor Type: Optical
CPI: 100-12000, 100 CPI Increments
IPS: 350+, on SteelSeries QcK surfaces
Acceleration: 50G
Polling Rate: 1 ms
Hardware Acceleration: None (Zero Hardware Acceleration)
Tracking Accuracy: 1:1
Design
Material: Black Soft Touch
Shape: Ergonomic, Right-Handed
Grip Style: Universal
Number of Buttons: 7
SteelSeries Switches: SteelSeries Switch, rated for 60 million clicks
Weight: 135 g / 4.8 ounces
Height: 124.8 mm / 4.9 inches
Width: 72.6 mm / 2.85 inches
Depth: 42 mm / 1.7 inches
Short Cable Length (non-braided): 1 m / 3.3 ft
Long Cable Length (braided): 2 m / 6.5 ft
Customization Options
Gamesense Support
OLED Display Customization
Tactile Alert Customization
SteelSeries Engine Support
Onboard Profile Settings
Programmable Buttons
Acceleration Customization
Deceleration Customization
Multiple CPI Options
Color Options: 16.8 Million
Swappable Pixart 9800 Laser Sensor
Swappable Rival 700/710 Top Cover Pack
Printable 3-D Nameplate
Compatibility
OS: Windows, Mac, and Linux. USB port required
Software: SteelSeries Engine 3.12.13, for Windows (7 or newer) and Mac OSX (10.8 or newer)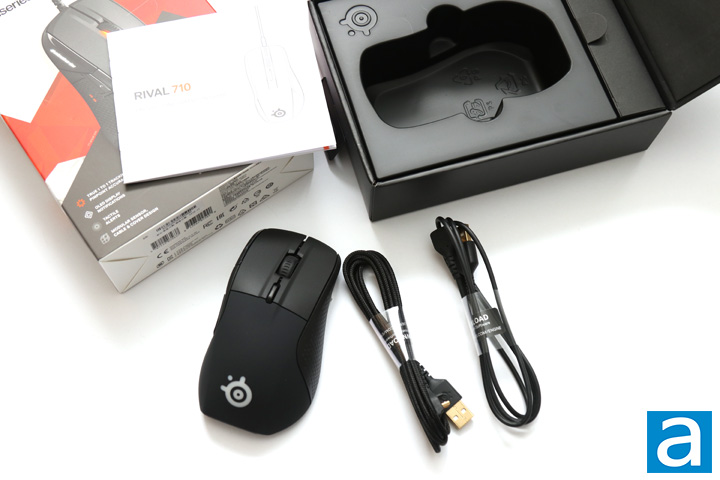 Out of the box, we have the SteelSeries Rival 710 mouse itself packaged in a black plastic shell. A white quick information booklet can be found behind the shell. Underneath, we have a black box with two cables inside. Both are micro USB to USB cables with one being a 2m braided option, while the other is a 1m rubber finish. Both of these will be inspected later on. Otherwise, SteelSeries provides their standard 1 year warranty with their peripherals, which is relatively short compared to some other manufacturers. I still think a minimum of two years coverage should be standard for all peripherals.
---
Page Index
1. Introduction, Packaging, Specifications
2.
A Closer Look - Hardware and Software
3.
Subjective Performance Tests
4.
Conclusion