By: Jonathan Kwan
August 4, 2017
What is being the best? A couple of years ago, Tom Goodwin, an executive at Havas Media, famously wrote that "Uber, the world's largest taxi company, owns no vehicles. Facebook, the world's most popular media owner, creates no content. Alibaba, the most valuable retailer, has no inventory. And Airbnb, the world's largest accommodation provider, owns no real estate. Something interesting is happening." The "something interesting" thing, as he points out, is that power and profit is no longer exclusive to the hands of producer of goods or provider of services, as it traditionally was. Instead, power and profit exists in a third-party interface between the producer of goods or provider of services and the people who consume them. In other words, while traditional wisdom has taught us being the "best" means you have to be the biggest in producing or the best in providing, the internet allowed this definition to be shifted to corresponding platforms that bring producers or providers together with the consumers. Therefore, being the "best" implies being the best in matching one side to the other. Now, if you ask me what is the best way to interface a human to a desktop computer, I would argue the keyboard and mouse is still preferred. But if you ask me what the best mouse is, that is a whole new question. Up until now, I would have told you it is the SteelSeries Sensei Wireless. But three years after this mouse has made its debut on my desk, we may have a challenger to take its position today. "Best" in meeting my criteria for a mouse is simple: A comfortable shape, high performance sensor, wireless, and a reasonable number of well-placed buttons. The ROCCAT Leadr seems to check all these boxes on paper. But will it be the best and make the cut as my new daily driver? Read on to find out!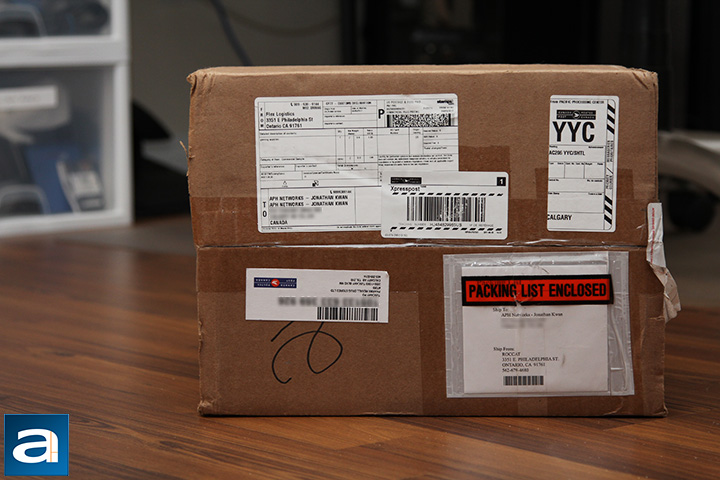 Our review unit of the ROCCAT Leadr arrived in a medium sized, brown corrugated cardboard box from the company's American offices in Ontario, California. It is a bit confusing when someone sees "Ontario, CA", especially as a Canadian -- the first thing that comes to my mind is certainly not the city located in southwestern San Bernardino County. An interesting fact is Ontario, California is actually named by three Canadians after their home province of Ontario. Using USPS and transferred to Canada Post to us here in Calgary, Alberta, Canada, everything arrived in excellent condition for our review today. It did take a little longer than I have expected, because for some reason, Canada Post failed to leave a delivery notice in my mailbox and stayed at the postal office for at least a week before ROCCAT told me the item already got here.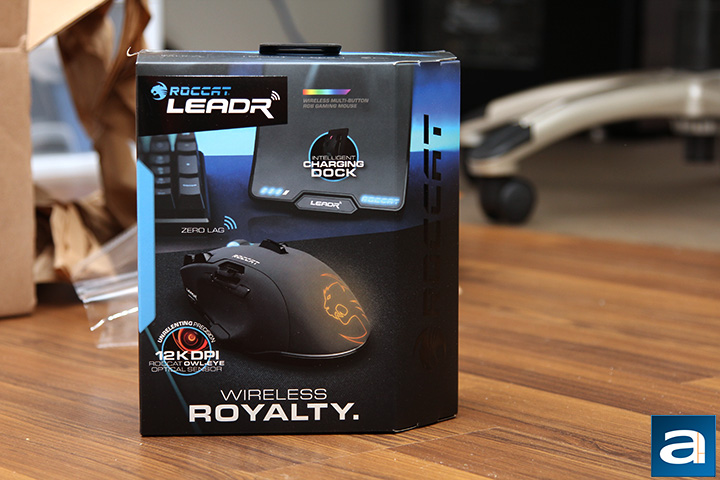 The ROCCAT Leadr's retail package should be a familiar sight to those who own other products from the company. White text stands out from its predominantly black and blue color scheme in the background; where the slogan "Wireless Royalty" is boldly displayed across the bottom of the box, as shown in our photo above. ROCCAT's logo and Leadr product name can be seen at the top, and a short product description -- wireless multi-button RGB gaming mouse -- is printed next to the logo and product name. ROCCAT's logo can also be seen on the angled off surface on the right. A photo of the Leadr mouse in three-quarters view is placed in the foreground, while the charging stand is in the background. A badge next to the mouse shows off its 12,000 DPI Owl-Eye sensor. Meanwhile, features, specifications, and product highlights of the Leadr can be found in the remaining sides of the package.
Before we move on, let us take a look at the specifications of the ROCCAT Leadr, as obtained from the manufacturer's website:
- ROCCAT® Owl-Eye optical sensor with 12000dpi
- Wired/Wireless combo mouse
- 1000mAh inbuilt Li-Ion rechargeable battery
- 2.4GHz wireless transmission
- 1000Hz polling rate
- 50G acceleration
- 250ips maximum speed
- Mouse acceleration: no
- Angle snapping: no
- 72MHz ARM Cortex-M0 (both mouse & stand)
- Adjustable lift-off distance
- 32-Bit Processor for rapid macro execution
- 1.8m micro USB to USB cable
- Width 8.0cm, Height 4.5cm, Length 12.6cm, Weight 134g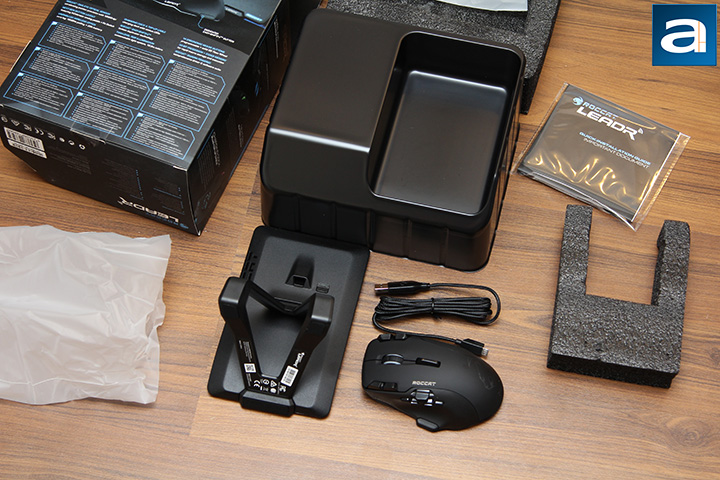 After opening the flap at the top of the box, you can slide out a bunch of plastic shells and foam blocks that hold the ROCCAT Leadr and its accessories in place. Out of the box, in addition to the wireless mouse itself, you will receive a charging stand, braided USB cable, quick installation guide, disposal information, and some stickers. The configuration software can be downloaded from ROCCAT's website.
---
Page Index
1. Introduction, Packaging, Specifications
2.
A Closer Look - Hardware and Software
3.
Subjective Performance Tests
4.
Conclusion