By: Jonathan Kwan and Aaron Lai
August 12, 2022
In my ROCCAT Burst Pro Air review introduction, I talked about how my friend and I were test driving some cars at the local Acura dealership. When the salesperson asked her what she currently drives, she said she drives her "sister's Lexus", which in reality, while completely true, is actually a rusted out 1996 ES300 that is probably worth $500 with a full tank of gas. But why was the salesperson so thoroughly convinced that my friend is interested in spending upwards of $50,000 for her first car? The Lexus reference aside, I think it is because of what I would refer to as "rich girl vibes". She came carrying her Kate Spade bag, has a MasterCard World Elite, puts on a pair of prescription Ray Ban sunglasses, and connects her iPhone to the car, all while having the proper mannerisms of someone who could easily afford the new Integra or TLX. Now, while neither of the cars are excessively expensive nor is my friend necessarily poor, both vehicles are significantly out of her preset $10,000 budget. What we can see here is perception matters, and as they say, perception is reality. So, when it comes to computers, how do memory manufacturers create "performance RAM vibes"? The answer is simple: Add heatspreaders to the modules. In fact, every desktop RAM kit we have reviewed on this website since 2006 has heatspreaders installed. Therefore, when I got my hands on the OEM-grade Crucial CT2K16G48C40U5 DDR5-4800 2x16GB, I knew we were breaking a long-running streak: This DDR5 set has no heatspreaders. But will they still deliver in performance, and how well will they overclock? We got a pair in and tested them thoroughly to find out.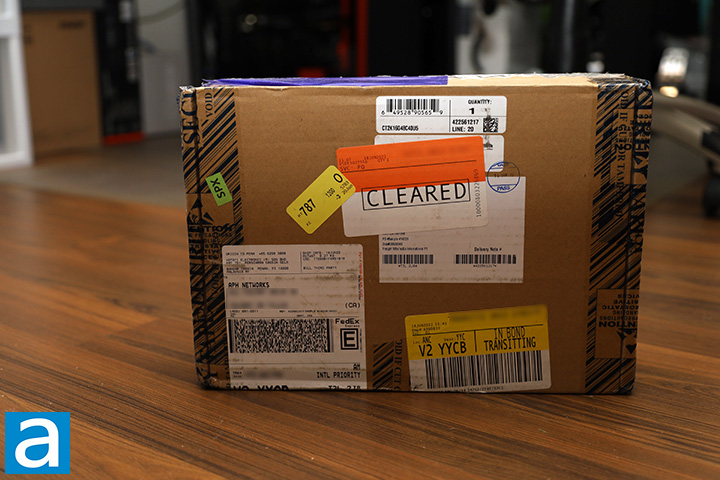 Our review unit of the Crucial CT2K16G48C40U5 DDR5-4800 2x16GB came in a medium-sized brown corrugated cardboard box from Penang, Malaysia. I do not believe we have ever received anything from Malaysia in the history of APH Networks, so we got yet another break on a long-running streak, haha. Everything arrived in excellent condition to us here in Calgary, Alberta, Canada for our review today using the FedEx International Priority service after traveling halfway across the world.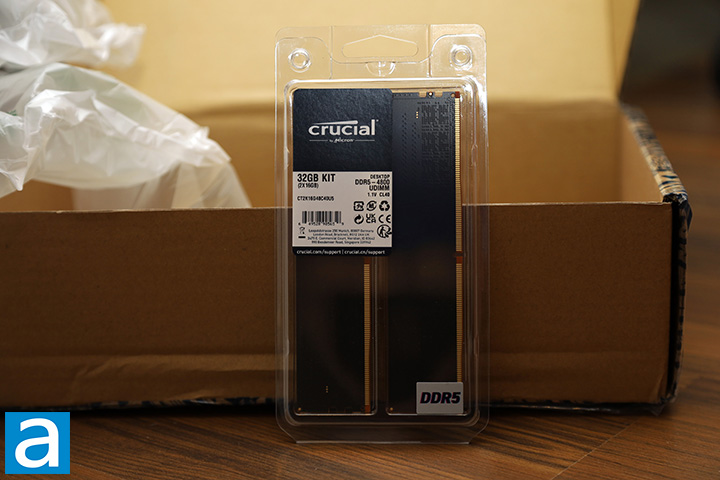 Crucial used OEM-grade packaging for their retail products. I am quite a fan of it, because it cuts down on waste. The clamshell package is simple and held closed together at the top by two friction buttons. I found this quite appropriate for a mainstream consumer product. Both memory modules can be seen through its clear plastic exterior placed vertically next to each other, where its specifications can be found on the label in front. The label has Crucial's logo on top, as well as information such as memory capacity, configuration, model number speed, voltage, and CAS latency. The same information can be found on a sticker on the memory modules themselves, which can be seen from the back of the package.
Before we move on, let us take a look at the features and specifications of the Crucial CT2K16G48C40U5 DDR5-4800 2x16GB, as obtained from the manufacturer's website:
Technology: DDR5
Speed: DDR5-4800
PC speed: PC5-38400
Density: 32GB Kit (16GBx2)
Module type: UDIMM
DIMM type: Unbuffered
CAS latency: 40
Extended timings: 40-39-39
Voltage: 1.1V
Kit Qty: 2
Warranty: Limited Lifetime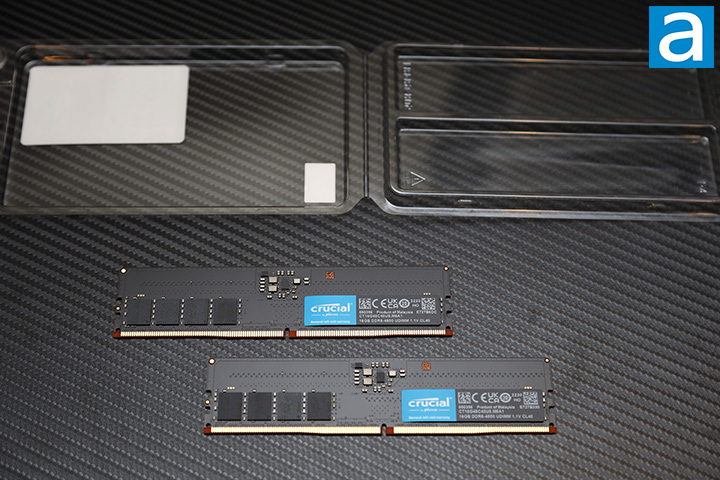 Out of the package, you will receive each memory module in the Crucial CT2K16G48C40U5 DDR5-4800 kit packaged in its own compartment in the clear plastic clamshell. There is nothing else included, but I am not sure what else you can expect from a mainstream consumer DDR5 kit either, haha.
A screenshot of the memory tab in CPU-Z with Crucial's CT2K16G48C40U5 DDR5-4800 installed. The SPD timings table in CPU-Z reads standard JEDEC specifications programmed into the memory as well as XMP data for running the memory at various speeds. Our ASUS ProArt Z690-Creator WiFi motherboard used for testing had no issues detecting and working with the Crucial RAM right out of the box using the latest BIOS revision. The Crucial CT2K16G48C40U5 DDR5-4800 2x16GB retails for approximately $170 at press time.
---
Page Index
1. Introduction, Packaging, Specifications
2.
A Closer Look, Test System
3.
Benchmark: AIDA64 CPU
4.
Benchmark: AIDA64 FPU
5.
Benchmark: AIDA64 Memory
6.
Benchmark: PCMark 10
7.
Benchmark: 3DMark
8.
Benchmark: PassMark PerformanceTest 10
9.
Benchmark: SuperPI 1M, Cinebench R23
10.
Overclocking and Conclusion