By: Jonathan Kwan
July 22, 2022
Recently, my friend told me she is looking for a good used car for around $10,000. Unfortunately, anyone who has been shopping for a used car in recent times would know a budget of $10,000 in 2022 probably has less reasonable options than someone with $5,000 just a few years back. Since we have very little choices anyway, and my friend is new to the owning a vehicle, I decided to take her to look at new cars instead. It is not that the new cars are within her budget -- we went to the Acura dealership, after all -- but I think we can at least have a baseline of what we define as "good". While test driving the new Integra, the salesperson asked my friend what she currently drives. "I drive my sister's Lexus," she said. The salesperson was rather impressed and asked no more questions, except I really had to try to not laugh out loud at the quality of the delivery. The "Lexus" my friend was referring to is a rusted out 1996 ES300 that is probably worth $500 with a full tank of gas. So while everything she said was true, there is likely a big gap between what the salesperson thinks the Lexus is versus what Lexus she is actually referring to. Last year, I reviewed the ROCCAT Kone Pro, which has the PAW3370 sensor and weighs 66g. I also reviewed the Kone Pro Air, which, by the company's naming convention, is the identical wireless version plus an extra 9g for the battery. So when it comes to the Burst Pro Air, what could it be? Clearly, it is the wireless version of the Burst Pro -- and at first glance, it absolutely is. However, like how there is a gap between what the salesperson thinks my friend's sister's Lexus is versus what Lexus my friend is actually referring to, there is also a gap between what the Burst Pro Air name suggests versus what it actually is. The Burst Pro Air actually has a PAW3370 rather than a PMW3389 sensor, and adds a rather considerable 13g to the scales compared to its wired counterpart. Is it still any good though? Read on to find out!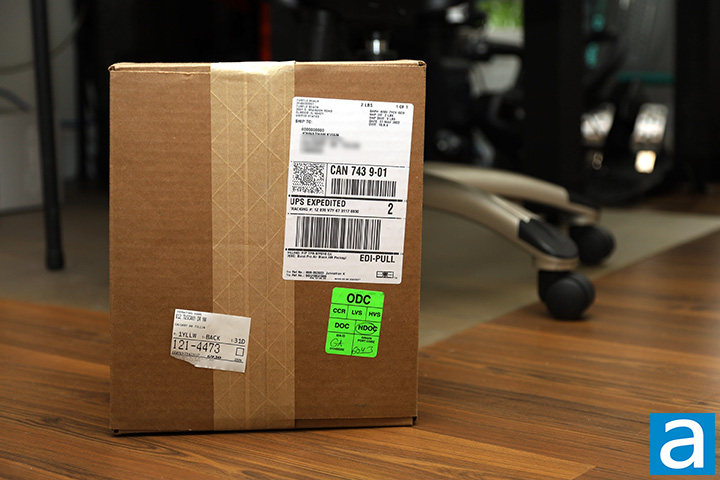 Our review unit of the ROCCAT Burst Pro Air arrived to us here in Calgary, Alberta, Canada from a shipping fulfillment center in Elwood, Illinois, USA. Using UPS Expedited, the medium-sized brown corrugated cardboard box arrived in excellent condition to us here in Calgary, Alberta, Canada. It came alongside the Turtle Beach Stealth 600 Gen 2 MAX, which my colleague Jadon Lee reviewed a few weeks back. If you are curious, the reason why Jadon cites a different shipping photo in his review is because we got two copies -- the original one that came with the Burst Pro Air needed to be replaced.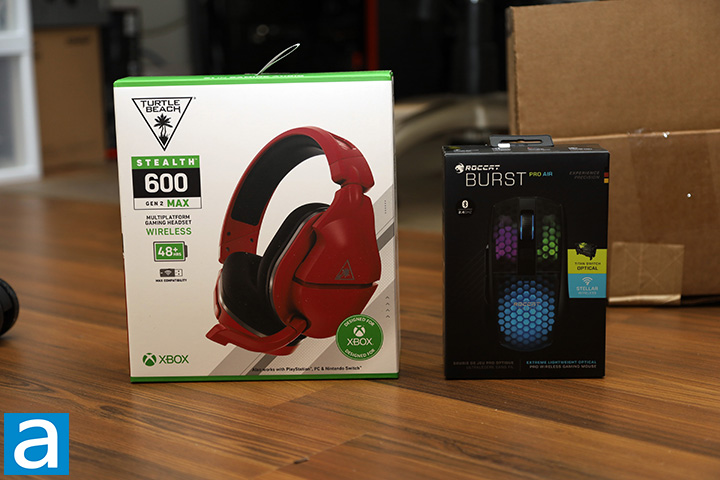 The ROCCAT Burst Pro Air's retail packaging uses a consistent template compared to what we have seen from the company in the past. The predominantly black color scheme is contrasted by the mostly white text. An overhead photo of the mouse occupies majority of the real estate in front. Beside the mouse are two bands bringing light to its Titan Switch Optical and Stellar Wireless technology. At the top, you will find ROCCAT's logo and model name. A pseudo-sticker immediately below shows its 2.4GHz and Bluetooth wireless connectivity. A subtle tab on the right points out its German engineering and the line "Experience Precision". At the bottom is the description, "Extreme Lightweight Optical Pro Wireless Gaming Mouse". Further feature highlights and miscellaneous product information such as specifications and system requirements can be found on the remaining sides of the box.
Before we move on, let us take a look at the specifications of the ROCCAT Burst Pro Air, as obtained from the manufacturer's website:
Sensor
- ROCCAT Owl-Eye 19K optical sensor (Based on PAW3370)
- Adjustable lift-off distance
- 50g acceleration
- 400 IPS tracking speed
General
- ROCCAT Titan Switch Optical
- 100 million click life cycle
- On-board memory for up to 5 profiles
- ROCCAT Bionic Shell
- 1.8m flexible detachable cable
Dimensions
- Length: 120mm
- Height: 38mm
- Width: 58mm
- Weight: 81g
Package Contains
- ROCCAT Burst Pro Air (Black) / (White)
- Quick-Start guide
Compatibility
- Windows 7 and above (Software support)
- USB 2.0 (or higher)
- Internet connection (for driver software)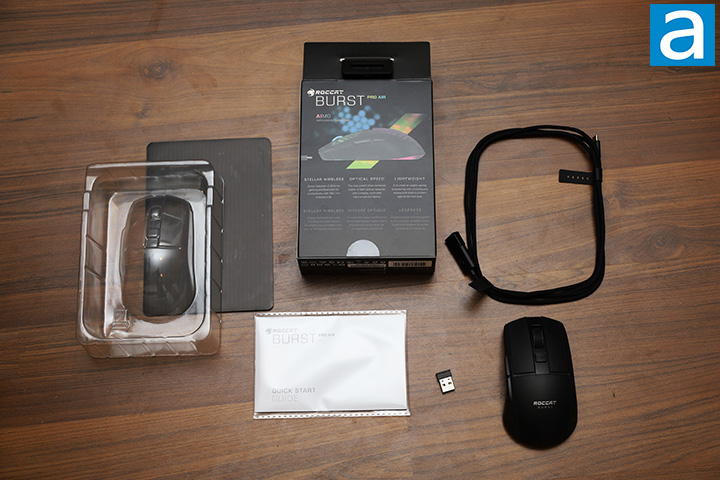 Out of the box, you will receive the ROCCAT Burst Pro Air mouse placed in a clear plastic shell, PhantomFlex USB Type-C to USB Type-A cable, USB wireless adapter, and a quick start guide. The software can be downloaded from ROCCAT's website. The file size of ROCCAT Swarm is 180MB at press time. It should not take more than a minute to download given it is 2022 after all, and if you already have other peripherals from the company, you will not need to install a separate software suite.
---
Page Index
1. Introduction, Packaging, Specifications
2.
A Closer Look - Hardware and Software
3.
Subjective Performance Tests
4.
Conclusion