By: Jonathan Kwan
July 2, 2021
A little over a year ago, I shared a story in my Noctua NH-D15 chromax.black about my friend who kept repeating the same story to everyone on every occasion. You may think after we flipped the calendar year that he would have stopped by now, but I saw him last week and -- I kid you not -- still tried to bring the same story up. What is interesting, however, is he is not the only one I know that likes to repeat the same story until everyone has heard it a dozen times. Who else does that, you ask? The answer is his mom -- literally. In the few interactions I have had with her, I have heard the exact same story every time. I think this is good evidence it runs through the family. Now, repeating the same thing over and over again may be my friend and his mom's specialty, but in the technology world, there could be some merits to it. Rehashing the same thing may also be a Noctua specialty, and there is nothing wrong with that considering they made, and still make, some of the best heatsinks in the market today. So what is stopping a company like ROCCAT from doing a similar thing with the excellent Kone Pro Air? Today, we have the Kone Pro, which is really the same mouse, except this is the wired version. Since it does not have a battery inside, it is a full 9g lighter than its wireless counterpart at 66g. But is it still any good? Read on to find out!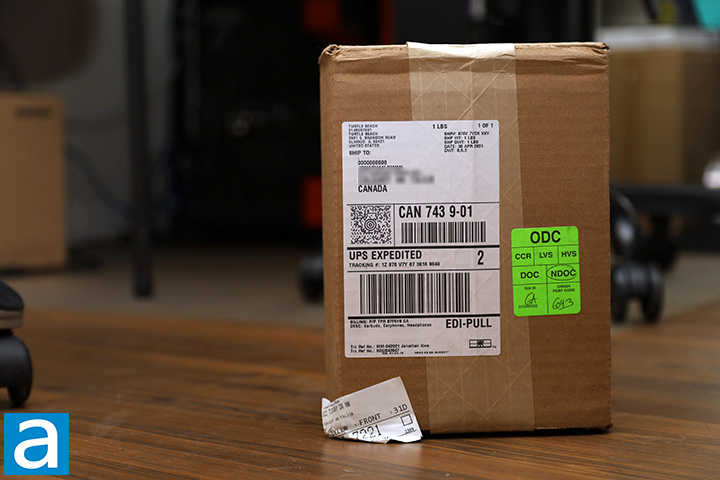 Our review unit of the ROCCAT Kone Pro arrived to us here in Calgary, Alberta, Canada from a shipping fulfillment center in Elwood, Illinois, USA. Using UPS Saver, the small brown corrugated cardboard box arrived in excellent condition to us here in Calgary, Alberta, Canada. This actually came to us a few days before the Kone Pro Air, which I have recently reviewed.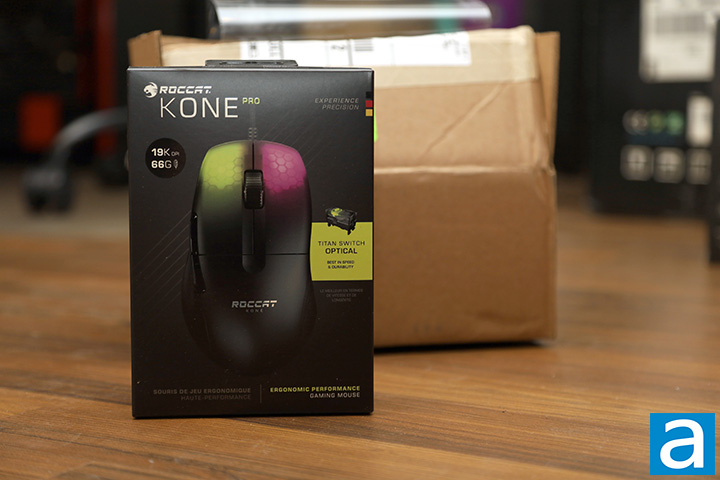 The ROCCAT Kone Pro's retail packaging uses a consistent template compared to what we have seen from the company in the past. The predominantly black color scheme is contrasted by the mostly white text. An overhead photo of the mouse occupies majority of the real estate in front. Beside the mouse is a band bringing light to the Titan Switch Optical. At the top, you will find ROCCAT's logo and model name. A pseudo-sticker immediately below shows its 19K DPI sensor resolution and 66g weight. A subtle tab on the right points out its German engineering and design since 2007. At the bottom is the description line, "Ergonomic Performance Gaming Mouse". Further feature highlights and miscellaneous product information such as specifications and system requirements can be found on the remaining sides of the box.
Before we move on, let us take a look at the specifications of the ROCCAT Kone Pro, as obtained from the manufacturer's website:
Sensor
- ROCCAT Owl-Eye 19K optical sensor (Based on PAW3370)
- Adjustable lift-off distance
- 50g acceleration
General
- ROCCAT Titan Switch Optical
- 100 million click life cycle
- On-board memory
- 1.8m flexible cable
Dimensions
- Length: 125.6mm
- Height: 40mm
- Width: 72mm
- Weight: 66g
Package Contains
- ROCCAT Kone Pro (Ash Black) / (Arctic White)
- Quick-start guide
- Extra set of mouse feet
Compatibility
- Windows 7, 8 and 10 (software support)
- USB 2.0 (or higher)
- Internet connection (for driver software)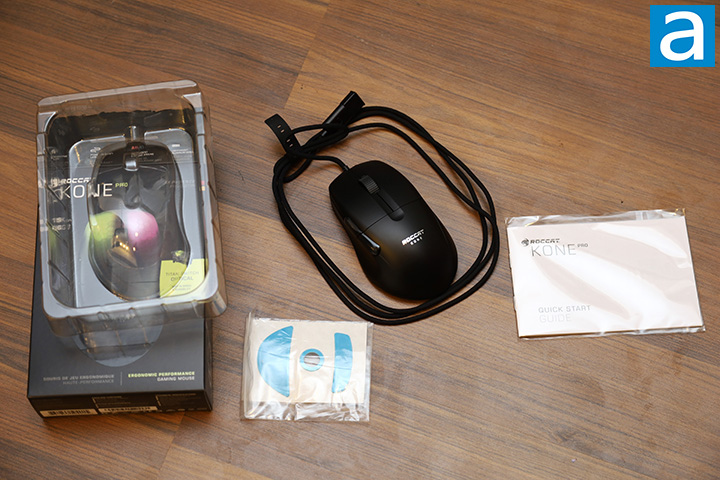 Out of the box, you will receive the ROCCAT Kone Pro mouse placed in a clear plastic shell, additional replacement PTFE feet, and a quick start guide. The software can be downloaded from ROCCAT's website. The file size of ROCCAT Swarm is 160MB at press time. It should not take more than a minute to download given it is 2021 after all, and if you already have other peripherals from the company, you will not need to install anything new.
---
Page Index
1. Introduction, Packaging, Specifications
2.
A Closer Look - Hardware and Software
3.
Subjective Performance Tests
4.
Conclusion