By: Jonathan Kwan
June 4, 2021
"My sister talks like you," my friend said after an event we were all at last month. "I know, but she will never admit it," I replied. My friend continued on. "Yeah, she does. Even our mom called her out before. One time, they were talking about something, and our mom just flat out told her, 'You sound exactly like Jonathan.'" Even though it is pretty much a consensus among our friend circle that my friend's sister does indeed talk like me -- due to obvious influence from me for many years -- it is just something she will never admit. The way I see it, a lot of the time, there are things that are observable to everybody, but we like to deny it because we simply do not want it to be true. With that in mind, let me ask you a question: Are ultralight gaming mice the trend? Whether you like them or not, I would like to make the case that it is. In the last couple of years, we have reviewed quite a number of products in this category, including the Cooler Master MM710, MM711, MM720, ASUS ROG Keris Wireless, and ROCCAT Burst Pro. In my opinion, manufacturers are likely better off embracing this trend than to deny it. I think ROCCAT gets this, and what we have here today is their latest entry into the ultralight segment. We have been told prior to receiving the Kone Pro Air that this will be the best mouse I have ever owned. I have the SteelSeries Rival 650 Wireless sitting on my desk for a couple of years now, and although it has been briefly unseated by Corsair Dark Core RGB Pro last year, I found myself going back to the SteelSeries not long after, so ROCCAT has a big claim. Will the Kone Pro Air really be the best mouse I have ever owned? Read on to find out!
Our review unit of the ROCCAT Kone Pro Air arrived to us here in Calgary, Alberta, Canada from a shipping fulfillment center in Elwood, Illinois, USA. Using UPS Saver, the small brown corrugated cardboard box arrived in excellent condition to us here in Calgary, Alberta, Canada. I accidentally cut the box open before I took the photo, so hence the package was partially opened in my photo above.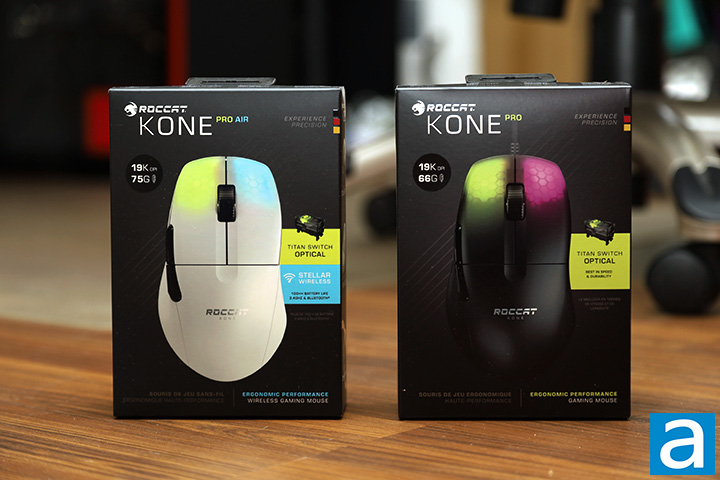 The ROCCAT Kone Pro, the wired version of this mouse, also arrived within a few days of the Kone Pro Air we are reviewing today. The ROCCAT Kone Pro Air's retail packaging uses a consistent template compared to what we have seen from the company in the past. The predominantly black color scheme is contrasted by the mostly white text. An overhead photo of the mouse occupies majority of the real estate in front. Beside the mouse are two bands bringing light to its Titan Switch Optical and Stellar Wireless technology. At the top, you will find ROCCAT's logo and model name. A pseudo-sticker immediately below shows its 19K DPI sensor resolution and 75g weight. A subtle tab on the right points out its German engineering and design since 2007. At the bottom is the description line, "Ergonomic Performance Wireless Gaming Mouse". Further feature highlights and miscellaneous product information such as specifications and system requirements can be found on the remaining sides of the box.
Before we move on, let us take a look at the specifications of the ROCCAT Kone Pro Air, as obtained from the manufacturer's website:
Sensor
- ROCCAT Owl-Eye 19K optical sensor (Based on PAW3370)
- Adjustable lift-off distance
- 50g acceleration
General
- ROCCAT Titan Switch Optical
- 100 million click life cycle
- On-board memory
- 1.8m flexible cable
Dimensions
- Length: 125.6mm
- Height: 40mm
- Width: 72mm
- Weight: 75g
Package Contains
- ROCCAT Kone Pro Air (Ash Black) / (Arctic White)
- PhantomFlex USB-C charging cable
- Wireless Dongle
- Quick-start guide
Compatibility
- Windows 7, 8 and 10 (software support)
- USB 2.0 (or higher)
- Internet connection (for driver software)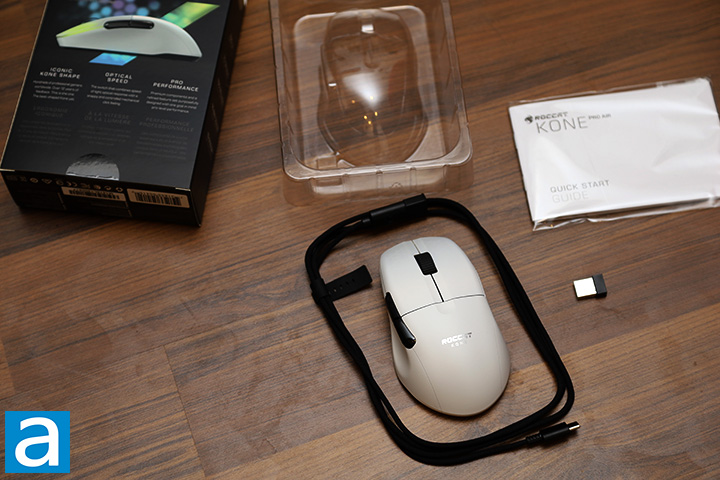 Out of the box, you will receive the ROCCAT Kone Pro Air mouse placed in a clear plastic shell, PhantomFlex USB Type-C to USB Type-A cable, USB wireless adapter, and a quick start guide. The software can be downloaded from ROCCAT's website. The file size of ROCCAT Swarm is 160MB at press time. It should not take more than a minute to download given it is 2021 after all, and if you already have other peripherals from the company, you will not need to install anything new.
---
Page Index
1. Introduction, Packaging, Specifications
2.
A Closer Look - Hardware and Software
3.
Subjective Performance Tests
4.
Conclusion