By: Aaron Lai
September 24, 2019
If you have had instant noodles in the past, you probably know how great they are. Instant noodles were invented in Japan by Momofuku Ando. According to the World Instant Noodles Association, or WINA for short, they were produced in 1958, but inspired during the time when Japan was recovering from the Second World War. Momofuku wanted to create a ramen meal that would satisfy the hungry, have a longer shelf-life, and have a faster cooking time. When I was growing up, my parents would not normally buy instant noodles, especially since they are not very healthy. However, as I grew up, my parents relented and we had them once in a while. My favorite way of preparing instant ramen involves adding pan-fried Spam and scrambled eggs for a fuller meal. It definitely takes a bit more work, but the additional effort is worth the extra "yum". On the other hand, despite all the things we might add to instant noodles, there are times where having it unadulterated by anything else is the best way to enjoy this snack. This is because even on its own, the noodles shine and do not need additional ingredients to make it tasty. If I were to ask you about the purest, unadulterated form of an excellent gaming mouse, you might answer with something that is responsive, without anything unnecessary, and with a capable sensor. Today, we have the Cooler Master MM710. Announced during Computex earlier this year, this was said to be an ultralight mouse, with only the necessary things for a pro-grade gamer experience. Is this actually the case and how does it fare in our tests? Let us read on to find out!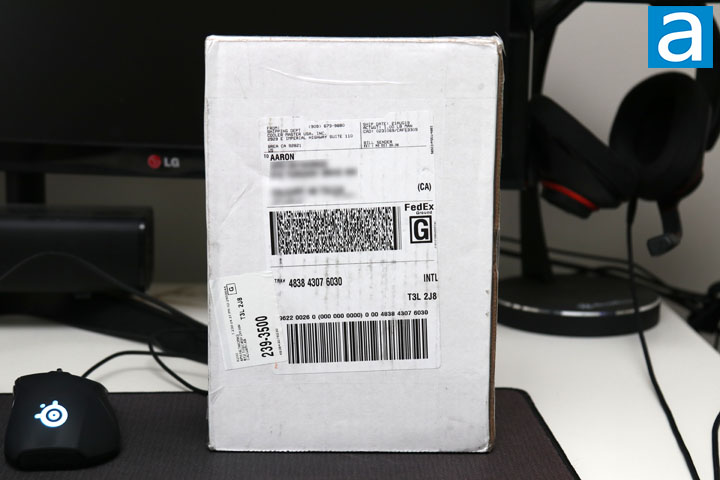 Today's review unit of the Cooler Master MM710 arrived at our APH Networks offices in Calgary, Alberta. Traveling with FedEx and their Ground service, this box shipped from Cooler Master's American offices in Brea to us in decent condition, though the white exterior shows a few more scuffs than what is normally visible. Interestingly enough, the box is actually addressed to me, despite it originally being shipped to my colleague Jonathan Kwan. Inside, Cooler Master packed their MM710 with some additional packing paper to provide some protection when this box was being shipped.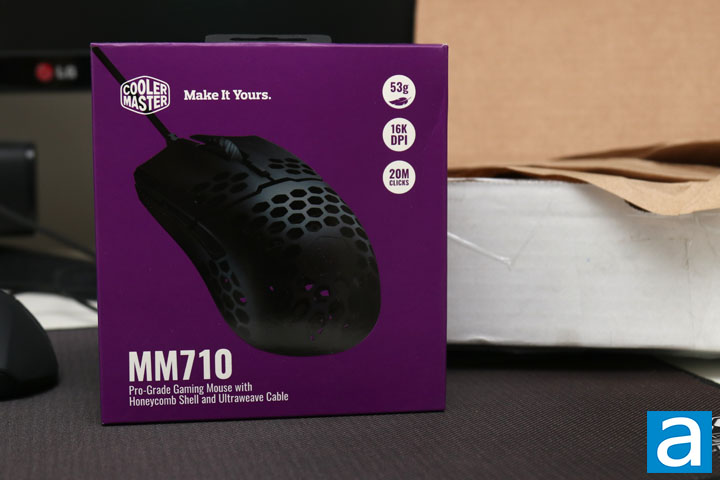 While we know this is a very light mouse, it seems Cooler Master has also kept its packaging to a minimum. Instead of its black and purple color scheme, we have just a plain Cooler Master purple box. The MM710 is displayed on the front with the Cooler Master logo at the top. Underneath, we have the product name with a description of "Pro-Grade Gaming Mouse with Honeycomb Shell and Ultraweave Cable". On the top right side, we have some major features highlighted, including its 53g weight, the 16K DPI, and 20 million clicks life endurance. We will explore these features, and more, as we continue our review. Around the box, we have a few more features highlighted, but let us continue on to the mouse.
Before we do so, I grabbed the specifications from the manufacturer's website for your perusal:
PRODUCT NUMBER: MM-710-KKOL1, MM-710-KKOL2, MM-710-WWOL1, MM-710-WWOL2
MOUSE GRIP TYPE: Claw, Palm, Fingertip
MOUSE MATERIAL: ABS Plastic
COLOR: Black, White
SURFACE TREATMENT: Matte, Glossy
MOUSE LEDS: N/A
MOUSE SENSOR: PixArt PMW 3389
CPI / DPI: 7 Levels (400, 800, 1200 (default), 1600, 3200, 6400, 16000)
MOUSE TRACKING SPEED: 400ips
MOUSE LIFT OFF DISTANCE: < ~2mm
MOUSE POLLING RATE: 1000Hz
ANGLE SNAPPING: N/A
MOUSE ACCELERATION: 50g
MOUSE PROCESSOR: 32 bit ARM Cortex M0+
MOUSE MEMORY: 512 KB
MOUSE LIFESPAN (L/R SWITCHES): OMRON, 20 million
MOUSE BUTTONS: 6
MOUSE CABLE LENGTH: Fixed Ultraweave cable, 1.8m
DIMENSIONS: 116.6 x 62.6 x 38.3 mm (L*W*H)
MOUSE WEIGHT: <53g / <0.117lbs (Without USB Cable)
WARRANTY: 2 years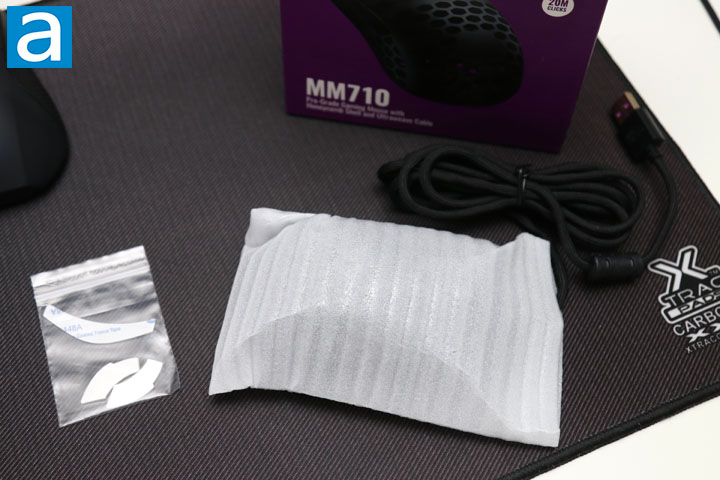 Out of the box, we do not have many other accessories to speak of. Obviously, we have the mouse in question, the Cooler Master MM710, wrapped in a foam baggy to protect the mouse. Its cable is also tied up in a twist tie. Otherwise, in a separate bag, we have an additional set of mouse skates so that you can replace the ones currently installed on the bottom. It is nice to see Cooler Master include this, as the feet are usually the first to wear out on a well-designed mouse. Finally, there is a small piece of documentation highlighting usage and warranty information. As you can tell from above, Cooler Master has a two-year warranty on this mouse, which is similar to other manufacturers.
---
Page Index
1. Introduction, Packaging, Specifications
2.
A Closer Look - Hardware and Software
3.
Subjective Performance Tests
4.
Conclusion