Page 2 - A Closer Look - Hardware and Software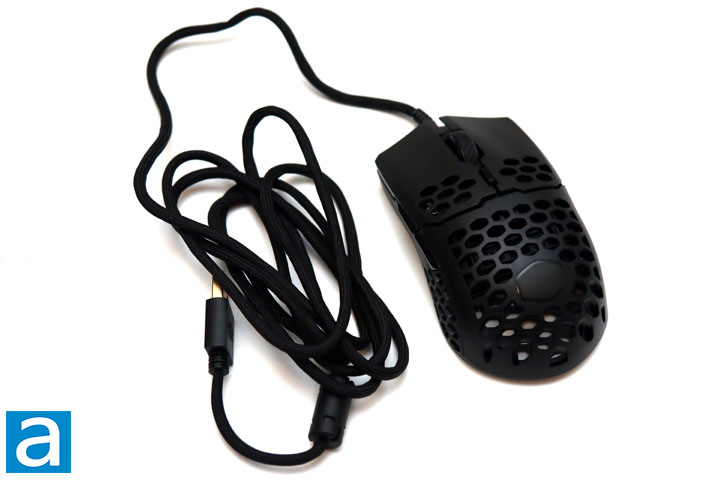 You might be looking over the specifications sheet and asking, "How did Cooler Master drop the weight to 53g?" To do so, they removed as much unnecessary plastic as possible, leaving a honeycomb-like shell. As for appearances, I actually like this effect. While it may trigger your trypophobia, or the fear of a cluster of holes, you can see the inner workings of the MM710 without needing to take it apart. These holes also make picking up this mouse easier, as they create grooves for your fingers to grip onto. On the other hand, this does mean things can settle into the mouse, so you should be mindful if you handle food near your computer. Cooler Master does state there is a dust and splash resistant coating on its internals, but I would not go dunk testing the MM710. Another weight saving feature here is the omission of any RGB lighting. While I think that would have been cool, especially with the visible internals, I fully understand this decision in the perspective of removing unnecessary weight. The finish on this is a matte black one, but there are four models total, with a matte or glossy finish in either white or black. I personally prefer the matte here, as it does a pretty good job at hiding fingerprints, but more oily stains may be easier to spot.
In terms of dimensions, the Cooler Master MM710 measures in at 116.6mm in length, 62.6mm in width, and 38.3mm in height. Interestingly enough, these are practically all the same dimensions as the mouse from the MS110 combination. Similar to that one, the peak height of the MM710 is situated nearer to the rear of the mouse with a gradual slope up from the front and a smoother, rounded curve down near the back. As I have mentioned, the mouse weighs in at 53g without the cable. The weight is balanced to the middle of the mouse, lining up with the sensor. This mouse is an ambidextrous mouse in terms of shape, which is good for both left-handed and right-handed users. Overall build quality is good, but you can actually flex the mouse a bit when pressing the bottom of the mouse. It is not a huge deal, especially since reinforcing it would mean additional weight here.
The Cooler Master MM710 utilizes a fixed Ultraweave cable that measures 1.8m in length. Braided cables in the past have been seen as premium, but often provide resistance to user movement. This one, on the other hand, is some of the most flexible cabling I have ever used. Combined this with its minimal weight and the mouse sometimes feels like it has no cable attached. I really did not notice how much this would affect me until I tried swapping back to a typical wired mouse and felt the cable drag. I really hope I can see this cable used in future Cooler Master mice, as it really is the best option I have seen so far. At the end of this cable, we have a typical full-sized, gold-plated USB port.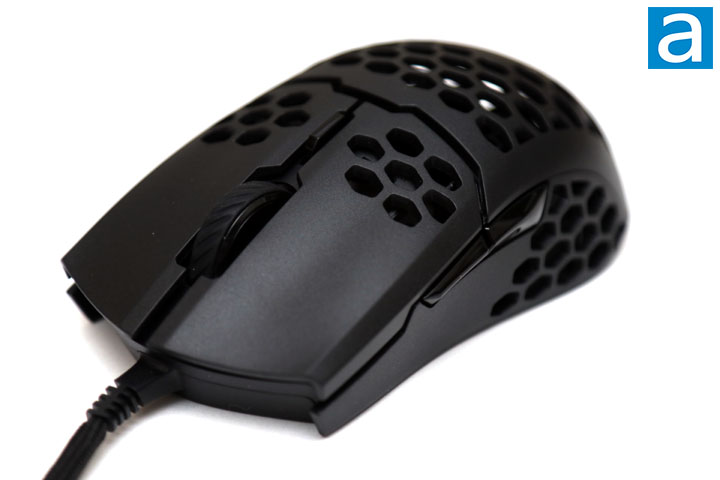 On the left side of the Cooler Master MM710, you can see all of the primary and secondary buttons. Even though the shape of the mouse is ambidextrous, the button layout is not. The main left and right buttons are separated from each other and the rest of the body. They are slightly sloped to the middle of the button, which makes users naturally rest their fingers in the middle of the button. The primary switches are Omron with a lifespan of twenty million clicks. Overall, the button response and weight feel good. The scroll wheel is a notched wheel. One issue I found with my review unit was the fact the scroll wheel had a bit of horizontal movement. I was told by Cooler Master that this will be addressed when the product releases to the public, so I would not be too concerned about this. Under the scroll wheel, we have a DPI switch that lets you change the current sensitivity. By default, this cycles between seven levels ranging from 400DPI to 16000DPI. With Cooler Master's software, you can change each of the levels, as we will see later on. On the side buttons, we have the standard forward and back buttons. They offer a good amount of travel, but they feel a bit spongy. This is pretty typical for secondary keys, especially since they should not be as easy to press as the primary ones. As for their placement, they are located right above my thumb and are relatively easy to press while keeping out of the way of accidental presses.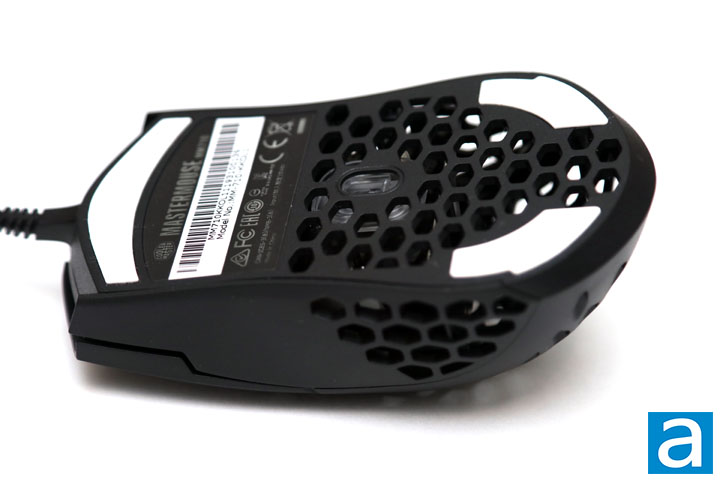 The bottom of the Cooler Master MM710 reveals the mouse feet and the sensor. The mouse feet are made up of PTFE, which are commonly known as Teflon. These give the mouse a smooth glide. I am quite happy to see Cooler Master also provide replacement feet, as they can wear out. It should be noted that you may find a thin plastic wrap on top of the feet. Be sure to remove this, as this layer is only to protect the feet and not to be left on while in use. In the middle of the base is the sensor. This is the Pixart PMW3389, which is one of the top-of-the-line Pixart sensors out there. The PMW3389 is said to track at high speeds of 400 IPS with acceleration up to 50g, though it is not enabled by default. Polling rate is set to a minimum 1ms, or a maximum frequency of 1000Hz, and a maximum native resolution of 16000cpi. Cooler Master has also done a good job at securing this sensor, as it does not shake about.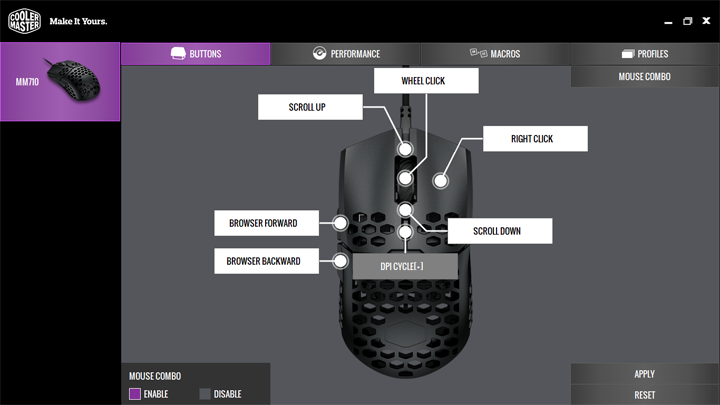 As of press time, Cooler Master has only provided a preview release of their MasterPlus software that supports the MM710. You can download it from their website, which is a 56MB download. Using the software was overall a consistent experience, especially when compared to previous Cooler Master software. In addition, I ended up updating the firmware installed on this mouse during usage. Internally, Cooler Master has provided 512KB of memory on the mouse to store all of these settings. There is also a 32-bit ARM Cortex M0+ processor to control everything.
Navigation is done for each recognized product and is divided into tabs. The first tab is for Buttons, where you can assign different actions for each mouse button or scroll wheel action. You can also enable mouse combinations, which let you add more mouse actions when pressed in combination with the DPI cycle button. The Performance tab lets you change the mouse sensitivities for each of the seven levels, USB polling rate, lift off distance, angle snapping, angle tuning, and other operating system specific settings. I would have liked to see Cooler Master let users enable or disable the number of levels available, but this is a small thing they can add later on. In addition, you can tune the mouse for your current surface, which goes through some quick calibration. I did not feel a huge difference between the default and my calibrated one, but it is nice to see here. In the Macros tab, you can create and record macros to be assigned to the mouse actions. Finally, Profiles is where you can save up to five different profiles and settings. One interesting thing is that you can set profiles to change depending on what application is launched. This is a pretty neat idea, especially since you could assign profiles to certain games. While this application is not on par with other manufacturers in terms of game integration, I think this software is usable and offers all the same features I would expect for a utility of this nature.
---
Page Index
1.
Introduction, Packaging, Specifications
2. A Closer Look - Hardware and Software
3.
Subjective Performance Tests
4.
Conclusion