By: Aaron Lai
August 13, 2019
As I have mentioned in the previous Cooler Master review I wrote, the MH751, I was able to test drive a Jeep Wrangler and it felt very strange. Prior to that moment, the tallest car I had driven was probably a tie between a Nissan Rogue and a Ford Windstar. From the outset, climbing into the Wrangler was quite the ordeal. Worse yet, the difference of driving the Wrangler compared to everything else I had tried was very noticeable. While the Ford Windstar I had driven was jello-like in its responsiveness and the Nissan Rogue felt more like a taller car, the Jeep Wrangler was a different beast. Even when driving on a straight road, I felt like I had to continually adjust the steering for the car. My colleague Jonathan told me this was because it was a truck chassis, or a body-on-frame design, where the body would sit on top of the chassis. To me, the steering felt disconnected or delayed compared to the movement, but Jonathan assured me this was as expected and something to get used to. When Cooler Master sent us a new keyboard and mouse combination in the MS110, I had to ask if this was a solid package. While I have not used a membrane keyboard at home in quite a while now, the MS110's keyboard claims to be great for such. Similarly, the mouse is said to have a gaming-grade sensor. Is this package the real deal worth getting used to, or are there deficiencies in this set? I guess we will find out as we continue on, so let us proceed!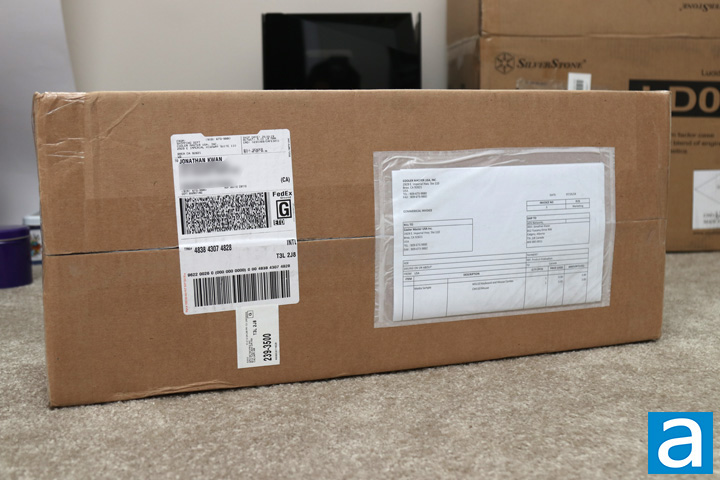 Today's review unit of the Cooler Master MS110 arrived via FedEx and their standard Ground service. Traveling from Cooler Master's offices in Brea, California, this box traveled all the way to our APH Networks offices in Calgary, Alberta. Thankfully, this box arrived in relatively good condition with no real damage to be concerned about. Inside, Cooler Master has provided some brown packing paper to cushion the retail packages from any damage that may happen during shipping. In addition to the MS110, Cooler Master sent us a CM110 mouse, which I will be reviewing in the weeks to come.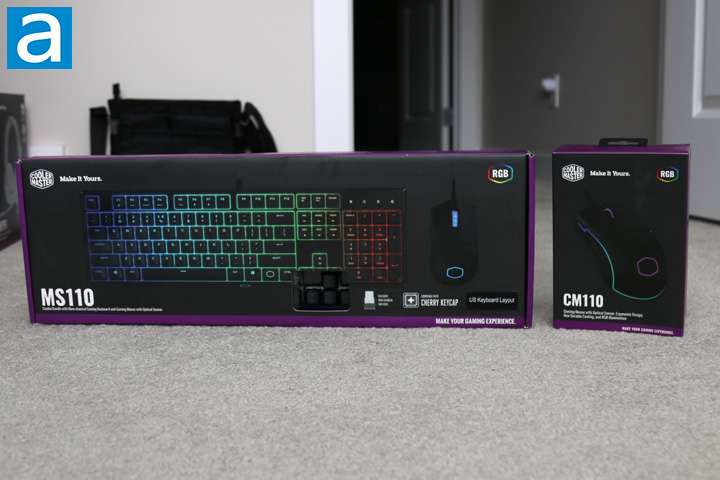 Out of the box, we have a pretty typical Cooler Master retail box for the MS110. With a purple and gray cardboard box, this is the same color scheme we have seen from other Cooler Master products. The front shows off the keyboard and mouse combination with the product name on the bottom left corner. Underneath, we have a product description of "Combo Bundle with Mem-chanical Gaming Keyboard and Gaming Mouse with Optical Sensor". It may not be the most concise way of describing the set, but at least it covers everything. Otherwise, around the box we have several features and specifications highlighted for users to look at before buying the product. Otherwise, there is not much else to speak of, so let us crack this box open.
Before doing so, I have grabbed the specifications from the manufacturer's website for your viewing pleasure:
Mouse Interface: USB 2.0
Mouse DPI: 400, 800, 1600, 3200
Mouse Sensor: Pixart 5050
Mouse LED Backlight: RGB
Mouse Lighting Mode: 3 Zones (Wheel, Logo, 2 Side RGB Ring)
Mouse Polling Rate: 1000Hz / 1ms
Mouse Connector Cable: USB-A (PC)
Mouse Dimension: 116.7 x 62.8 x 38 mm / 4.6 x 2.5 x 1.5 inch
Mouse Weight: 89g
Keyboard Switch Type: Mem-chanical Switch
Keyboard Switch Lifespan: 50M+
Keyboard Material: Plastic, Metal Plate
Keyboard Color: Black
Keyboard LED Color: RGB
Keyboard Lighting Mode: 6 zones RGB LEDs
Keyboard Key Rollover: 26 Keys Anti-Ghosting
Keyboard Polling Rate: 125Hz
Keyboard Multimedia Key: Through FN
Keyboard Connector Cable: USB 1.1 (PC)
Keyboard Dimensions: 440 x 134 x 40.3 mm
Keyboard Weight: 988g / 2.178lbs (without cable)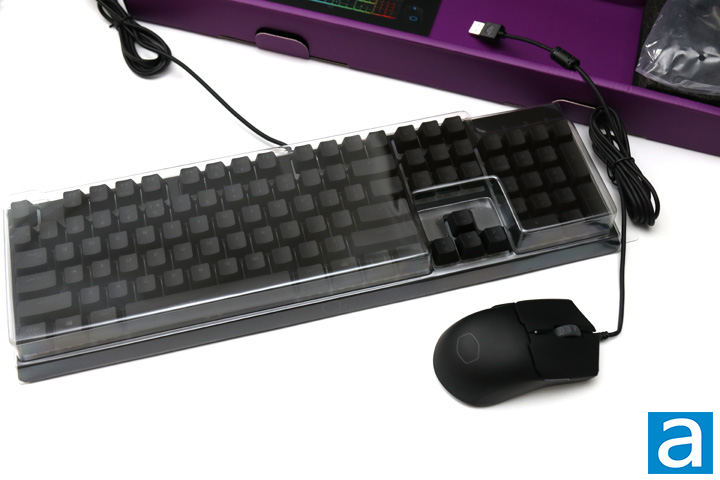 Out of the retail shell, we have the keyboard under a hard-plastic shell. The included mouse can be found in a plastic bag and held in foam. These measures should protect both products from surface scratches and other dings. Otherwise, there is some documentation included with the Cooler Master MS110 for some quick information regarding the customization and keyboard shortcuts, but we will go over these later on in our review. The documentation also includes information regarding the warranty included with this set, which is the standard two years across the board for all Cooler Master's peripherals.
---
Page Index
1. Introduction, Packaging, Specifications
2.
A Closer Look - Hardware
3.
Subjective Performance Tests
4.
Conclusion