By: Aaron Lai
August 9, 2019
A couple of weeks back, my colleague Jonathan and I had an afternoon free so we decided to go to our local Jeep dealer to try out their cars. To be clear, I have no interest in driving a Jeep, but we were there because they supposedly had a promotion to test drive a car. While this did not end up panning out, both Jonathan and I wanted to still try different cars so the dealer split us up and we drove around. Up to that point, it was clear I wanted a specific Jeep in mind, which was the Renegade. It is a small sport utility vehicle that I think I would actually have interest in. However, when they asked me which car I wanted to try, I stumbled and said "Wrangler". By the time I realized my mistake, I was sitting in a super tall vehicle that I felt was towering over other cars. While the test drive was uneventful and the promotion did not pan out in the way I would have wanted, I still question how I mixed up the two names. Considering how different the cars are, especially in purpose or even looks, there really is no excuse. On the other hand, if we had the opposite case with two products having different names but being the same physical product, I think it would be more justified to get the two names confused. This is the case we have today with the Cooler Master MH751. You may think you have read a review on such a headphone and that is because you are probably thinking of its twin brother, the MH752. Considering these are actually the exact same physical headphones, why would you pick one over the other? Let us read on to find out!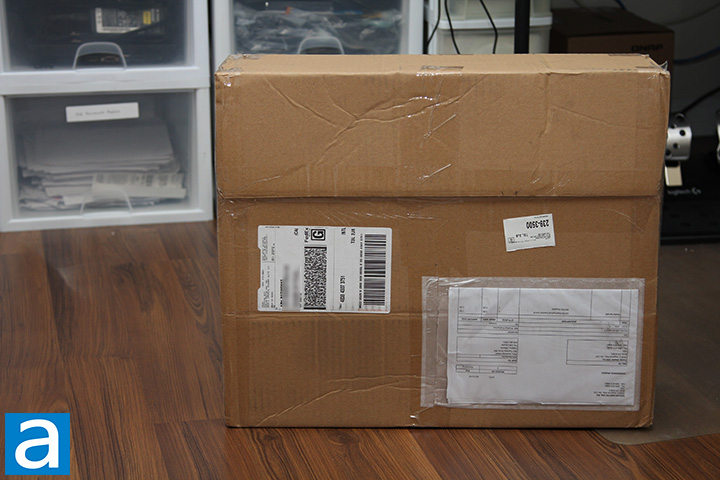 Today's review unit of the Cooler Master MH751 arrived from Cooler Master's offices in Brea, California. Traveling via FedEx and their International Ground service, this pair of headphones arrived with the GS750 that was reviewed by Editor-in-Chief Jonathan Kwan. Everything arrived in decent condition, though I did find a bruise on the corner of the MH751 retail box.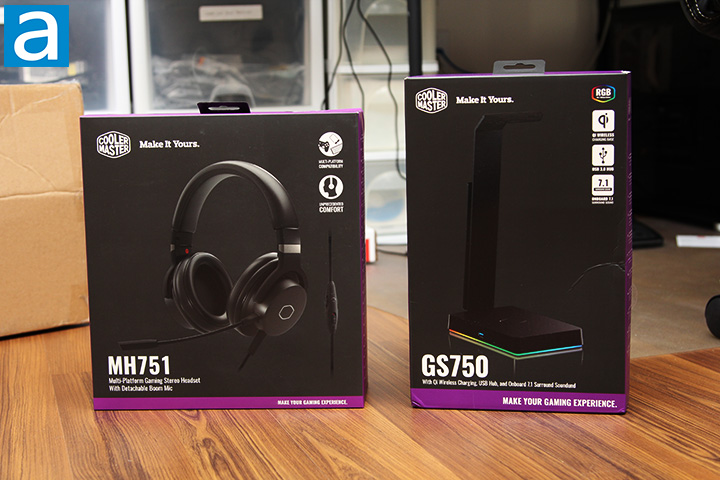 As usual with other products from Cooler Master, we have a typical purple and black retail box for the MH751. On the front we have the headphone on display, with a description of "Multi-platform gaming stereo headset with detachable boom mic". While this is not exactly a concise way to describe the MH751, at least it is accurate. Otherwise, there are two other features highlighted, one being the multiple platform compatibility, as well as its "Unprecedented Comfort". We will see if this is true later on in our review. The back highlights a few more features and specifications of the Cooler Master MH751.
Before we continue on, here are the specifications from the manufacturer's website for your viewing pleasure:
Headphone Driver Diameter: 40mm
Headphone Frequency Response: 20-20,000Hz
Headphone Impedance: 26Ω
Headphone Sensitivities (@1kHz): 97dB ± 3 dB
Headphone Cable Length: 1.5m 3.5mm connector (removable), 0.3m dual 3.5mm cable (removable)
Headphone Connector: 3.5mm 4-pole jack
Headphone Material: Steel and plastic headband, PU leather and foam cushion
Headphone Ear Cushion Material: PU Leather and foam cushion
Microphone Pick-up Pattern: Omni-Directional
Microphone Frequency Response: 100 Hz - 10,000 Hz
Microphone Sensitivities: -42 ± 3dB (@ 1KHz)
Microphone Signal to Noise Ratio: 55dB
Microphone Type: Detachable flexible microphone
Physical Dimensions (L X W X H): 149*85*215 mm / 5.87*3.35*8.46 inches
Physical Weight: 280g / 0.62lbs
Warranty: 2 years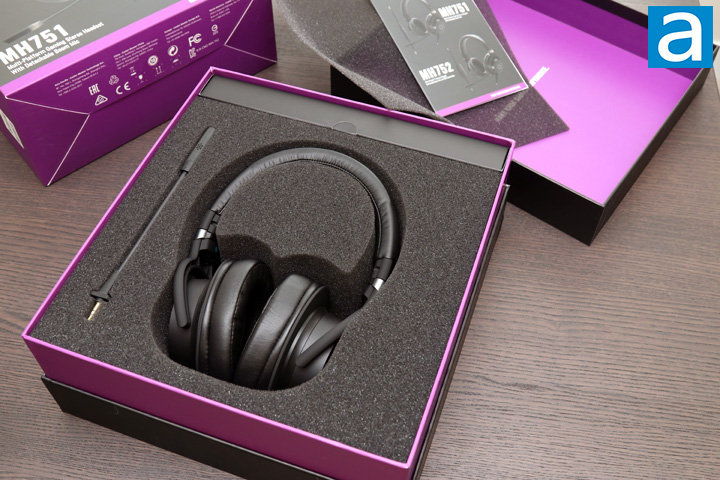 Out of the box, Cooler Master has stored their headphones in a foam-lined cardboard shell with cutouts for the headphones, microphone, and an additional box. This extra box is where you will find other accessories, including the detachable cable and a carrying bag. Otherwise, the inside of the MH751 is packed well with excellent protection to prevent any bumps or bruises translating into product damage. You can also find a small user guide in the box. Otherwise, this is a very similar packaging to the MH752, to no one's surprise.
---
Page Index
1. Introduction, Packaging, Specifications
2.
Physical Look - Hardware and Software
3.
Subjective Audio Analysis
4.
Conclusion