By: Jonathan Kwan
July 16, 2019
In the words of the late Chester Bennington from Linkin Park in his song, "Leave Out All the Rest", he writes, "When my time comes / Forget the wrong that I've done / Help me leave behind some / Reasons to be missed / And don't resent me / And when you're feeling empty / Keep me in your memory / Leave out all the rest". This has been one of my favorite songs since "Minutes to Midnight" was released in 2007 for both its lyrics and melody, and it was especially meaningful after a friend passed away last month. His passing came as a shock to all of us, and in the gatherings that followed, everybody shared stories about him that rarely strayed from these two themes: His extraordinary generosity towards everybody and his willingness to help any hour of the day. As I pondered to reflect upon my own life, I found myself asking the question: If it was my funeral today, what would people say at it? When I am gone one day, would I want people to remember me for my character or my career achievements? And if we all want to give people reasons to be missed like the lyrics in "Leave Out All the Rest", why do more of us live to gain money and power rather than building relationships that matter? I will let you ponder these deep questions in your own time, but as I hang my headphones up on the Cooler Master GS750 after finishing yet another play of one of my favorite Linkin Park songs, this headphone stand does not exist to be a run-of-the-mill headphone stand. In fact, it features a Qi wireless charger, onboard 7.1 surround sound output, and two USB ports to make it a hub of all things electronics. Will the GS750 make an impact that we will remember it for more than just its ability to hold headphones? Read on to find out!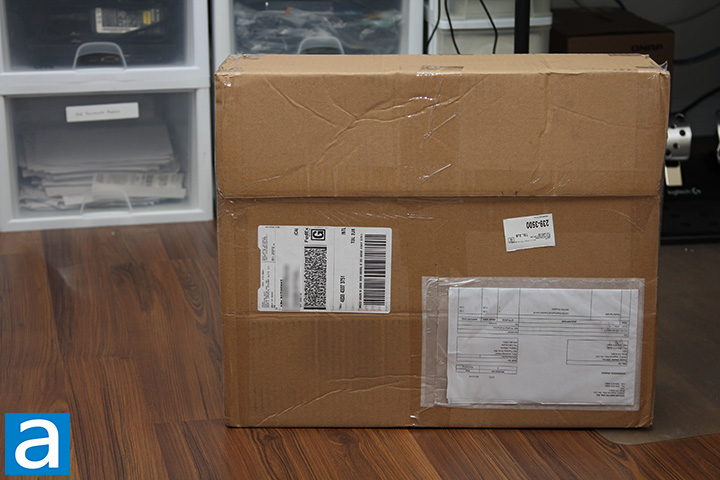 Our review unit of the Cooler Master GS750 came in a large brown corrugated cardboard box from Cooler Master's American headquarters in Brea, California, USA. We got this headphone stand a couple of weeks before it was released, which is something we were quite excited for in publishing this review on launch day. The company also shipped along the Cooler Master MH751 for us to cover. Using FedEx International Ground, everything came safely to us here in Calgary, Alberta, Canada for our review today.
The retail box design for the Cooler Master GS750 is a continued implementation of the company's "Make it Yours" campaign. The black background is complemented by mainly white text for maximum contrast along with a burst of purple to help you remember who made it. Cooler Master's logo and slogan is at the top left corner, RGB LED activated image of the headphone stand is printed across the center, and the model name and product description are located at the bottom left corner. On the opposite corner, four icons indicate its RGB backlighting, Qi wireless charging, USB 3.0 ports, and onboard 7.1 surround sound output, respectively. Feature highlights can be found on the remaining sides of the box.
Before we move on, let us take a look at the specifications of the Cooler Master GS750, as obtained from the press material:
Base Color: Black
Material:
- Arm: Aluminum
- Base: Plastic, natural rubber
Number of LEDs: 13 RGB LEDs
Interface: 2x USB 3.0; 3.5mm jack headphone/mic combo
Audio: USB audio codec with 3.5mm jack 7.1 surround sound, bass and treble
Adapter power: 18 Watts
Adapter cable length: 1.2m
Wireless charging: Qi standard certified up to 10W
Smart Micro processor: Prevents over heating, overcharging and prevents charging when foreign object is detected on the pad
Wireless charging area: Top of the base, centered on CM logo
Software support: RGB, Audio equalizer controls
Item dimensions: 10*15*28.5cm (rough)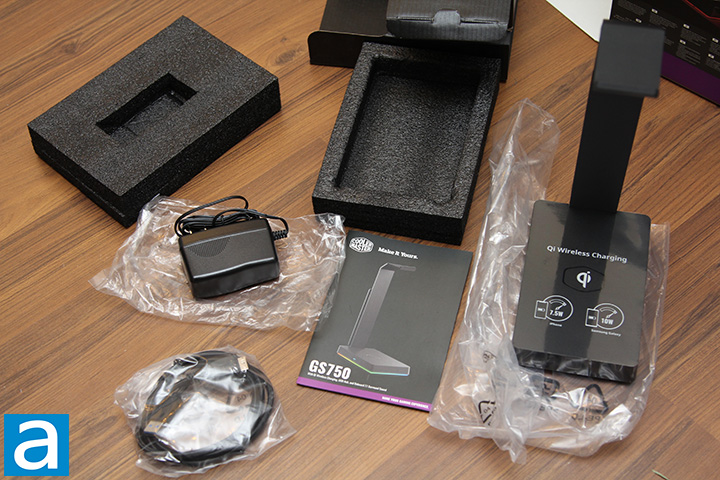 Out of the box, you will find the Cooler Master GS750 headphone stand secured between two black foam brackets. There is also a USB 3.0 cable to connect the stand to your PC for its USB ports, an instruction manual, as well as an AC wall adapter. A clear plastic sticker on the base of the headphone stand indicates its Qi fast wireless charging technology of up to 7.5W for Apple iPhones and 10W for Samsung models.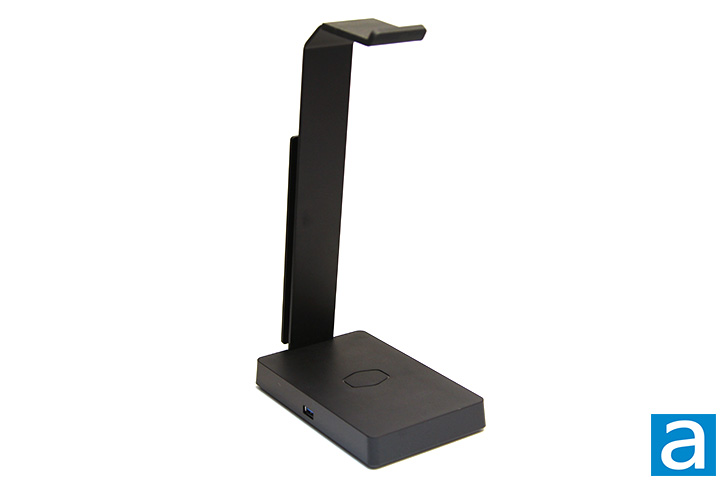 My first impression of the Cooler Master GS750 was its incredibly clean design. It measures in at approximately 10cm wide, 15cm deep, 28.5cm tall, and weighs 0.68kg. Other than the Cooler Master logo in the middle of the base, which doubles as the location marker of the Qi wireless charger's resonant inductive coupling coil, the GS750 has no other markings. Its sharp simple curves, where the matte plastic base connects to a sleek and slim aluminum arm all colored black, is minimalist and modern. The base is made out of plastic because it is necessary to support wireless charging, but there is nothing that makes me question its quality. The aluminum arm is solid as you would expect.
On the left side, you will find one USB 3.1 Gen 1 Type-A port for charging and connecting a device to your PC, as shown in our photo above. Your headphone hangs on a rubber-lined top, and the onboard RGB LEDs shine through a translucent strip around the parameter near the bottom of the base, both of which we will take a look in more detail in a moment. I think it would have been much cooler if there were LEDs along the arm as well for ambient lighting at night. One strange omission is there are no hardware RGB control buttons, so everything has to be configured in software. There is not even a power or LED on/off switch on the Cooler Master GS750.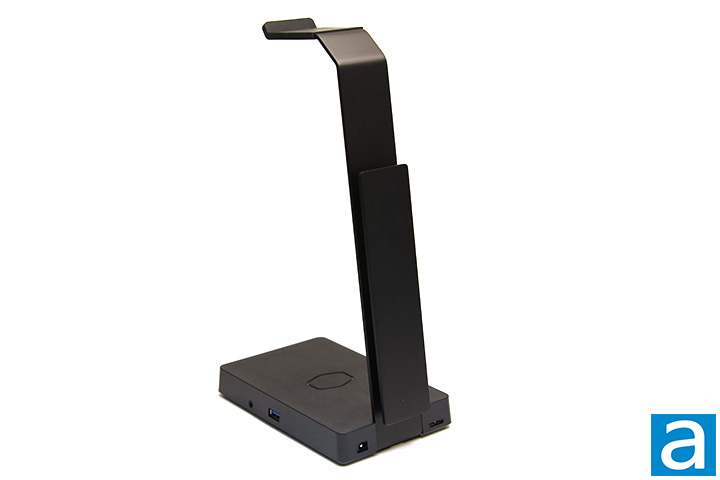 Turning the Cooler Master GS750 around, and you will see the cable management wrap-around. The wrap-around is elongated along the back of the aluminum arm to complement its sleek and minimalist design. On this side of the base shown, you will find another USB 3.1 Gen 1 Type-A port, just like the other side. What is different, however, is the 3.5mm headphone/microphone combination jack next to it. The GS750 has a built-in sound card with 7.1 virtual surround sound. At the back, there is a USB 3.1 uplink port for its two USB 3.1 ports and built-in sound card. An included 18W AC adapter made by Channel Well Technology, a well-known power supply OEM, plugs into the DC input.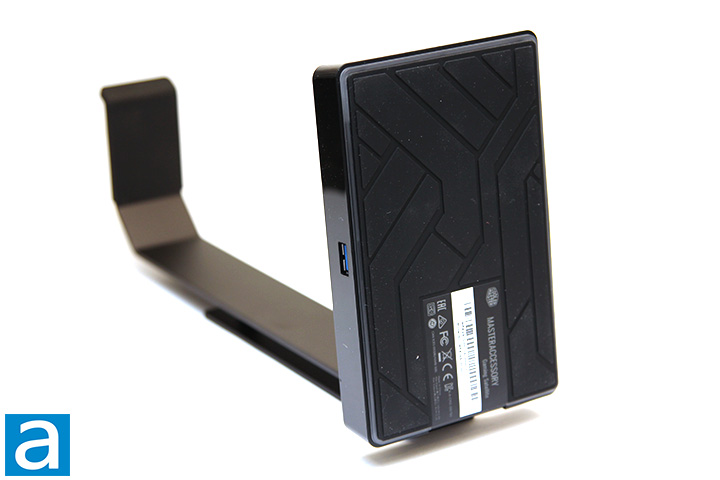 A large piece of black natural rubber covers nearly the entire bottom of the Cooler Master GS750's base; only making room in a small area for the informational label. The textured rubber is thick and provides great grip on solid desks. Peeling off the rubber pad -- held on by some really sticky double-sided tape -- will reveal eight screws, four of which are used to hold the aluminum arm to the base with an additional four to hold the bottom panel in place. The entire bottom panel is actually translucent, but the black rubber pad leaves the perimeter exposed for the RGB LEDs to shine through.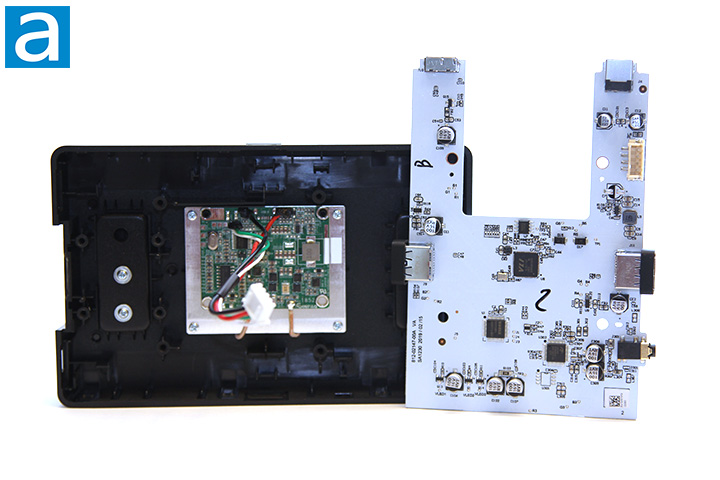 Given we are APH Networks, what better thing is there to do than to tear down a brand new product we just opened? After peeling off the rubber pad and removing eight screws, you will be on your way. Inside the Cooler Master GS750, you will find two printed circuit boards; one of which is the Qi charging base and the other is the mainboard.
The white soldermask mainboard has surface mount components on both sides, where 13 RGB LEDs spread evenly across face the side with the translucent panel. Other electronic components of interest include a Sonix SN32F268FG MCU, which employs a 32-bit ARM Cortex M0 processor in its design. We can also spot a VIA VL817-Q7 USB 3.1 Gen 1 controller. The most interesting component is the audio chip, which is a C-Media CM108B. The CM108B supports 48K / 44.1KHz sampling, and is considered a low end audio codec aimed at the ultra-budget market, so do not expect much from it at all. Personally, I would have preferred something a little nicer. A high end chip costs a few more dollars to the bill of materials, but will dramatically improve the user experience in my opinion.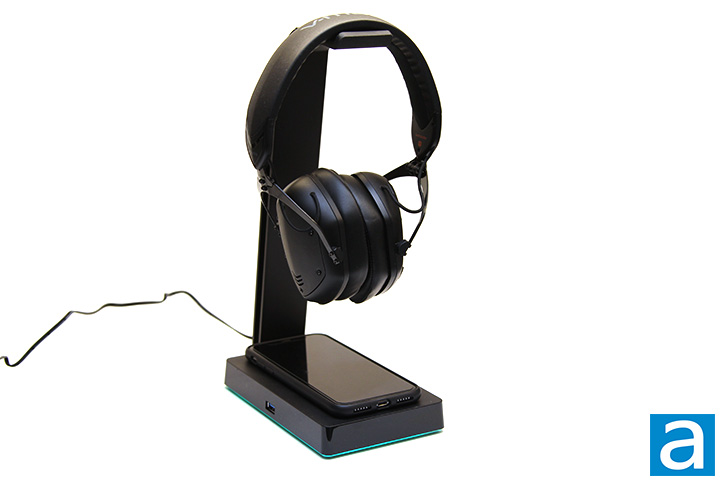 Here is a photo of the Cooler Master GS750 in use. In my opinion, it looks very stylish and modern. I put my V-MODA Crossfade II Wireless on top, and the top of the arm is rubber-lined and bent at the lip to prevent your headphones from sliding off. The base also fit my Apple iPhone X perfectly. As aforementioned, The GS750 supports Qi fast charging of up to 7.5W for Apple and 10W for Samsung phones. When active, the LED perimeter will switch from the user's preset effect to breathing green to indicate charging activity.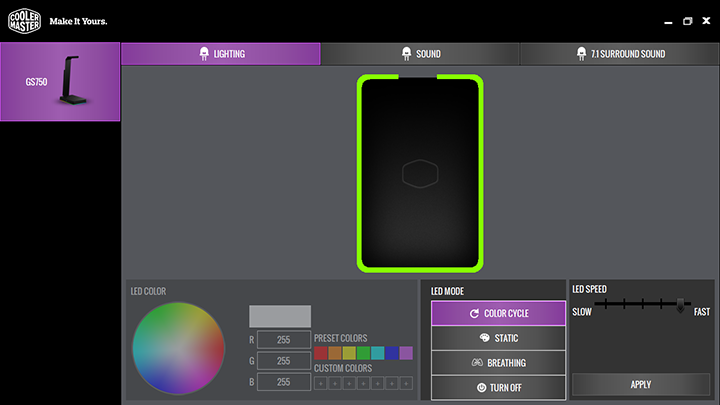 The Cooler Master GS750 works along with a version of Cooler Master Portal, which is a 60.7MB download from the company's website at press time. Confusingly, there are two versions of the program with the same name and they work with a different set of products. Once the program opens, it will detect the products you own and download additional content specific for them. The headphone stand firmware can be updated from here as well.
The main configuration window is separated into three tabs, as shown in our screenshot above. The first tab, Lighting, allows you to select RGB lighting effects and colors. The Macro tab allows you to program macros. Sound is where you can adjust sound levels and equalizer settings. 7.1 Surround Sound is where you can set the locations of the virtual speakers. Overall, I found Cooler Master Portal to be basic, but it is very straightforward and easy to use. It is certainly not as powerful as Corsair's iCUE or SteelSeries' Engine, but my overall experience was positive.
-----------------------------------------
Will the GS750 make an impact that we will remember it for more than just its ability to hold headphones? Even if you look at the specifications sheet alone, the answer is a solid "yes". It has an integrated Qi fast wireless charging pad, 3.5mm headphone/microphone jack with virtual 7.1 surround sound, and two USB 3.1 Type-A ports to make it a qualified central hub for everything audio-related on your desk. It even has a stylish software-customizable RGB LED illuminated perimeter at the bottom that changes to indicate phone charging activity. Of course, even without these auxiliary features, the Cooler Master GS750 is still a very good headphone stand in its own right. It holds headphones as promised, and the clean, minimalist design looks great with any modern setup. This is not to mention its aluminum arm and plastic base are solidly built and feels durable. There are a few areas to make the GS750 even better in my opinion. Firstly, add some USB Type-C ports. Secondly, LEDs at the top or the back along the arm with a diffuser would make it amazing for ambient lighting effects. Thirdly, the CM108B audio codec should be swapped for something better performing. Lastly, it should have a hardware button to toggle the RGB effects, or at least a power switch to turn the LEDs on or off. Overall, for $80 MSRP at press time, the Cooler Master GS750 is a solid headphone stand for those who are looking both quality and features. With all these things in mind, before I end off this review, I would like to honor my friend who passed away last month: He has left behind many reasons to many people to be missed, and that is a life well-lived.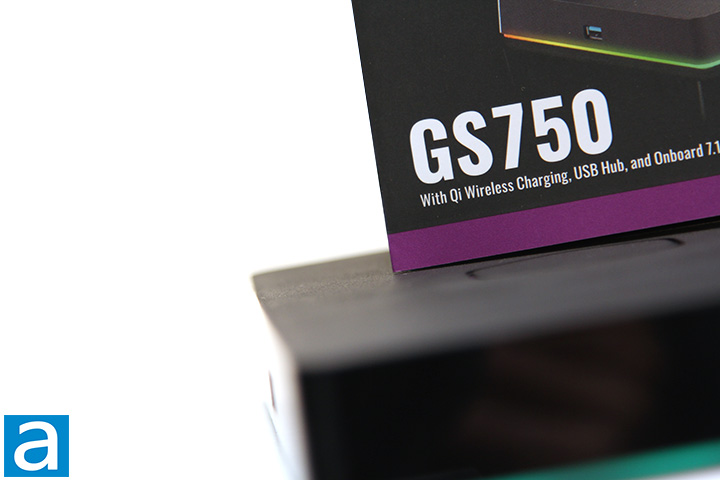 Cooler Master provided this product to APH Networks for the purpose of evaluation.
APH Review Focus Summary:
7/10 means Great product with many advantages and certain insignificant drawbacks; but should be considered before purchasing.
6/10 means A product with its advantages, but drawbacks should not be ignored before purchasing.
-- Final APH Numeric Rating is 6.9/10
Please note that the APH Numeric Rating system is based off our proprietary guidelines in the Review Focus, and should not be compared to other sites.
The Cooler Master GS750 is an attractive looking, solidly built do-everything headphone stand that can even wirelessly charge your phone.
Do you have any comments or questions about the Cooler Master GS750? Drop by our Forums. Registration is free, and it only takes a minute!