By: Jonathan Kwan
June 30, 2017
About a month ago, I listed my parents' old minivan in the local classifieds for sale. Since the minivan happened to be a 2008 Honda Odyssey EX-L, the response was incredible. Being a somewhat experienced seller, you sort of learn to filter out some inquiries to save time. As I am Chinese, let me tell you a little bit about our culture. Old Chinese men have a terrible habit of lowballing people, no matter how reasonable your listed price is. But since I want to give my possibly distant cousin from centuries ago a chance, the first person who came to see the van was an old Chinese man. To nobody's surprise, he tried to offer me $9000 on something I posted for $11500, even after I told him I have tons of interest in the car and I simply do not negotiate with lowballers. (True to my word, I did not bother countering -- I just told him to go home.) Not long after, I sold it to the second guy who came to see it for exactly what I had in mind. But this is not the end of the story. Literally hours after I delivered the Odyssey to its proud new owner, the old Chinese man sent me a text message asking me if I still had the minivan. I laughed and told him I just sold it at the price I wanted. In life, trying to beat the system can result in missed opportunities, and waiting it out does not mean there are second chances, just like the man who tried to offer me $9000. Back in December 2015, I said the V-MODA Crossfade Wireless "combines the best of V-MODA sound quality, durability, comfort, and style with the convenience of wireless freedom". But if you waited out on buying such an incredible product when it first came out, you may be in luck. The Crossfade II Wireless we are reviewing today claims to be an improved version of its renowned predecessor. Is this the second chance you have been waiting for? Read on to find out!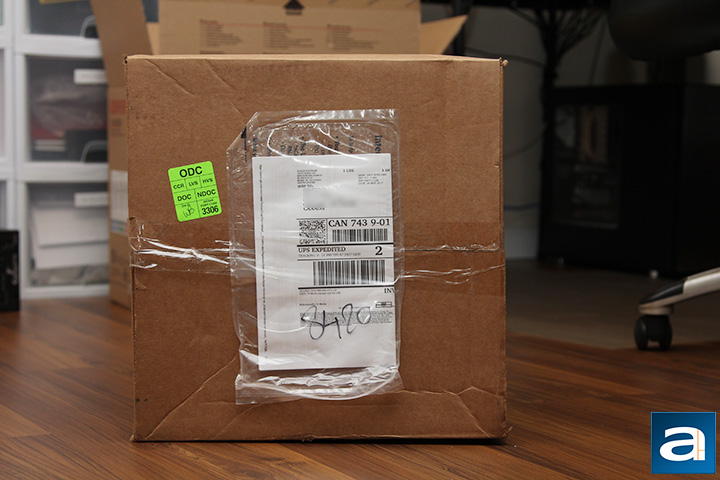 Our review unit of the V-MODA Crossfade II Wireless came in a medium sized, brown corrugated cardboard box from the company's public relations firm in Miami, Florida. Since they are the same people that handles SteelSeries' account, I also received a QcK Prism, which my colleague Aaron Lai covered a few weeks ago. As always, using UPS Standard, everything arrived to us here in Calgary, Alberta, Canada in excellent condition for our review today.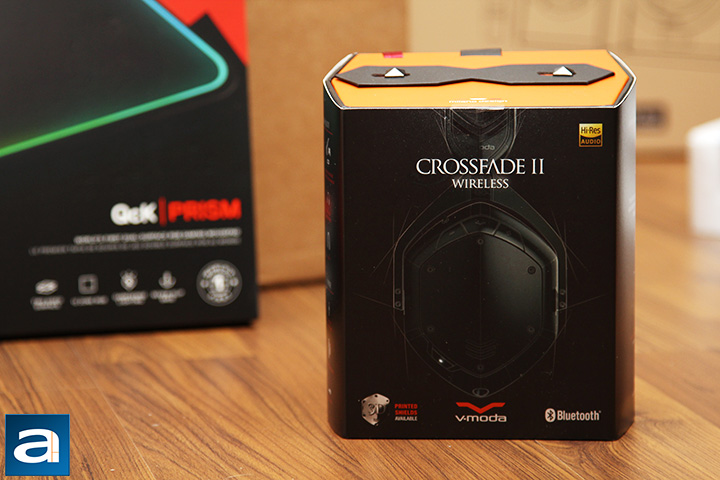 V-MODA has always been a company that is heavy on both style and substance, and with their latest creation, this is evident right from the retail packaging. Those familiar with the company's retail art will understand how the V-MODA Crossfade II Wireless' box is conventional in a sense it does not try to be different for the sake of being different. At the same time, it is unconventional in a sense that it is well designed in its unique details. The thick cardboard walls are constructed into a hexagonal shaped box; with colors well-coordinated in a mix of mainly orange and black shades. In front, you will see a photo of the side of the V-MODA Crossfade II Wireless, as you can see in our photo above. A small icon is placed appropriately near the bottom left corner to indicate custom printed shields are available. In the middle is the company's logo, followed by the Bluetooth logo on the right. A rubber belt at the top is held down by two metal nubs, and holds the packaging shut by a button that snaps into place at the back -- classy. Finally, feature highlights can be found on the remaining sides, along with some press accolades.
Before we move on, let us take a look at the specifications of the V-MODA Crossfade II Wireless, as obtained from the manufacturer's website:
Type: Over-Ear Circumaural Bluetooth
Drivers: 50mm Dual-Diaphragm (patent pending)
Frequency Response Wired: 5 - 40,000Hz
Headphone Sensitivity: 100 dB @ 1kHz 1mW
Microphone Sensitivity: -42dB @ 1kHz
Impedance: 32 Ω
Weight: 309g (with standard aluminum shields)
Battery Capacity: 430mAh (up to 14+ hours music playback)
Cable: 1-Button Reinforced SpeakEasy™ Microphone 3.5mm cable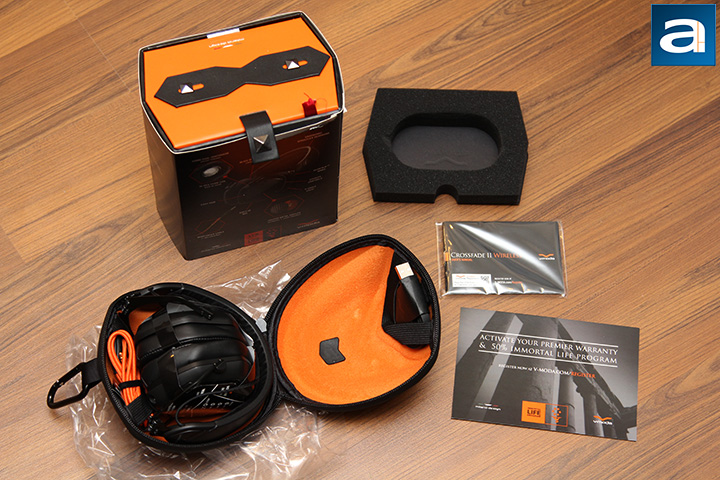 Upon opening the box, you will be greeted by its all black foam padded interior. From a practical standpoint, it protects its contents well. From an aesthetics standpoint, it looks very classy, just the way the company meant for it to be. Out of the box, you will receive the V-MODA Crossfade II Wireless headphones in its zipper case, detachable cable with integrated microphone and remote, flat USB charging cable, gold plated 3.5mm to 1/4" adapter, and some product literature. It does not come with a whole lot of accessories, but it does come with all the necessities. Having stuff like an OEM hard case -- which the company calls the Exoskeleton Case -- is absolutely invaluable for those who plan to take the Crossfade II Wireless out the front door of their house. Not only does it keep your $330 headphones safe, but I also found the case is just as fashionable as the headphones itself with its all black, custom molded exterior and soft orange interior. The latest case has been slightly revised with two vents to keep your headphones from smelling bad as a result of your sweat. In case you are asking, yes, it even comes with a clip, and it fits in the palm of your hands.
---
Page Index
1. Introduction, Packaging, Specifications
2.
Physical Look - Hardware
3.
Subjective Audio Analysis
4.
Conclusion