By: Jonathan Kwan
December 11, 2015
A story was told of a bunch of English scientists digging down a kilometer into the ground, and found traces of copper wires a thousand years old. For this, they came to the conclusion their ancestors had a telephone network a millennium ago. In response to that, Scottish scientists, not to be outdone by their English counterparts, dug two kilometers down, and found traces of fiber optic cables dating back to the time of Jesus. As such, the Scottish scientists concluded their ancestors already had high speed internet a thousand years before the English. The following week, Irish scientists, not to be outdone by either the British or the Scottish, made headlines on UK newspapers. Having dug five thousand kilometers below the ground, they found absolutely nothing, came to the conclusion their ancestors were already using wireless communication technology five thousand years ago. Now, we all know where this story is getting at, but I think it brings up an interesting side point: Humankind has always had the affinity for wireless technology for as long as electricity was discovered. In fact, as early as the late 1800s, Nikola Tesla experimented with wireless power transfer and the possibility of wireless communication systems. Is it because wireless is more reliable than wired transmission? No. Is it because it delivers better performance? Far from that. But the sheer mystery -- and convenience -- of moving energy through the air has always carried a drive of superiority against its tethered counterparts to continue to inspire us to invest lots of time and money in this area. A few months ago, we reviewed the V-MODA Crossfade M-100, a brilliant over-ear headphones that sounds great, looks great, and feels great. Today, we will take a look at the Crossfade Wireless, which, as its name suggests, is a wireless version of the Crossfade M-100. Designed to operate over Bluetooth for an extra $30 over its wired counterpart, have we found a winner of a winner? Before we begin, let me just point out one thing: Unplugging your Crossfade M-100 will not turn it into a Crossfade Wireless, but plugging in your Crossfade Wireless will sure make it a Crossfade M-100.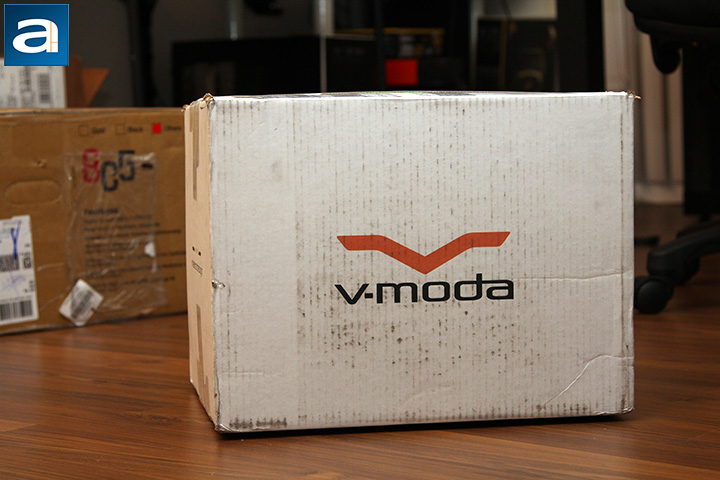 When V-MODA asked me to review the Crossfade Wireless back in mid-September, I was excited. However, while I knew I was on the media list, I actually had no idea when it was coming. After waiting for almost two months, the day came, and it finally arrived. When I saw the big, white V-MODA branded corrugated cardboard box in our offices here in Calgary, Alberta, Canada, I was excited. Like, really excited. A couple of other products came in on the same day, but come on -- when a new headphone from one of the most renowned companies in sound lands on our doorstep, everything else glows strangely dim in comparison. I am sorry. Anyway, using UPS Expedited, everything arrived in excellent condition from the company's American headquarters at Los Angeles, California, USA for our review today.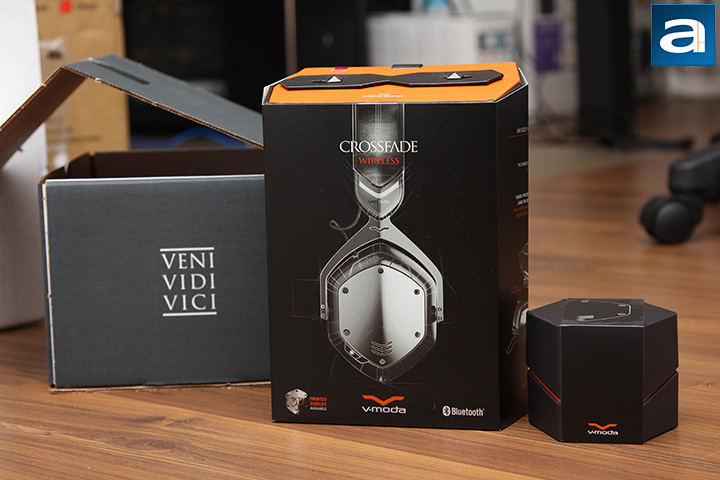 Inside the big white corrugated cardboard box was another box; also V-MODA branded, but black in color. On the side are three Latin words, which you can see in our photo above. Call it arrogance, but I have a lot of confidence when a company like V-MODA prints "Veni Vidi Vici". We are picky audiophiles here at APH, and almost all but their earliest products have done remarkably well in our infamously stringent subjective audio analysis. Shipping box aside, V-MODA has always been a company that is heavy on both style and substance, and with their latest creation, this is evident right from the retail packaging. At first glance, the V-MODA Crossfade Wireless' box is conventional in a sense it does not try to be different for the sake of being different. At the same time, it is unconventional in a sense that it is well designed in its unique details. The thick cardboard walls are constructed into a hexagonal shaped box; with colors well-coordinated in a mix of mainly orange and black shades. In front, you will see a photo of the side of the V-MODA Crossfade Wireless, as you can see in our photo above. A small icon is placed appropriately near the bottom left corner to indicate custom printed shields are available. In the middle is the company's logo, followed by the Bluetooth logo on the right. A rubber belt at the top is held down by two metal nubs, and holds the packaging shut by a button that snaps into place at the back -- classy. Finally, feature highlights can be found on the remaining sides, along with some press accolades.
Before we move on, let us take a look at the specifications of the V-MODA Crossfade Wireless, as obtained from the manufacturer's website:
Type - Over-Ear Bluetooth Wireless Headphones
Frequency Response - 5 - 30,000Hz
Wired Latency - 0ms
Bluetooth - Low-Power CSR BlueCore featuring Hi-Fi ACC+, ACC, MP3, SBC codecs and OTA Flash ROM upgradeable features
Battery - Up to 12 hours music playback (depending on volume/music)
Sensitivity - 107 dB @ 1kHz 1mW
Microphone Sensitivity - -42dB @ 1kHz
Impedance - 30 Ω Weight - 292g (with standard aluminum shields)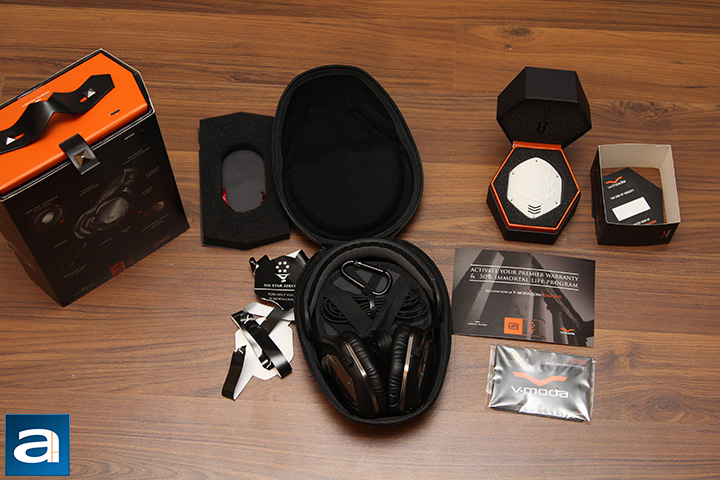 Upon opening the box, you will be greeted by its all black foam padded interior. From a practical standpoint, it protects its contents well. From an aesthetics standpoint, it looks very classy, just the way the company meant for it to be. Out of the box, you will receive the V-MODA Crossfade Wireless headphones in its zipper case, detachable cable with integrated microphone and remote, flat USB charging cable and some product literature. It does not come with a whole lot of accessories, but it does come with all the necessities. Having stuff like an OEM hard case -- which the company calls the Exoskeleton Case -- is absolutely invaluable for those who plan to take the Crossfade Wireless out the front door of their house. Not only does it keep your $300 headphones safe, but I also found the case is just as fashionable as the headphones itself with its all black, custom molded exterior and soft black interior. In case you are asking, yes, it even comes with a clip, and it fits in the palm of your hands.
V-MODA also sent the Crossfade Wireless with a separate custom shield kit. If purchased separately -- for those who already have a pair of compatible headphones -- it will arrive in a classy jewellery box with lots of foam padding, along with a bag of hex screws, as you can see in our photo above. You can also purchase it with your headset via the company's online configurator if you are buying all new.
---
Page Index
1. Introduction, Packaging, Specifications
2.
Physical Look - Hardware
3.
Subjective Audio Analysis
4.
Conclusion