By: Jonathan Kwan
September 11, 2015
"I do not want a Honda Civic," my friend explained to me. "Everyone has one." Being a former owner of a Honda Civic, "everyone has one" was precisely the reason why I got one. It is popular because it is a great car, otherwise if I wanted to avoid being too mainstream, God forbid, I would end up with a Mitsubishi Lancer. The Honda Civic has always been the poster child for a great balance between affordability, reliability, and driving engagement; this is not to mention the sheer number of it running on the streets mean parts are incredibly easy to find. Leave it stock and put on a regular license plate, and you can probably get away with parking at a mall near university to go to class, because no one will recognize your car... not that I have done that before. Of course, owning a great car everyone has does not mean we have to resort to ubiquity, and I am not talking about ricing it up with a fart can and a big spoiler at the back. I think the concept of owning a great product, without making outlandish modifications just to be different, is something we can all appreciate, and V-MODA understands that. The Crossfade M-100, along with the XS, has gained almost unanimous praise in audiophile world in the past few years; being both good looking and good sounding all at the same time. However, the company recently took it a step further, and they now allow you to order custom designs to give it a personal touch. Configurable with 3D printed shields available in fiber, aluminum, stainless steel, and precious metals using standard gallery designs or even your custom image (Spoiler: V-MODA actually 3D printed our website logo onto our Crossfade M-100 shield), will these headphones approach a new level of perfection in both acoustics and aesthetics? Read on to find out!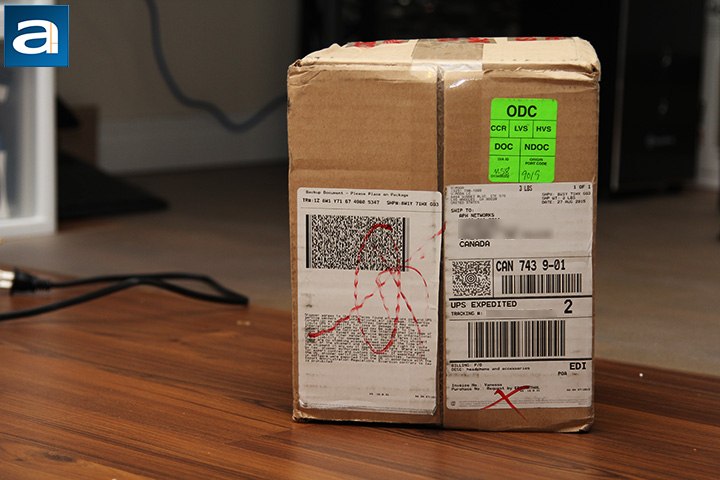 Our review unit of the V-MODA Crossfade M-100 arrived in a medium sized, brown corrugated cardboard box from the company's American headquarters at Los Angeles, California, USA. UPS was the carrier; the Expedited service has always been faithful in getting things to us here in Calgary, Alberta, Canada in one business day. I think using a box for shipping was quite an upgrade from the somewhat beat up bubble envelope we got the V-MODA XS in last year. That said, it did not keep the customs from getting curious about its contents; they cracked open our OCZ Trion 100 480GB I reviewed last week, too. Anyway, in my XS review, I said I was so excited, I literally slipped and fell on the floor when the product arrived on our doorstep. This time around, I did not slip and fall, but the only reason was because I did not exactly know what V-MODA was sending us. Sometimes, the best way to contain excitement is just ignorance.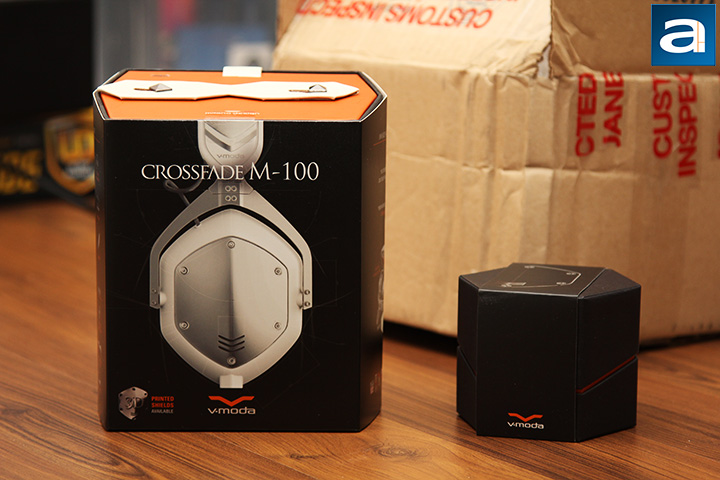 V-MODA has always been a company that is heavy on both style and substance, and with their latest creation, this is evident right from the retail packaging. At first glance, the V-MODA Crossfade M-100's box is conventional in a sense it does not try to be different for the sake of being different. At the same time, it is unconventional in a sense that it is well designed in its unique details. The thick cardboard walls are constructed into a hexagonal shaped box; with colors well coordinated in a mix of mainly orange and black shades. In front, you will see a photo of the side of the V-MODA Crossfade M-100, as you can see in our photo above. A small icon is placed appropriately near the bottom left corner to indicate custom printed shields are available. In the middle is the company's logo. A rubber belt at the top is held down by two metal nubs, and holds the packaging shut my a button that snaps into place at the back -- classy. Finally, feature highlights can be found on the remaining sides, along with some press accolades.
Before we move on, let us take a look at the specifications of the V-MODA Crossfade M-100, as obtained from the manufacturer's website:
Type: Over-Ear Circumaural
Frequency Response: 5 - 30,000 Hz
Sensitivity: 103 dB @ 1kHz 1mW
Microphone Sensitivity: -42dB @ 1kHz
Impedance: 32Ω
Weight: 280g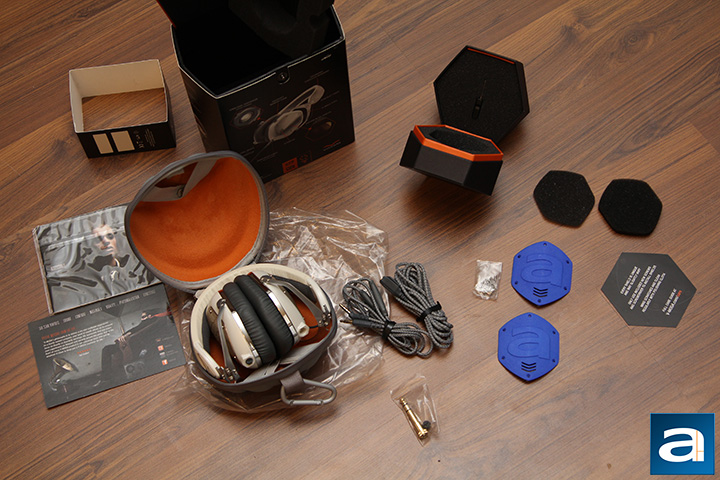 Upon opening the box, you will be greeted by its all black foam padded interior. From a practical standpoint, it protects its contents well. From a aesthetics standpoint, it looks very classy, just the way the company meant for it to be. Out of the box, you will receive the V-MODA Crossfade M-100 headphones in its zipper case, detachable cable with integrated microphone and remote, detachable cable with a 3.5mm passthrough, 1/4" audio adapter, extra nub for filling in the 3.5mm connector (More on this later), and some product literature. It does not come with a whole lot of accessories, but it does come with all the necessities. Having stuff like an OEM hard case -- which the company calls the Exoskeleton Case -- is absolutely invaluable for those who plan to take the M-100 out the front door of their house. Not only does it keep your $270 headphones safe, but I also found the case is just as fashionable as the headphones itself with its grey, custom molded exterior and soft orange interior. In case you are asking, yes, it even comes with a clip, and it fits in the palm of your hands.
V-MODA also sent the Crossfade M-100 with a separate custom shield kit. If purchased separately -- for those who already have a pair of compatible headphones -- it will arrive in a classy jewellery box with lots of foam padding, along with a bag of hex screws, as you can see in our photo above. You can also purchase it with your headset via the company's online configurator if you are buying all new.
---
Page Index
1. Introduction, Packaging, Specifications
2.
Physical Look - Hardware
3.
Subjective Audio Analysis
4.
Conclusion