By: Aaron Lai
January 22, 2021
Consumer electronics trends are always a neat thing to track. It is quite common to see one manufacturer try something and others follow after, especially if their decision is successful or if there is not much backlash due to this change. For example, when Apple removed the headphone jack in 2016 on their iPhone, they lauded their own move as courageous while the competition called it disappointing. However, the trend has clearly been adopted by others, as many flagship mobile devices have no dedicated audio jack. Even more recently, Apple removed the inclusion of a charging brick, and now many cellphone manufacturers are doing the same thing. With computer mice, we have seen many recent examples of ultralight models, including the Cooler Master MM711. The idea is providing gamers with a faster and more agile mousing experience while still offering the same excellent tracking and feel. However, this has also resulted in a hole-filled experience with mice that are missing parts of their enclosure to save weight. While some may not love the aesthetic design of this, the reality is the holey design makes the mouse susceptible to damage from incoming liquids, dust, and other particles. As such, manufacturers have had to adapt with ingress protection ratings to calm the fears of potential buyers. However, what if we were able to have a mouse that still keeps its ultralight design but have a solid shell? ROCCAT has seemed to bring an answer to this question with their Burst Pro, an ultralight mouse without the holey shell. Will this new mouse improve upon a trend, or will there be some backlash? Let us read on to find out!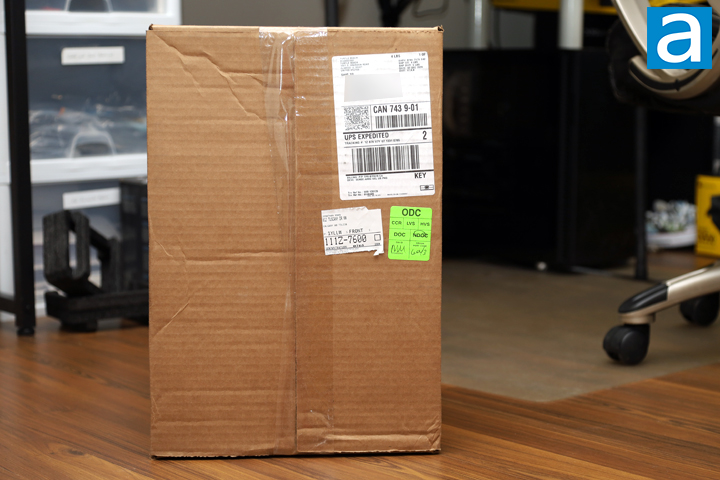 Today's review unit of the ROCCAT Burst Pro arrived from Turtle Beach's shipping fulfillment center in Elwood, Illinois. As you have read in our other ROCCAT reviews, Turtle Beach acquired ROCCAT two years ago, so it is understandable their products are now coming from their American warehouse. Otherwise, the large cardboard box carrying our review units came to us in good condition with no real dents or bruises to be concerned about. There was some packing paper inside to prevent damage to the products. In addition to our Burst Pro, we also received the ROCCAT Sense AIMO XXL, which my fellow editor Hai Wang reviewed earlier last week.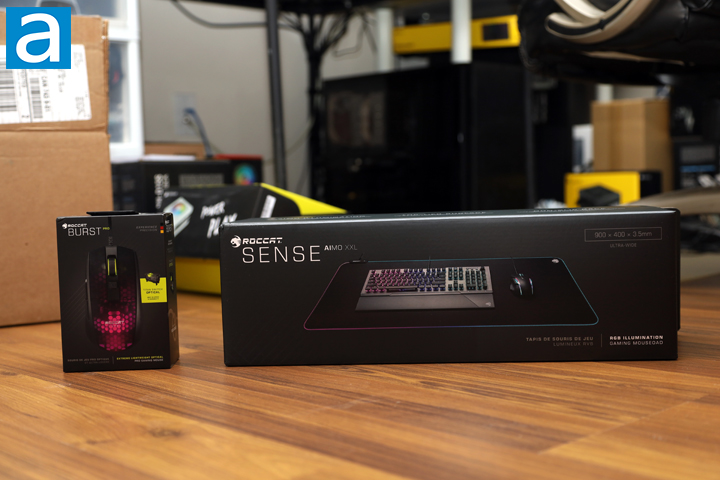 ROCCAT has kept their recent retail packaging quite clean with simple font and a mostly black color scheme. The retail container for the Burst Pro does not change from this formula. The product name and logo can be found on the top left corner with the mouse displayed in the middle. On the left side, the mouse indicates the use of optical Titan switches for this mouse. Furthermore, a product descriptor of "Extreme Lightweight Optical Pro Gaming Mouse" can be found at the bottom in both English and French. Around the box, we have some specifications and features highlighted, but it is kept pretty minimal.
If you are interested, I have obtained the specifications from the manufacturer's website for your perusal:
Sensor
ROCCAT® Owl-Eye optical sensor with 16000dpi
Based on PMW3389
Adjustable lift-off distance
50G acceleration
400ips maximum speed
Mouse acceleration: no
Angle snapping: on/off
General
ROCCAT® Titan Switch Optical
100 million click life-cycle
On-board memory
AIMO illumination - RGB Backlighting and LED lighting effects
ROCCAT® Swarm software suite
ROCCAT® Easy-Shift[+]™ technology
1.8m flexible cable
Dimensions
Height: 3.87 cm
Width: 5.80 cm
Length: 12.00 cm
Weight: 68 g
Compatibility
System requirements: USB 2.0 (or higher), Internet connection (for driver software)
Operating system: Windows® 10, Windows® 7, Windows® 8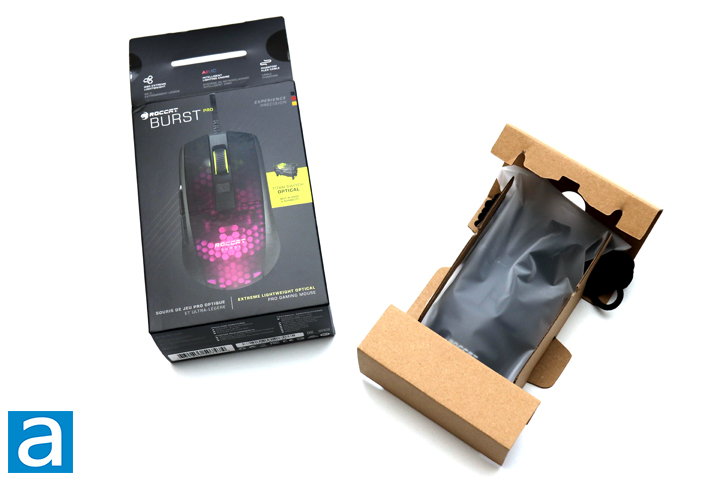 Out of the container, the ROCCAT Burst Pro can be found shielded in a translucent plastic bag and held in an interesting folded cardboard tray. I am not sure why this internal box made me so intrigued, but it held the mouse and its cable in an organized fashion. Otherwise, in addition to the mouse, we also had a clear plastic bag, which includes some documentation and an extra set of Teflon feet to replace the pair already installed on the bottom of the mouse. I really appreciate mouse manufacturers including an extra set of skates, especially as they may wear out faster than the lifetime of the mouse itself. I should note that ROCCAT includes a single year of warranty, which is a bit disappointing compared to the standard two years that I see from competing products.
---
Page Index
1. Introduction, Packaging, Specifications
2.
A Closer Look - Hardware and Software
3.
Subjective Performance Tests
4.
Conclusion