By: Hai Wang
January 15, 2021
About a few weeks ago, our Editor-in-Chief Jonathan asked me if I would want to review a mousepad, and I said yes. Then I told my wife about my upcoming review project. Unsurprisingly, my wife just had a reaction you would expect from anyone who is not a computer enthusiast. She wondered how I would be able to write a multi-page review about supposedly simple things like mousepads. Well, it is fair that for normal office or home use, mousepads can be as simple as some soft material sandwiched between a layer of rubber and a layer of cloth. However, for gamers, their mousepads are a different story. Rumor says gaming mousepads have to have more features than bath mats, otherwise they cannot be considered as gaming gear. Not only do the texture of the gliding surface need to provide the right amount of resistance for precision handling, it also needs to look good. For gamers, winning a game is not everything, as they need to enjoy the time of playing the game. Just like everything else on a set of nice gaming machine, a nice gaming mousepad could also have RGB lighting to be even qualified as gaming gear. In other words, in this review, I will not only examine how the ROCCAT Sense AIMO XXL provides glide and control experience, but also see how good its RGB lighting functionality really is. If you are curious about the overall performance of this particular product as well, please keep on reading this review!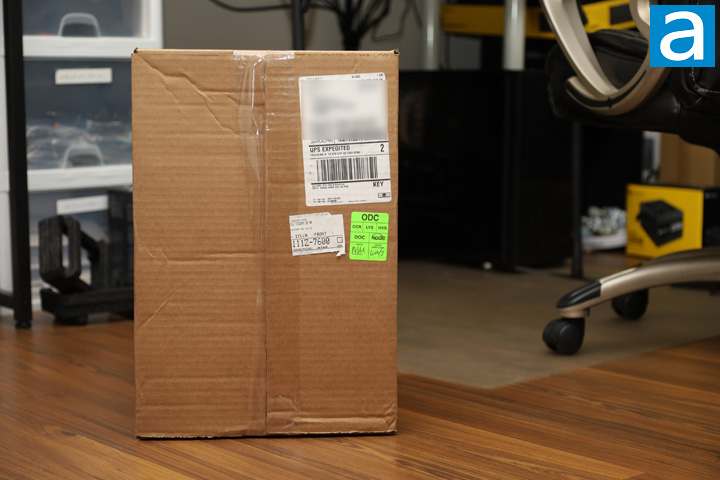 The ROCCAT Sense AIMO XXL was shipped from a shipping fulfillment center in Elwood, Illinois, USA through UPS Expedited. From the above photo, you can see the shipping box itself was in really good shape. There is no need to worry about the items inside the box. Aside from the Sense AIMO XXL mousing surface, this shipment also contained the ROCCAT Burst Pro gaming mouse, which will be reviewed by fellow editor Aaron Lai.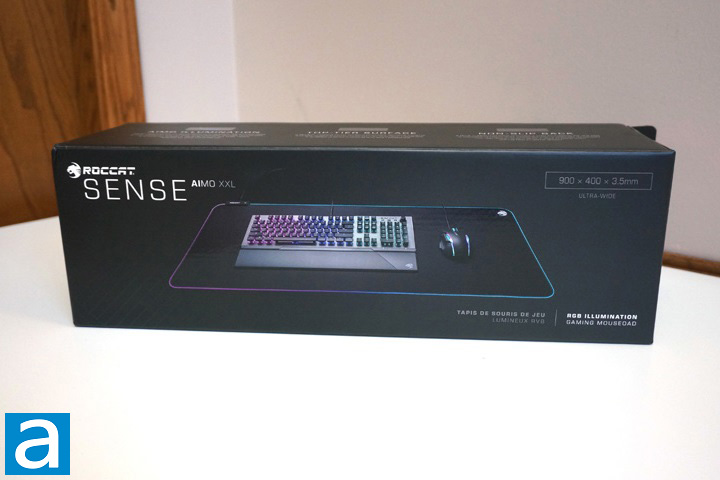 I always believe a good retail box design is essential to allow the product to be commercially successful. This is especially true for shelf-displayed computer accessories. A particular product is stocked with dozens of other products of the same kind on the shelf. As such, the retail box needs to persuade potential customers to choose itself over other competitors. A good retail box design should convey the information of the design language, or the uniqueness, of the actual product, such that the customer's attention can be quickly attracted. For the reviewed mousepad, the actual product's photo with a set of ROCCAT gaming keyboard and mouse on it is nicely located in the middle of the box. Even without opening the package, customers can find how large the mousepad is relative to a mouse and keyboard. It is worth mentioning that the keyboard has a decent amount of distance away from the mousepad's left edge, while it still seems to have lots of room for mouse movement. If you do not feel the photo is tangible enough to tell you how large the mousepad is, the dimension information is also on the top right corner of the front. Other useful information, such as features of the product, are summarized and shown on the top side of the retail box. Overall, the retail box design of this mousepad is great. It can attract customers' attention at first glance and it also allows the customer to find out its actual size effortlessly.
Before we move on to see what is inside the box, let us take a look at the specifications from the manufacturer:
Specifications
- RGB illuminated mouse pad with light guide technology
- 2 individually controlled RGB zones
- AIMO illumination - RGB Backlighting and LED lighting effects
- Detachable braided cable
- Soft cloth mouse pad with excellent speed/control balance
- Anti-slip rubber on bottom side
- ROCCAT Swarm software suite
- Width: 900mm
- Height: 400mm
- Thickness: 3.5mm
- System requirements: USB 2.0 (or higher), Internet connection (for driver software)
- Operating system: Windows 10, Windows 7, Windows 8
---
Page Index
1. Introduction, Packaging, Specifications
2.
A Closer Look
3.
Subjective Performance Tests
4.
Conclusion