By: Aaron Lai
January 3, 2020
While I am looking forward to what we see in the world of technology for 2020, I will turn back time to a mistake I made in the last fall of last decade. One evening, I decided it was a perfect time to drink tea and play some video games. I grabbed a French press and combined boiling water with some loose-leaf Cream of Earl Gray tea. One thing I did not realize was the fact this tea contained a high amount of caffeine according to the packaging. I lost track of time while it was steeping, so it was actually an hour later before I finally started drinking my tea. By this time, I downed two cups of now cold dark liquid and kept playing games with my friends. Halfway through the game, I suddenly started feeling nauseous with a dizzying headache that made gaming unbearable. My friends were chatting to me on Discord, asking me why I felt dizzy and I replied back thinking it was the game. It was not until I looked at the French press when I realize that I was on my third cup of tea at 11PM. I laughed out loud as my friends were confused and then joined in laughing in my mistake as I explained it to them. Unfortunately, I this mistake also meant I was awake until 5 AM. I stayed at home the next day to recover. I have never been hungover before, but I can only imagine this just a glimpse of how it felt. When we received the Cooler Master MM710, one thing that I would have liked to see was RGB lighting, especially as it might make a nice effect with the hole design at the back. Fast forwarding to today, this is exactly what we have with the Cooler Master MM711. With this seemingly being the biggest change between the two models, is this going to be a preferable addition or a mistake? I guess we will see, so grab your favorite hot beverage and find out with me!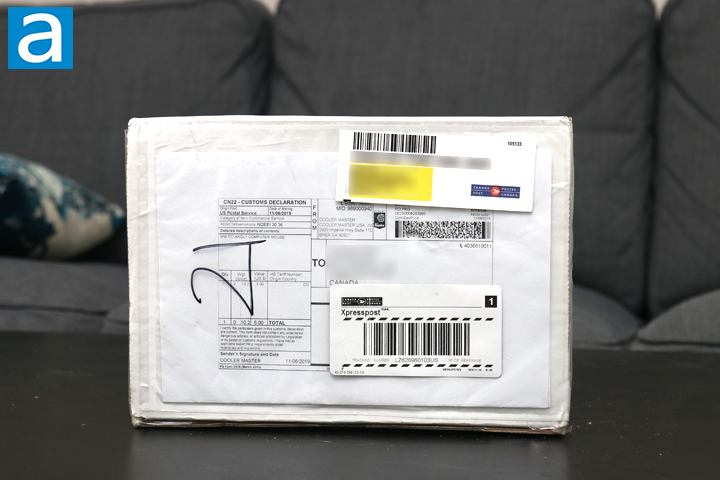 Our review unit of the Cooler Master MM711 arrived from Cooler Master's offices down in Brea, California. Traveling via United States Postal Service and Canada Post operating in their respective countries, this box arrived in pretty good condition with no dents or bruises to be concerned about. The white corrugated cardboard box and brown packaging paper did its job in protecting the contents of this parcel, which is solely the MM711. I grabbed a pair of scissors and proceeded to open up this box.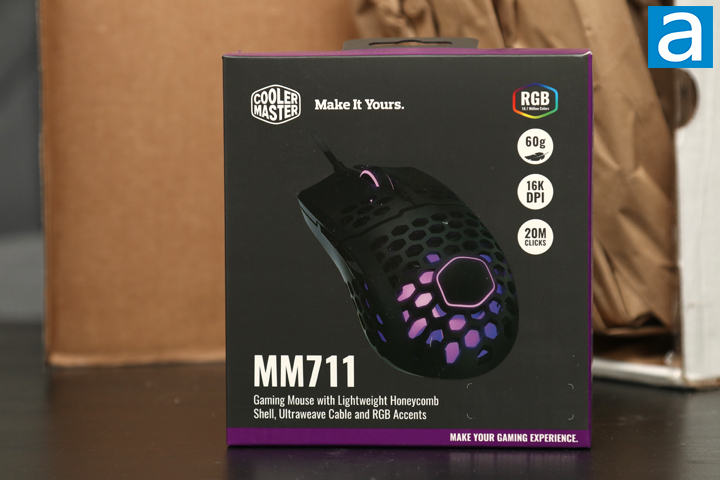 The retail packaging of the Cooler Master MM711 looks a bit different from the MM710. Cooler Master keeps their purple color, but adds gray in the background. This is probably to create a better contrast with the lighting on the mouse on the photo at the front. Cooler Master's logo and tagline of "Make It Yours." is shown at the top left corner with the model name and description of "Gaming Mouse with Lightweight Honeycomb Shell, Ultraweave Cable and RGB Accents". While they may not believe in the Oxford comma, I think these highlights some of the major points of the MM711. Other specifications are found at the top right corner, and we will explore these later on. Around the sides and back, we have more information about the mouse inside with different languages. Otherwise, we can continue with our unboxing of the MM711.
Before doing so, I have obtained the specifications from the manufacturer's product page for your viewing pleasure:
PRODUCT NUMBER: MM-711-KKOL1, MM-711-KKOL2, MM-711-WWOL1, MM-711-WWOL2
MOUSE GRIP TYPE: Claw, Palm, Fingertip
MOUSE MATERIAL: ABS Plastic
MOUSE FEET: PTFE
MOUSE COLOR: Black, White
SURFACE TREATMENT: Matte, Glossy
MOUSE LEDS: Yes, RGB on wheel and logo
MOUSE SENSOR: PixArt PMW3389
CPI / DPI: 7 Levels (400, 800, 1200 (default), 1600, 3200, 6400, 16000)
MOUSE TRACKING SPEED: 400 ips
MOUSE LIFT OFF DISTANCE: < ~2mm
POLLING RATE: 1000Hz
ANGLE SNAPPING: N/A
MOUSE ACCELERATION: 50g
MOUSE PROCESSOR: 32-bit ARM Cortex M0+
ON-BOARD MEMORY: 512KB
MOUSE LIFESPAN (L/R SWITCHES): OMRON, 20 million
MOUSE BUTTONS: 6
SOFTWARE: Yes, MasterPlus+ Support
MOUSE CABLE LENGTH: Fixed Ultraweave cable, 1.8m
MOUSE DIMENSION: 116.5 x 62.4 x 38.3 mm / 4.587" x 2.457" x 1.508 " (L x W x H)
MOUSE WEIGHT: <60g
WARRANTY: 2 years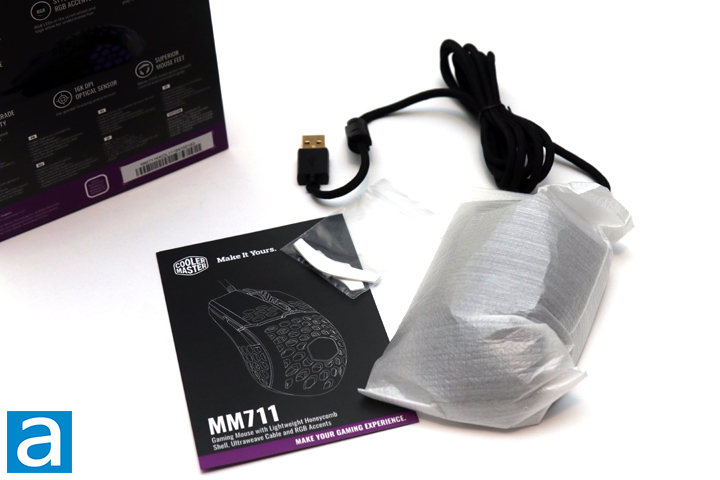 Out of the box, the Cooler Master MM711 comes with a similar packaging with the mouse wrapped in a foam bag to protect it. The cable is tied up in a twist tie. A separate bag includes an additional set of mouse skates so that you can easily replace the ones that come already installed at the bottom. It is nice to see this as these feet can wear out over time. Finally, there is a small piece of documentation highlighting usage and warranty information. Cooler Master offers a two-year warranty on this mouse, which is similar to other manufacturers.
---
Page Index
1. Introduction, Packaging, Specifications
2.
A Closer Look - Hardware and Software
3.
Subjective Performance Tests
4.
Conclusion