By: Aaron Lai
October 27, 2020
If you watch streamers or play video games, you will notice that the games they play spread across many genres. However, one game that has recently been at the top is a game called "Among Us". This game takes the traditional werewolf-like concept and puts it into a multiplayer experience that you can enjoy online with other people. The concept is not a new one, especially as this game has been out since June 2018. In the game, you start as one of two roles. The first is a crewmate and your goal is to finish their tasks while trying to find out the imposters. The other role, the imposter, looks just like any other crewmate, except the goal is to sabotage the setting and kill the other crewmates. The imposters know who the other imposters are, but the crewmates are kept in the dark. During the task process, the crewmates will either come across victims of the assassins or can call emergency meetings to discuss who seems suspect. Overall, I think it is a pretty fun game if you have friends to play with, as the people you play with are what make the game exciting or not. However, finding the imposter is not an easy task. Today, Cooler Master sent us yet another ultralight mouse. While all of the other ones have been using the same physical design and body, today's MM720 looks quite a bit different. Despite being called an ultralight mouse, it is clear from the physical side that we do have a different mouse among us. Does it also possess the same features I appreciated from previous Cooler Master mice in this category or do we have some differences among us? Let us read on to find out!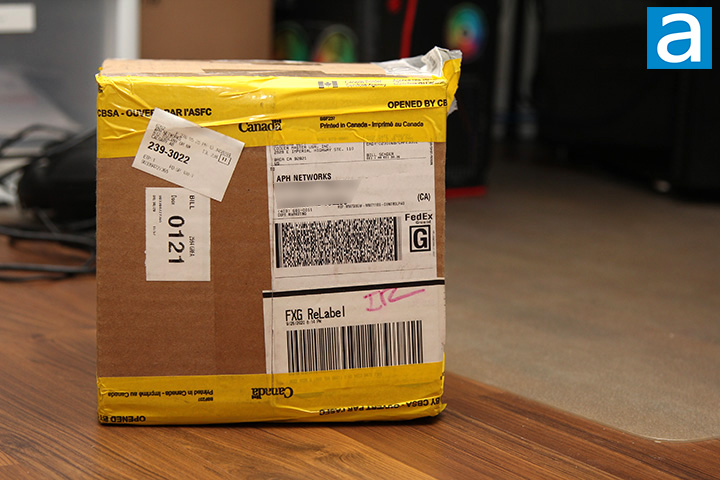 Today's review unit of the Cooler Master MM720 arrived from Cooler Master's offices in Brea, California. Traveling with FedEx and their Ground service, this box arrived to us in pretty good condition with no real issues to speak of. Along with the MM720, Cooler Master also sent us a few other items to review, including the MM711 Blue Steel and ControlPad. Otherwise, there is not much else to speak of, so let us carry on with the unboxing.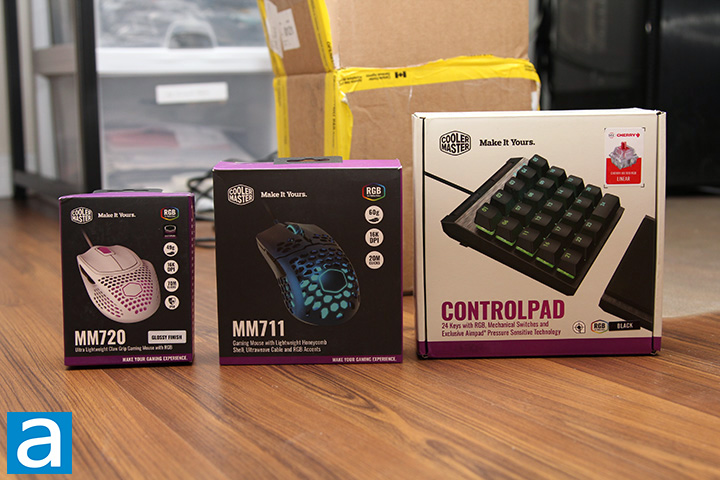 The retail packaging of the Cooler Master MM720 follows very similarly to the MM711. As you can see, Cooler Master keeps their purple and gray color scheme. Cooler Master's logo and tagline of "Make It Yours". is shown at the top left corner with the model name and description of "Ultra Lightweight Claw Grip Gaming Mouse with RGB". In addition, several specifications can be found down the right side. An extra label on the front shows that we have the glossy finish of this mouse today. Around the sides and back, we have more information about the mouse inside with different languages. Otherwise, we can continue with our review of the MM720.
Before I move on, I have grabbed the specifications from the manufacturer's website for your perusal:
PRODUCT NUMBER: MM-720-KKOL1 (Black Matte), MM-720-WWOL1 (White Matte), MM-720-KKOL2 (Black Glossy), MM-720-WWOL2 (White Glossy)
MOUSE GRIP TYPE: Claw, Palm
MOUSE MATERIAL: ABS, PTFE
MOUSE COLOR: Black, White
SURFACE TREATMENT: Matte, Glossy
MOUSE LED BACKLIGHT: 2-zone RGB
MOUSE SENSOR: PixArt PMW3389
CPI / DPI: 7 Levels (400, 800, 1200 (default), 1600, 3200, 6400, 16000)
MOUSE TRACKING SPEED: 400 ips
MOUSE LIFT OFF DISTANCE: < ~2mm
MOUSE POLLING RATE: 1000Hz
ANGLE SNAPPING: N/A
MOUSE ACCELERATION: 50g
MOUSE PROCESSOR: 32 bit ARM Cortex M0+
MOUSE MEMORY: 512 KB
L/R MICRO SWITCH: LK optical micro switch, 70M
ENCODER: LK optical encoder
MOUSE BUTTONS: 6
MOUSE CABLE LENGTH: Fixed Ultraweave cable, 1.8m
SOFTWARE: Yes, MasterPlus+ Support
MOUSE DIMENSION: 105.42 x 76.52 x 37.35mm
MOUSE WEIGHT: 49g/0.108lbs
WARRANTY: 2 years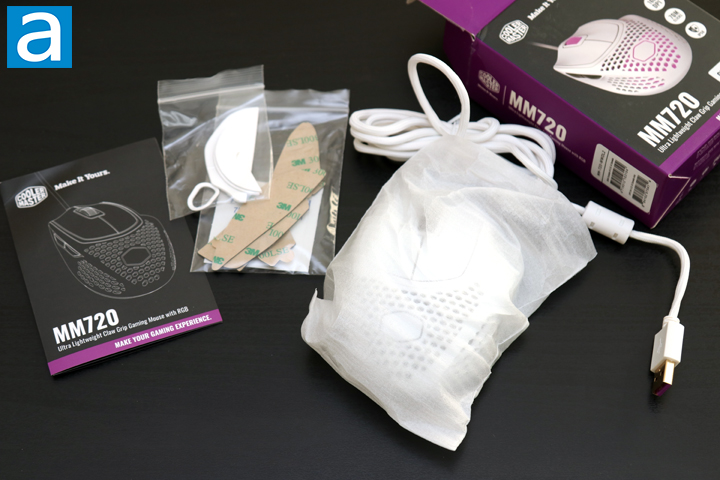 Out of the box, we have the Cooler Master MM720 in a foam bag. This is done so to protect the mouse from any scuffs or damage as well as preventing things from getting into the mouse. The box also includes some extra PTFE feet to replace the skates on the bottom of the mouse after prolonged use, as well as some side grips to attach to the mouse and make it easier to hold. We also have a bit of documentation with the MM720, but there is not much to speak of in this regard.
---
Page Index
1. Introduction, Packaging, Specifications
2.
A Closer Look - Hardware and Software
3.
Subjective Performance Tests
4.
Conclusion