By: Aaron Lai
October 23, 2020
When I was in Grade 1, my teacher was teaching about vowels and the difference between short and long vowel sounds. Just for a quick lesson, long vowels sounds are identified by vowels that sound like saying the letter itself. Conversely, short vowels sounds do not sound like saying the letter. For example, the word "taint" has a long vowel "A" sound in it, while it also has a short vowel "I" sound. My teacher started by asking for student names that had different vowels in it to identify the vowel sounds. She started with the letter A, so someone immediately called out my name. She wrote out my name on the whiteboard and after a moment of thinking, she quickly erased it. "No, Aaron cannot be used, it's a special case". Obviously, she was referring to the fact the name "Aaron" exhibits neither the short or long vowel A sound. As you already know, Aaron is pronounced more like Air-in, rather than A-A-Ron, but this is probably due to the name's Hebrew and Greek origins. However, as a six-year-old, I just thought the teacher was calling me a special case, so I stayed quiet during this class. As I laugh at this moment in my past, it is quite normal nowadays to find special editions of existing products. Most of these variants are just color differences, but sometimes they can include some other extras or accessories. Today, we have yet another Cooler Master MM711, except this time in a limited edition colorway of Blue Steel. Is there anything else this mouse brings to the forefront or is this just a different variant? Let us read on to find out!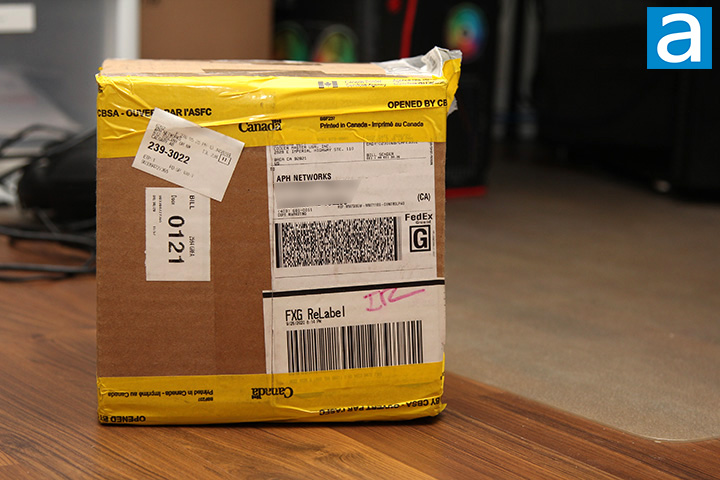 Today's review unit of the Cooler Master MM711 Blue Steel arrived from Cooler Master's offices in Brea, California. Traveling with FedEx and their Ground service, this box arrived to us in pretty good condition with no real issues to speak of. Along with the MM711, Cooler Master also sent us a few extra things, including the MM720 and ControlPad, which will be reviewed in the coming months. Otherwise, there is not much else to speak of, so let us carry on with the unboxing.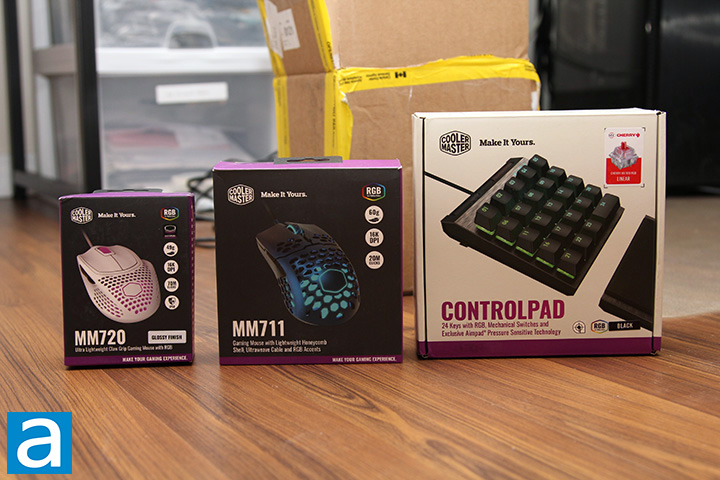 The retail packaging of the Cooler Master MM711 Blue Steel looks exactly the same as the MM711. Cooler Master keeps their purple and gray color scheme. Cooler Master's logo and tagline of "Make It Yours." is shown at the top left corner with the model name and description of "Gaming Mouse with Lightweight Honeycomb Shell, Ultraweave Cable and RGB Accents". As expected, these points highlight some of the major features of the MM711. Other specifications are found at the top right corner, and we will explore these later on. Around the sides and back, we have more information about the mouse inside with different languages. Otherwise, we can continue with our review of the MM711 Blue Steel.
Before we continue, I have grabbed the specifications from the manufacturer's website for your viewing pleasure:
PRODUCT NUMBER: MM-711-MBOL1
MOUSE GRIP TYPE: Claw, Palm, Fingertip
MOUSE MATERIAL: ABS Plastic
MOUSE FEET: PTFE
MOUSE COLOR: Metallic Blue
SURFACE TREATMENT: Metallic Finish
MOUSE LEDS: Yes, RGB on wheel and logo
MOUSE SENSOR: PixArt PMW3389
CPI / DPI: 7 Levels (400, 800, 1200 (default), 1600, 3200, 6400, 16000)
MOUSE TRACKING SPEED: 400 ips
MOUSE LIFT OFF DISTANCE: < ~2mm
POLLING RATE: 1000Hz
ANGLE SNAPPING: N/A
MOUSE ACCELERATION: 50g
MOUSE PROCESSOR: 32-bit ARM Cortex M0+
ON-BOARD MEMORY: 512KB
MOUSE LIFESPAN (L/R SWITCHES): OMRON, 20 million
MOUSE BUTTONS: 6
SOFTWARE: Yes, Cooler Master MasterPlus (PER. Only) Support
MOUSE CABLE LENGTH: Fixed Ultraweave cable, 1.8m
MOUSE DIMENSION: 116.5 x 62.4 x 38.3 mm / 4.587" x 2.457" x 1.508 " (L x W x H)
MOUSE WEIGHT: <60g
WARRANTY: 2 years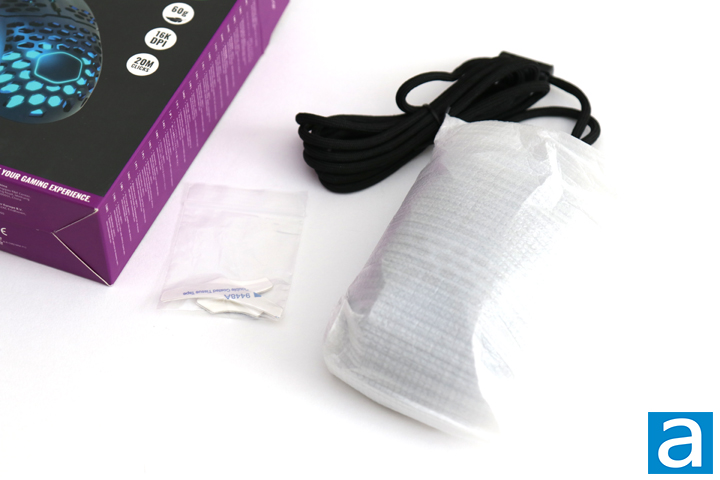 Out of the box, we have the Cooler Master MM711 Blue Steel in a foam bag. This is done so to protect the mouse from any scuffs or damage as well as preventing things from getting into the mouse. The box also includes some extra PTFE feet to replace the skates on the bottom of the mouse after prolonged use. We also have a bit of documentation with the MM711 Blue Steel, but there is not much to speak of in this regard.
---
Page Index
1. Introduction, Packaging, Specifications
2.
A Closer Look - Hardware and Software
3.
Subjective Performance Tests
4.
Conclusion