By: Aaron Lai
February 17, 2023
I was recently at work when my coworker showed me an email my company had sent out to the employees in another city. Apparently, there was a geese control issue, as the birds would gather around the entrances of the office and settle there. The animals would become aggressive in defending their home. While any pest activity can definitely become a serious issue, the next things I read made me truly laugh. First of all, they hired external contractors to rid of them in a humane way, which translated into using flashbangs and lasers to scare them. Furthermore, it was noted the geese could learn from these scare tactics, so they needed the element of surprise and would execute this randomly through the day. As this was a testing phase, they mentioned this would last for five to six months. Finally, the email finished by saying this problem could last for several years before the geese will be eradicated. It was truly a great read, as I imagined some people hiding in trees and throwing out flashbangs while pointing at the birds with laser pointers. I can understand the need to tell employees about this, especially as they could potentially walk into friendly fire while trying to enjoy their lunch. However, the situation seemed so out of the ordinary and the solution seemed even more so. Nowadays, it is almost expected most memory comes with some aluminum heatsink at a minimum with RGB LED lighting almost being an expectation. However, that is not the case with Crucial and their memory, as we have the CT2K16G52C42U5 DDR5-5200 2x16GB kit today. Devoid of any lights or heatsink may be out of the ordinary for users now, but what happens when it runs in our testing? We have looked at their DDR5-4800 kit before, so how does this increase to DDR5-5200 speeds affect its performance? Let us read on to find out!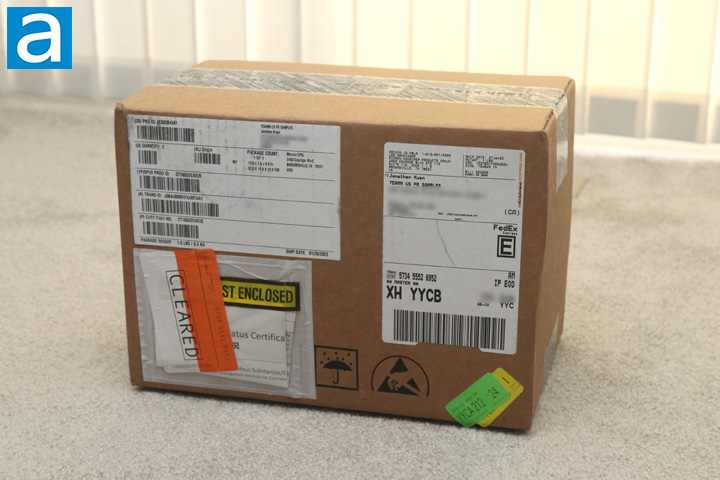 Our sticks of memory arrived from Brownsville, Texas, USA. Brownsville is far from other Micron offices, but this is where Avant Technology is located, which Micron partners with. Traveling with FedEx and their International Priority service, this brown box arrived in excellent condition with no bumps or bruises on the outside to be concerned about. It was a bit surprising to see such a large box for a pair of memory modules, but everything was cushioned well with lots of packing paper inside.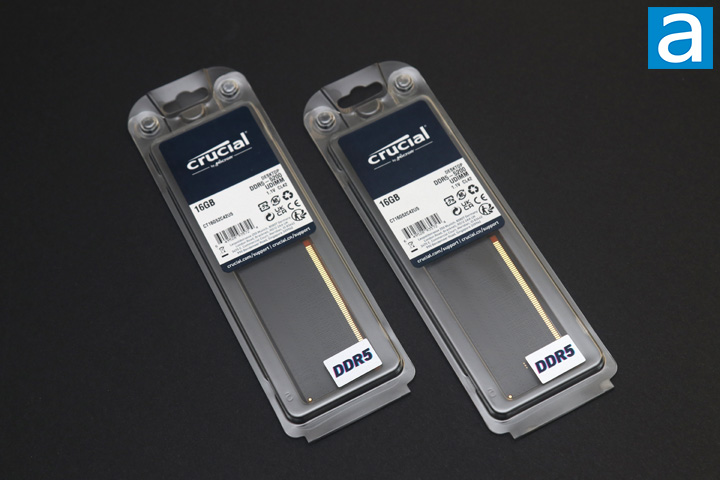 Out of the box, you can see we have the two sticks of DDR5-5200 memory each packed individually in their own clear clamshell case. Crucial actually sent us two sticks of their individual CT16G52C42U5, but we will be testing them together. The set would normally come in a single plastic shell if they were a kit. There is nothing else in these packages, which is not too surprising considering what we have today.
Before we continue, I have grabbed the specifications from the manufacturer's website for your perusal:
Technology: DDR5
Speed: DDR5-5200
PC speed: PC5-41600
Density: 32GB Kit (16GBx2)
Module type: UDIMM
DIMM type: Unbuffered
CAS latency: 42
Extended timings: 42-42-42
Voltage: 1.1V
Kit Qty: 2
Warranty: Limited Lifetime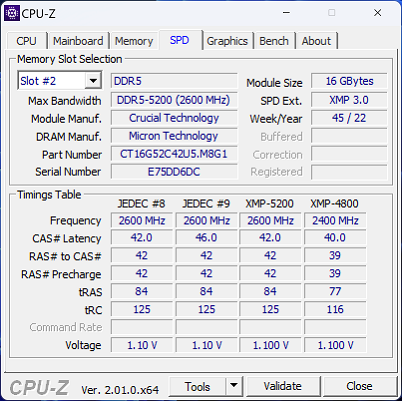 A screenshot of the memory tab in CPU-Z with the Crucial CT2K16G52C42U5 DDR5-5200 set installed. The SPD timings table in CPU-Z reads standard JEDEC specifications programmed into the memory as well as XMP data for running the memory at various speeds. Our ASUS ProArt Z690-Creator WiFi motherboard used for testing had no issues detecting and working with the Crucial RAM right out of the box using the latest BIOS revision. Individual Crucial CT16G52C42U5 DDR5-5200 16GB sticks have a retail price of $75, while the CT2K16G52C42U5 DDR5-5200 2x16GB kit retails for approximately $143 at press time.
---
Page Index
1. Introduction, Packaging, Specifications
2.
A Closer Look, Test System
3.
Benchmark: AIDA64 CPU
4.
Benchmark: AIDA64 FPU
5.
Benchmark: AIDA64 Memory
6.
Benchmark: PCMark 10
7.
Benchmark: 3DMark
8.
Benchmark: PassMark PerformanceTest 10
9.
Benchmark: SuperPI 1M, Cinebench R23
10.
Overclocking and Conclusion