By: Aaron Lai
May 20, 2016
After my last exam in my undergraduate degree, I decided it would be a good idea to celebrate. Along with another friend who had finished her last exam, and some other friends, we went to a small bubble tea cafe. As we were all hungry, we decided to order some wings in addition to bubble tea. When I saw the price however, I almost had second thoughts about ordering them. With an average price of about 62 cents per wing Canadian, or about five cents US nowadays, I was a bit confused at why they would charge so much for so little. To give some background, the last time I went for wings, we ended up ordering one hundred wings split among eight people. They were practically two-bite wings, and were only 35 cents each. Thus to think such these same wings would be charged at a little less than two times the cost, I was rather surprised. We ended up ordering 32 wings among the four of us, thinking we could order more if we wanted. It was not until we received our order was I glad we stuck to the amount we ordered. While I was expecting bite-size wings, we received plates of relatively massive wings. Thankfully I had some hungry hippos friends, so finishing it was not too bad. As for myself, I learned a commonly taught lesson, and that is to not judge a book by its cover. While we may have preconceived expectations of certain things, sometimes it takes actually seeing, or eating in this case, before making any such judgement. When we received today's review unit of the CRYORIG C7, I had to heed my own advice in reviewing this product. Boasting a small footprint but better performance than a stock cooler, the bar is not exactly set high. But will its performance make me more amazed than even I would have expected? Let us read on to find out!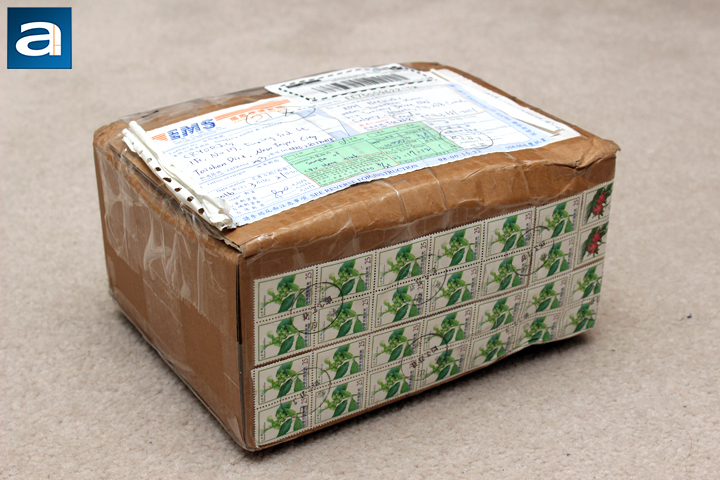 Today's review unit of the CRYORIG C7 arrived from New Taipei City, located in northern Taiwan. This should not be confused with Taipei City, although they are direct neighbors. In fact, looking at a map reveals New Taipei City surrounds Taipei City. At approximately four million residents, New Taipei City is the fifth densest municipality in Taiwan. As for today's box, it seems like the shipper put all their stamps on the side of the box to get it to our APH Networks offices in Calgary, Alberta. I have actually never seen this many stamps all on one box, and it was quite hilarious to see such an array. Traveling with Express Mail Service, or EMS, our review unit arrived at the Canadian borders, where it was transferred and delivered with Canada Post. The box is not in great condition, but thankfully it is packed with a lot of packing material to ensure the product inside is in good condition.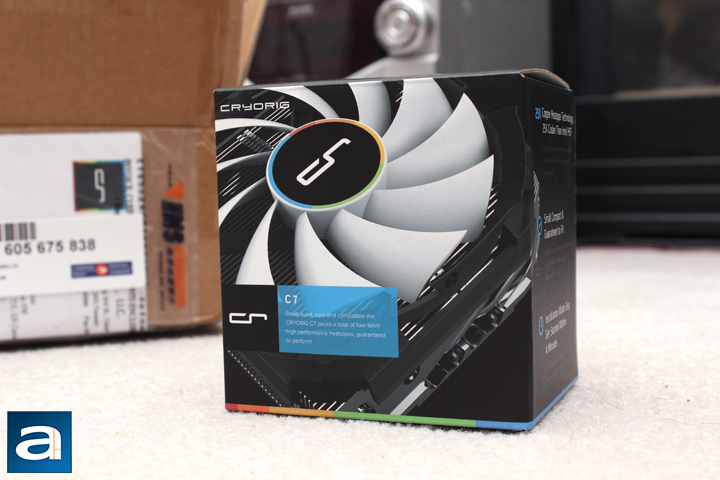 Pulling the CRYORIG C7 out of the box, we can see the retail container for this cooler. The front of the box shows the small cooler. The overall color theme follows CRYORIG's black and white look, with some rainbow accenting. The front also shows the CRYORIG logo, the product name, and a small description of the CPU cooler. Around the box there are some features and specifications, but the box is pretty clean and simple. Promising a 25% performance increase from the Intel stock cooling, a guaranteed fit in any case, and an easy to install cooler are just some of the claims CRYORIG makes about the C7. We will actually see how it actually stacks up later in the review.
Before continuing on, we can peruse the features and specifications, as obtained from the manufacturer:
Heatsink Specification
- Dimension (with fan): 97 mm x 97 mm x 47 mm (L x W x H)
- Weight (with fan): 357 g
- Weight (without fan): 295 g
- Heat pipes: 6mm heatpipe x 4 units
- Fin: T = 0.4 mm; Gap = 1.2 mm
- Fin Pcs: 57 pcs
- Copper Base: C1100 Pure copper nickel plated
- RAM Height Limit: Limitless
- TDP: 100 W
Fan Specification
- Dimension: 92 mm x 92 mm x 15 mm (L x W x H)
- Weight: 62 g
- Rated Speed: 600 ~ 2500 RPM ±10 %
- Noise Level: 30 dBA
- Air Flow: 40.5 CFM
- Air Pressure: 2.8 mmH2O
- Ampere: 0.2 A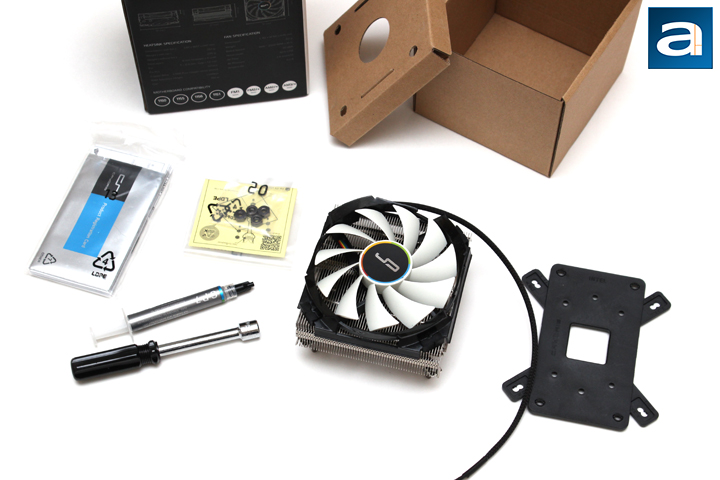 CRYORIG has packed their C7 quite well into such a tiny container, with very little wasted material. While I really like the way other manufacturers pack their CPU coolers, there is something nice about seeing an efficient use of materials, and CRYORIG has done just that. Out of the box, we have the C7 itself, placed on top of the plastic backplate. A small tool similar to a socket wrench is included to install the cooler, along with a tube of CRYORIG's CP7 thermal paste. Finally, a set of washers is included if the included backplate interferes with components on the back of the motherboard. Finally, a user manual and product registration information card is included. CRYORIG includes a standard three year warranty with the C7, but registering your product will give you three more years of extended warranty for a total of six years of coverage.
---
Page Index
1. Introduction, Packaging, Specifications
2.
Physical Look - Hardware; Installation
3.
Test Results
4.
Conclusion