Page 3 - Test Results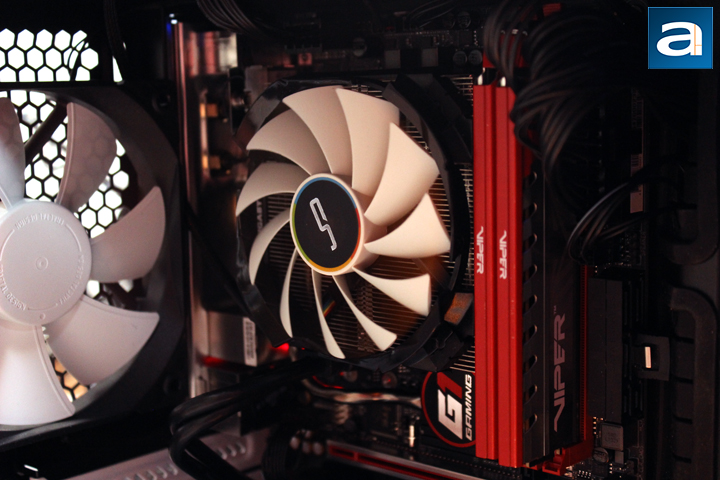 Our test configuration is as follows:
CPU: Intel Core i5-6600K (Stock settings)
Motherboard: Gigabyte GA-Z170N-Gaming 5
RAM: Patriot Viper Elite PC4-24000 2x8GB
Graphics: Integrated
Chassis: Fractal Design Define Nano S
Power: FSP Hydro G 850W
Storage: Patriot Ignite 480GB
Operating System: Microsoft Windows 10 Professional x64
Compared hardware:
- CRYORIG C7
- Noctua NH-L9x65
- Intel Stock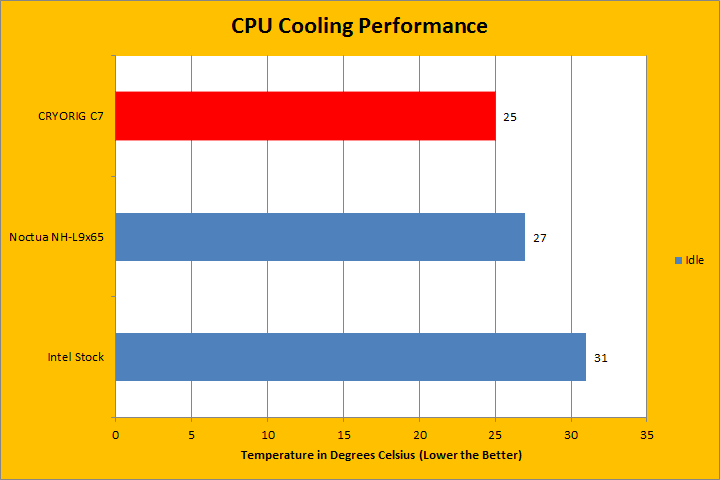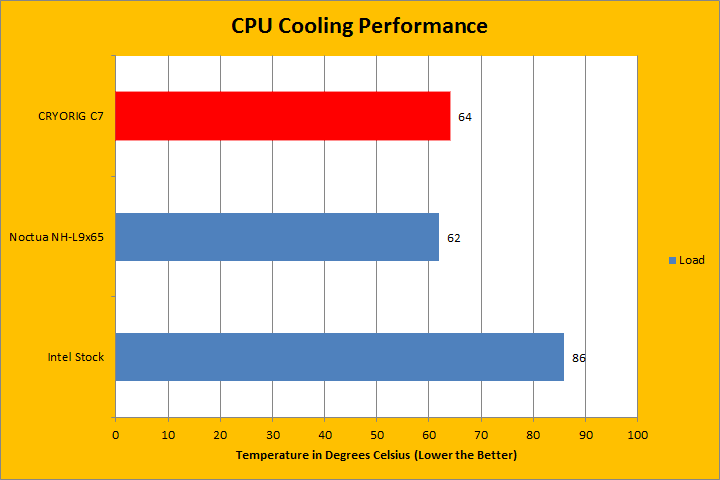 All tests were run in our custom built computer to best reflect real life performance. The computer remained in the same location in the same room throughout all tests. The room temperature in our testing lab was around 24c. Stock thermal paste respective to all coolers were used to rate its performance; all pastes were given a proper amount of time for them to fully settle. The fans on all heatsinks were directly connected to the motherboard's 4-pin connector. Computer was turned on and idling for at least one hour for the idling tests. High CPU load results were obtained using the Prime95 in-place large FFTs test with four worker threads for a minimum of ten minutes or until the temperature was deemed stable. Temperature results were measured with AIDA64, which reports the CPU's integrated digital thermal sensor for maximum accuracy. Each temperature result was calculated by taking the maximum value of the cores inside the CPU.
As the CRYORIG C7 is intended to be a replacement for the Intel Stock fan in a small form factor, we decided to compare it to its closest rival, the Noctua NH-L9x65, in addition to the Intel stock cooler. From the charts above, you can see the idle tests are quite the norm. With an idle temperature of 25c for the CRYORIG C7, it was already 5 degrees Celsius cooler than the Intel stock fan. This was also only a delta of one degree in comparison to the room temperature, which is great to see. The Noctua was relatively close at 27c. However, idle tests did not show the full potential of the cooler, as the processor did not generate much heat from its practically zero workload. Thus we fired up Prime 95 and threw it into full throttle to see what this cooler was actually made of.
In the load test, CRYORIG's claims of a 25% improvement from the Intel stock cooler was definitely true for the C7. At 64c, this represents a 25.5% improvement over the Intel Stock temperature of 86c. This is great to see, as the CRYORIG C7 definitely lived up to the claims set by the manufacturer. When compared with the NH-L9x65, these two mITX mini coolers were relatively close, with the Noctua being cooler by only a difference of 2c. All in all, this is still great, and I am really happy to see this performance from a tiny body.
In our acoustic tests, the CRYORIG C7's fan was a quiet fan. On a scale of 0 to 10, where 0 is silent and 10 is the loudest, I would rate the cooler to be at a 3.0/10 running at full speeds. It was definitely a quiet fan, and this surprised me, as smaller fans can sometimes be louder, due to having to spin faster to compensate for its smaller airflow capacity. Under lighter loads, this cooler's fan was even lower at around 2.0/10 in my personal opinion. I can easily say the rubber padding CRYORIG added to the fan was working, and reduced any vibration and other unwanted noises.
---
Page Index
1.
Introduction, Packaging, Specifications
2.
Physical Look - Hardware; Installation
3. Test Results
4.
Conclusion