By: Jonah Chow
January 27, 2023
I find the concept of twins to be very interesting. Growing up, I knew two brothers who were twins, and it was always interesting seeing the similarities and differences between the two, especially when it came to friend groups. They got along fine, but would stick to their own friends when in a school environment. It was interesting seeing the differences in their career paths, as one chose a degree in electrical engineering while the other chose to pursue medicine. I have not spoken with either of them in a while, but when I do get the chance to see them, it is always a pleasure. It is also interesting seeing movies that are twins with each other. Take John Wick and Nobody for example, two movies made by the same producers about an ex-hit man who comes out of retirement to face down a crime organization. The devil is in the details for these films, as the protagonist of both films are very different in personality as well as character and their motivations are different. Either way though, both are great actions films that have exciting moments and memorable set pieces. It is fun seeing the similarities and differences between these two films. So why did I write this whole piece on twins? That would be because of today's product, the DeepCool LT720, which can be seen as a technical twin to DeepCool's own LS720. How does the LT720 hold up as a twin to the LS720? Let us read on to find out!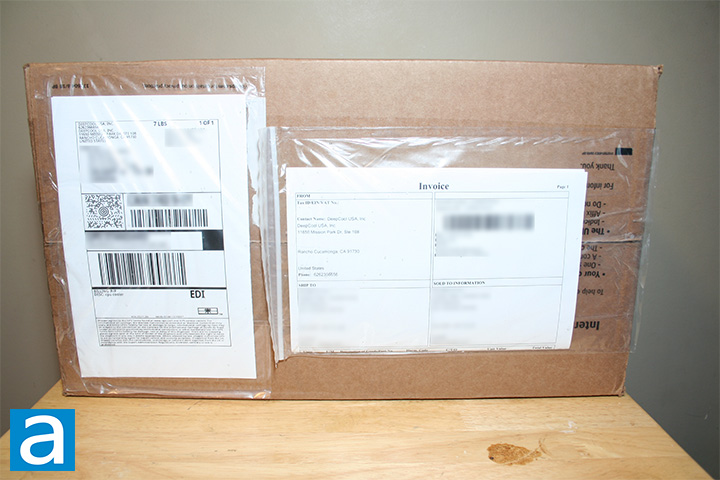 Our review unit of the DeepCool LT720 arrived in a medium-sized brown corrugated cardboard shipping box from their headquarters in Rancho Cucamonga, California, USA via UPS Standard. The liquid cooler arrived here in our offices in Calgary, Alberta, Canada in good condition, with no significant scratches or bruises on the shipping box.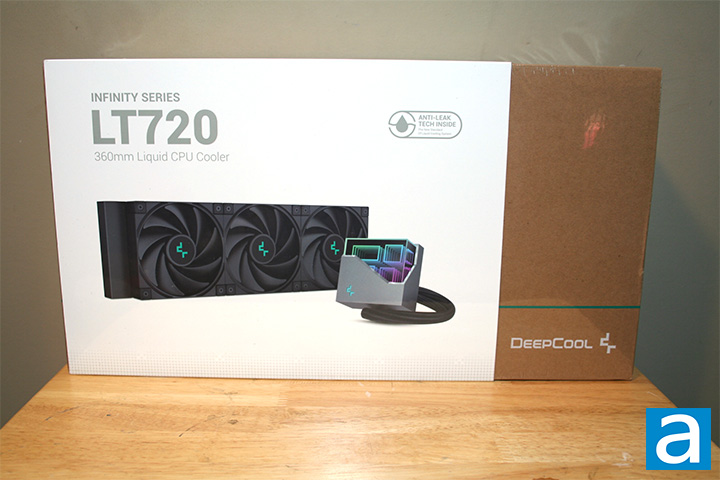 The retail box arrived in nearly perfect condition. The front side of the retail packaging for the DeepCool LT720 is quite bare with very little text, just like many of DeepCool's retail packages. Like with the LS720, this retail box is simply a cardboard box with a white sleeve covering part of it, which gives it a more natural feel as opposed to other companies that print all over their boxes. Most of the product details are on this white sleeve, so I suspect this could be a cost-saving measure as well so DeepCool can continue using the same box for multiple products. The box is clean and does a good job of displaying the cooler. As mentioned earlier, the box uses the simple natural brown color scheme that does not do much to draw attention to itself except for a single thin green line going across near the bottom. The LT720 label is seen at the top with the text "360mm Liquid Cooler" below. I do find it interesting that the name of the cooler has the number "720" in it when this is a 360mm liquid cooler. This cooler is part of the Infinity Series, which is indicated at the top left of the retail box. There is also an anti-leak label located on the front side of the box. The DeepCool logo is located towards the bottom right side. An image of the LT720 is displayed front and center of the white sleeve, showing off the general design of the cooler. The back and sides of the box contain some of the specifications.
Before we move on, here are the technical specifications from the manufacturer's website:
Net Weight: 1856 g
Radiator Dimensions: 402×120×27 mm
Radiator Material: Aluminum
Tube length: 410 mm
Pump Dimensions: 94×80×68 mm
Pump Speed: 3100 RPM±10%
Pump Noise: 19 dB(A)
Pump Connector: 3-pin
Pump Rated Voltage: 12 VDC
Pump Rated Current: 0.38 A
Pump Power Consumption: 4.56 W
Fan Dimensions: 120×120×25 mm
Fan Speed: 500~2250 RPM±10%
Fan Airflow: 85.85 CFM
Fan Air Pressure: 3.27 mmAq
Fan Noise: ≤32.9 dB(A)
Fan Connector 4-pin PWM
Bearing Type: Fluid Dynamic Bearing
Fan Rated Voltage: 12 VDC
Fan Rated Current: 0.22 A
Fan Power Consumption: 2.64 W
LED Type: Addressable RGB LED
LED Connector: 3-pin(+5V-D-G)
LED Rated Voltage: 5 VDC
LED Power Consumption: 3.15 W(PUMP)
EAN: 6933412727927
P/N: R-LT720-BKAMNF-G-1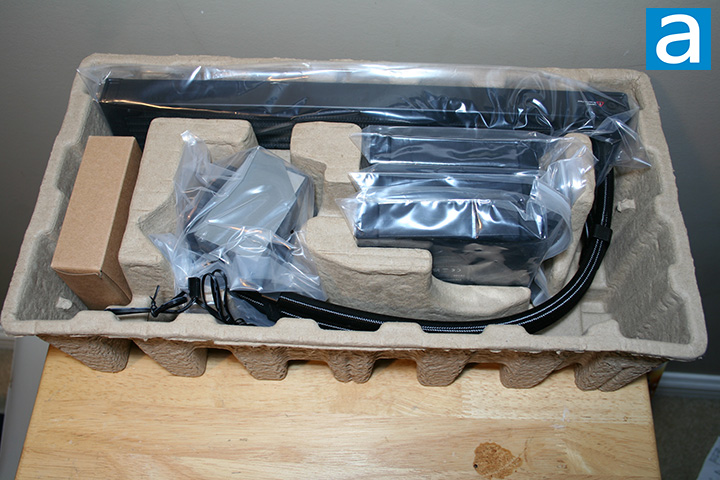 Upon opening the box, we are greeted with the all-in-one liquid cooler and all the typical accessories. We also have three DeepCool fans and all the necessary installation tools for both AMD and Intel sockets. Two physical manuals can be found: One for installation and another for general information. The DeepCool LT720 can support Intel sockets LGA2066/2011-v3/2011/1700/1200/1151/1150/1155 and AMD sockets sTRX4/sTR4/AM5/AM4.
---
Page Index
1. Introduction, Packaging, Specifications
2.
Physical Look - Hardware, Installation
3.
Test Results
4.
Conclusion