By: Jadon Lee
August 21, 2020
A few days ago, a couple of friends of mine and I went on a nice hiking trip. There was a total of five of us and we had all met last summer for the most part. We had some nice conversations along the way as well as some "locker room" talk. Speaking towards the more wholesome conversation, we were talking about how we have generally been dealing with self-isolation. To say it straight, all of us were not taking this season the best we could be. We all knew that this could quite possibly be the best time for personal development, but we are not developing ourselves. Speaking for myself, it felt like I was not willing to change. I felt like I had no reason to try and move forward, but in reality, there are probably many reasons I should improve myself. Like they say, "where there is a will, there is a way." Maybe after our hike, I will have the energy to skip on forward like a knight and his lance, pushing forward past any challenge like a real trooper. I feel like a hike encapsulates this idea by pushing forward despite not knowing why, only to see a beautiful lake at the end of it all here in Alberta. Like each and every single one of us has to keep pushing to improve, companies also have to improve themselves as well. Recently, Durgod has sent over their Taurus K310 mechanical keyboard. After doing a little bit of research, it seems like there are additional features most current manufacturers do not include. If everything I read was correct, it really shows me the struggle that Durgod has had to go through and how they have had to push on through. Will the Durgod Taurus K310 live up to the standard of excellence? Keep reading to find out!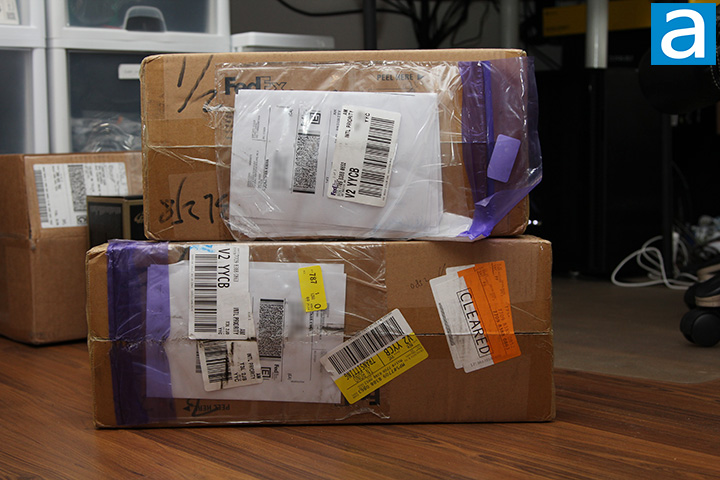 This review sample of the Durgod Taurus K310 came in a rectangular box from Zhuhai, China. This packaged traveled with FedEx International Priority and was packed very well with a thoughtful amount of space necessary. Inside one of the boxes resided the Durgod Taurus K310 we are reviewing today, while the second box contained the Taurus K320. Both arrived in decent condition, having no noticeable marks on the retail box.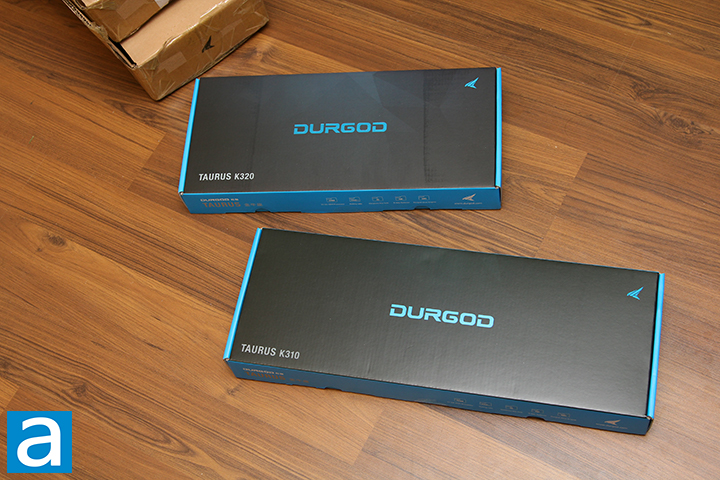 The box design of the Durgod Taurus K310 is quite simple with a black and blue base with white accents, just like the Taurus K320 also shown in the photo above. The Durgod logo is placed on the top right corner of the box while the model is displayed on the bottom left. Durgod is written in blue at the very center of the box. There is nothing much going on here, which is a great thing in my opinion. For a keyboard, a nice and simple box will suffice as placing too much onto the box could be too much haha. The sides of the box display the model name as well as some additional specifications.
Before we continue, here are the specifications for the Durgod Taurus K310, as posted on Durgod's website:
Model: Taurus K310 Mechanical Keyboard
Keycap Material: PBT double-shot keycaps
Dimensions: 438*132.5*24.55 mm (W*L*H)
Weight: 1.06KG
Switch: Cherry MX mechanical switch (Black, Blue, Red, Brown, and Silver)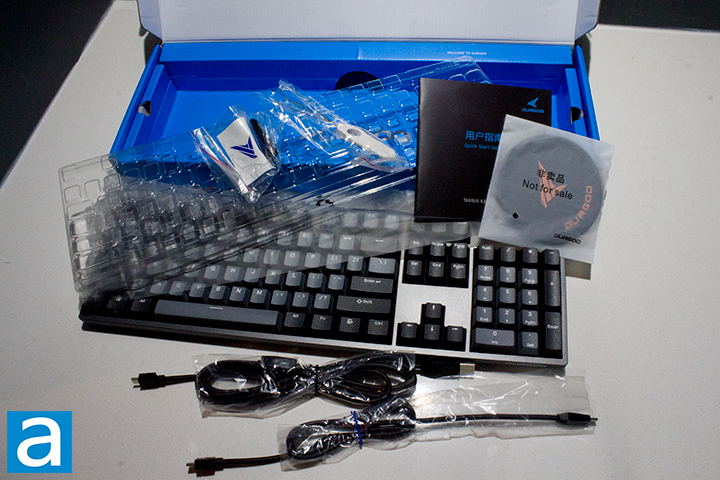 Out of the box, Durgod provides the keyboard itself alongside several additional accessories. This keyboard comes with two different cables. Both cables terminate with a USB Type-C connection on one end, but one ends with another USB Type-C, while the other uses a USB Type-A connection. In addition to this, the Taurus K310 also comes with a cable tie, keycap puller, user manual, and an unexpected coaster. The user manual contains standard information about general setup and function key uses. The Taurus K310 comes with a lot more than I could ever expect, especially with the addition of a very random coaster. I am unsure as to why there is a coaster, but hydration is very necessary, so props to Durgod.
---
Page Index
1. Introduction, Packaging, Specifications
2.
A Closer Look - Hardware and Software
3.
Conclusion