Page 2 - A Closer Look - Hardware and Software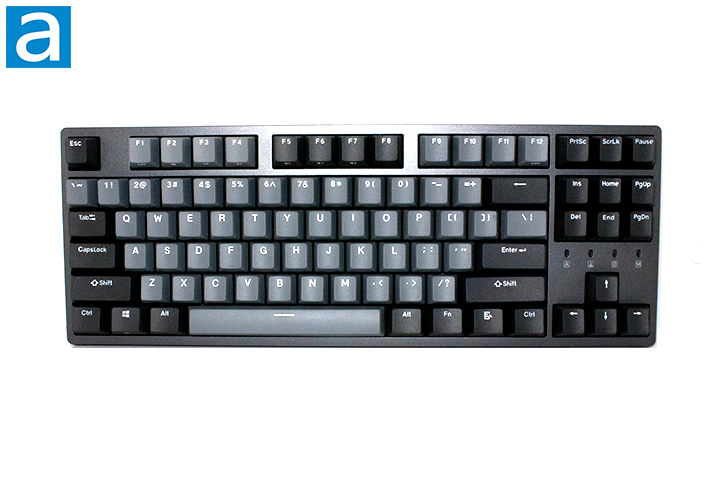 The look of the Durgod Taurus K320 is very traditional compared to many other TKL keyboards with a typical 87-key layout. This standardized layout should mean it will not take long for most users to adapt to this keyboard. I know there are some users who prefer to have the number pad and to them, I say take a look at the Durgod Taurus K310 instead. In terms of the color scheme, our review sample came in Space Grey, which comes with a grey board and fifty... I mean two, different shades of grey for its keycaps. I personally really like this color palette, as grey is my favorite shade. Do note the Taurus K320 comes in different colors or models. The general look of the keyboard looks very clean and minimalistic with nothing sticking out. The keyboard's frame is used to its entirety and has no wasted space. Some other keyboards have a wrist rest to aid and support the typing experience, but unfortunately, the Taurus K320 does not come with a wrist rest. After typing for a long period of time, it would be very handy to have a place to rest my palms.
The Durgod Taurus K320 measures in at 357.5 mm width, 132.5 mm length, and 24.55 mm height. Compare to the Taurus K310, this is 80.5 mm shorter in terms of width. Compared to other TKL keyboards, the Taurus K320 is average in size. In terms of mass, this keyboard weighs in at about 0.9kg, which is also average for a keyboard of these dimensions. Going into the build quality, this keyboard has no flex when pressing into the keyboard. Although the keyboard's exterior is made fully out of plastic, the build is extremely rigid. I tried to twist the Taurus K320, but the keyboard would not budge. It feels more sturdy compared to the Taurus K310, but this is because the Taurus K310 is longer and therefore easier to twist. The build quality of this keyboard is excellent for general use and performance, so there are no concerns for me in terms of durability.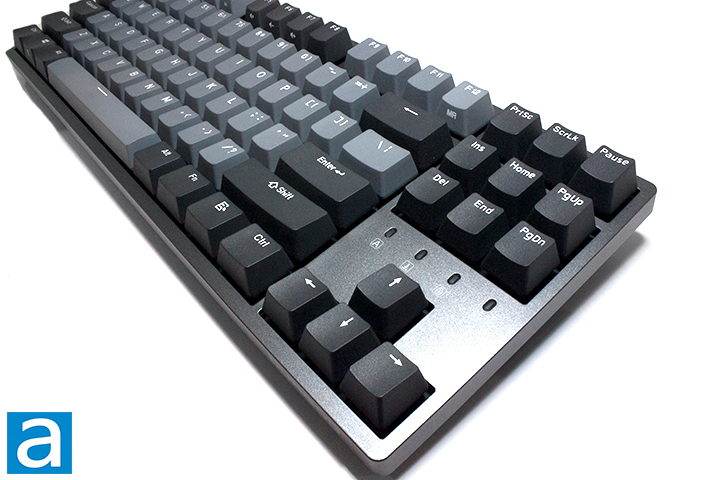 The Durgod Taurus K320 comes with the standard TKL QWERTY ANSI layout. For those of you who do not know what TKL means, TKL stands for tenkeyless and the result is the removal of the number pad. The QWERTY ANSI layout is the standard American keyboard layout, which uses the single row Enter key, as it can be seen in the image above. The keyboard has a standard bottom row, meaning all the keys on the bottom row are the same in size excluding the space bar. Moving to above the arrow keys on the keyboard, we find the indicator LEDs. From left to right, there are four indicator LEDs for Caps Lock, Scroll Lock, Windows Lock, and Switch custom profile, respectively. The font looks very basic, which I personally prefer as it is easy to read.
If you are unfamiliar with different types of keycaps, most keycaps are made out of acrylonitrile butadiene styrene, or ABS plastic. The Durgod Taurus K320 is different in this regard. The Taurus K320's keycaps are made out of the costlier polybutylene terephthalate, or PBT plastic, which is the superior type of plastic for keycaps. These keycaps are a harder type of plastic and will maintain their rougher texture over time. The inclusion of PBT keycaps is something many manufacturers do not include as the cost savings of simply using ABS plastic is quite relevant and not many users know the difference between ABS and PBT plastic. I myself have swapped over to PBT keycaps for a couple of months now and have found a noticeable improvement in the typing experience. It is hard to explain, but the typing experience is more satisfactory when using PBT keycaps as they feel more solid.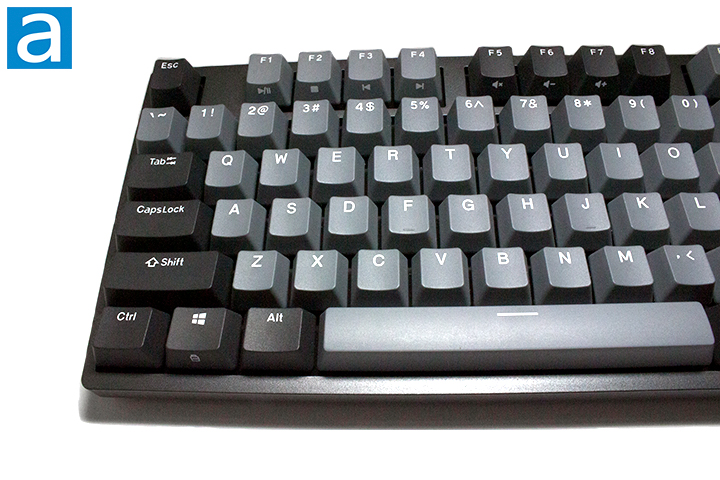 Onward to the secondary functions located on the top Function row, all these functions can be activated using the Fn key positioned next to the right Alt key. Starting from F1 to F4, these keys are used to Play/Pause, Stop, Previous, and Next, in that respective order. Next, we have F5 to F7, which are Mute, Volume Down, and Volume Up in that respective order. Finally, we have F12, which is a more special kind of function. F12 performs a switch in custom profile. To use this function, you will need to install the Durgod Zeus Engine software, which I will take a look at in just a moment.
The Durgod Taurus K320 has full N-key rollover, meaning every single key pressed will register even if they are all pressed simultaneously. This is important as there will be no ghosting issues, where some keys may not be registered. Gamers and fast typers who have fast actions per minute or words per minute will benefit from this, as it will guarantee keys to be all recognized at the same time.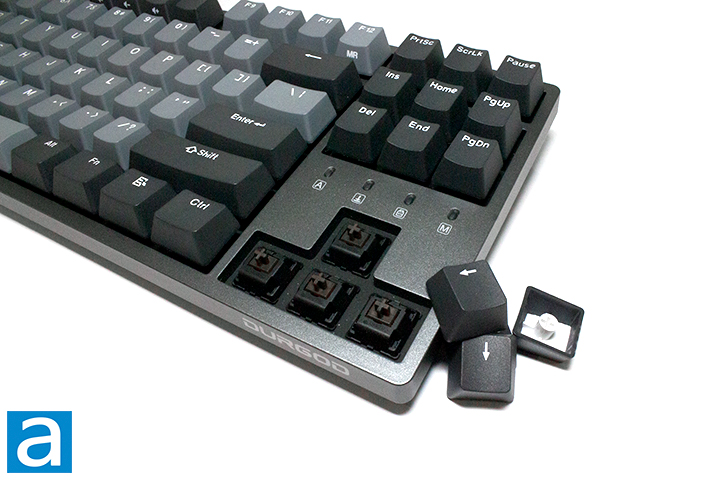 The Durgod Taurus K320 features OEM Cherry MX Black, Blue, Red, Brown, or Silver switches. When taking a look at a popular online retailer, there seems to be an additional option of Cherry MX Silent Red, Silent Black, Speed Silver, White, and Clear switches. Our review sample of the Taurus K320 came with Cherry MX Brown switches. As someone who typically uses Blue switches, I personally really enjoyed using the MX Brown switches. These switches have a 4mm travel distance and a 2mm distance to the actuation point. Cherry MX Brown switches have an actuation force of 55g. As this keyboard is mechanical, the switches are much more solid compare to membrane keyboards. These Cherry MX Brown switches have a smoother and more tactile feel to them, allowing me to know I have pressed a key. Even though this keyboard is being marketed as a gaming keyboard, these switches are more suitable for a typist as the tactile feedback is more useful to them. Gamers generally prefer a lower force, linear switch like the Cherry MX Red, as they can be actuated faster. I had a chance to try other mechanical keyboards here at APH Networks for comparison. After using the Cherry MX Brown switches, I can further comprehend the appreciation for tactile switches.
As I have mentioned previously, this keyboard has basically no flex, which is excellent. During operation, you will be able to clearly hear the Cherry MX Brown Switches. Although the sound will not be as audible as MX Blue switches, the noise from bottoming out the keys is still quite noticeable. When tapping on the exterior of the keyboard, the keyboard felt incredibly solid. One thing to note is the Durgod Taurus K320's traditional look extends to the fact there is no backlight.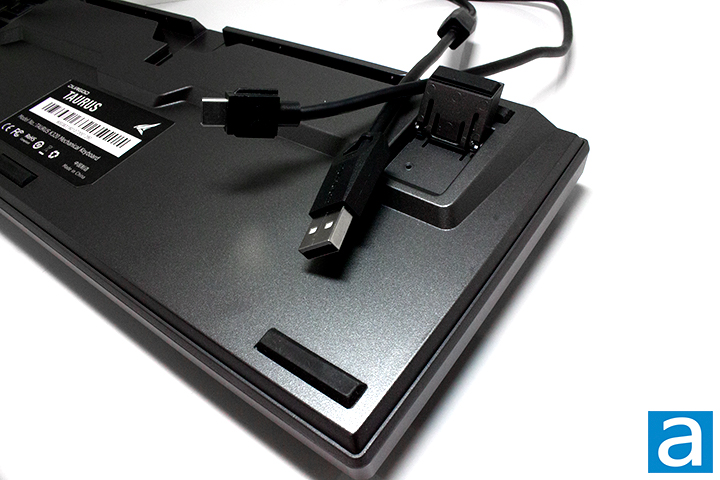 At the back of the Durgod Taurus K320 is a USB Type-C port to plug in your cable. The keyboard comes with two options as stated on the first page and each of the cords extends about 1.8m in length to connect to your computer, using either a USB Type-A or USB Type-C connector. The included cables are designed in a way to simply plug in and stay in place. Personally, I would have preferred if the cable was braided, as a braided cable adds to the durability of the cable itself.
On the bottom, there are four rubber feet on the corners of the keyboard to help keep the keyboard in place. There are also some extending feet with rubber tips on it to raise and prevent your keyboard from sliding. There is a cable guide for you to easily route your cable straight or the top right and left of the keyboard. All of the routes exit through the top side of the keyboard, which is the most optimal position to avoid being in the way of anything. I personally love having a cable guide as I do not like running my cables up the middle of my desk, which gets in the way of my Surface Pro and other items underneath my monitors.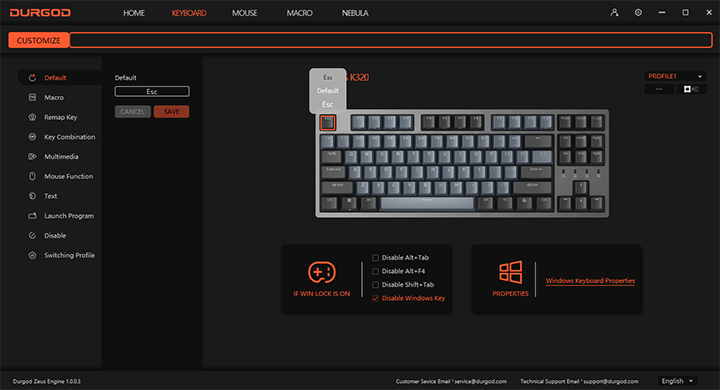 Durgod's Zeus Engine is a 72.8MB from the company's website at press time. Using it will allow you to create macros, remap keys, make key combinations, and more, as you can see in the image above. The software itself is relatively functional and simple to use. If you opt to purchase the RGB variant of this keyboard, you may also control your RGB settings using Zeus Engine. This form of customization can be useful for those who like to tinker.
Taking a look into the functionality of the software under the keyboard section, we have the ability to customize some keyboard settings. Starting off, you can change the Windows Lock functionality by also having the option to disable Alt+Tab, Alt+F4, and Shift+Tab. In addition to this, you have the option to set up macros, remap keys into other keys or even full-on functions, type text with a single key, launch a program, and even disable keys entirely. You can record macros under the macro tab as one would suspect. When recording macros, you are able to record delay or no delay. In addition to delay, you can make the macro repeat as much as you would like it to. You can manually adjust the delay to any specified length. If you opt for the Nebula model, you will be able to access the Nebula tab, which provides RGB customization.
Overall, I found the Durgod Zeus Engine to be very intuitive with many possible use cases for a wide spread of users. Once again, I personally do not have much use for these functions, but I could see many others finding these macros and remapping capabilities very useful for shortcuts. My overall experience with this software was quite positive.
---
Page Index
1.
Introduction, Packaging, Specifications
2. A Closer Look - Hardware and Software
3.
Conclusion