By: Aaron Lai
August 28, 2015
One thing I have noticed about elementary school is the number of hands-on projects teachers give to students. Whether they were dioramas, models, or other artwork, there were always a handful each year. As for myself, I have never been good at art, whether the visual or performance arts, yet I enjoyed the projects. I stopped playing piano when I was in grade three, and I vowed to never touch instruments again. I also recently pulled out a drawer in my basement with all the art projects I did when I was less than five feet high, and I grimaced at how terrible some of my projects turned out. I made a lot of mistakes, and rather than trying to fix or improve the situation, I settled with less than ideal. However, as I get older I realize these artistic skills we developed in our early years are very important. Precision and accuracy, in addition to hand-eye coordination, are involved in many everyday activities. Thus today I still enjoy sketching and playing my ukulele or electric bass, even if it is more casual. As for the products we review, we also want to see a precise, accurate, and polished product. Some products we review may not be as visible on a daily use, such as internal computer components, but we still inspect its looks. If anything is sloppy in build or design, it can translate into bad performance too. But as always, the product should strike a balance between an aesthetically pleasing design and a functionally capable performance. Today's review unit of the EMTEC Stay Earbuds Wireless are quite visually attractive, but what about its performance? Is this one set of wireless earbuds to "stay" with me? This review will aim to answer these questions and more!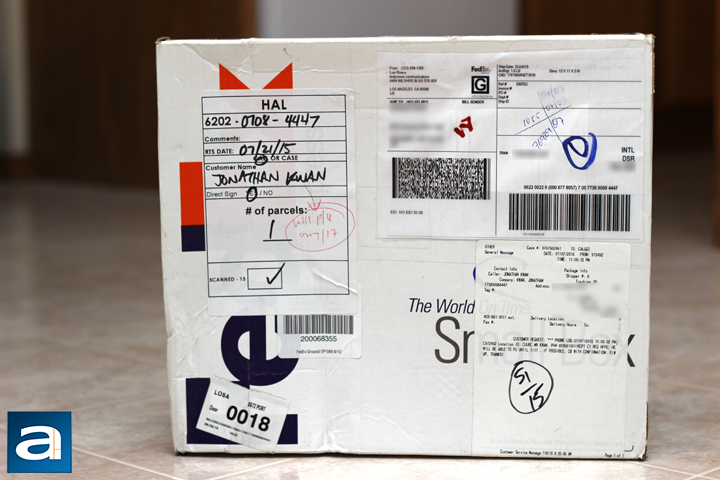 Our review unit of the EMTEC Stay Earbuds Wireless arrived from my personal favorite shipping company of FedEx. On an aside, Jonathan Kwan gave me this shipping box and I was carrying it to my car when one of my friends remarked, "There is nothing really small about that Small Box," to which I laughed and agreed with her. Thankfully, FedEx did deliver this product in a very timely manner, without any major scuffs on the box. Unfortunately, the box was slightly dented on its front panel, and you will see why in a second. This product did not arrive from EMTEC's offices, but rather a public relations firm in Los Angeles, California, who is in charge of dealing with review sites like APH Networks.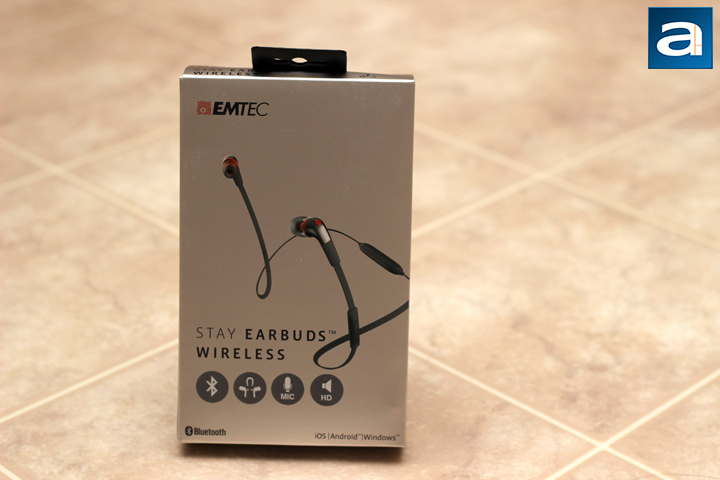 If you are wondering who EMTEC is, you might be surprised when you hear of its origins. Currently, EMTEC is a part of the Dexxon Group, a French company dealing in computer data storage and related products. Originally they were known as BASF Magnetics, known for making video cassettes and other recordable media. After being sold to a Korean company in 1997, they officially changed their name to EMTEC Magnetics. They have kept the same name since then, but the company has been through many transition periods, undergoing multiple owner changes, and even a bankruptcy in one of their subdivisions. Stability came in May 2006 when they were acquired by their current owner. Staying true to their roots of making recordable media, the first thing they began with were USB flash drives. Presently, most of the things they produce are storage related products, but they do have a few other items in the lineup, like the Stay Earbuds Wireless we have today. For your information, EMTEC is a shortened version of the line "L'emotion technologique", which when translated means "Technological emotion". It does not take a genius to figure that one out, so let us move on.
The retail container of the EMTEC Stay Earbuds Wireless consists of a relatively simple design. Its size is actually quite similar to a VHS cassette box. The Stay Earbuds Wireless is displayed on the front, scaled down in size. EMTEC's logo is found on the top left corner, with the product's name appearing two thirds down the box on the left side. Four specific features are shown on the front to note their biggest features, and I will be examining all of these features later on in the review. Otherwise, it should be noted these are Bluetooth earbuds, compatible with many operating systems, including iOS, Android, and Windows Phone. On the back there are more specifications listed in a bevy of languages. Otherwise the silver container is quite flashy and clean.
As you cannot actually see the words on the back of the box, I have grabbed these specifications from the manufacturer's website for your perusal:
Specifications
- Drivers: High fidelity 9.2mm
- Bluetooth : 4.0 (AD2P, AVRCP (AAC & aptX))
- Frequency range: 20 – 20 000 Hz
- Sensitivity: 90dB
- Impedance: 3mW (max output 5mW)
- Microphone: Diameter: 4mm / Sensitivity -42dB
- Battery life: Talk time up to 5 hours
- Ports: micro-USB
- Contents: Stay Earbuds Wireless, Carrying case, micro-USB charging cable, 3 sets of silicon buds (S/M/L), Quick user Guide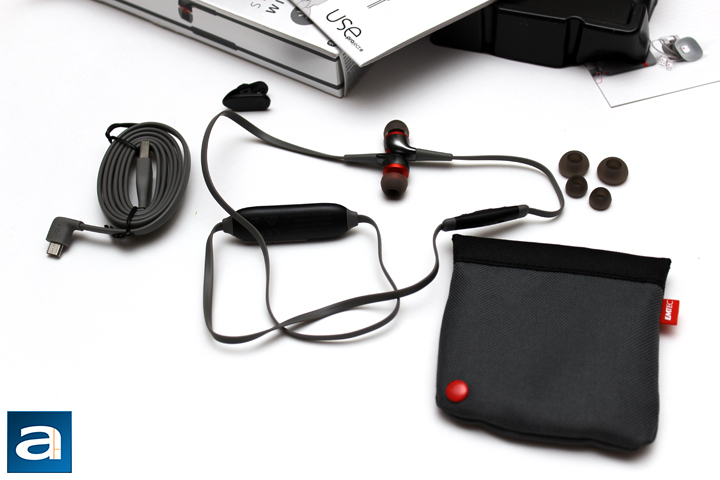 As it was listed above, inside the box you will find a few standard items inside. For one there is the Stay Earbuds Wireless, with the medium size silicon buds pre-attached. Small and large ear tips are also available to suit users' ears. There is also a "quick" user guide, which is actually quite large, and it explains the general operation in many of languages. I was kind of sad to not see any Chinese, but thankfully I read English better than my own mother tongue. A duo-tone carrying case is also found, which feels high quality. Even though it is just a simple pouch, the material is well chosen and the entire pouch is large enough to hold the earbuds with some space for the charging cable too. Speaking of which, a flat wire charging cable is provided here, which is nice to see. Finally, a small plastic clip is provided to let users attach the Stay Earbuds Wireless to their clothing, in case they are moving a lot. Now, let us take a closer look at the product itself.
---
Page Index
1. Introduction, Packaging, Specifications
2.
Physical Look - Hardware
3.
Subjective Audio Analysis, Usage
4.
Conclusion